Hol Chan Marine Reserve in Belize is teeming with sea life. To get the most from your visit, it's best to opt for a dive. Here's why
The Hol Chan Marine Reserve is one of Belize's most popular snorkelling sites. It offers vibrant coral formations and a diverse array of marine life packed into a small site with shallow waters in an easy-to-reach area of the UNESCO-listed Belize Barrier Reef.
Despite its shallow depth – around nine meters at its deepest – we still recommend diving Hol Chan Marine Reserve. Due to its compact size, located in the only zone of the reserve dedicated to snorkelling and diving, it can get quite busy. Opting for a dive means you quickly escape the crowds and get to spend some serious bottom time with the reserve's true stars.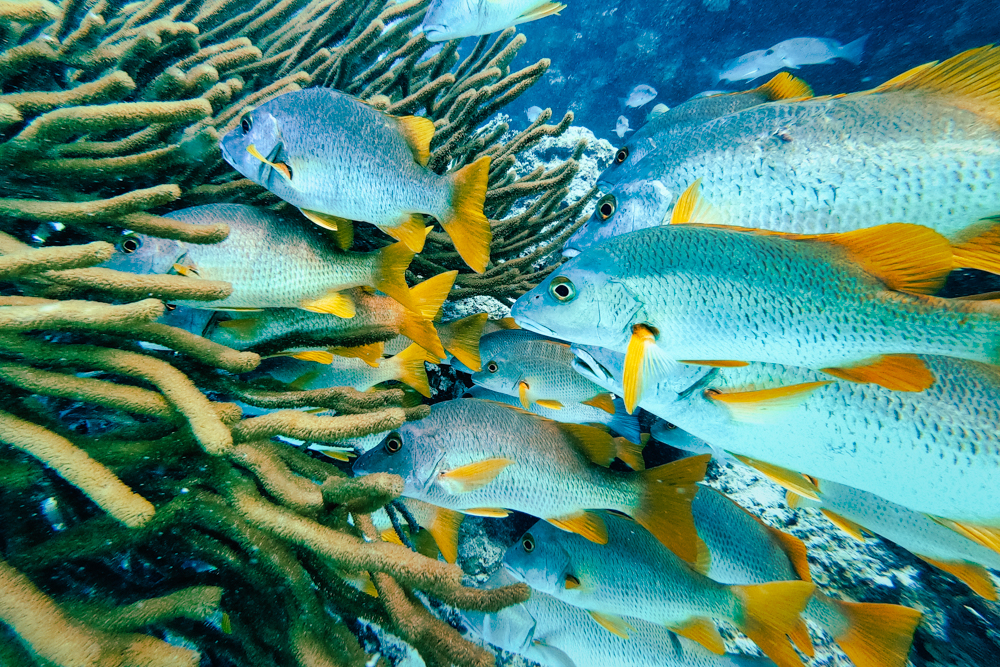 What is the Hol Chan Marine Reserve?
Located just a few minutes by powerboat off the southern tip of Ambergris Caye is the 18km² Hol Chan Marine Reserve. Meaning "little channel" in Mayan (referring to a natural break in the reef known as Hol Chan Cut), Hol Chan Marine Reserve was established in 1987 to protect the reef after fish stocks in the region had begun to decline from overfishing and a rise in tourism.
Since it was established, the reserve has twice been expanded, first in 1999 and then again in 2016, in an effort to further protect the habitat. Today, the reserve is around 25 times its original size and has been split into several zones where fishing and activities are strictly regulated and monitored.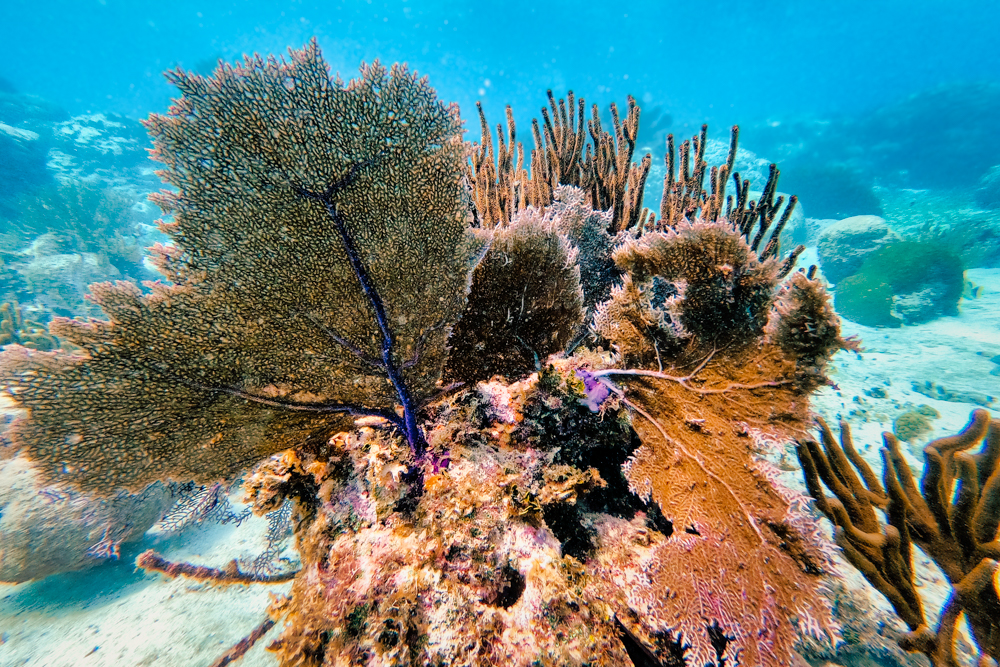 The Hol Chan Marine Reserve is made up of coral reefs, seagrass beds and mangrove forests comprising a significant expanse of the Belize Barrier Reef, part of the world's second-largest reef system. Second only to Australia's Great Barrier Reef, the Mesoamerican Reef was formed by a chain of submerged mountains and ridges creating countless reefs and lagoons boasting every imaginable shade of blue.
The reserve is teeming with marine life. Over 160 species of fish have been recorded in its waters as well as 40 coral species, five sponge species and three marine mammals (two dolphin species and one manatee) – although these are rarely seen.
Diving Hol Chan Marine Reserve
After registering at the Hol Chan Marine Station – a floating pontoon located in Zone A of the reserve where both scuba diving and snorkelling are permitted – we anchored and set about getting our gear ready. Kia and I were the only two divers on our boat of around 10.
Once all the snorkellers were in the water, we dropped off the side of the boat and completed our buoyancy checks on the surface. Kia and I hadn't dived for around 18 months and had both needed a little help getting our gear in order back at the dive centre. As such, we didn't mind that the maximum dive depth would be only nine meters.
We descended to the seabed, just three or four meters down, and were immediately met by two turtles munching their way around the seagrass. The water was still quite busy with snorkellers splashing around on the surface and occasionally free diving so we promptly moved off to explore further afield. I was pleased to feel the seabed drop away as we gained a bit more depth and left the snorkellers behind.
Before long we spotted a nurse shark, followed by the first of two stingrays. We spent the next 40 minutes or so working our way around the seabed, in and out of rocky outcrops and manoeuvring around gardens of colourful brain and finger coral where countless sea anemones dwelled. Soon, we were gliding through the water, back in the groove and finding our fins so to speak. After 18 months on land, Hol Chan was the ideal re-introductory dive.
Fish life was plentiful with schools of blue-striped grunts, Bermuda chub and yellow-tailed snapper as well as groupers, barracuda and queen parrotfish all milling around. Fish identification has never been my strong point, but I can say with confidence that I hadn't seen such diversity of fish life since we were in the Great Barrier Reef.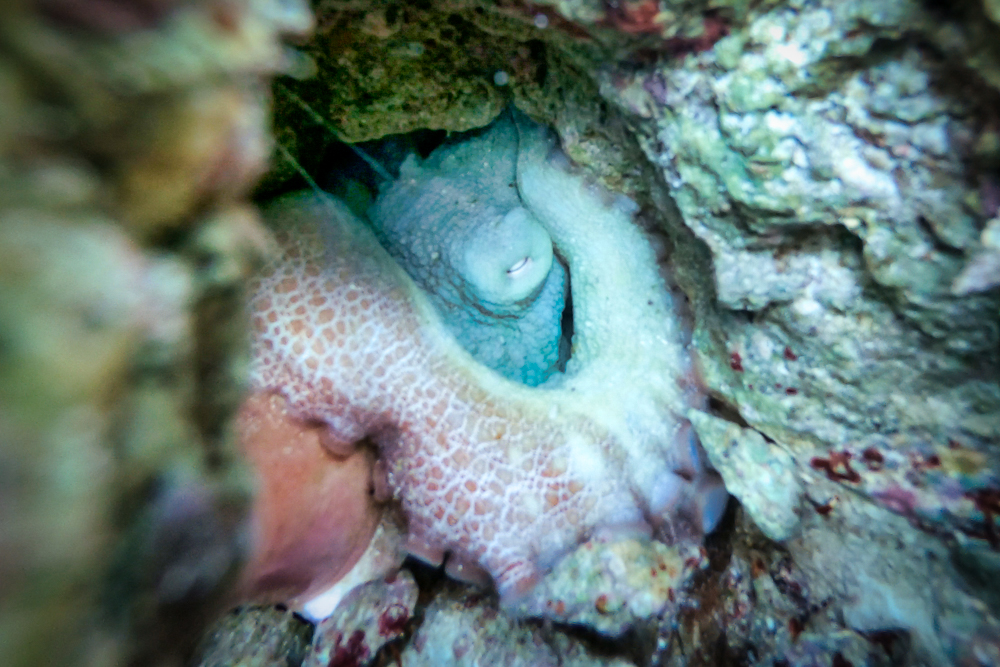 Our guide knew the waters well and led us to a small tunnel which he referred to as his 'secret spot'. There, he pointed out hidden grottoes, one sheltering a spiny lobster and the other an octopus that was wrapped up and catching some rest. We worked our way back into shallower water, towards the anchor of our boat before gently ascending back to the surface.
Considering its depth, it had been a fine dive. There may not be a mysterious shipwreck or plane wreck to explore or a corkscrewing bommie with a legendary backstory or a terrifying 2,000m drop-off into an abyss, but Hol Chan Marine Reserve is the perfect site for an inexperienced diver or a couple of divers who are bit low on confidence after 18 months on land.
The waters are calm and shallow but teeming with marine life – a rich reward for so little effort.
Snorkelling Shark Ray Alley
Immediately to the south of our dive site was Zone D, a 5km² area of seagrass bed habitat added to the reserve in 1999. The abundant seagrass provides a habitat for nurse sharks and stingrays hence its name, Shark Ray Alley.
The area was traditionally used by fishermen to clean their nets before returning to port. Their leftover bait would attract nurse sharks and rays to feed. Today, most snorkelling and diving trips to Hol Chan will pop by Shark Ray Alley for a quick snorkel afterwards (scuba diving is prohibited in Zone D).
Today, it's the tour boats that toss food overboard to attract the sharks and rays. The scene can be a bit chaotic but it does give you a chance to see nurse sharks and rays up close with minimum effort. We recommend swimming away from the boats to escape the fray as there are still plenty of sharks and rays to watch further afield.
Unfortunately, we witnessed several snorkellers (and guides!) touching the animals. Please do not do the same and report it if you see it happen.
Diving the Hol Chan Marine Reserve: the essentials
What: Diving Hol Chan Marine Reserve in Belize.
Where: We stayed at Las Terrazas on Ambergris Caye, a classy beachfront resort with stylish white-washed villas overlooking the gardens and a large infinity pool. The villas all come with modern kitchens including an oven, refrigerator, microwave, coffee maker, toaster, dishwasher and washing machine. Each unit comes with at least two full bathrooms and a balcony and some with a hot tub.
Located 6.5km to the north of San Pedro, the main town on the island, Las Terrazas has a bar and restaurant, spa, private beach and jetty, and offers free use of bicycles, kayaks and paddle boards to guests. We organised our dive and snorkel experience via the resort which uses Amigos del Mar. They can also arrange Blue Hole flights, cruises and mainland excursions.
When: The best time to visit Belize, particularly for diving and snorkelling the barrier reef, is during the dry season between January and May. Visitors can expect clear visibility and warm, sunny days with the odd shower. The wet season runs from June to December.
How: On Ambergris Caye, you'll probably want to hire a golf cart to get around the island. We hired our cart through Mark's Golf Carts, but it wasn't in great condition. There are lots of golf cart companies on the island so it may be worth shopping around or asking your hotel for a recommendation.
As the island is so small, it's easy to navigate and driving is pretty straightforward. However, it's worth mentioning that the roads – particularly the further you get from town – are in terrible condition and can be rather uncomfortable to drive.
We took a water taxi from Chetumal in Mexico to San Pedro via Water Jets International. The 1.5-hour boat ride was uncomplicated and cost $70 USD per person. To get from San Pedro to Belize City on the mainland, we took another water taxi, this time with San Pedro Belize Express (1.5 hours, $30.50 USD).
All international flights arrive at the Philip Goldson International Airport (PGIA) near Belize City. Book through skyscanner.net for the best prices.
---
Enjoyed this post? pin it for later…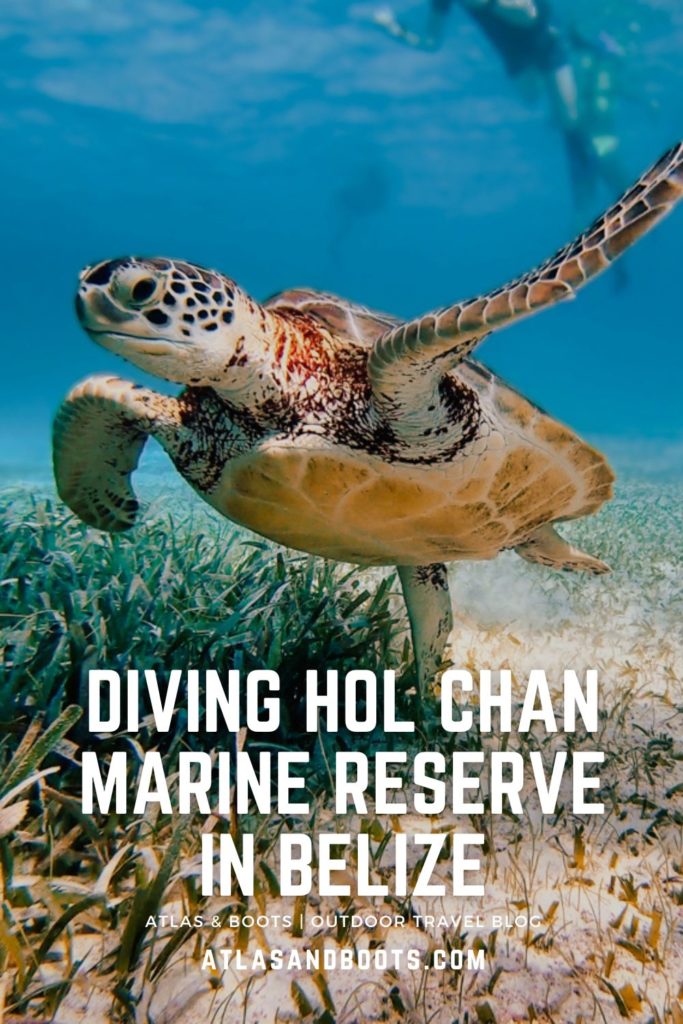 ---
Lead image: Atlas & Boots
Autor: Atlas & Boots
Fuente de contenido