Amid freezing cold showers, a string of depressing breakfasts, dizzying altitude and interminable bus journeys, visiting Salar de Uyuni saves the day
After four months in South America came Bolivia, the biggest test but brightest triumph of the continent so far. After 10 countries and thousands of miles, it was the first place that made me utter those words that cannot be unsaid: I want to go home.
Maybe it was the freezing cold showers in Isla Del Sol, or the no water at all in Copacabana. Maybe it was the unbroken string of depressing breakfasts or over-cheesed dinners that were bland-on-bland. Perhaps it was the 3,600m altitude that left me breathless, or the interminable bus journeys that left me fatigued. Either way, Bolivia and I were not getting along.
Visiting Salar de Uyuni
And, then, as easy as surrendering to Stockholm syndrome, I was converted. It took only one day and there I was, dreamy eyed and smiling, singing gospel about the beauty of Bolivia. It was of course visiting Salar de Uyuni, Bolivia's famous salt flats, that won my affections.
We debated whether to take a 1-, 2- or 3-day tour, and eventually decided on only one. The day started with a 10.30 pickup from Oasis Bolivia's offices in Uyuni. We were joined by five other tourists in a roomy 4×4 and set off to the Train Cemetery, a stretch of desert land occupied by a number of old mining trains standing stationary on a railway line.
The railway was constructed in 1892 and was used to transport minerals but fell to waste when the mining industry collapsed in 1940, partly due to the mineral depletion. Many trains were abandoned in the area and sit there today giving way to rust and erosion.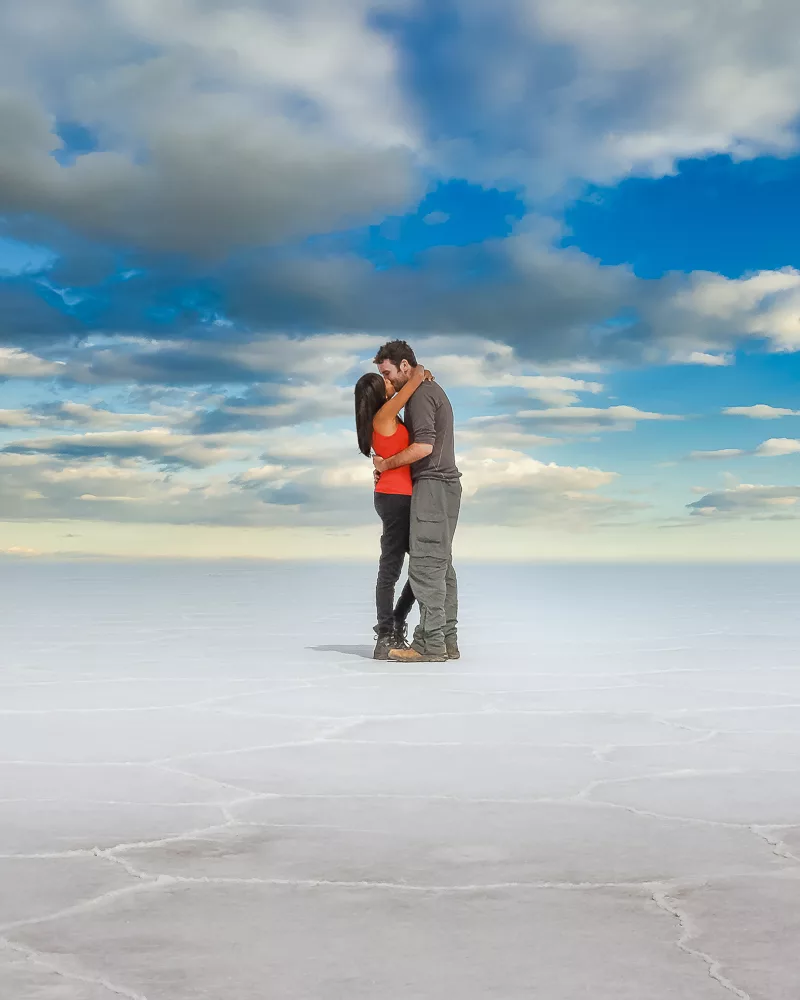 After the Train Cemetery we stopped briefly at Colchani, a gateway town filled with handicrafts carved from salt, and then headed to the main attraction. Salar de Uyuni is the world's largest salt flats, spanning 10,582 square kilometres and containing an estimated 10 billion tonnes of salt.
The flats were formed from what was originally Lake Minchin, a giant prehistoric lake. The lake largely evaporated under the scorching Andean sun leaving behind a thick crust of salt – what we know today as the salt flats of Salar de Uyuni.
The result is stunning, breathtaking, every superlative I can throw your way. Miles and miles of pure white terrain are almost blinding in their beauty. The flats provide the perfect backdrop for any photographer. We of course took the opportunity to take a silly picture or two.
After a simple but tasty lunch at Isla Incahuasi, an island of giant cacti, we headed further into the flats to a spot that was completely isolated. Here, we had the opportunity to take as many pictures and as much video as we wanted.
Best of both worlds
We had debated whether to visit in dry or wet season. The wet season offers a unique chance to see the flats with a film of water on them, creating a giant mirror of the sky. Fortunately, our visit in April meant we could see the flats both dry and wet. The effect is surreal and extraordinary, undoubtedly one of the highlights of our trip so far.
In conclusion, Bolivia was worth the pain. Home can wait after all.
visiting Salar de Uyuni: The essentials
What: Visiting Salar de Uyuni salt flats as well as the Train Cemetery, Colchani gateway town, Isla Incahuasi cactus island, Salar de Uyuni, a salt hotel and sunset at the wet flats. The day starts at 10.30am, ends at 7.30pm and includes lunch.
Where: Salar de Uyuni, Potosi, Bolivia. We stayed at Cilos Hotel, a comfortable but basic place a 10-minute walk from town. It had lovely hot showers, decent wifi in the common areas with breakfast included. Be warned that the town of Uyuni is rather bleak, so the walk isn't the prettiest one you'll ever do.
When: The best time for visiting Salar de Uyuni depends on the experience you're looking for. For the best climate, visit between July and October. For a chance to see the wet flats, visit between March and April.
How: Fly into La Paz International Airport (book via skyscanner.net) and take a bus to Uyuni. We made the 14-hour journey with Trans Omar in a relatively comfortable double-decker bus.
Tickets can be bought at the Terminal de Buses (approximately $35pp) or most likely via your hostel. Email tickets@transomar.com for more information. It is also possible to visit the flats from San Pedro de Atacama in Chile, but is often more expensive. You can book the salt flats tour with a local agency at either location.
However, we recommend using Bookaway to find bus, ferry and train tickets in Bolivia. Book buses for Uyuni here.
We visited with Oasis Bolivia and had a great day. They have offices in Uyuni (Av. Ferroviaria, next to Hotel Julia, uyuni@oasisbolivia.com), La Paz (Calle Sagarnaga No 363, Of.2, lapaz@oasisbolivia.com) and Sucre (Calle Aniceto No. 95, Of.2, sucre@oasisbolivia.com). I
If you don't speak any Spanish, it's worth specifying that you want an English-speaking guide.
Finally, note that the food situation isn't great in Uyuni but we highly recommend Minuteman Pizza inside Toñito Hotel, the best we've had on the continent!
---
Enjoyed this post? pin it for later…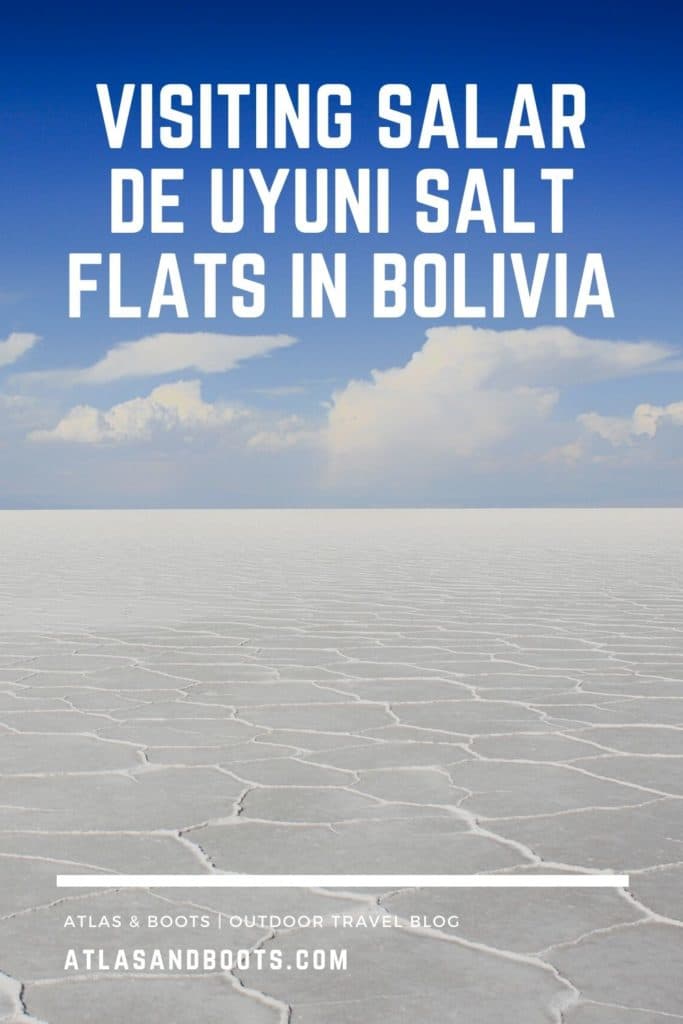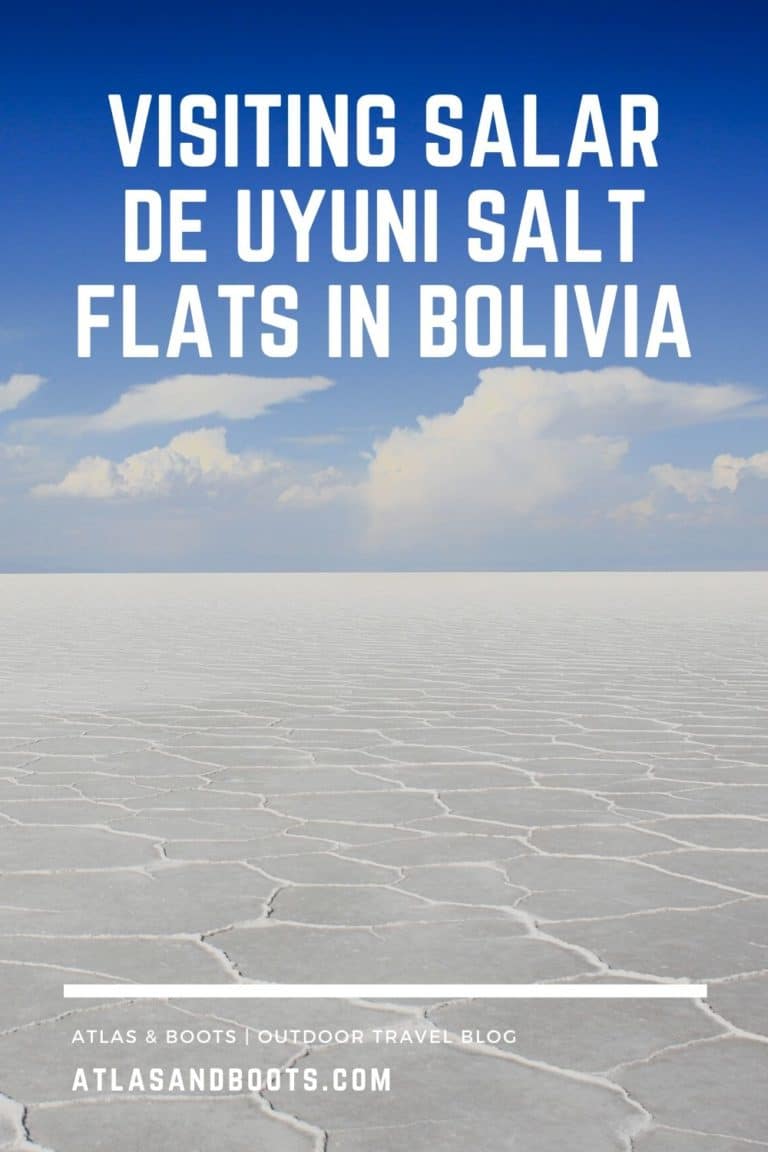 ---
Lonely Planet Bolivia includes a comprehensive guide to the country, ideal for those who want to both explore the top sights and take the road less travelled.
Autor: Kia
Fuente de contenido