Seven years after we quit our jobs to travel the world, we revisit some of the riskiest things we've done on the road
Peter and I have a long-running joke that I have fallen off my bike in the most beautiful places in the world – among them Bora Bora in French Polynesia and Isabela in the Galápagos. I only learnt to ride at the age of 28 and my lack of experience has led to numerous falls. 
What's interesting is that no one ever calls me 'brave' or 'daring' for riding a bicycle or indeed a horse even though statistically (and in personal experience), these activities are some of the most dangerous I've done.
Instead, it's things like skydiving and bungy jumping that impress others most. Below, I share 10 seemingly dangerous things we've done – some of which posed a real risk, but most of which were just pure fun.
1. Changed a tyre in Namibia's lion territory
I'll be honest: this was one of the most nerve-racking experiences I've ever had. Peter and I were on day 13 of our epic self-drive safari through Namibia when we got our second flat tyre in as many days.
We had spent the previous day on a 160km round-trip to the nearest garage to pick up a spare tyre after using the one we had. We're lucky we did so, because on day 13 we bust another tyre, this time in the middle of Etosha National Park, known for its abundance of lions. 
The park rules clearly state that you should never leave your vehicle. Unfortunately, there was no phone reception so we couldn't call for assistance. We waited to see if anyone else would turn up, but Etosha is a big place and we could have been waiting for hours. 
So, Peter suggested changing the tyre in lion territory. I was to keep watch and sound the horn if I saw any movement. 
How was I supposed to keep a 360° watch around the vehicle? Would I be quick enough on the horn? Would we be the two stupid tourists who got killed by lions because they flouted official safety rules?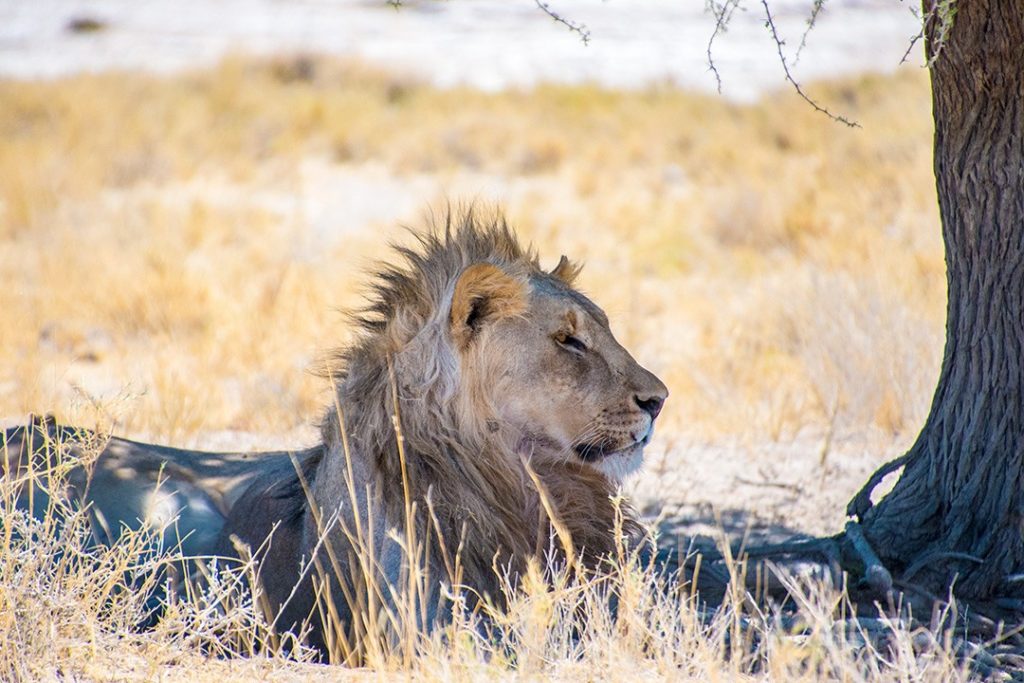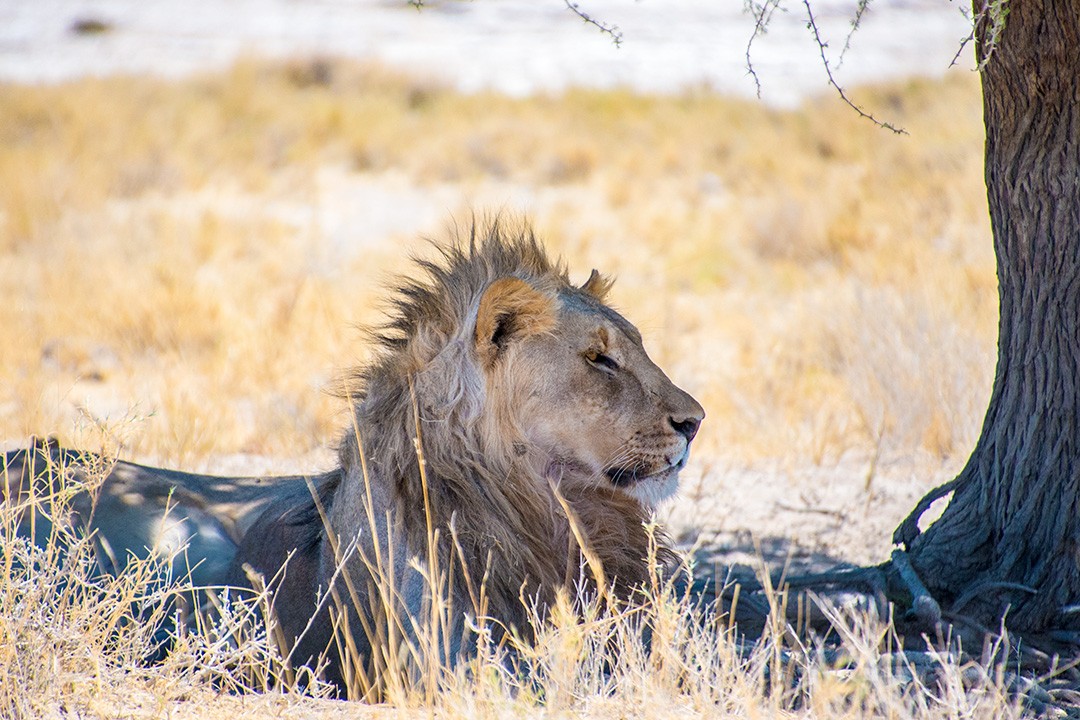 I took a deep breath and nodded. Peter worked silently and quickly while I, dripping with sweat and anxiety, carefully scanned our surroundings. Fifteen minutes later, the tyre was on and we got back in the car, laughing with relief and possibly a touch of hysteria. 
Half a kilometre down the road, we stopped laughing. There, we spotted a lion lazing beneath a tree and we realised that this story could have easily ended differently. 
2. Climbed three of the seven summits
Peter has climbed three* of the seven summits: Mount Kilimanjaro in Tanzania, Mount Elbrus in Russia and Mount Aconcagua in Argentina with each climb growing progressively harder. 
(*Four if you count Kosciuszko in Australia, as does The Bass List)
When I spoke to him on the phone after Elbrus, he was in high spirits. When I spoke to him after Aconcagua, however, he sounded completely exhausted. Physically, it was the hardest day of his life, he said. Several times he had considered giving up and turning around – something I'd never heard him say about a mountain before. 
Aconcagua is a 'trekkable' mountain (i.e. no technical rope work involved), but it poses a tangible risk. At nearly 7,000m, it is believed to have the highest death rate of any mountain in South America. As dangerous endeavours go, attempting to scale the seven summits ranks pretty high on our list. 
3. Crossed a landslide in Peru
Crossing a landslide on our Salkantay trek in Peru seemed more thrilling than dangerous, but it posed enough of a risk to noticeably concern our guides. We trekked for an hour to try and avoid it, but when we found that a bridge had washed away, we turned around and returned to the site. 
There, we picked our way across a steep slope of crumbling scree beneath a blanket of rain. Some of us fared better than others. One woman in her early twenties wept with nerves as she crossed, led by hand by two guides. 
Peter and I were comparatively cavalier, but I look back now and see that a single misstep would have ended badly.
4. Hiked to Erta Ale in Ethiopia
The Danakil Depression in Ethiopia is one of the hottest, lowest and driest places on Earth. It's so extreme that life has been found in pure acid here. Temperatures regularly reach 45°C (113°F) and seas of molten magma ooze just beneath the crust's surface.
Its most impressive site is Erta Ale, one of the most active volcanoes in the world. Getting there has been called 'the hike to hell and back' and requires a three-day trip with a military escort. 
In 2012, an attack by Afar rebels left five tourists dead and four people kidnapped, and there was a deadly incident days after our own visit. 
It made us reflect once again on the pros and cons of risky travel and though Erta Ale was an incredible sight, I'm not quite sure I'd do it all again. 
5. Jumped out of a plane – twice
This is where we get into fun territory where the perceived danger is greater than the actual. Peter and I have skydived twice, first in the UK and then in Australia. Both times were utterly thrilling.
Interestingly, the skydive in Cairns was almost cancelled because of rain and when we passed through heavy condensation, I understood why. At that height, raindrops sting like needles as you're falling much faster than water.
Either way, I was pleased that the weather didn't cancel our jump. As I say in the video, it's the closest I'll ever get to flying… unless I take up BASE jumping that is.
6. Jumped one of the longest bungys in the world
There is a moment as you shuffle onto the ledge of the 134m Nevis Bungy in New Zealand that you think Oh Jesus. If it's true that humans are born with two fears – loud noises and falling – then surely jumping off a ledge into an abyss goes against human nature.
On the ledge, I waved gingerly to the camera and listened to the countdown: 'three, two, one, bungy'. Heart lurching, I leapt off with a scream. 
Seconds in, I realised that my eyes were closed. I snapped them open. If I was doing this, then I would bloody well enjoy it. I felt myself plunge deep into the valley, then rush back up again. I always thought I'd hate the bouncing sensation, but the Nevis Bungy was completely smooth. I swooped towards the ground again, feeling a whirl of disbelief. It was thrilling, frightening and utterly exhilarating.
People ask me if the Nevis Bungy or skydiving was scarier. Undoubtedly, it was the bungy. Despite the far greater height, skydiving doesn't quite feel like falling. The force of the air around you has a buoying effect. With the Nevis Bungy, you really are just falling.
7. Dived with sharks in the Galápagos
Again, this was more fun than dangerous, but when people see the footage of Peter gliding into the frame above a reef shark, they usually gasp out loud. 
On a dive in the Galápagos, we encountered dozens of whitetip reef sharks resting on the seabed. At nearly 20 metres deep, we spent several awe-inspiring minutes watching these magnificent (and chilling) beasts. 
Of course, whitetip reef sharks are rarely aggressive towards humans. Unlike their Oceanic cousin, they are seldom aggressive unless provoked. They are, however, fearless and curious and will sometimes closely approach swimmers to investigate.
8. Drove the Sani Pass in Lesotho
Located in the western end of KwaZulu-Natal province of South Africa, Sani is a mountain pass connecting Underberg in South Africa with Mokhotlong in Lesotho. The hairpinned pass − named one of the most dangerous in the world − starts at an altitude of 1,544m and climbs to 2,876m.
Built circa 1950, Sani Pass remains a challenging drive. With winding twists, loose gravel, plunging drops and hairpins bends, it demands painstaking care and practised skill. In parts, the gradient reaches 1:3 and in treacherous conditions, has claimed lives. In fact, one of the hairpins has the rather sobering name of 'suicide bend'.
We crossed the pass during our 2018 trip to South Africa. The progress was extremely slow but we didn't complain. This is one occasion when it truly is better to be safe than sorry.
9. Swam with whale sharks in Djibouti
The whale shark is the largest known fish species living today. It poses no threat to humans, but its sheer size can be overwhelming.
On our trip in Djibouti, our spotter pointed to the waters ahead and Peter and I jumped straight in. Alas, the whale shark headed in the opposite direction and the two boats followed, depositing passengers far closer to him. Peter and I locked eyes. We'd made the mistake of jumping too soon.
It was then that a motion caught the corner of my eye. The whale shark was headed straight in our direction. I dipped underwater and the shark swam directly towards me as I hovered in the water.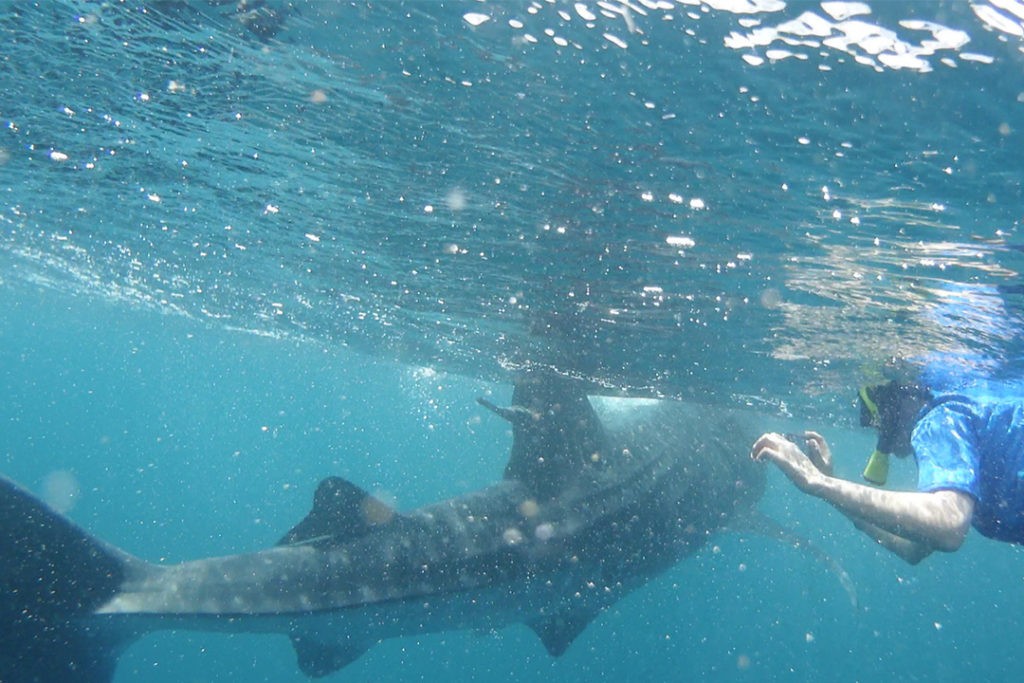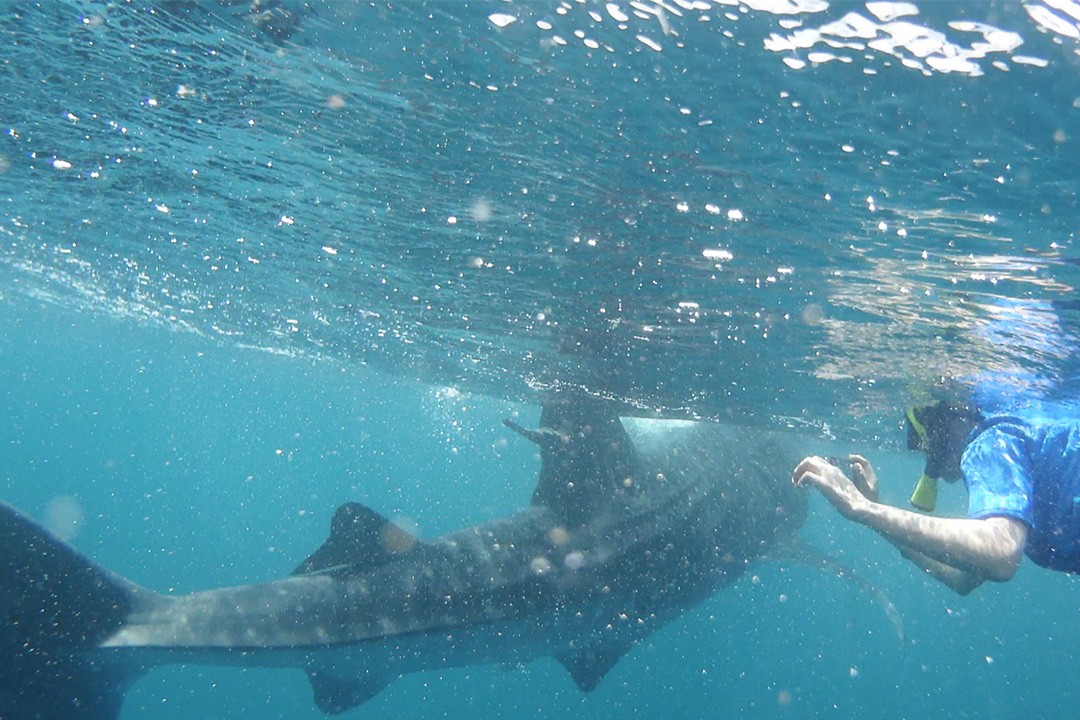 His skin glittered in the light and I held my breath as he swam so close I thought his tail would hit me as he turned. His enormous bulk slid swiftly by and I exhaled, long, soft and slow. 
10. Scaled a via ferrata in Catalonia
After changing the tyre in Namibia, this is the most nerve-racking thing on the list for me. I've said before that I'm most nervous when I'm in charge of my own safety during risky activities. Unlike bungy jumping or skydiving where you're never out of an expert's hands, via ferrata requires you to change your own carabiners, meaning that an absentminded mistake could have you hurtling to the ground. 
A few metres up on our via ferrata in Catalonia, my left leg began to shake uncontrollably. I'd never experienced anything like it before and I realised that I must be terrified. I remember that it had a strange, academic quality and a detached part of me thought, 'Huh, so this is what it's like.'
I gathered my nerves and continued up. At the top, neither Peter nor our guide, Jordi, believed me when I said that it was scarier than bungy.
---
Enjoyed this post? pin it for later…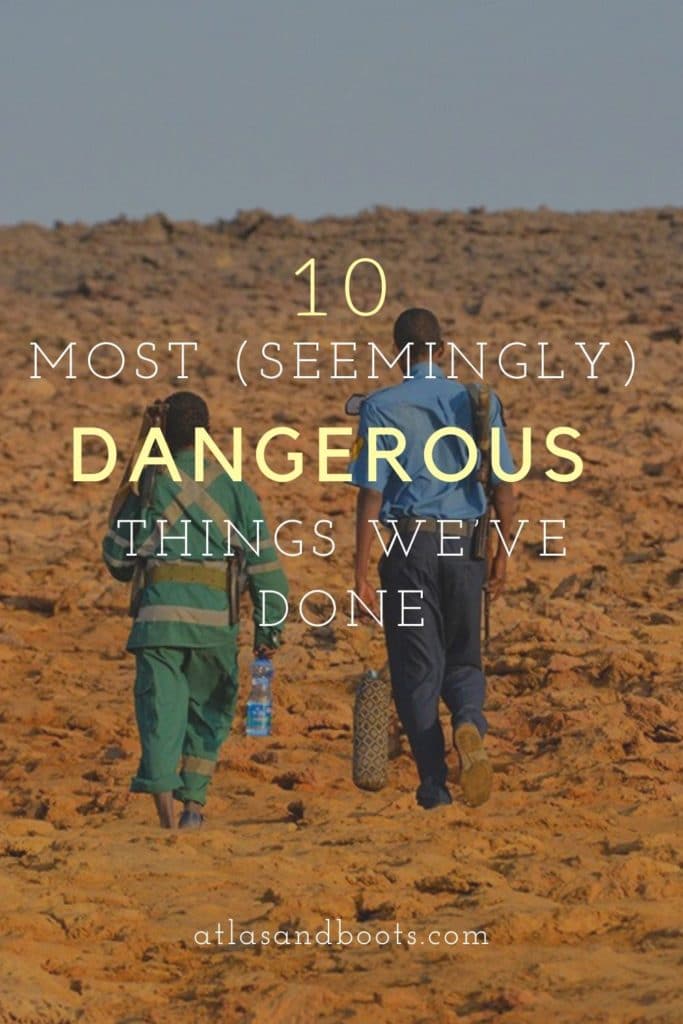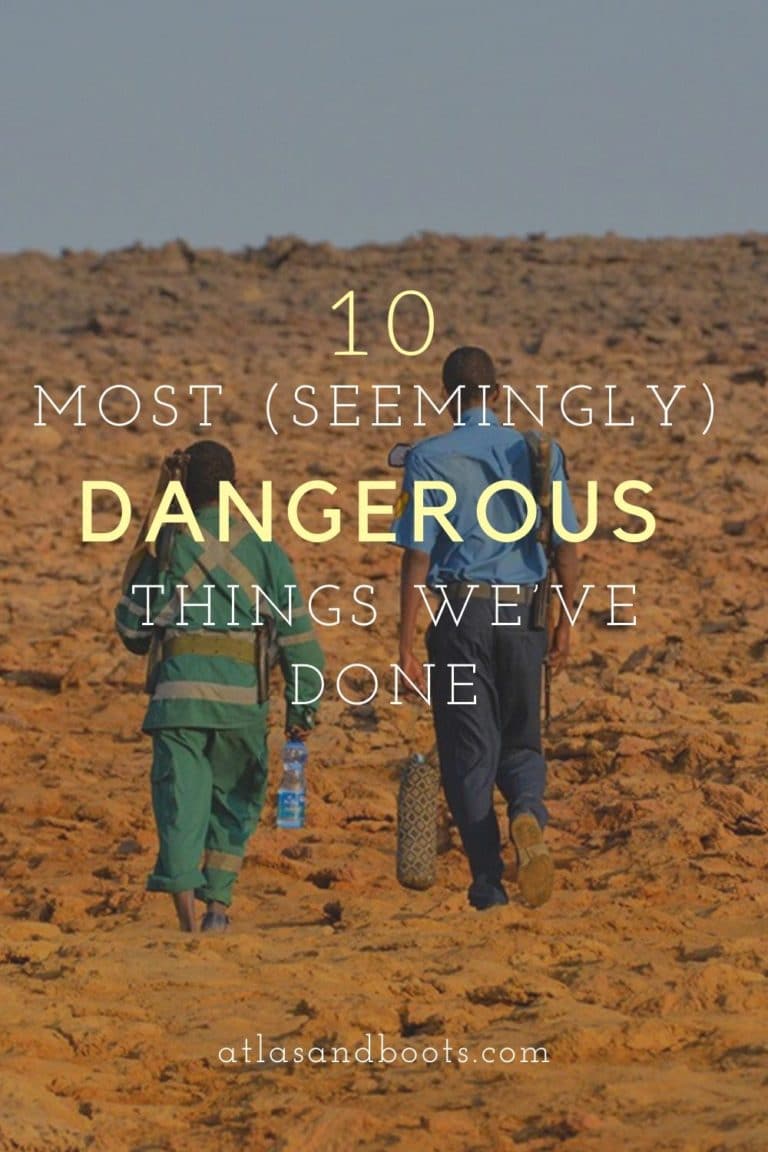 ---
Through personal anecdotes mixed with succinct travel advice, we share everything we've learnt about life on the road in Don't Offer Papaya: 101 Tips for Your First Time Around the World.
Autor: Kia
Fuente de contenido