Adventurous Kate contains affiliate links. If you make a purchase through these links, I will earn a commission at no extra cost to you. Thanks!
Shortly after arriving in Spain for the first time back in March, I swiftly declared it one of my favorite food countries (along with Italy, Vietnam, Thailand, and France).  Spanish food is simple and delicious.
But in Costa Brava, the food really outdid itself.  You had everything that makes Spanish food great, along with plenty of surprises.
Here are some of my favorite things I ate in Costa Brava:
Jamon iberico
Jamon iberico (Iberian ham) may be my favorite food in the world — it's a special, expensive kind of Spanish ham made from acorn-fed pigs, deliciously mottled and flavorful.  I live for cured meats, and this is the very best of them.  You can occasionally get it outside Spain, but it's so expensive that I usually turn it down.
That said, jamon iberico is much more affordable at the source, and there was tons of jamon iberico at TBEX.  On the first night, at the party at the castle, there was an actual HAM ROOM.  In that room was the hardest working man in Costa Brava, diligently shaving away at a giant leg of jamon iberico all night.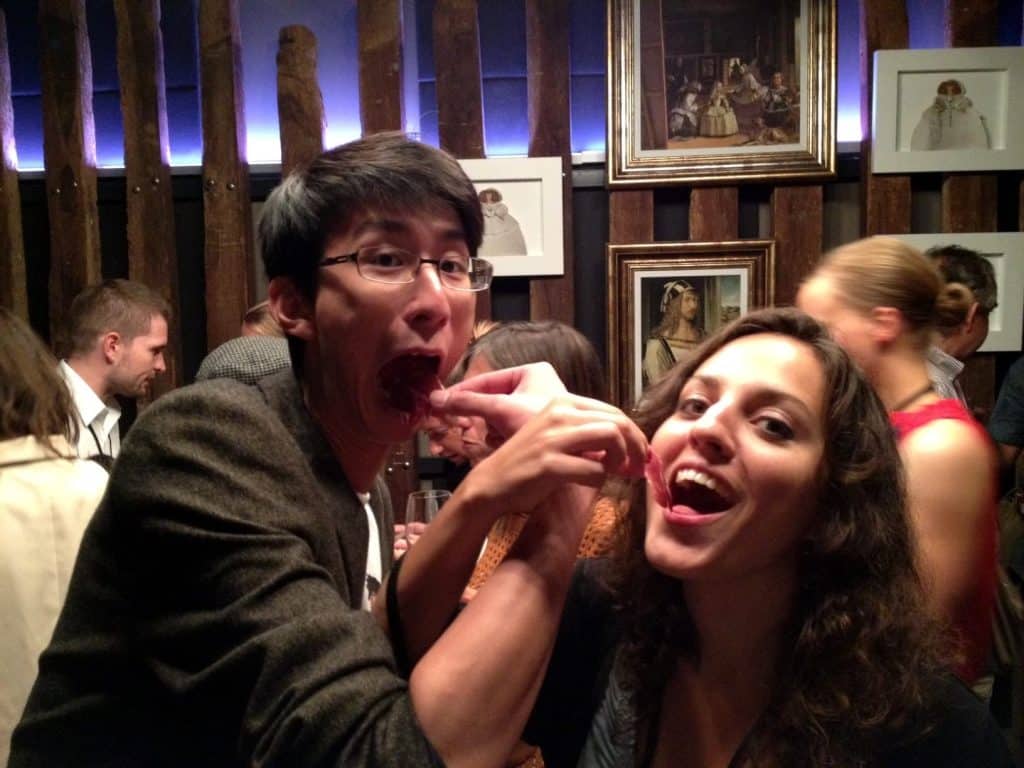 Dylan and I camped out there all night, barely leaving to go to the Cheese Room or the Cocktail Den, and we each ate about half a pound.  It was that good.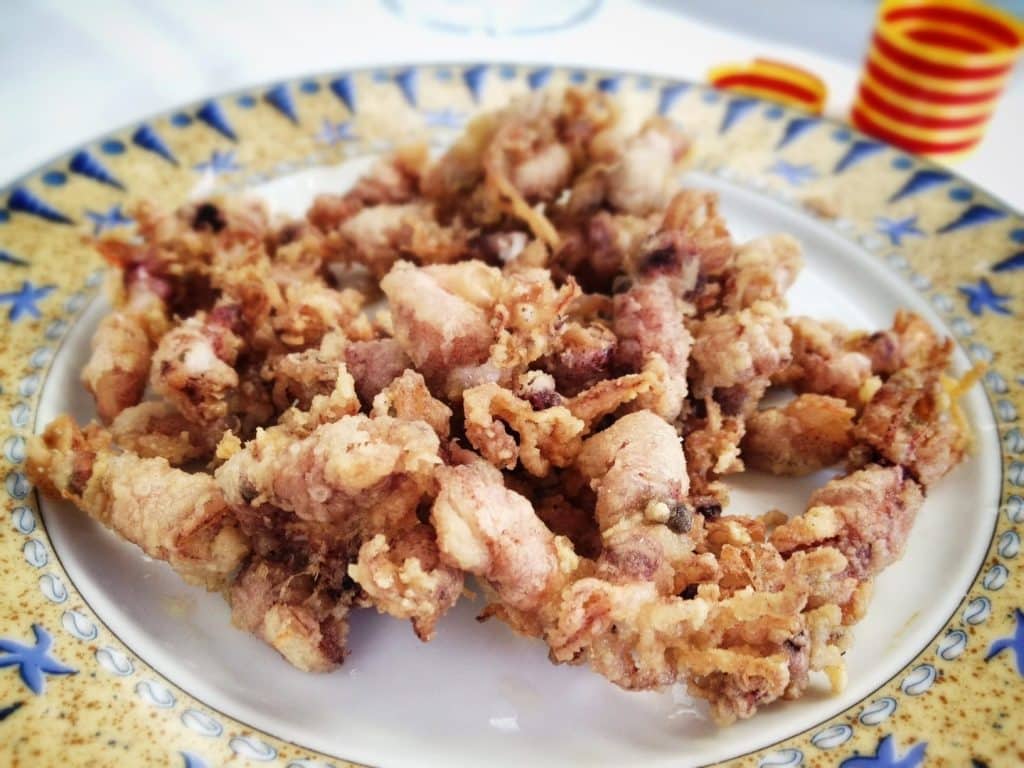 Fried Calamari
Fried calamari?  That staple of Italian-American restaurants that barely appears in Italy itself?
Well, I was surprised at just how often fried calamari appeared on the menu — that and it was the lightest, most delicate fried calamari I had ever tasted!  It was so fresh that I could eat this stuff like popcorn.  And I did.
Prawns With the Heads On
Not too bad.
Crudite-palooza
We were spoiled rotten in Costa Brava.  Everywhere we went seemed to have a plate of crudites greeting us on arrival.  A few of my favorite toppings: smoked salmon, caper and lemon; duck pate and fig; brie, kiwi and strawberry.
If you book a hotel in Costa Brava, chances are you'll have some of these waiting for you!
Paella
I know — paella is a traditional Valencian dish.  But despite its place of invention, paella was all over Costa Brava — especially when presented with shellfish.
This is one of the best ways to take advantage of Costa Brava's fresh seafood.
Salsafi
Before arriving in Costa Brava, I hadn't heard of this unusual vegetable.  It tastes somewhat like a mild turnip and is indigenous to the region.
And it can be eaten in SO many ways.  At Restaurant Grions in Sant Feliu de Buixalleau, we had a three-course tasting menu featuring salsafi in every way possible — pureed into desserts, roasted on the side, even in jams and jellies!
But the best dish of them all was the appetizer: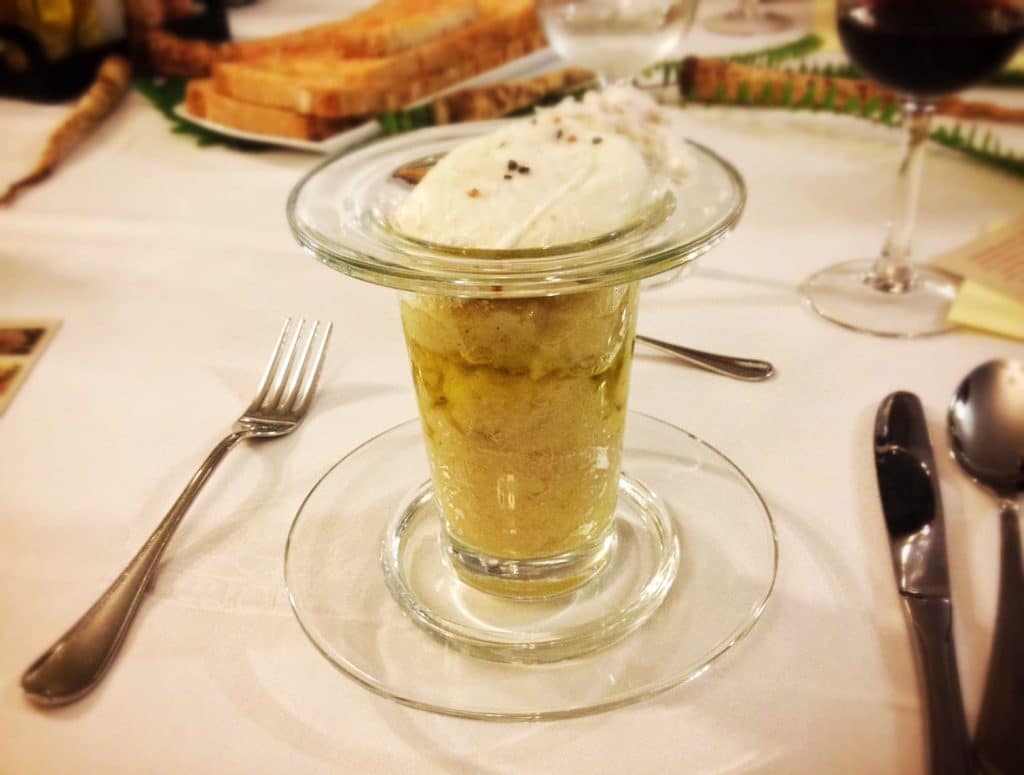 Mashed salsafi topped with truffle oil and a soft poached egg, finished off with a few grains of salt.  I would gladly eat that every day for the rest of my life.
Now, let's move on to the desserts!
Crema Catalana
Crema Catalana is one of the most popular Catalonian desserts there is (and keep in mind that Costa Brava is part of Catalonia).  It's essentially creme brulee, but with more egg yolks, served flat on a plate.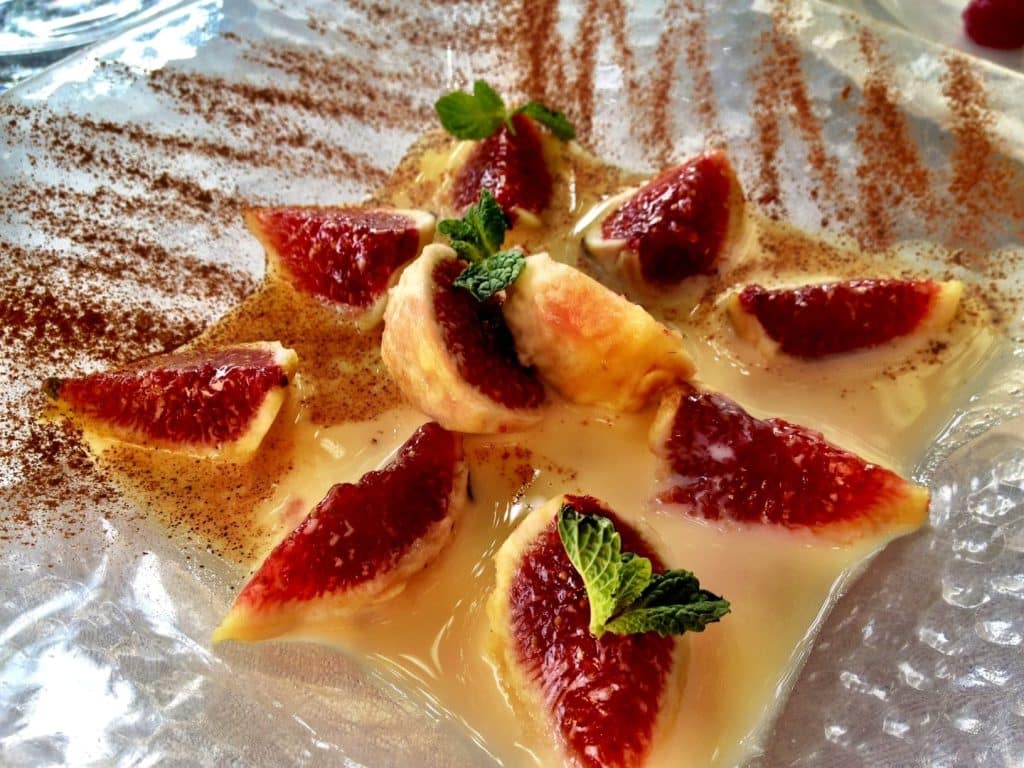 Figs in Cream and Cinnamon
One of the nicest desserts was also one of the simplest ones — and this is where I think Costa Brava particularly excels.  The ingredients are so delicious that they don't need to be dressed up.
This was simply figs in cream with cinnamon, served at Restaurant Pont Vell in Besalù.  Absolutely lovely.
What would YOU like to eat the most in Costa Brava?
Autor: Adventurous Kate
Fuente de contenido