Adventurous Kate contains affiliate links. If you make a purchase through these links, I will earn a commission at no extra cost to you. Thanks!
Let me tell you something: it's easy to go to Europe and see nothing but cities.  For years, that was my modus operandi — to hit up the major cities and ignore small towns along the way.  It's the easiest and most convenient option, especially if you're traveling by train.
But in the past year, I started occasionally renting a car — and was delighted by how easy it can be to see small towns when you're not tied to a public transportation schedule.  With your own vehicle, it's easy to hit up three or more small towns in a single day!
Here are some of my favorite small towns in Europe that I've discovered recently: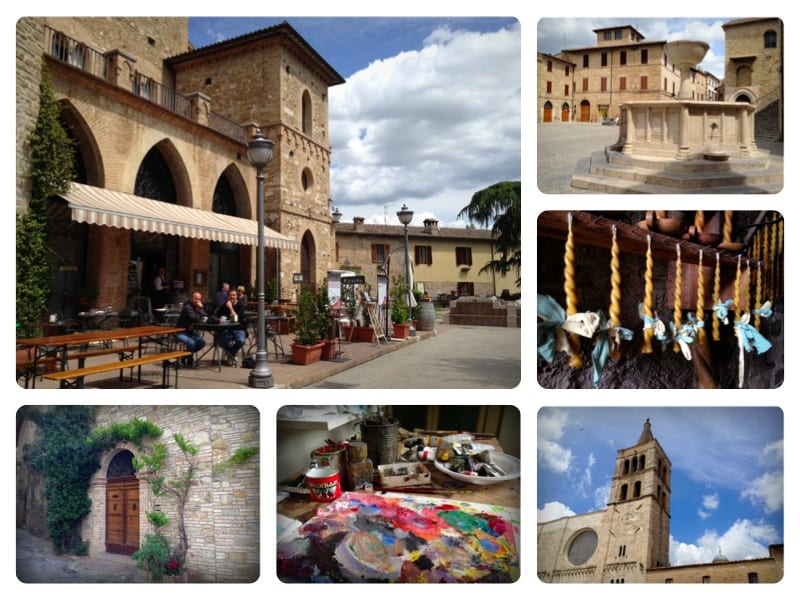 Bevagna, Italy
I originally went to the Umbrian town of Bevagna to check out the local handicrafts — and found a village where time had stopped.  Bevagna is home to artists and artisans still practicing traditional arts from centuries ago.
I joined in a few of the activities, dipping twisted candles in wax and sifting through pureed bits of wood to make paper, plus learning about gold-leaf painting and meeting acclaimed local artists out for their daily stroll.  The medieval town was beautiful enough on its own, but the artistic atmosphere gave it so much life!
What you simply must do: Come for the Festival of Gaite at the end of June.  Everyone wears medieval costumes and shuns modern technology!
If you like this, you'll also like: Spello, a photogenic town nearby that has a flower festival.

Labin, Croatia
Labin is one of the lesser-known towns of Istria, and I ended up traveling there on a whim, hearing it was nice.  I was thrilled with the results!  This rainbow sherbert-colored town was a fabulous place to spend an afternoon, with cute cafes, bell towers to climb, and beautiful streets to explore.
What you simply must do: Indulge in truffles — they're fabulously cheap here.  My big plate of pasta covered with black truffle shavings cost about $10, less than half of what a dish like that would cost in the US.
If you like this, you'll also like: Grožnjan.  This musicians' town in northern Istria is hard to get to, but worth it for the beautiful views and friendly atmosphere.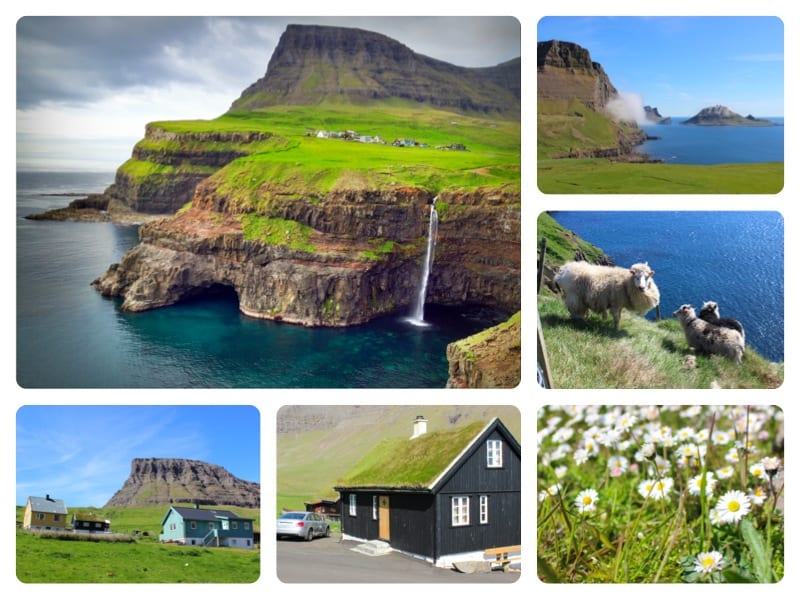 Gasadalur, Faroe Islands
With a population of just 17, Gasadalur is definitely the smallest of the small towns on this list.  The natural setting on the island of Vagur is nothing short of astounding, with incredible views of the cliffs, islands, and waterfall.  In Gasadalur and other Faroese towns, you see Audis and Mercedes parked next to traditional grass-roofed cottages, which never hesitated to make me smile.
What you simply must do: Find the lookout where you can photograph the waterfall.  It's a dirt path leading to the edge of the cliff.  (Don't drive down that dirt path.  I drove into a ditch and had to be rescued by the townspeople.)
If you like this, you'll also like: Gjov.  This town, on the island of Eysturoy, is in another beautiful and isolated location, surrounded by cliffs that light up at sunset (or the closest thing to sunset in summer).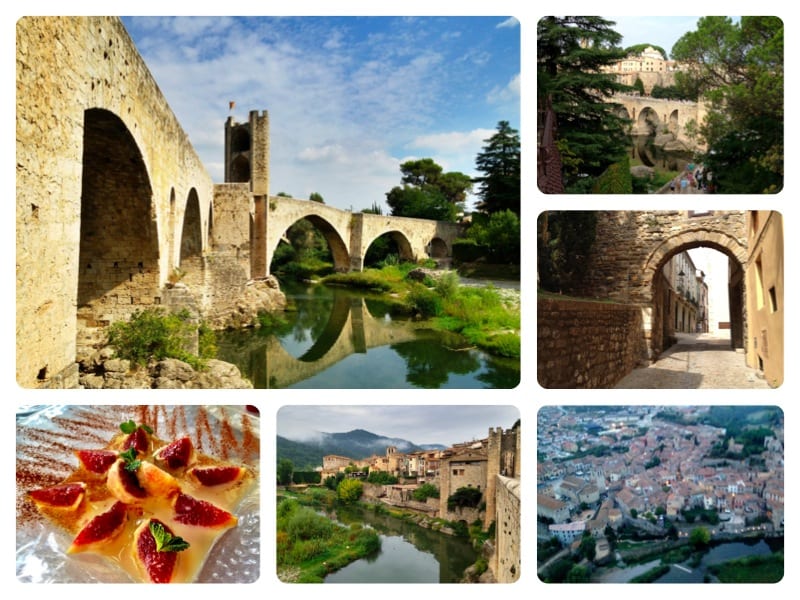 Besalú, Spain
You'll know you're in Besalú the moment you arrive, when that beautiful bridge rises up in front of you.  In my opinion, it's one of the most beautiful bridges in the world.  Most people come to Besalú on brief day trips, barely long enough to get a photo of the bridge.  Stay longer and you'll find a charming Catalonian town with a great arts scene, delicious food, and fantastic views from every angle.
What you simply must do: Go to Restaurant Pont Vell, get an outdoor table with a view of the bridge, and try some Catalan cuisine.  You can't go wrong with anything on the menu.
If you like this, you'll also like: Tossa de Mar.  Tossa may be a beach resort, but it has a lot of the medieval charm of Besalú in its old town.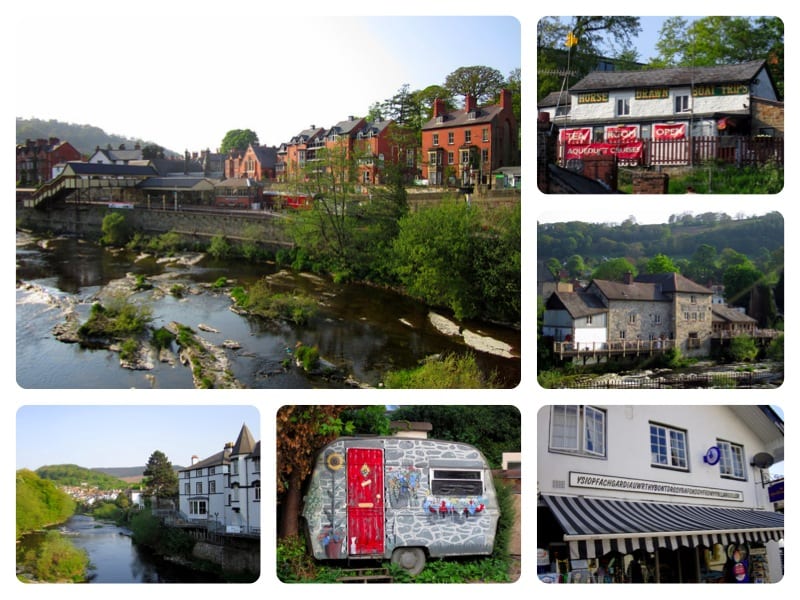 Llangollen, Wales
There's not a lot to do in Llangollen, but it's an incredibly pleasant place to spend an afternoon.  Located on the River Dee, Llangollen is famous for its horse-drawn boat trips — a boat in a canal that is actually pulled by a horse on shore!
What you simply must do: Go to the Corn Mill and if it's a nice day, get an outdoor table overlooking the river.  I had the best pork belly of my LIFE at this restaurant.
If you like this, you'll also like: Betws-y-Coed.  This is another pretty town in the middle of the countryside in northern Wales, just a short drive away.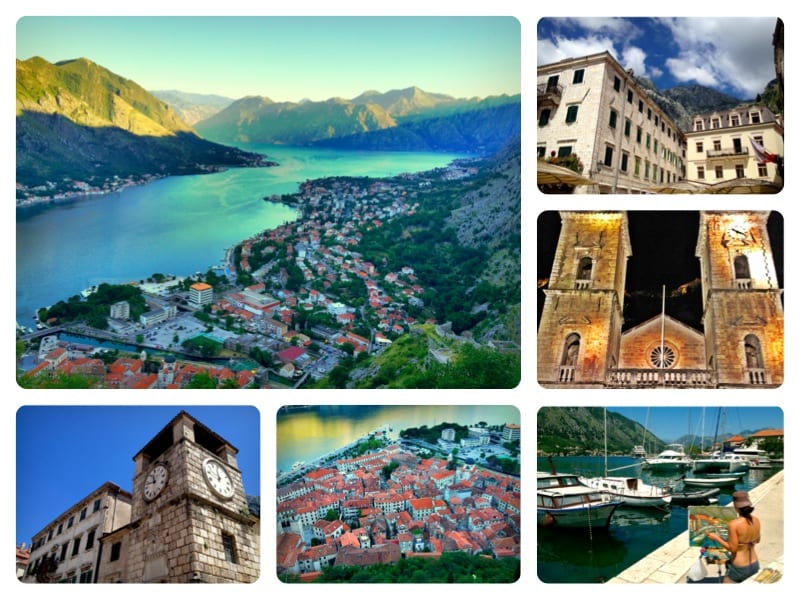 Kotor, Montenegro
This town is the largest and probably the least obscure of the bunch, and it ties Gasadalur for the most spectacular natural setting.  Kotor's walled old town is impossibly charming, orange-roofed, cafe-filled and surrounded by gray-green mountains.  It's the kind of place where you can happily stay for weeks without ever leaving the city walls — though the Bay of Kotor and its fjords are one of the most stunning natural wonders in southeastern Europe.
What you simply must do: Hike to the top of the fortress.  If you do it at sunrise, you'll probably be the only one, and you'll get cool shadows as the sun rises.
If you like this town, you'll also like: Budva, a short bus ride down the coast.  It's not quite as charming as Kotor, but the old town is a lovely place to walk around.  And there are proper beaches, too!
What's your favorite small town in Europe?
Autor: Adventurous Kate
Fuente de contenido