Adventurous Kate contains affiliate links. If you make a purchase through these links, I will earn a commission at no extra cost to you. Thanks!
Lake Atitlan, Guatemala, is one of the most magical destinations in all of Central America. This turquoise, high-altitude lake is surrounded by volcanoes and dotted with small, colorful towns.
Curiously, one thing I've noticed about Guatemala guidebooks and tours is that they tend to label Lake Atitlan as a singular destination. "Spend a few days exploring Antigua before a few days on Lake Atitlán, then move on to Tikal…"
By the sound of that, you'd think that Lake Atitlan — Lago de Atitlán — is tiny, maybe with one town and a public beach or two, the kind of place you drop in for a night and leave without thinking too much about it.
This couldn't be more false. Lake Atitlan is ENORMOUS. And the different villages that surround it are so interesting and diverse, each with its own personality.
I feel like these guidebooks and tours really do travelers a disservice — they convince people that the lake is only worth a few days at most. Instead, Lake Atitlan is one of the best places in Central America to kick back, relax, and enjoy tranquil nature. It's a wonderful contrast to the more hectic destinations in the region.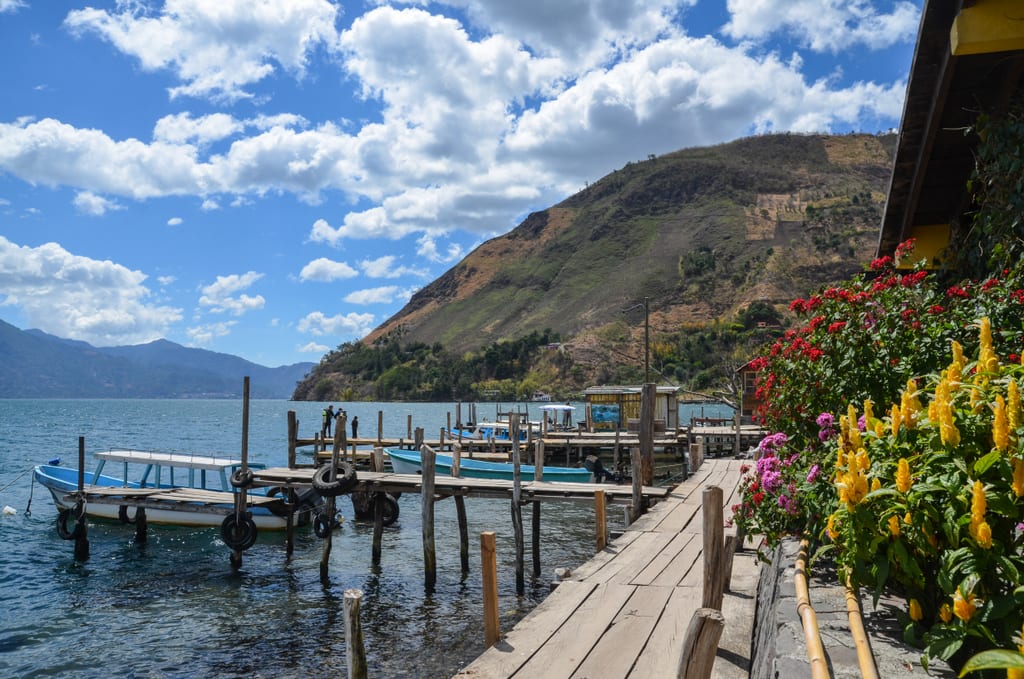 Lake Atitlan, located in the heart of the Guatemala Highlands, is the deepest lake in Central America. It has a maximum depth of 340 meters (1,120 feet), yet it's also perched at an elevation of 1,562 meters (5,125 feet) above sea level.
Atitlan is also one of the most beautiful lakes I've ever seen. Imagine an immense blue abyss sparkling in the sunlight, surrounded by mountains and volcanoes covered with blooming wildflowers.
The weather is absolutely perfect — temperatures hover around 70s-80s (21-27 C) during the day and 50s-60s (10-20 C) at night. No need for heating or air conditioning. Dry season runs from November to April; you'll experience the clearest, sunniest days from January through March. Rainy season is usually from June through October.
Second, Lake Atitlan is home to a primarily Indigenous community. If you've ever wondered what happened to the Ancient Mayans, well, they're still here! Come to Lake Atitlan and you'll be surrounded by Mayans. And each lake town has its own signature style of Indigenous clothing.
This is a great thing, and makes Lake Atitlan a wonderfully welcoming placer. Mayans are immeasurably kind, and I feel particularly safe in this region because Mayan men do not catcall or hit on non-Mayan women — ever.
Third, Lake Atitlan is home to more than a dozen different towns. Tiny villages, large towns, Gringo heavens, Indigenous communities. Each beautiful place is so different than the last and it's worth exploring as many as possible.
I've written this guide as a way to differentiate the villages, letting you figure out which Lake Atitlan towns are best for you.
This post was most recently updated in January 2023.
Where is the best place to stay on Lake Atitlan?
If you want a well-connected town with lots of tourist services, I recommend staying in Panajachel. If you are a backpacker who loves a fun night out, you may prefer the backpacker-oriented San Pedro La Laguna.
Where is the best place to stay on Lake Atitlan on a budget?
The best cheap place to stay on Lake Atitlan is San Pedro La Laguna. You will find the greatest variety of cheap accommodation in this town.
Can you swim in Lake Atitlan?
Technically you can swim in Lake Atitlan, but some parts of the lake are on the dirty side. I recommend swimming in the beautiful, clean area around San Marcos.
Is Lake Atitlan safe?
Lake Atitlan is very safe — one of the safest places in Latin America. Like all other destinations, keep an eye on your belongings and don't drink too much.
I generally spend a week on Lake Atitlan with stays in Panajachel, Jaibalito, and San Pedro, plus visits to surrounding towns. I feel like a full week on the lake is enough time to get a good sense of the many different communities that call it home.
Here are the top towns to visit, located counterclockwise from the lake's main hub of Panajachel. Which Lake Atitlan town is best for you? Read on!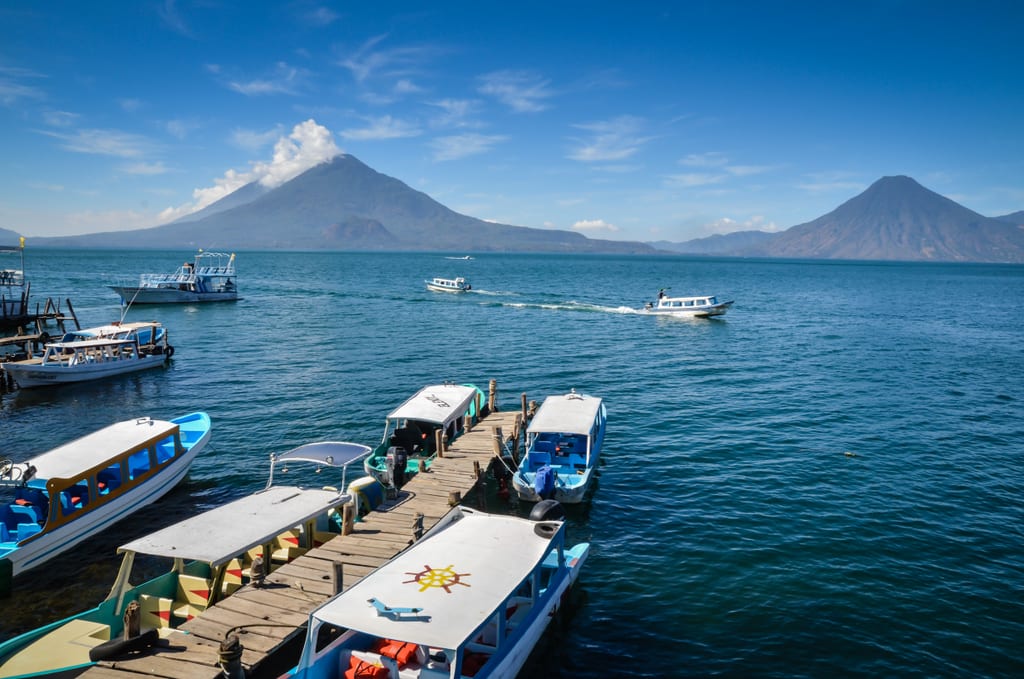 Panajachel
Panajachel, Guatemala, is known as the tourist town of Lake Atitlan.
Panajachel, a.k.a. Pana, is one of the most popular places for tourists to visit in Guatemala, and if you're going to visit only one town in Lake Atitlan, it will probably be here. You'll find a well-developed town with a lot of resources for both locals and expats.
Panajachel's main drag is Calle Santander and it's here that you'll find the best shopping in Guatemala. There are plenty of tour agencies offering day trips and tours around the entire lake.
If I were to live anywhere in Guatemala, it would be Panajachel — but that doesn't mean it's my favorite place in Guatemala!
Pana has the perfect mix of natural beauty, resources, good prices, easy travel connections, amenities for digital nomads, and an expat community that existed long before remote work became popular. All important things in choosing a place to live.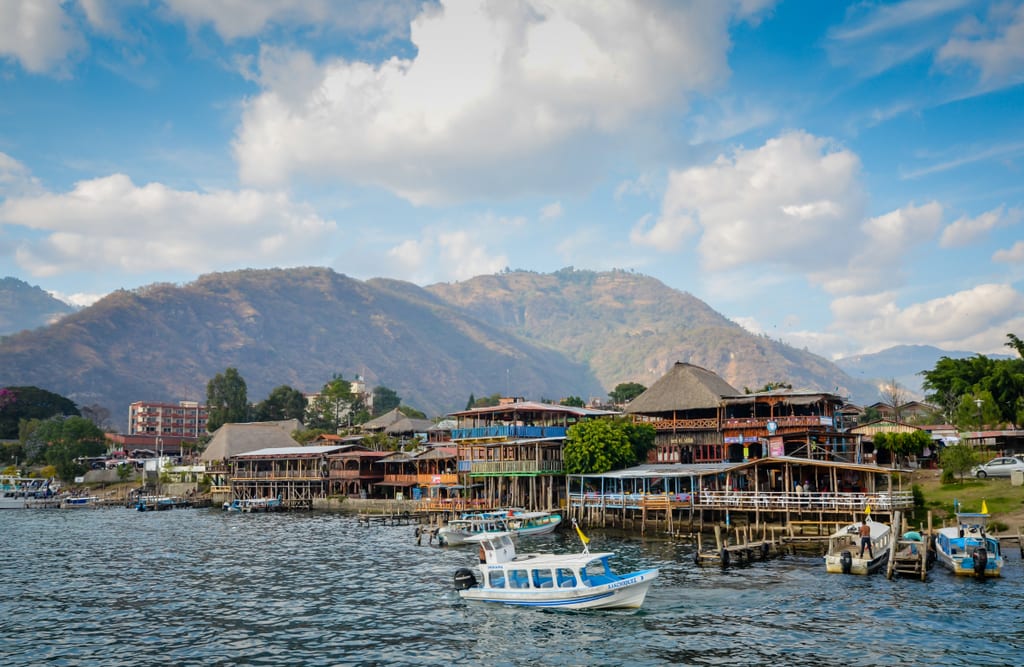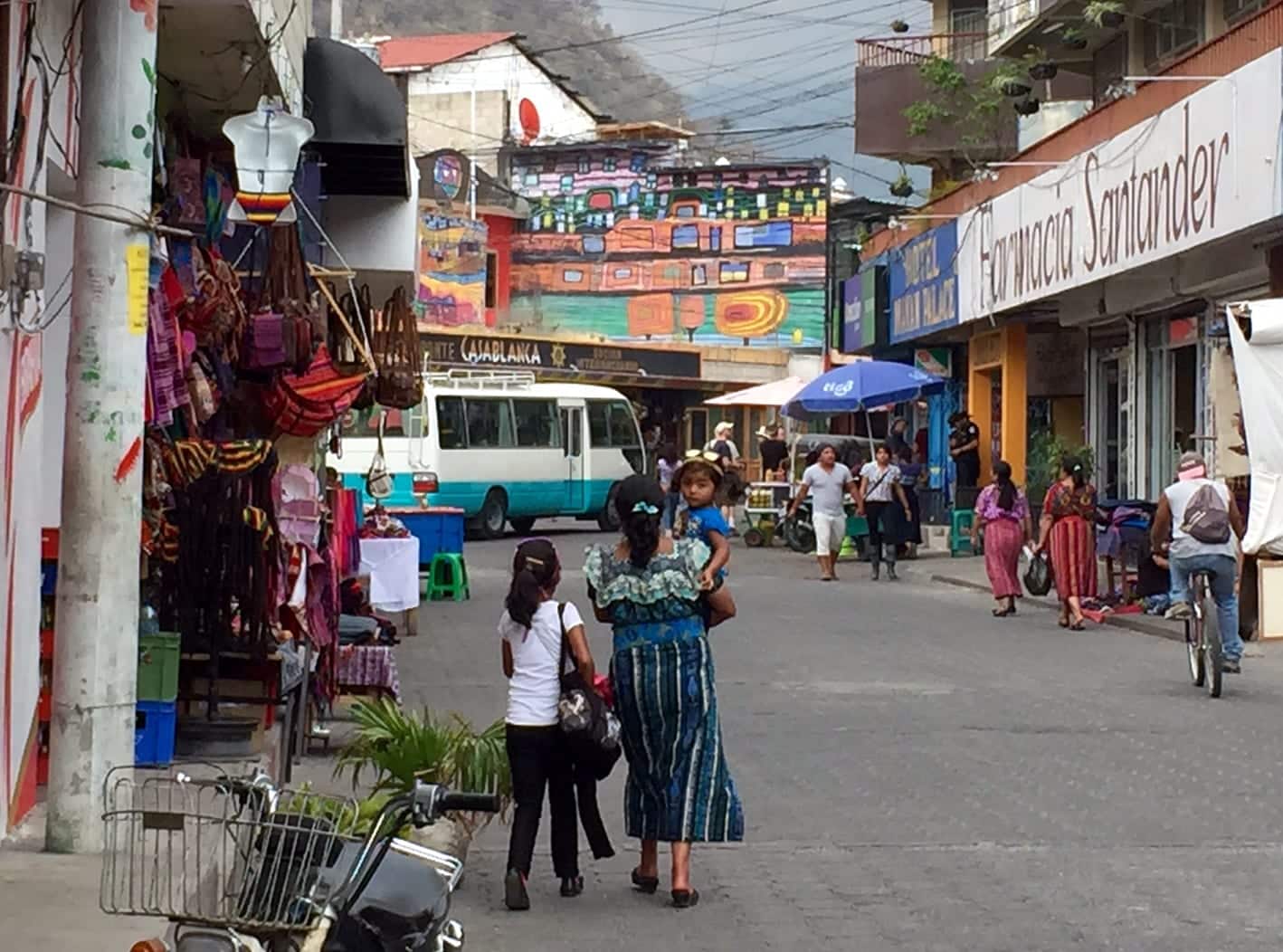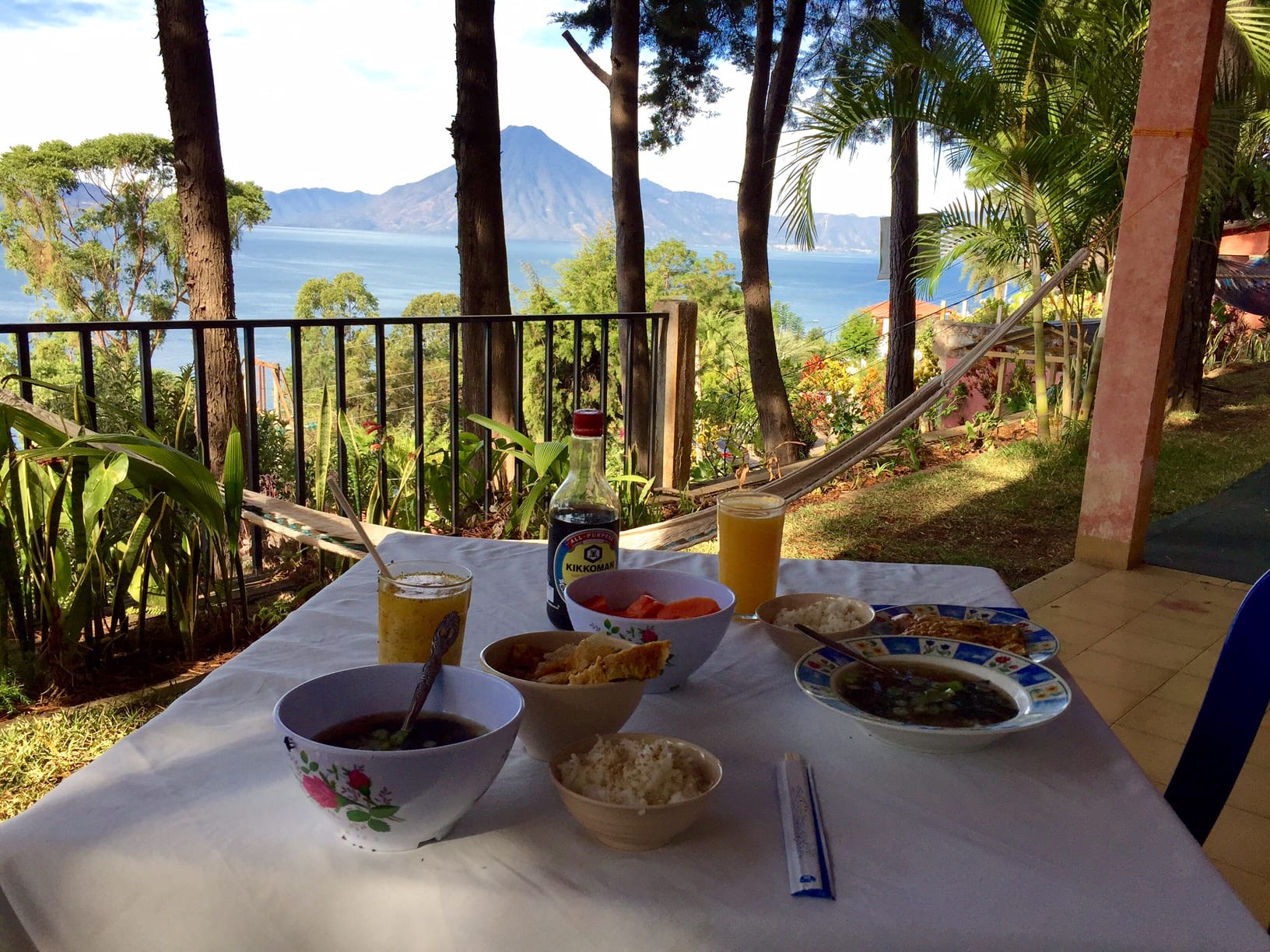 Best Things to Do in Panajachel, Lake Atitlan
Shop for EVERYTHING! Pana has the best selection and prices in Guatemala. If you're looking to buy souvenirs, Panajachel is the perfect place. Jewelry, textiles, leather goods, artwork — they've got it all!
Visit Crossroads Coffee. This is more than just a coffee shop. The beans are obviously amazing (it's Guatemala, after all!), but the true highlight of this place is Mike, the owner. He is the kindest, friendliest, most interesting man, he will talk your ear off in the best way, and I promise that you will feel so happy and light after having a conversation with him.
Take a Mayan cooking class. Indigenous Mayan flavors are different from what you may consider to be Latin American food. You'll take the recipes home afterward, and this is something you can pass on to your family and friends.
Take a sunset ATV tour. Of all the towns on Lake Atitlan, Panajachel has the best views of the sunset. This tour takes you up into the mountains for the best view over the lake.
How about a sunset cruise, too? If you're adventurous and speak a bit of Spanish, bargain with a captain at one of the docks! You'll find the best sunsets from December to February; other months of the year, it's rainy or it gets cloudy by late afternoon.
Go for a scenic bike tour. You get a good sense of the size and beauty of the lake when on two wheels. But don't think you're not in good enough shape — this leisurely bike tour is "98% downhill" and stops at every scenic overview.
Hike Indian Nose Peak at sunrise. Yep, this one has a very early start time, but the hike isn't bad — just 30 minutes to one of the highest points on the lake. From there you'll get to experience panoramic views of an Atitlan sunrise in perfect silence.
Where to Stay in Panajachel
When it comes to accommodation on Lake Atitlan, Panajachel has the most extensive selection and best options.
Here are the top-rated hotels in Panajachel:
Find deals on Panajachel hotels here.
Where to Eat in Panajachel
Chez Alex is the fanciest and most expensive place in town — but let me tell you that at low Guatemalan prices, it's so worth it. I had a fantastic steak with green peppercorn sauce along with plenty of red wine.
If you've been craving sushi after weeks on the road, Restaurant Hana has nice Japanese food.
Circus Bar has great pizza and live music on the weekends. We ordered from them for our pizza booze cruise!
Street tacos are abundant on Calle Santander and elsewhere. You'll also find GFC (Guatemalan fried chicken) if you're up for an indulgence.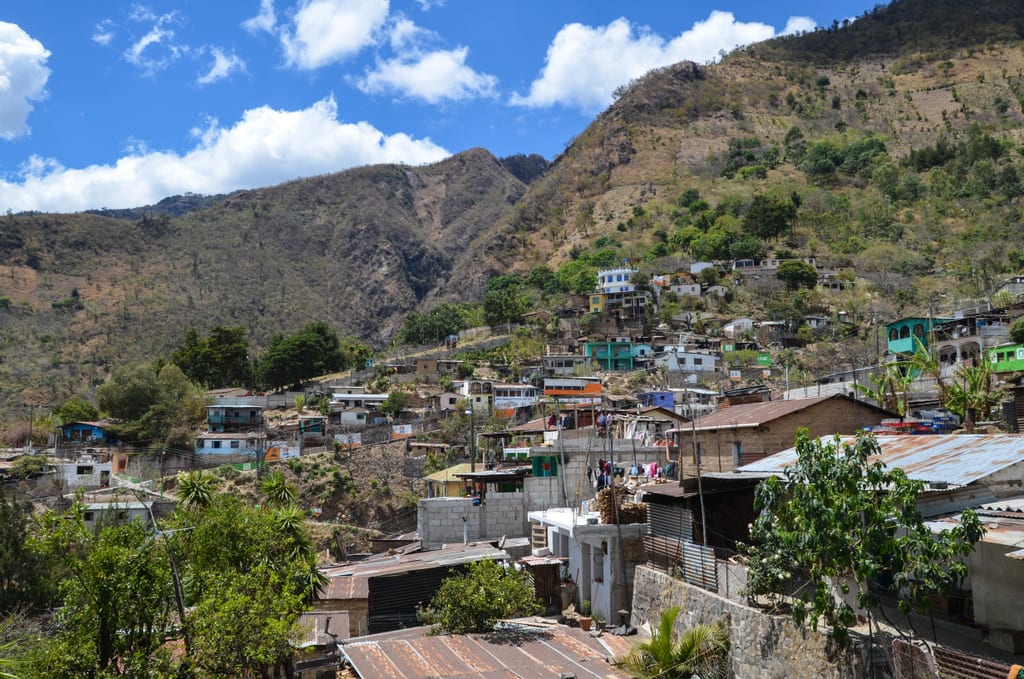 Santa Cruz
Santa Cruz, Guatemala, is known as the nearly-vertical town of Lake Atitlan.
Want to develop huge muscles in your calves? Come to Santa Cruz! I say this in jest, but seriously. Most of the villages in Lake Atitlan are built onto hills, but Santa Cruz is the steepest one of all.
Santa Cruz, also called Santa Cruz la Laguna, is a traditional Mayan town and though there are several expats living here, this feels much more like a local town. Most of the Gringo-oriented businesses are right down at the lake's edge; once you climb into town, it's purely local.
I liked Santa Cruz for a day trip; anything longer than that would be a bit excessive. Make sure you don't miss the area down by the docks as well as the town itself.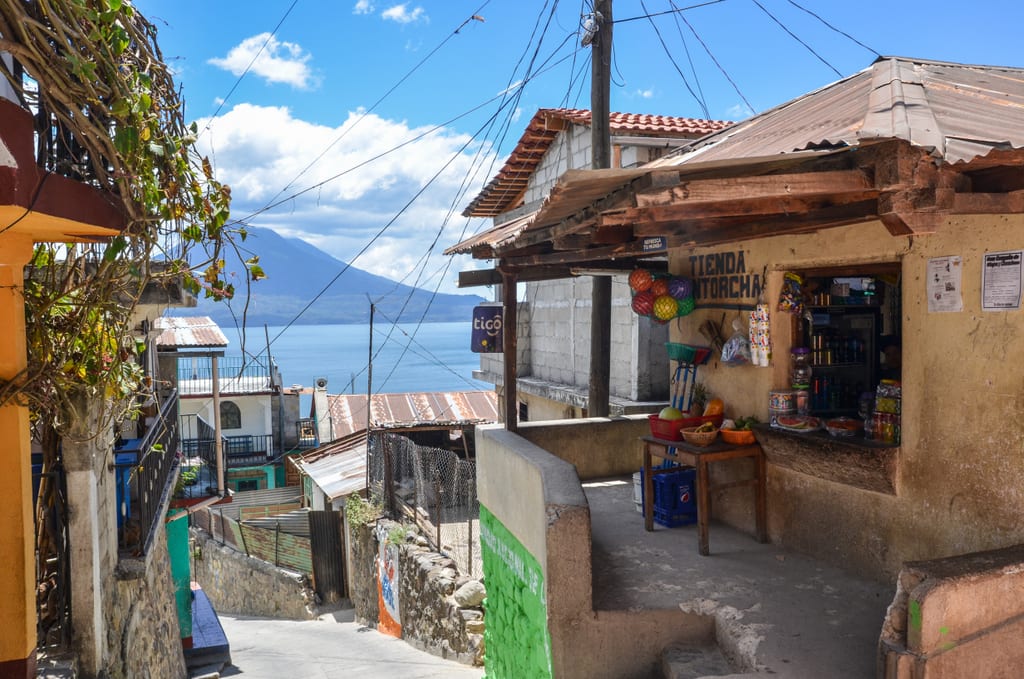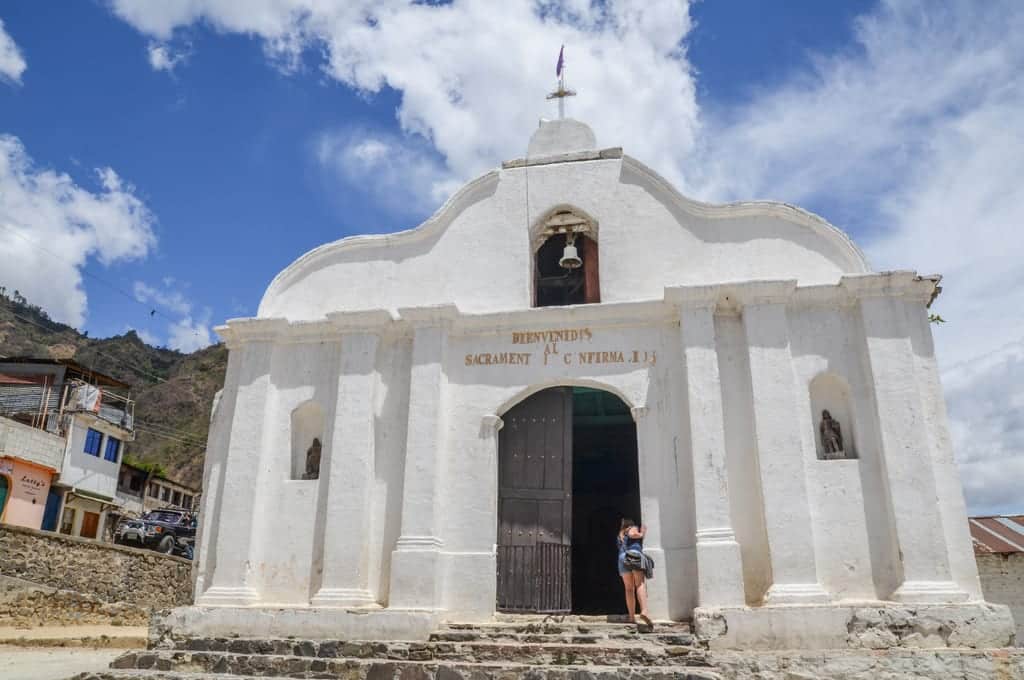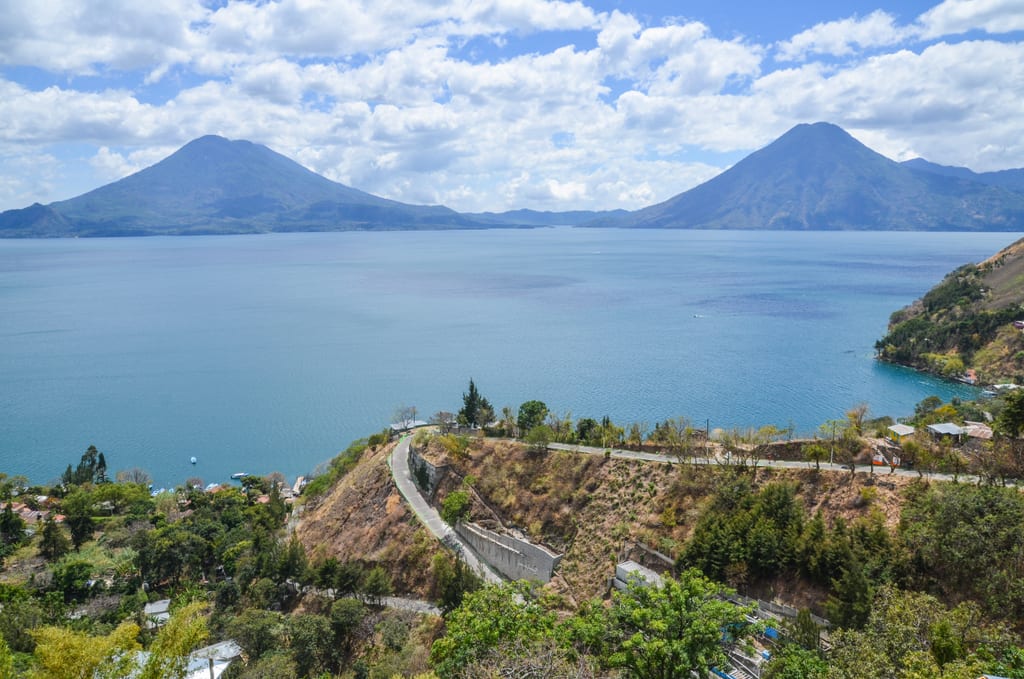 Best Things to do in Santa Cruz
Tour Santa Cruz and visit a local nonprofit. This tour takes you around town with a visit to a vocational training center showing locals how to develop more skills and make a better living.
Go diving! Ever dived at altitude before?! Lake Atitlan's one dive shop, ATI Divers, is located in Santa Cruz. It might not seem like a conventional diving destination, but with Atitlan's rising waters, you'll find lots of buildings that have been swallowed by the lake.
Walk to the top of the village. My friends were grumbling by the end, but it was an accomplishment to walk to the tippity top of the very vertical town!
Where to Stay in Santa Cruz
Here are the top-rated hotels in Santa Cruz, Guatemala:
Find deals on hotels in Santa Cruz here.
Where to Eat in Santa Cruz
Cafe Sabor Cruceno is a culinary school creating Guatemalan and fusion dishes. If you're coming to Santa Cruz for a day trip, this is where you want to eat for lunch! It's located on the main plaza in town.
The building also has the best views of the town and I took the first Santa Cruz photo from there.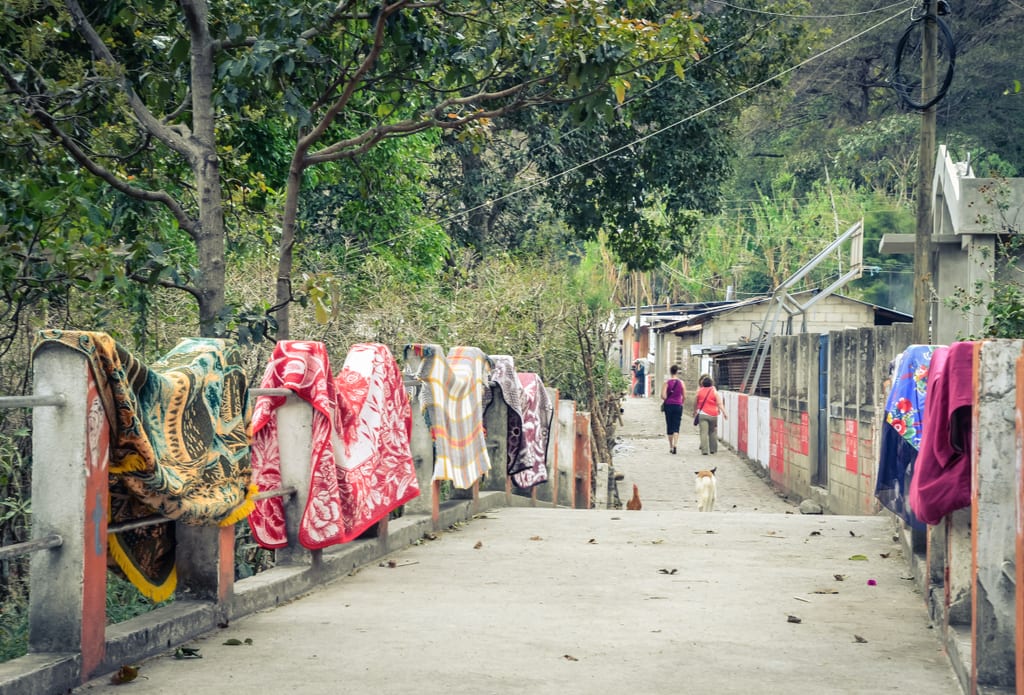 Jaibalito
Jaibalito, Guatemala, is known as the town people don't want you to know about on Lake Atitlan.
I have so much affection for Jaibalito — it's a small town only accessible by water or by hiking, it's home to three great establishments, the local community is very friendly, and the views of the lake are wonderful. It's also conveniently located for day trips to other towns on the lake.
At night, noise swells — competing churches play incredibly loud and boisterous music, while in the middle of the night, all of the dogs on the lake seem to be barking at each other.
There's not much to do in Jaibalito, but that's where I think the charm lies. It feels like stumbling upon a secret that nobody knows about.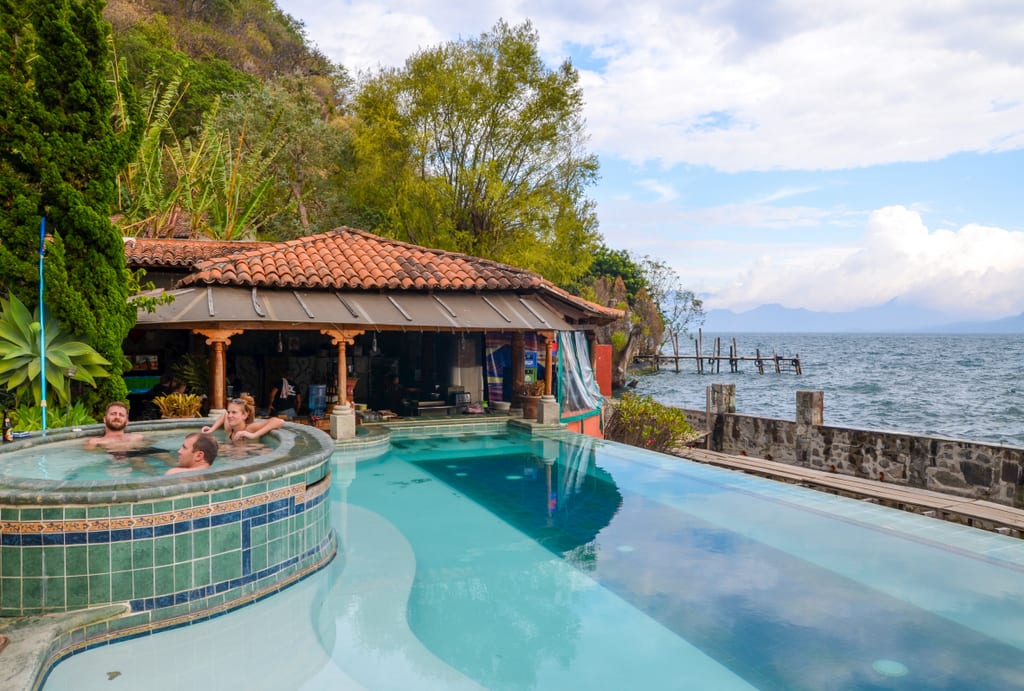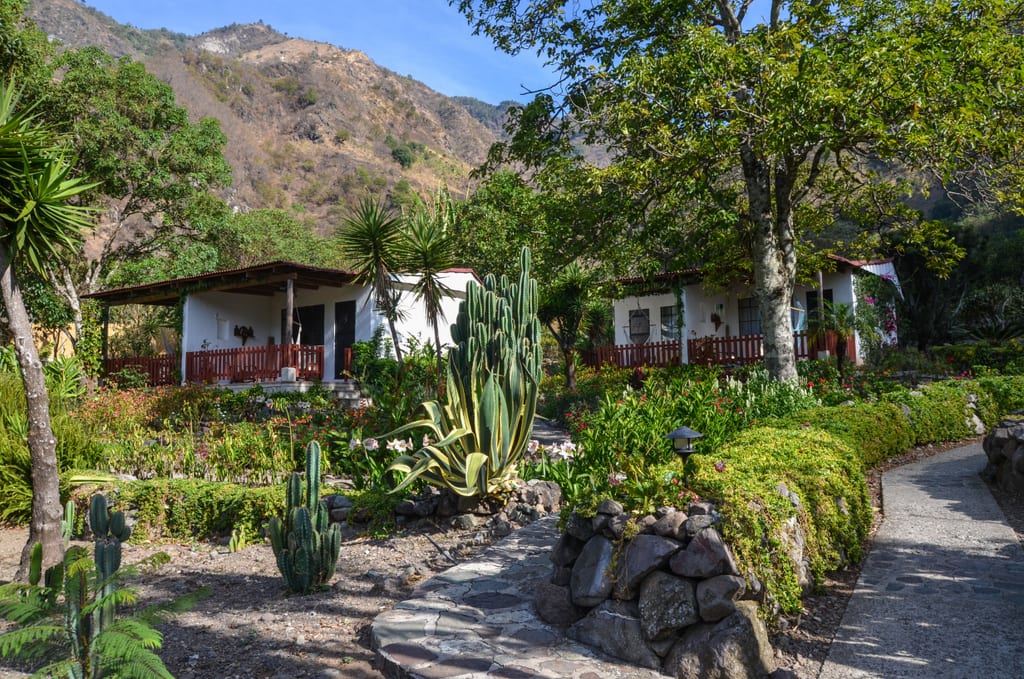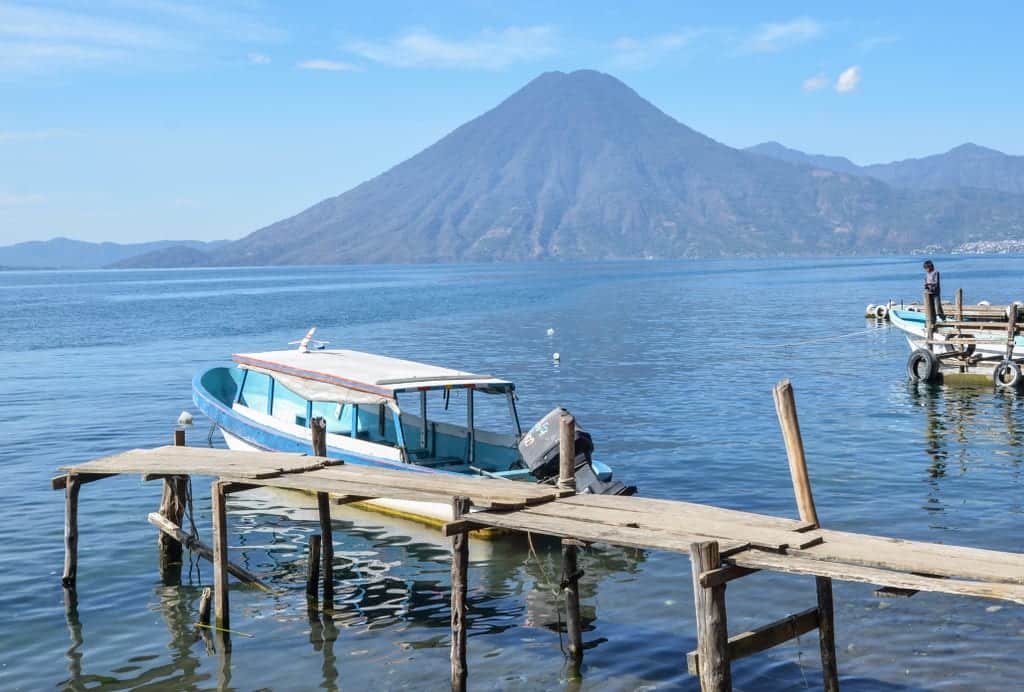 Best Things to Do in Jaibalito
Just hang out and relax. If you've come to Jaibalito with an agenda, you're doing it wrong. This is a place for doing nothing.
Note: Club Ven Aca, once a mainstay of Jaibalito, has closed since the original publication of this post.
Where to Stay in Jaibalito
Hotel La Casa del Mundo is a high-end property with a gorgeous location right on the lake.
Posada Jaibalito (no website!), also known as Hans's place, is a casual hostel and restaurant dishing up surprisingly good schnitzel.
Vulcano Lodge, a hotel in Jaibalito I adored, has closed since the original publication of this post. It looks like nothing has taken its place.
Find deals on Jaibalito hotels here.
Where to Eat in Jaibalito
Posada Jaibalito (a.k.a. Hans's place). This hostel is home to a restaurant with super-delicious and super-cheap food, including German dishes like schnitzel and goulash. Their salads are basic but ridiculously good — I can't figure out why! This is also where Jaibalito's expat community gathers each night.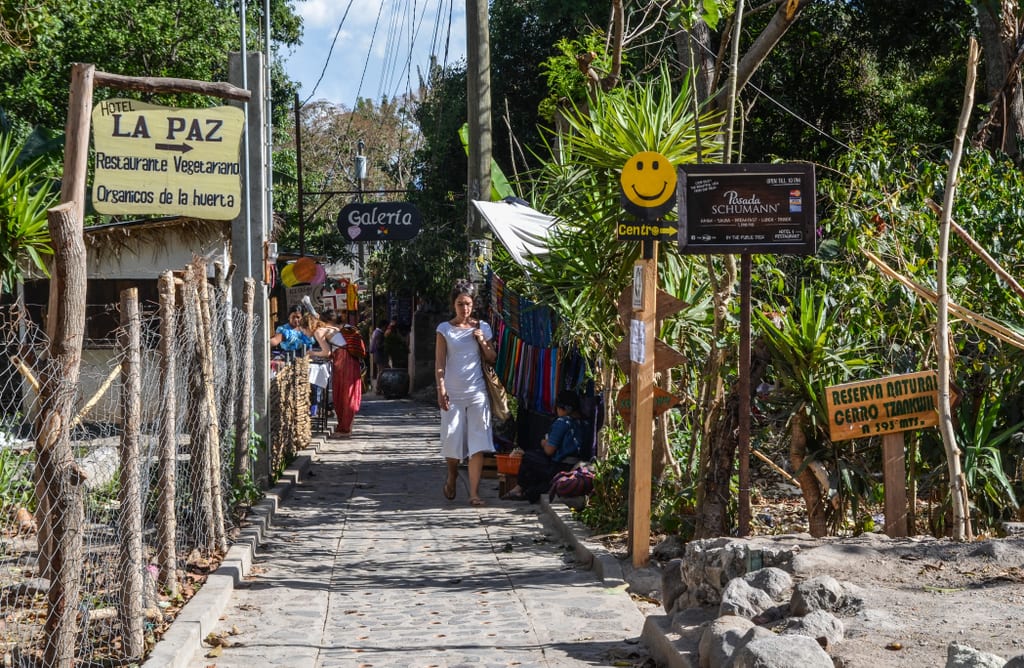 San Marcos La Laguna
San Marcos, Guatemala, is known as the hippie town of Lake Atitlan.
Lake Atitlan is known for its mystical pull, and the pull is strongest in San Marcos, attracting a hippie community. You can pretty much figure out who in the boat is going to San Marcos based on what they're wearing!
San Marcos is one of the most beautiful villages on the lake, but it's tiny. After all the praises I had heard sung about San Marcos, I was stunned to see how small it actually was! I wouldn't want to base in San Marcos, but it's a great spot for a day trip.
Come here to get into your mystical side, or come here for the beautiful scenery. It's worth a visit on both accounts.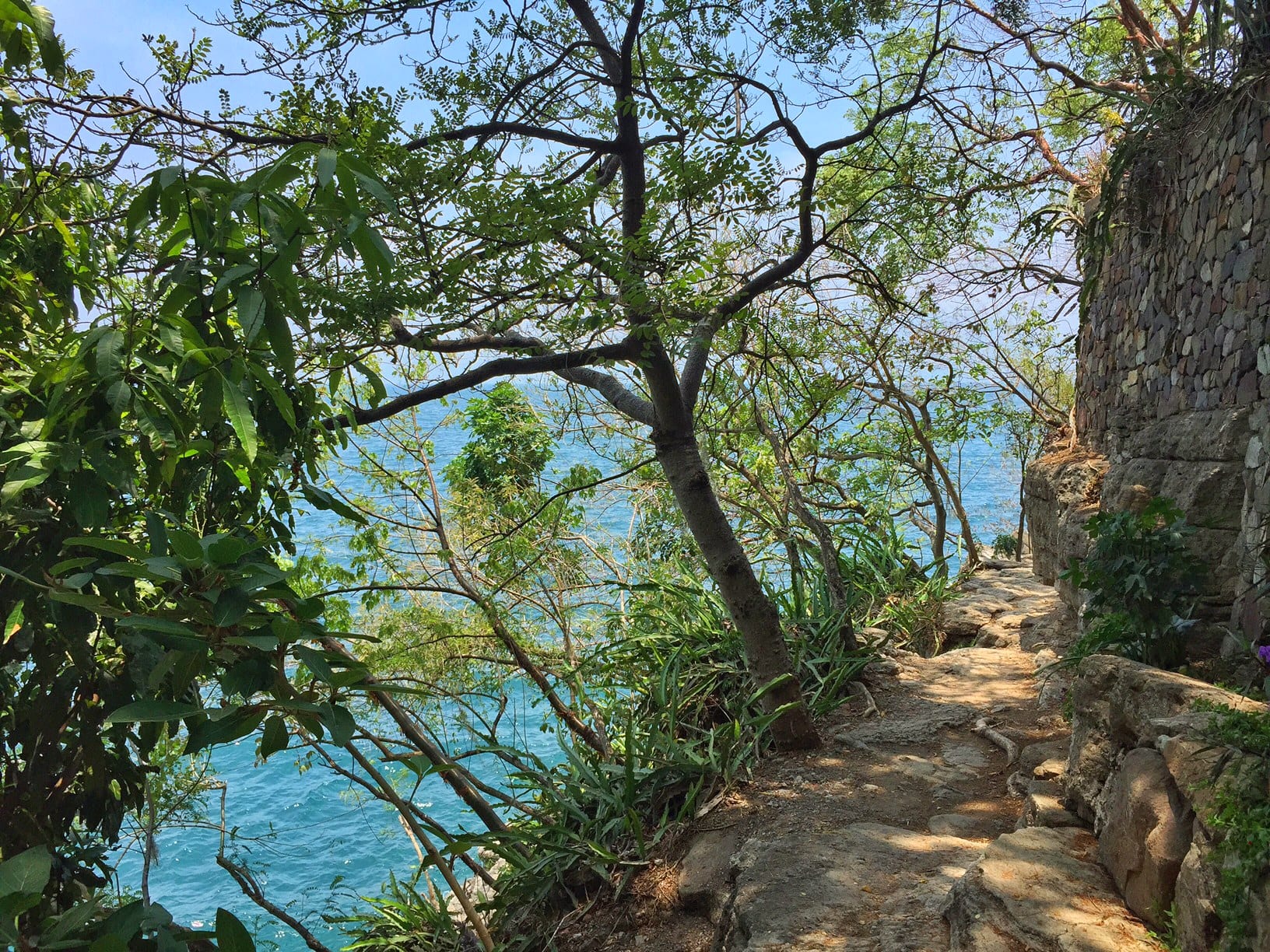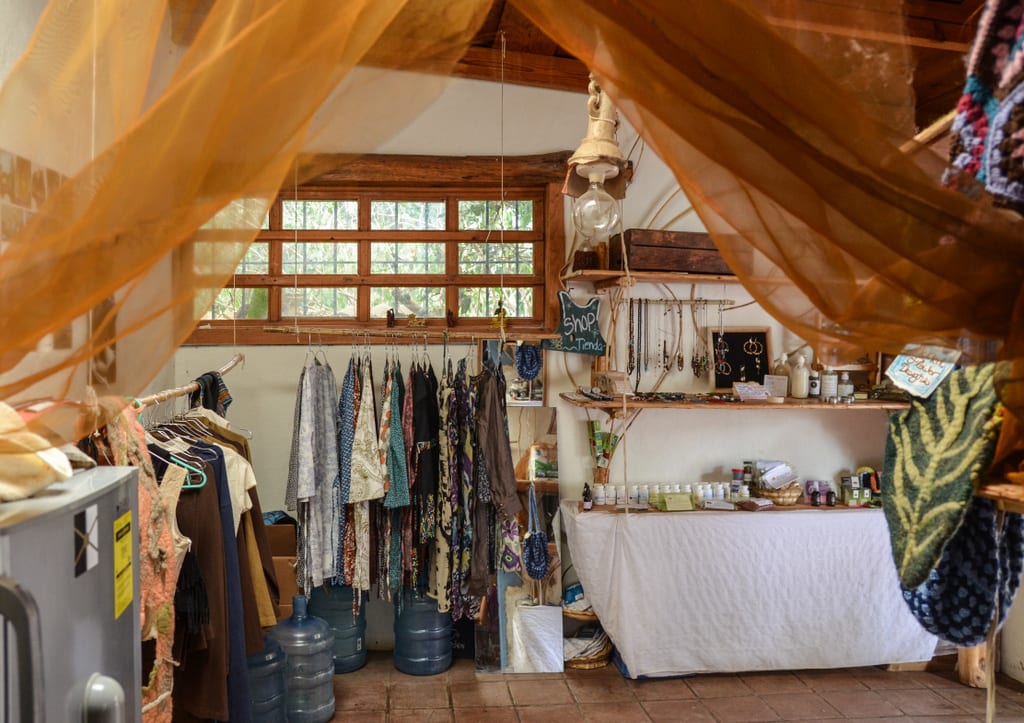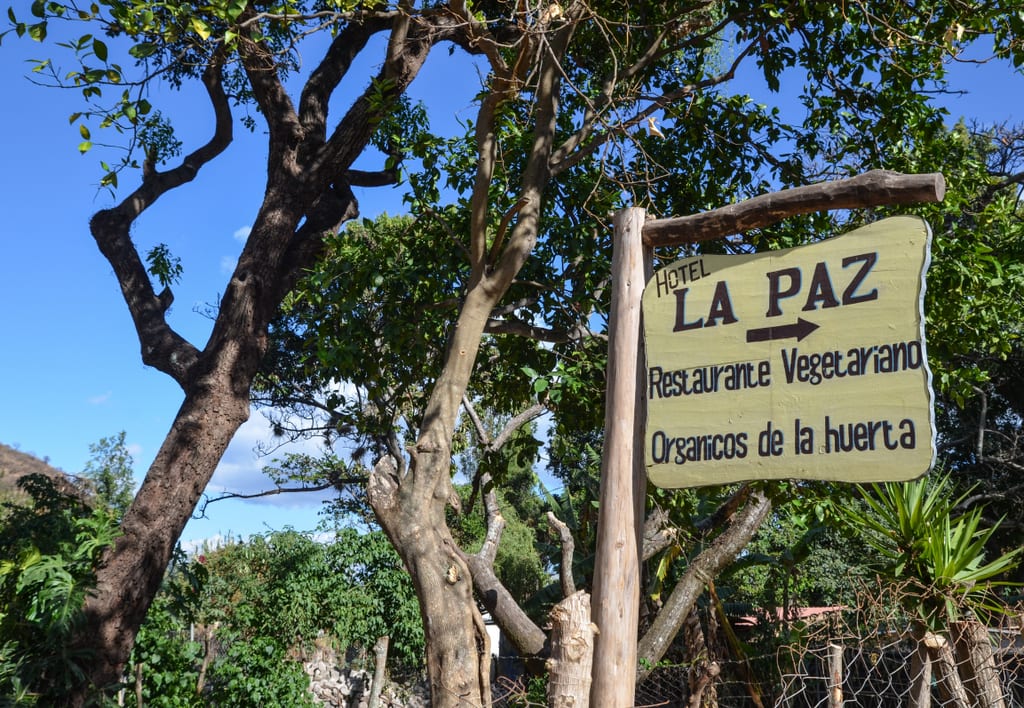 Best Things to Do in San Marcos
Get your hippie on. Want your chakras balanced? Want a birth chart done? Manifestation? Astrology? This is where to do it. There are several beauty salons, too, if you're in need of a manicure or a wax.
Jump into the water. San Marcos is home to Reserva Natural del Cerro Tzankujil, a beautiful trail that leads to a platform where you can jump into the lake! If you're not up for a jump, you can climb into the water for a swim. I think this is the best place to swim in Lake Atitlan.
Visit the Eagle's Nest. This retreat puts on all kinds of yoga classes and events. You can buy a day pass for Community Day Fridays, where you can join the open mic or just hang out and meet fellow cool people.
Do a formal retreat. Las Piramides hosts meditation and yoga retreats, as well as classes and short-term sessions. For a challenge, do one of their many silent retreats.
Where to Stay in San Marcos
Here are the top-rated hotels in San Marcos:
Find deals on San Marcos hotels here.
Where to Eat in San Marcos
Are you a vegetarian? Welcome to heaven. San Marcos especially excels when it comes to vegetarian offerings.
Restaurant Fe. So good, I never ate anywhere else when in San Marcos. The curries and the Indian soups are fabulous (and a nice change from Latin American food).
Shambhala Cafe is a nice place to hang out and sip a tea or kombucha.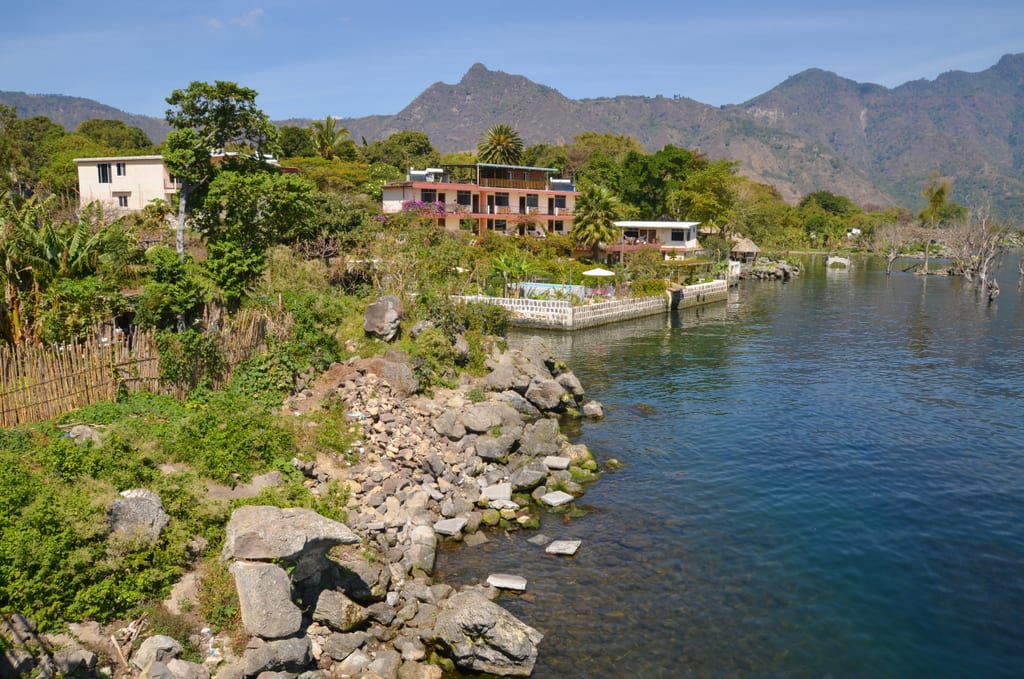 San Pedro La Laguna
San Pedro, Guatemala, is known as the backpacker town of Lake Atitlan.
San Pedro is home to the lowest prices on Lake Atitlan, making this a popular spot for backpackers traveling long-term on the cheap. With good accommodation, excellent food, and a wild nightlife scene, it's not surprising that plenty of backpackers end up stuck in San Pedro for weeks or months!
It might seem like Gringo-land, but walk up the steep hill and you'll be in an entirely Mayan part of the town. I loved taking long walks around here, photographing the colorful buildings.
If you've been spending a bit too much money on a long-term trip, this is a great place to spend time without breaking the bank.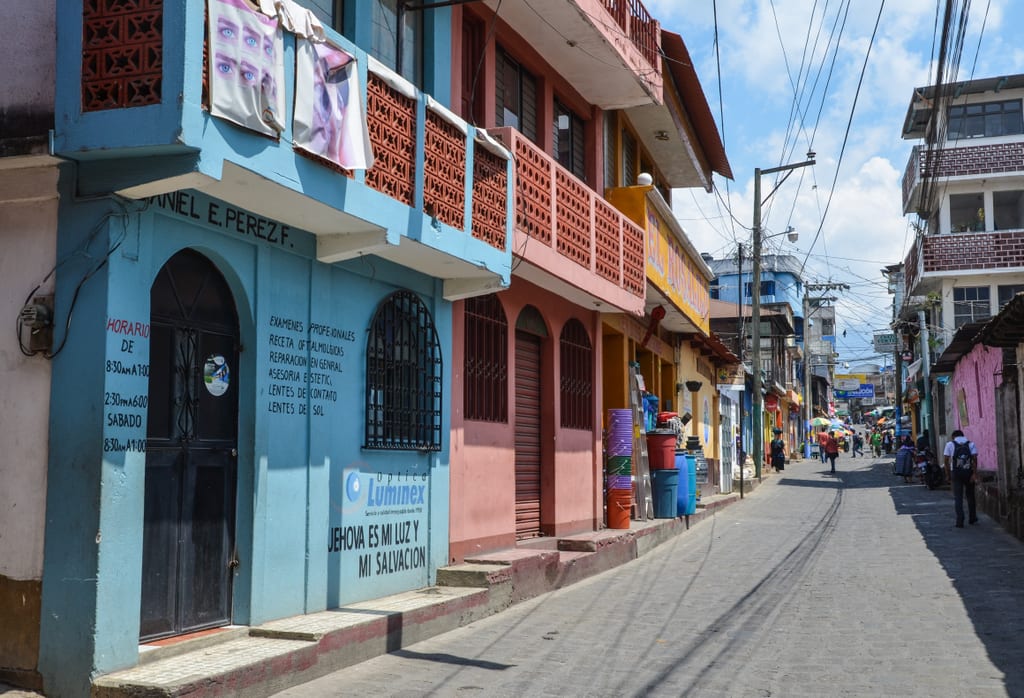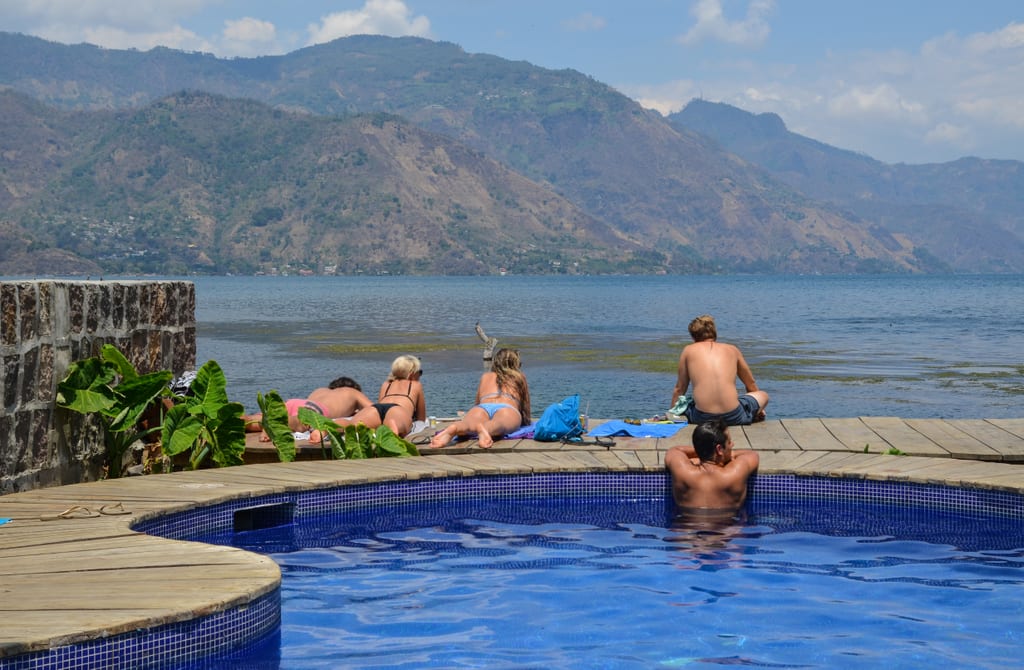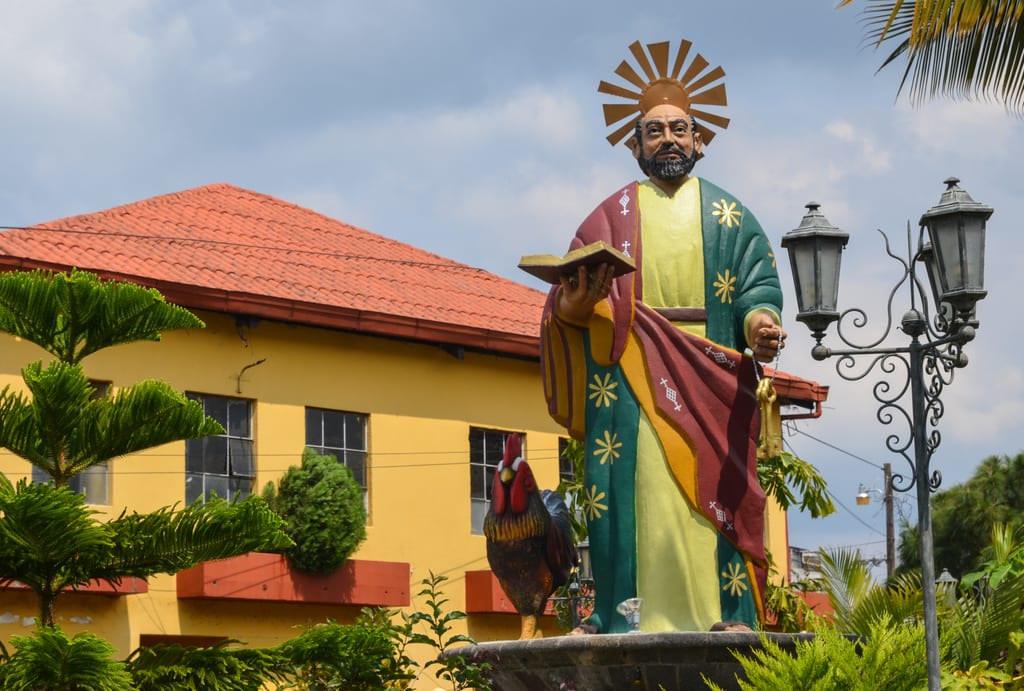 Best Things to Do in San Pedro:
Climb San Pedro Volcano. You should have a good level of fitness to climb Volcán San Pedro, as it's a tough climb, but if you do it, you'll be rewarded with sensational views all over the lake. If you're fit and you can handle the early wakeup, consider a sunrise Indian Nose hike.
Learn Spanish. San Pedro is home to several language schools and Spanish classes are quite cheap — two of my friends took a weeklong course for just $40!
Go on a kayaking tour. Some of the best lake views are around San Pedro.
Go horseback riding to coffee plantations. You'll see locals riding horses throughout San Pedro — why not go on a ride of your own? The best rides take you at scenic overlooks where the lake shimmers in front of you.
Party. This is the place. I'm usually at Sublime every evening, and they do fun theme nights like funk night, Disney night, and a black light party.
Zoola is a fun for day drinking in the pool (and it's the cleanest pool I experienced in Central America).
Where to Stay in San Pedro:
Hotel Mikaso is the nicest place in town with a gorgeous deck with purple flowers and hot and cold tubs. The beds are hand-carved and there's a grand piano upstairs. Dorms from 60q ($8), private rooms from 180q ($24).
Hotel Playa Linda is a highly rated and cheap alternative.
Find deals on hotels in San Pedro here.
Where to Eat in San Pedro
Idea Connection. I can't believe I found legitimate, Italian-quality pasta in Guatemala. Probably the best wifi I found in town, too.
Hotel Mikaso has the best pizza on Lake Atitlan. Thin-crust, gooey cheese, lightly charred. Dinner only.
Zoola is one of the many good Israeli restaurants in town.
Street tacos. Available everywhere on the main drag and always delicious. You'll also find Japanese street food like yakitori and okonomiyaki, and plenty of street barbecue!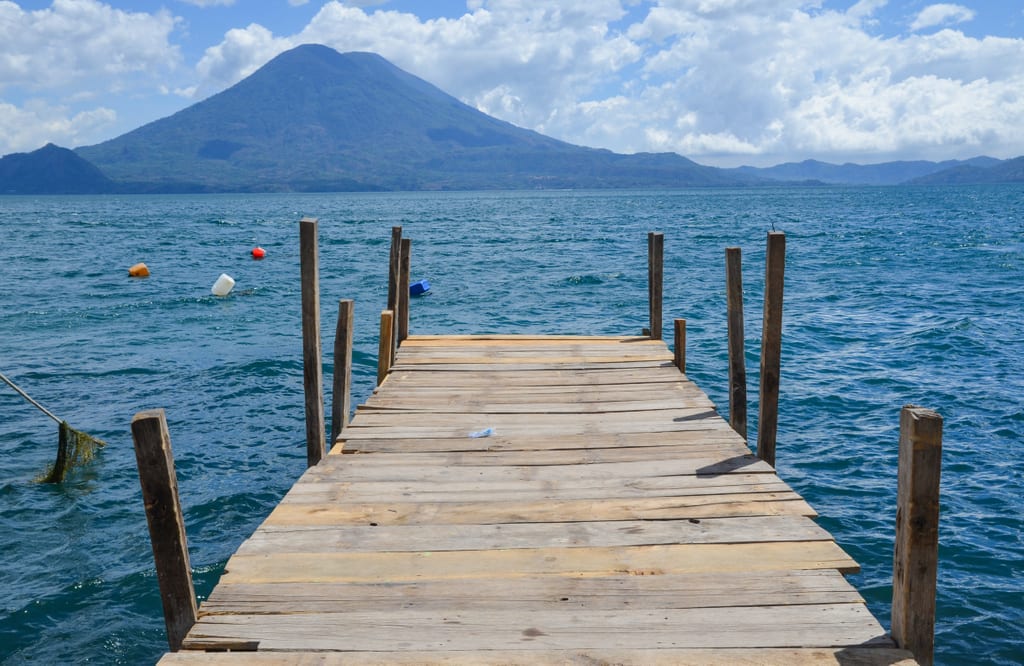 Other Lake Atitlan Towns
I haven't visited the next towns on Lake Atitlan, but I thought they were worth including in the list for informational purposes:
Santiago Atitlán
The largest town on Lake Atitlan, Santiago is famous for its church (people make its saints handmade clothes!), its market, and the saint Maximon, whose home is in Santiago. Views of the lake are gorgeous from here and while you can climb San Pedro Volcano from here, it's a longer and more dangerous route.
Santiago is a bit isolated from the major towns on the lake, but you can find direct lanchas from Panajachel and San Pedro.
San Juan La Laguna
Several women on my first tour visited San Juan and were captivated by it, describing it as a perfect small village with colorful buildings, friendly people, and hardly any tourists. Their highlight was learning how to weave from a group of Mayan women at Lema, a collective in town.
San Juan is the next town over from San Pedro.
Santa Catarina Palopo
Santa Catarina Palopo is a pretty town just past Panajachel and if you're up for a (non-volcanic) hike, this is an easy and fun way to enjoy the coastline! Santa Catarina is also home to hot springs (aguas termales) that appear to be built right into the lake. This was one of the stops on the motorcycle trip on our tour.
Santa Catarina is most easily accessed from Panajachel, by road, hiking, or boat.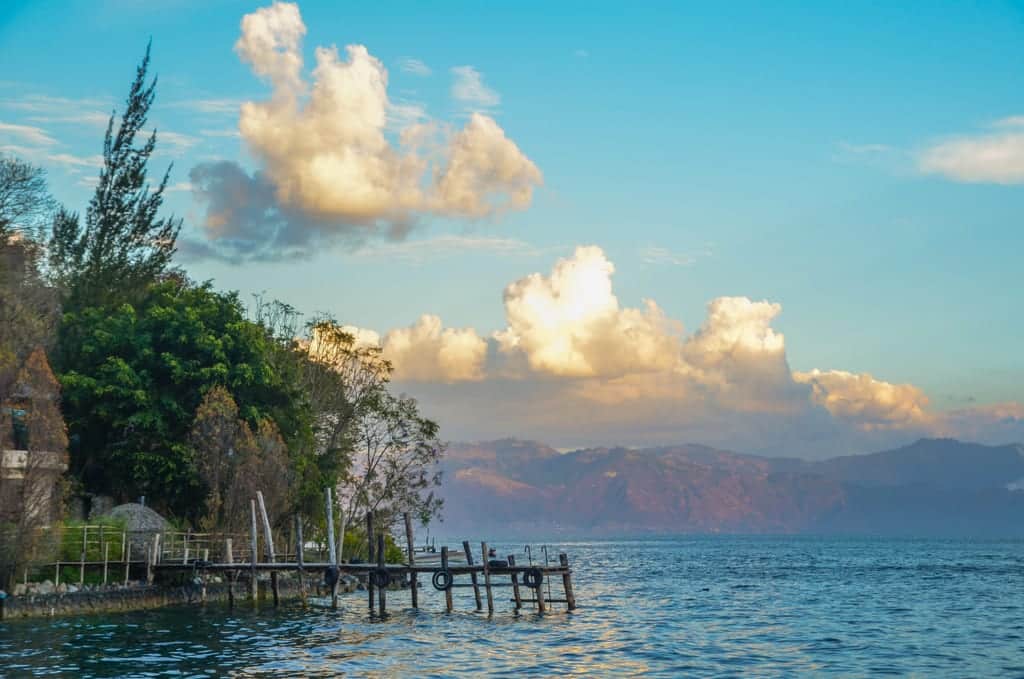 Lake Atitlan Travel Tips
Guatemala City Airport, near Antigua, is the closest airport to Lake Atitlan. I find that Skyscanner tends to have the cheapest prices for flights. Some people come in from Tuxtla Gutierrez near San Cristobal de las Casas in Chiapas, Mexico.
To get from town to town, take a lancha (boat) from the town's dock. Generally boats run in either direction from town to town from Panajachel-Santa Cruz-Jaibalito-Tzununa-San Marcos-San Juan-San Pedro, plus stops in between at other towns and private docks where people need to be picked up.
Other lines run direct between Panajachel and San Pedro, Panajachel and Santiago, and Santiago and San Pedro.
Prices vary and can be negotiated. Some function as public transportation, taking as many people as they can; others act more like water taxis. Generally, ask someone nearby what you should pay, or negotiate down when the driver tells the price. Short distances are usually 15-25q ($2-3). You pay the driver when you arrive.
Within the towns of Lake Atitlan, you can get around by hiring a driver with a tuk-tuk. Be sure to negotiate the fee with the driver before you get in.
Keep in mind that many Mayans don't like being photographed. Some are happy to pose for photos, but always ask permission before you take a photo of a Mayan person.
Child trafficking is an issue in Guatemala, so please don't take photos of children without permission from their parents.
Do not flirt with Mayans. It's forbidden for Mayans to entertain romance with non-Mayans.
If you want to swim in Lake Atitlan, Panajachel and San Marcos are good places to do so. The lake is dirtier around San Pedro, though it didn't stop a few of my friends from jumping in…
Not all towns have ATMs! Make sure to stock up on cash in Panajachel or San Pedro before visiting the other towns. Cash is king here.
Prepare for crazy dreams. Some say it's due the altitude (Atitlan is a mile-high lake!); others refer to the lake's mystical powers. I don't know what it is, but several of my friends and I had crazy dreams the whole time we were on the lake, especially in Jaibalito.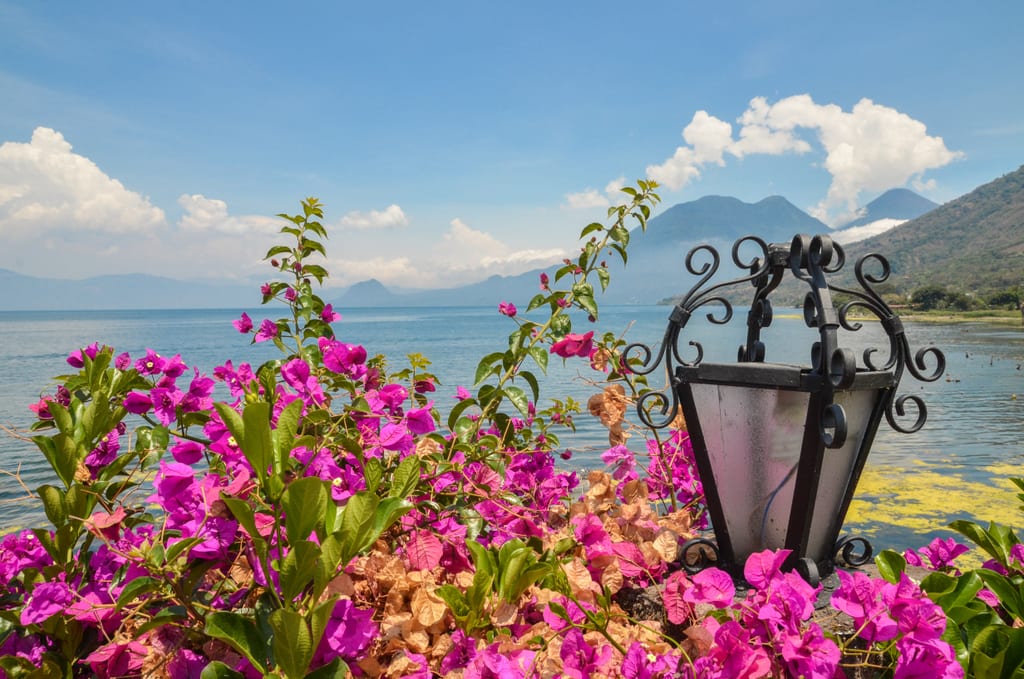 What if I only have one day in Lake Atitlan?
You have only one real day to explore Lake Atitlan? A shame. But I understand. Sometimes you can't fit in everything. In that case, I recommend basing in Panajachel and taking a one-day tour of the villages. You'll have a local tour guide and get to take a lovely boat ride around the lake.
This tour visits San Juan, San Pedro, and Santiago, while this tour visits San Antonio Palopo and Santa Catarina.
Is it ideal? No. Nothing compares to spending a few days or even a week at Lake Atitlan. But it's better to see a few different towns than just base in Pana the whole time.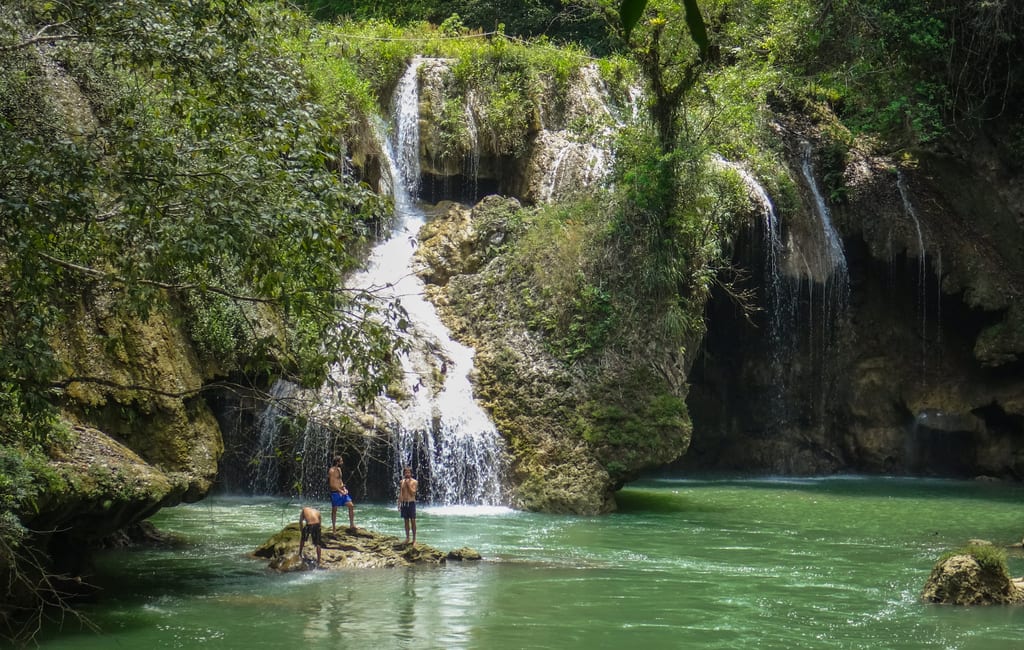 Where to Go After Lake Atitlan
Both Panajachel and San Pedro are well-connected for onward transportation; if you're staying in any of the other towns, I recommend getting yourself to either of these hubs by boat first.
Antigua is a beautiful colonial city about 2.5 hours from Panajachel (and you've probably already visited it en route to the lake). Antigua is one of Guatemala's standout spots and a UNESCO World Heritage Site. You can read more about my time in Antigua here.
Chichicastenango has an enormous and enormously popular market on Sundays and Thursdays. (Keep in mind that Panajachel has many of the same items in the local market for cheaper.) It's about two hours from either Panajachel or San Pedro. You can book a day trip to Chichicastenango from Panajachel here.
Quetzaltenango (Xela) is a medium-sized city about three hours from San Pedro and a popular hotspot for low-cost Spanish lessons, some that include a homestay with a family.
You can get to pretty much any major tourist destination in Guatemala from San Pedro or Panajachel. Our journey from San Pedro to Lanquín for Semuc Champey was supposed to take around eight hours but took twelve. (It was worth it. More on Semuc Champey here.)
Godspeed if you want to go all the way to Flores or Rio Dulce in a single trip. That's a LOOOONG journey.
If you want to cross into Mexico next, San Cristobal de las Casas is an overnight journey from either Panajachel or San Pedro. (If you go to San Cristobal, I recommend a day trip to Sumidero Canyon.)
Some agencies have direct buses to San Salvador and the fantastic beach town of El Tunco in El Salvador; others have direct buses to Copan Ruinas in Honduras.
And if you need to go to Guatemala City Airport, you can find direct connections from both Panajachel (three hours) and San Pedro (four and a half hours). You may want to reserve ahead of time; some shuttles fill quickly. Book a seat on a shuttle from Panajachel to the airport here.
(These times are all by direct shuttle, and keep in mind that "Latin time" means they might take longer. Brightly painted "chicken buses" are much cheaper but will invariably take much longer and possibly require you to change buses once or more.)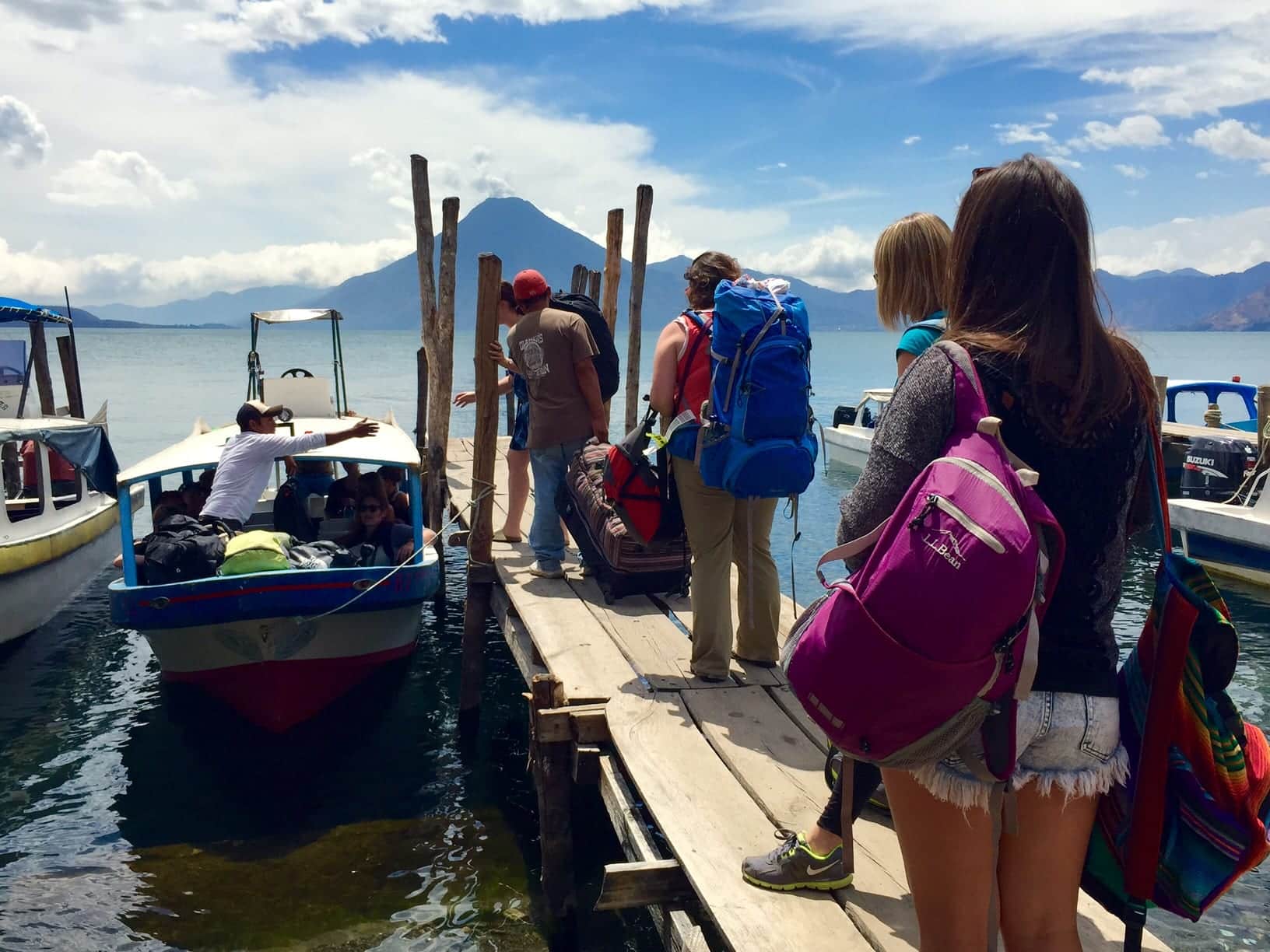 Is Lake Atitlan Safe?
Lake Atitlan is generally an extremely safe place for travelers, due in part to the Mayan laws of conduct. I consider it one of the safest places I've traveled in Central America, a region I've traveled solo extensively.
That said, there's one big Atitlan issue: some travelers have been robbed while crossing to other towns on foot. Many of these paths are safe, like between Santa Cruz and Jaibalito, but the situation can change frequently, so ask locals whether it's safe for you to do so.
It's also a good idea to familiarize yourself with the Top 10 Travel Safety Tips for Women.
I recommend bringing the following items:
Portable safe — Leave your valuables locked in this and lock it to something sturdy in your room.
A crossbody purse that zips. This is the kind of handbag I recommend for keeping your belongings close and safe. Amazon has lots of affordable options.
No matter where you go in Guatemala, be sure to get travel insurance for your trip. Travel insurance will save you if you get sick or injured and need medical attention, or if you get robbed on your trip and need money. I use and recommend World Nomads for trips to Guatemala.
More on Guatemala:
Best of Central America:

Have you been to Lake Atitlan? Which town was your favorite?
Autor: Adventurous Kate
Fuente de contenido