Our guide on how to visit Río Lagartos, Mexico's Biosphere Reserve home to flamingos, crocodiles and a not-so-pink lake
When 16th-century Spanish explorers first arrived on the northern shores of the Yucatán Peninsula in Mexico, they found a mangrove-lined estuary which they named Río de Los Lagartos – the river of the lizards.
Now a UNESCO biosphere reserve, the coastal lagoons feature a network of smaller estuaries, mangroves, marshes and savannahs that are home to over 500 species of vertebrates, several of them endangered. Thanks to conservation efforts, species numbers have stabilised recently as harmful agriculture activities using 'slash and burn' methods have been reduced.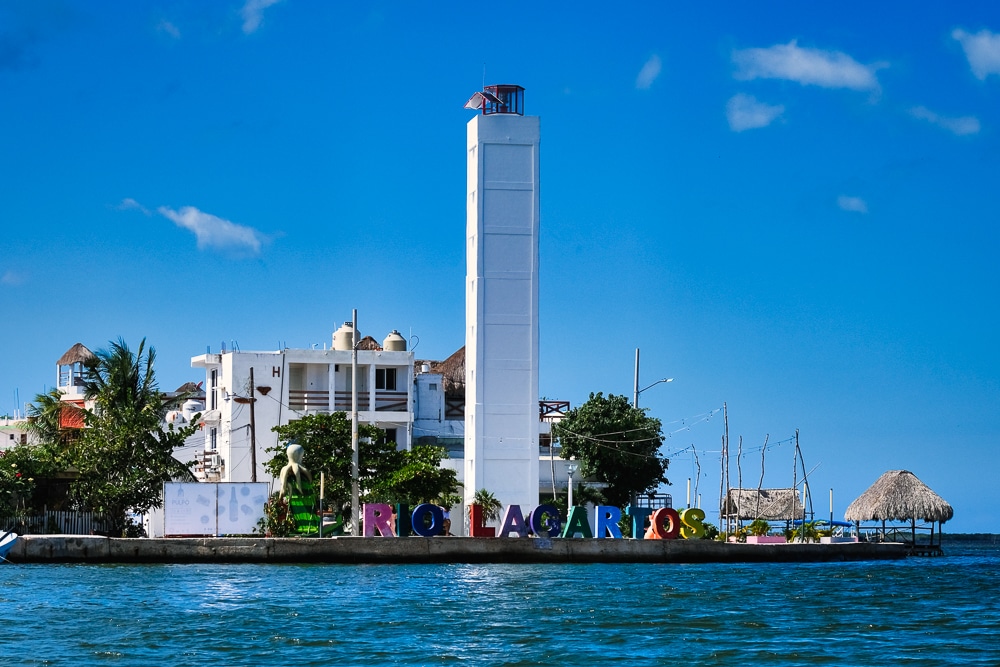 The wetlands, along with the sleepy fishing town of the same name, may not be on everyone's Yucatán itinerary but the area is drawing a growing number of visitors thanks to its peaceful waters, abundant birdlife and visible population of crocodiles that gave the region its name.
We visited the tranquil waterways during our trip to the Yucatán Peninsula. We took a boat tour of the wetlands and have put together a guide on how to visit Río Lagartos with the latest information on how to get there, where to stay and what to see.
Crocodiles
The brackish waters of Río Lagartos are home to hundreds of saltwater crocodiles. Said to be one of the closest living relatives to dinosaurs, there are two species of crocodile found in the coastal lagoon. We saw both during our visit.
The American crocodile is the most common of the four extant species of crocodiles found in the Americas. Reaching lengths of six meters and weighing as much as 907kg, these crocodiles can be found along the coasts of South Florida, Mexico and as far south as Peru and Venezuela.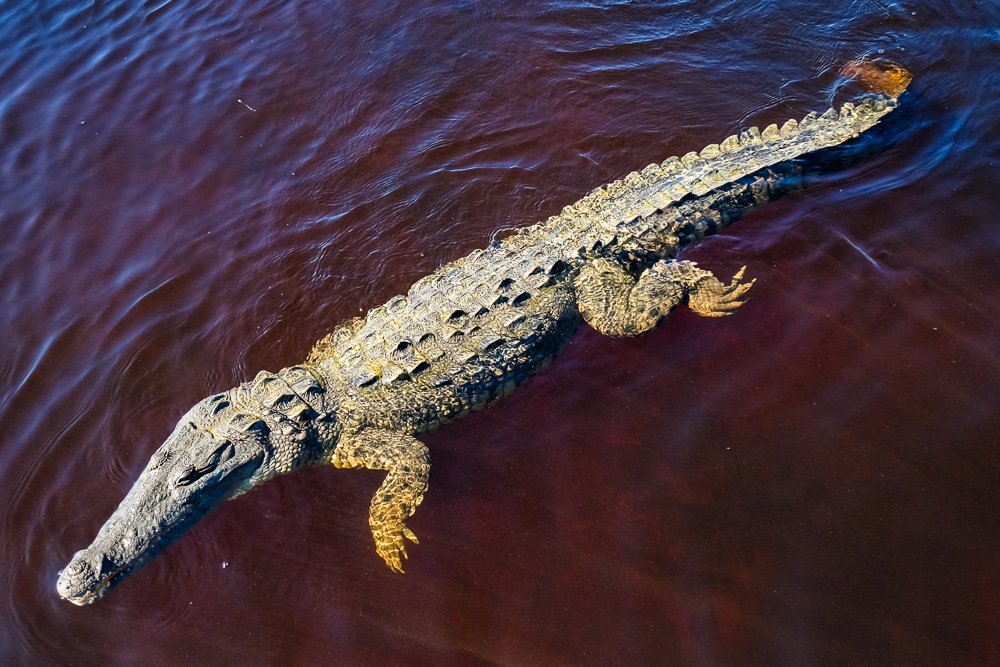 The rare and more modestly-sized Morelet's crocodile can also be found in the waters around Río Lagartos, although they often move location during the rainy season (June to October) as they usually prefer freshwater. Morelet's only grow to around three meters long and weigh 250kg – relatively small compared to most other crocodile species!
The crocs are often fed titbits by local fishermen so have become somewhat habituated to the small skiffs ferrying tourists around the waterways. As such, it's not unusual to see them approach boats. Attacks are extremely rare but always keep your hands inside the boat!
Flamingos
The reptilian relics are not the only reason to visit Río Lagartos. The wetlands are also home to Mexico's densest concentration of flamingos. The American flamingo – also known as the Caribbean flamingo – is the only variety that naturally inhabits North America.
They are migratory from the Caribbean, arriving en masse from March to June for nesting and breeding in the region. However, some families stay year-round so flamingos can be seen in Río Lagartos throughout the year.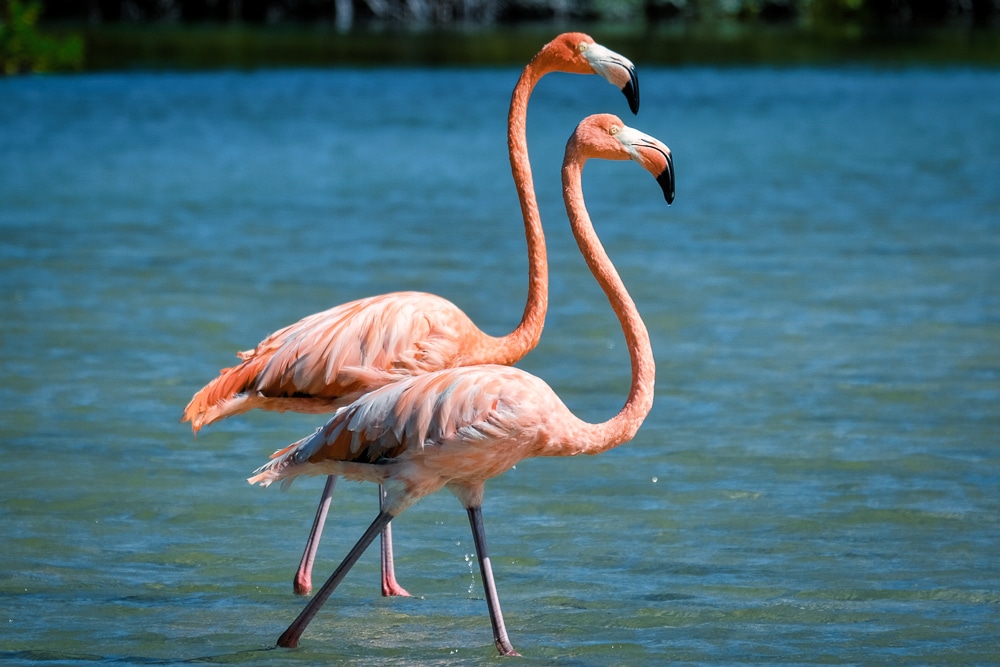 The pretty pink birds generally find nesting spots in the mangroves but can often be seen congregating further out from the coastal shrubs fishing, bathing and socialising.
While it may look as though they're nibbling at the water they are actually using the unique shape of their beaks to filter food from the water. Their diet of brine shrimp, algae and insects helps to give them their distinctive colour.
The diet would likely kill most other animals but thanks to a unique metabolism, flamingos are able to process harmful chemicals in their livers, breaking them down into functional components and pigments. It's these pigments that eventually stain a flamingo's feathers pink.
As the mating season approaches, flamingos are at their plumpest, healthiest and, as such, their pinkest. This is when they begin their famed courtship dance to find a compatible partner. The routine consists of a range of moves including twisting, preening, scratching, marching in unison and poking a wing in one direction while throwing a leg in the other.
Known for their monogamy, flamingos only mate with one partner per year. They then stay together until their chicks are hatched before divorcing and returning the following year to repeat the process.
What else to see in Río Lagartos
Río Lagartos is a great place for bird-watching with its mangroves sheltering dozens of species including herons, pelicans, egrets, storks, osprey, frigatebirds, woodpeckers, stilts and ibis among others.
Although rare, several dolphin species can also be found in Río Lagartos. We were lucky to glimpse a couple as they circled our boat, their dorsal fins bursting in and out of the water. Other species that can be found in the reserve include iguanas, green and critically endangered Hawksbill sea turtles and raccoons.
Besides wildlife watching, tourism and fishing, Río Lagartos is significant for its history of salt mining. The brack water is cultivated into reservoirs which sit and slowly evaporate, leaving behind a salty residue and the aforementioned algae that turns the shallow water pink.
As such, visiting the 'pink lakes' of the region is often sold as a point of interest on Río Lagartos tours although be aware, the 'pinkness' of the lake is often exaggerated. When we visited, the waters were not pink – more brown – and others have reported the same. Apparently, it depends on the time of year, the weather and when the salt has been harvested. Instagram photos boasting flamingo-pink waters should be taken with a pinch of salt (pun intended).
Finally, an optional but popular activity in Río Lagartos is to stop for a 'bath' in the mud, renowned for its therapeutic qualities. The boat pulls up alongside a shallow spongy shore where you can hop off and dig out globs of the mineral-rich clay and slather it over your skin. The boat then repositions to a far nicer, sandier beach, where you can wash off the now-caked-on silt. The mud is said to ease skin conditions and joint problems and offer several beauty benefits.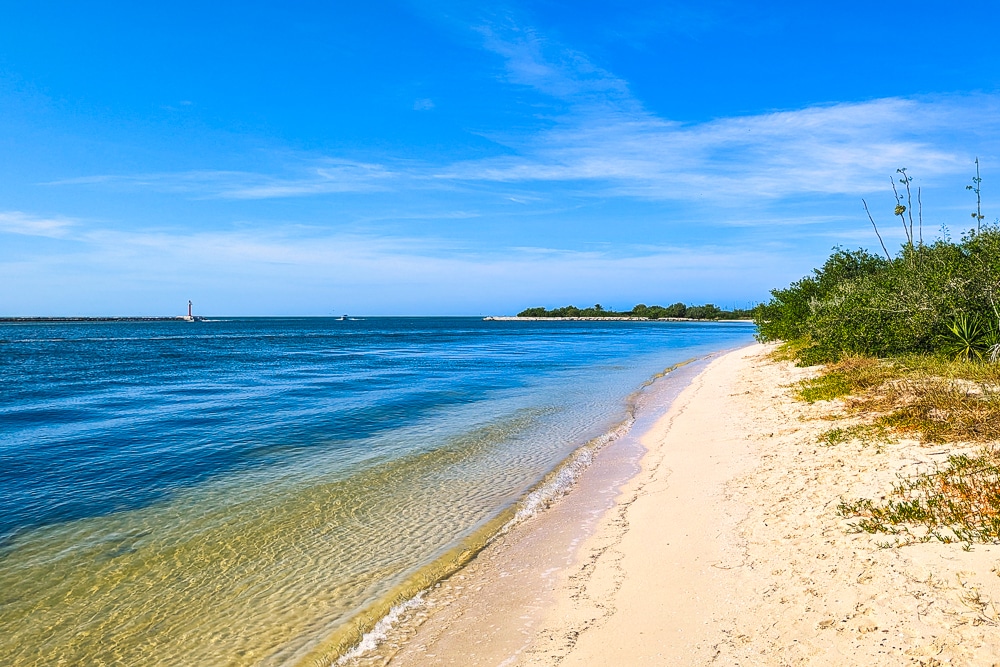 Where to stay in Río Lagartos
We stayed in Valladolid and visited on a day trip. Options in Río Lagartos itself are a little thin on the ground. The below are all rated 8 or higher (very good) on Booking.com.
How to get to Río Lagartos
Car: We hired a car at Cancún Airport via Avis. By road, Río Lagartos is 107km/1.5 hours from Valladolid, 144km/2 hours from Merida, 206km/3 hours from Tulum and 250km/3.5 hours from Cancun.
Organised tour: By far the easiest option easiest to join an organised tour from where you're staying. They will collect you from and drop you off at your hotel.
Public transport: Río Lagartos is a pain to reach via public transport. You will have to get a bus to Valladolid and then to Tizimin where you can organise a taxi or colectivo to take you the remaining 53km (45 minutes) to Río Lagartos. Buses can be booked via Ado.com.mx.
How to visit Río Lagartos: the essentials
What: How to visit Río Lagartos in Mexico's Yucatán Peninsula.
Where: We stayed at the Hotel Mesón del Marqués in Valladolid. Set in the grounds of a gorgeous colonial-era 17th-century house, the hotel is located right on the main square with views of Iglesia de San Servacio, the imposing Catholic church at the heart of Valladolid. The hotel has large, cool rooms with an on-site restaurant and rooftop bar, but its main selling point is the pretty central garden where meals are served.
Small, quiet and pastel-hued Valladolid is perfect to use as a hub for visiting Río Lagartos – 1.5 hours away by car – as well as Chichén Itzá (45 minutes) and several cenotes including Suytun and Oxmán.
When: Crocodiles and flamingos are present all year round, but the best time to visit Río Lagartos is from March to June when flamingos arrive en masse for nesting and breeding. Peak season in the Yucatán Peninsula is from November to April when the weather is at its best. The rainy season begins in June and lasts until October. May or October are the shoulder periods and will be less busy.
How: We visited with Río Lagartos Adventures, run by local Diego Nuñez and his family. We took a 4-hour Nature Lover's private boat tour priced at $179 USD for up to six people. There are also Flamingo Lover's tours (3 hours, $139 USD), Beach Lover's tours (4 hours, $179 USD), Crocodile Night tours (2 hours, $139 USD) and photography tours (4 hours, $179 USD) available. All tours come with an additional $2.5 USD park entrance fee.
We hired a car at Cancún Airport via Avis and drove between the main sites in Yucatán. Driving in the region is fairly straightforward with traffic fairly manageable outside of the city centres. It is a 2.5-hour drive from Cancún Airport to Valladolid.
There are buses running between the major towns, cities and hubs in Yucatán, including Chichén Itzá, Valladolid and Cancún. Book tickets at Ado.com.mx.
At London Heathrow, we had a super early flight, so booked a night at Radisson RED London Heathrow, just a 5-minute drive from terminals two and three. The trendy hotel boasts a fabulous bar and restaurant as well as a relaxed lounge area, while the rooms are large, comfortable, stylish and most important of all, quiet. We left at 4am and were past security less than 30 minutes later – perfect for a late night or early start.
We flew to Cancún from London via Amsterdam with KLM, although several international airlines fly there via a range of routes. Book through skyscanner.net for the best prices.
---
Enjoyed this post? pin it for later…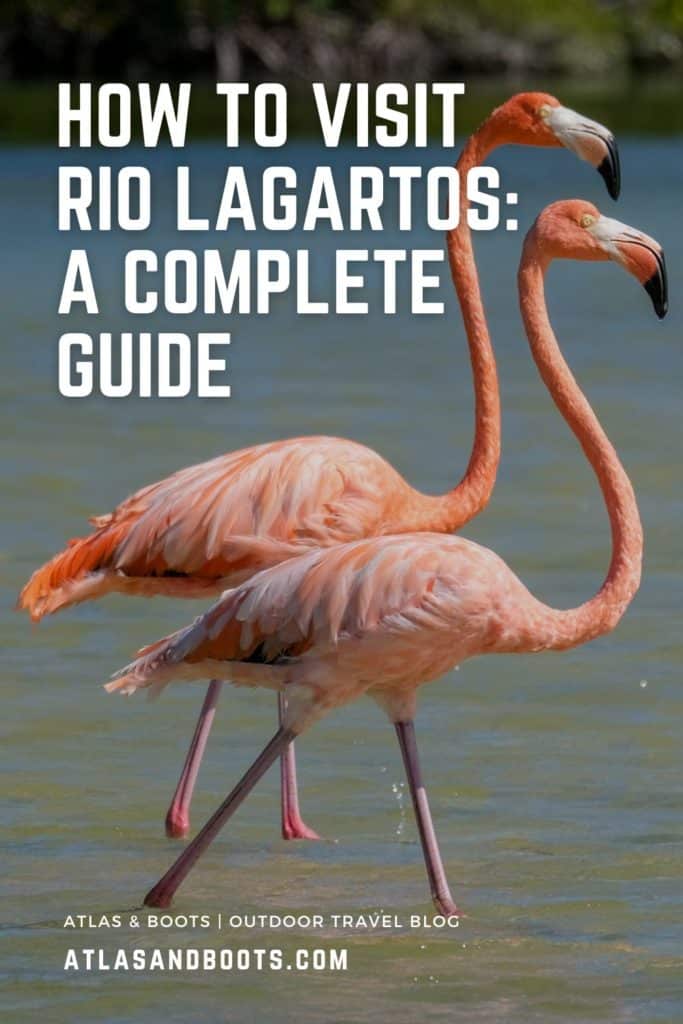 ---
Lead image: Atlas & Boots
Autor: Atlas & Boots
Fuente de contenido