Adventurous Kate contains affiliate links. If you make a purchase through these links, I will earn a commission at no extra cost to you. Thanks!
Looking back at my travels in Central America so far, I've been wondering if there has been a wholly unique place. The kind of place that is the epitome of the region; the kind of place you couldn't find anywhere else in the world.
So far, the leading contender for that position is Ometepe, an island in Lake Nicaragua formed by two joined volcanoes.
I almost didn't go to Ometepe. It looked like a lot of hassle. From what I had researched online, almost no rooms were able to be booked in advance, even upmarket rooms. As you might remember, I strongly prefer booking accommodation in advance because I can't stand dragging my suitcase door to door.
The place where I really wanted to stay was El Zopilote, a hippie commune featuring free morning yoga classes, organic food, bread making seminars, even courses on beekeeping. Seriously, beekeeping! It came highly recommended by friends and readers alike, and I thought it looked fantastic.
However, El Zopilote is tremendously popular, is usually fully booked in high season, and there is no road there, which meant that I would likely be dragging my giant rolling suitcase up a long stretch of rough terrain, only to find out that it was booked, and would have to drag it down and hike a long ways to another place that may or may not have availability. I couldn't reserve a room or even a hammock by phone.
Then through Googling I found Hacienda Merida, which actually did book online through its website (though not through any other online booking sites), and it looked like a great budget spot, so I plunked down $21 for three nights in a dorm.
That was a smart decision. Ometepe stole my heart from the moment I arrived, and Hacienda Merida was home to the most unreal sunset views. I can't believe I almost missed out on this wonderful island; I want to scold my past self!
Behold…here is how I fell in love with Ometepe, the island of twin volcanoes.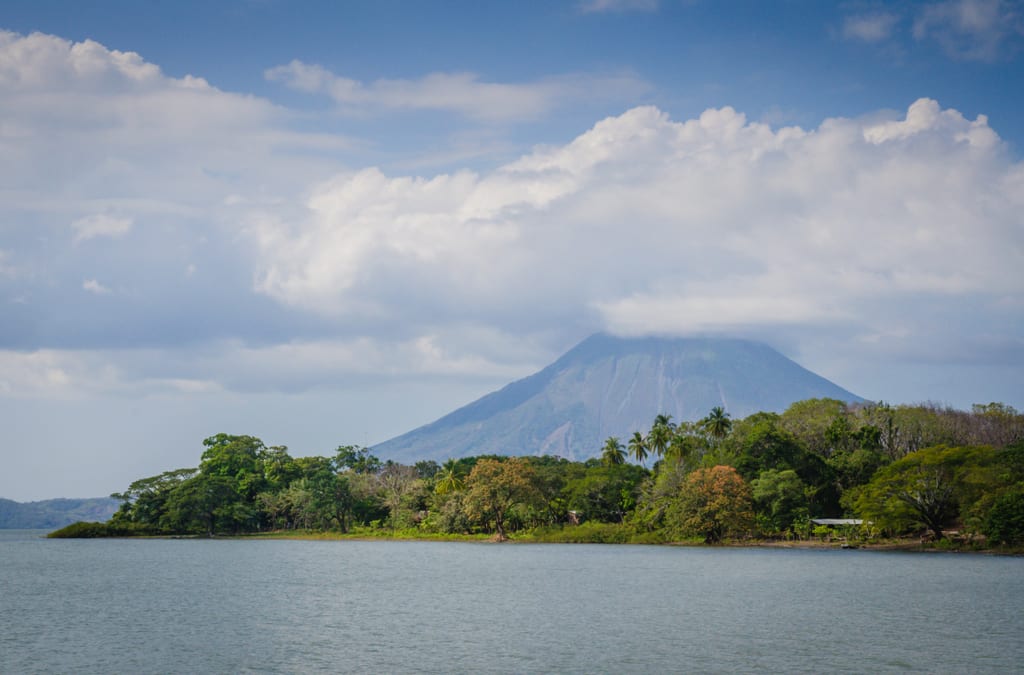 My first volcano view from Hacienda Merida! The island is made from two volcanoes joined by an isthmus — Volcán Concepción, the taller and pointier one, pictured above, and Volcán Maderas, the slightly shorter and rounder one.
Volcano hiking is one of the most popular things to do on Ometepe, but they are both long, strenuous, and difficult climbs, especially Concepción. Knowing myself and my fitness level, I wasn't in good enough shape for the hikes. (My fellow hikers would hate me for slowing them down; I would hate myself for letting my pride bite off more than it could chew.)
But I went on to hike Volcán Cerro Negro near León and have another hike coming up on Volcán San Pedro in Guatemala, so at least I have those!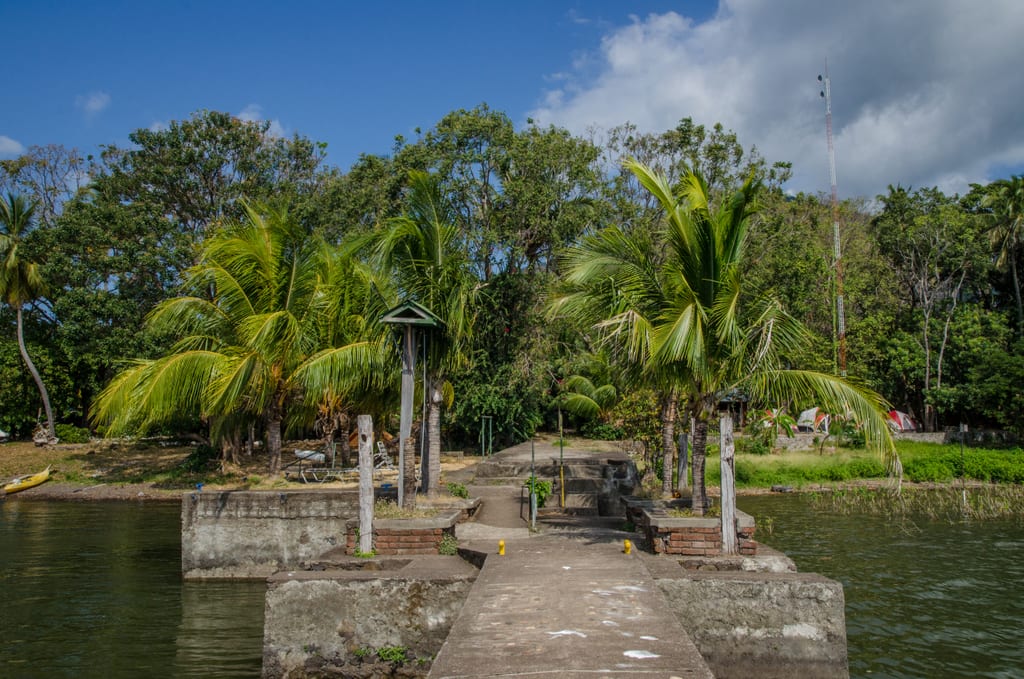 Hacienda Merida's dock is a narrow concrete structure filled with falling-apart chairs, but what it lacks in flash it makes up in camaraderie.
First thing I did? Threw on my bathing suit and jumped into a kayak!
There are lots of places where you can kayak around Ometepe, including a swamp on the isthmus and a "monkey island" where the monkeys will attack if you get too close (eek!), but I chose to just kayak along the coastline and take photos with both my Nikon and iPhone.
This is one of the reasons why I always bring a dry bag on my travels. Kayaks are precarious; I kept my camera and phone wrapped up tightly in the bag until it was time to take photos!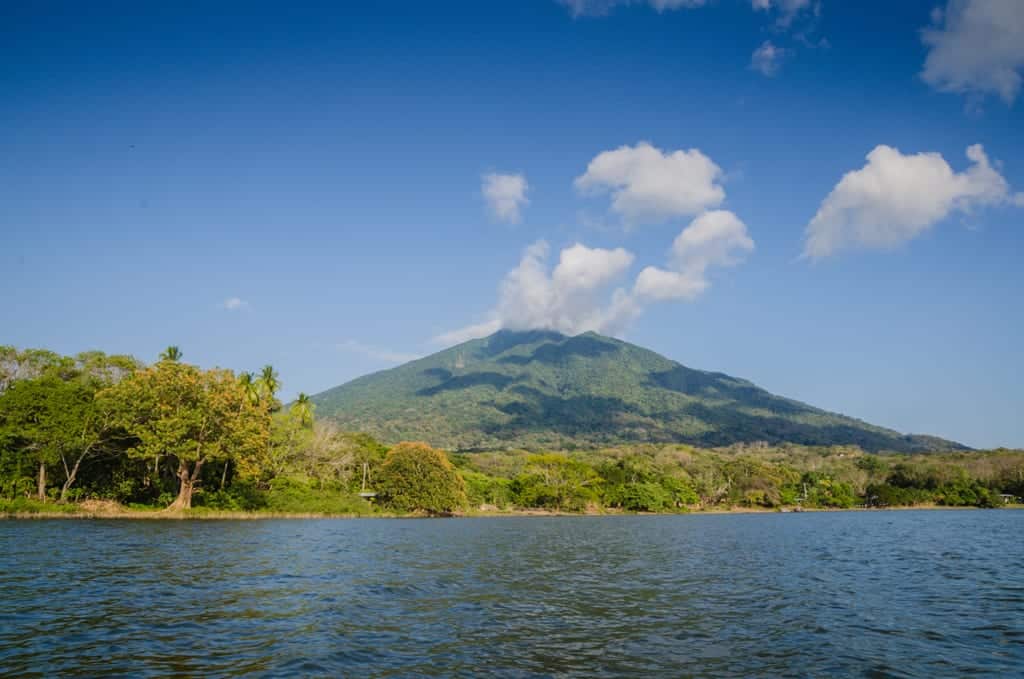 That's Volcán Maderas, the shorter, rounder volcano. You can't quite see it, but the guesthouse is in this photo.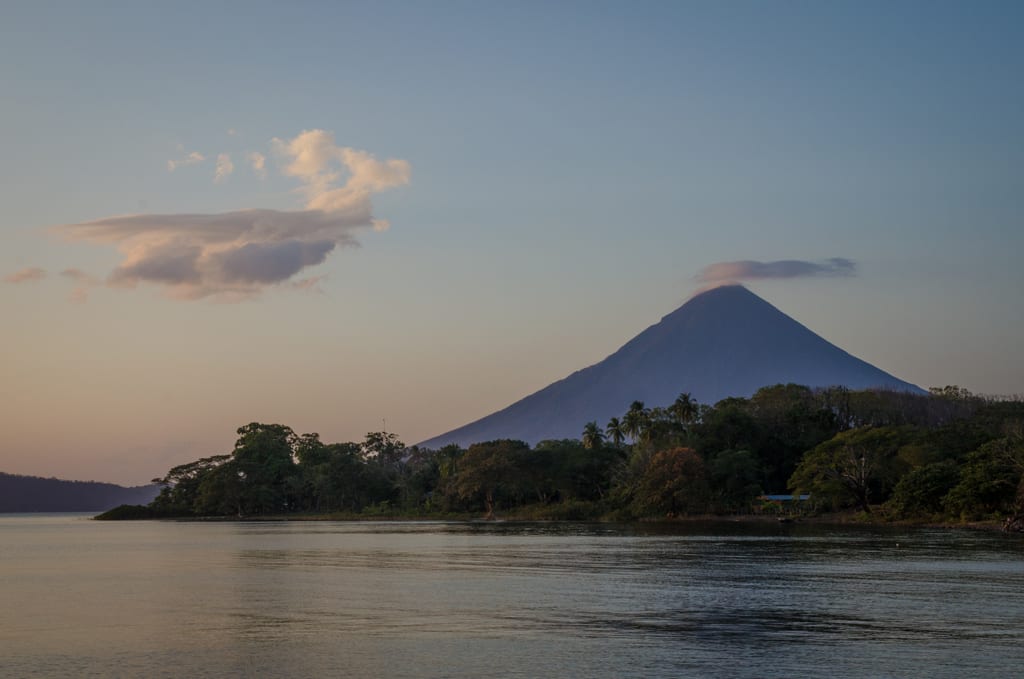 As dusk set in, I saw my first Ometepe sunset and was instantly hooked. Bright colors, an actual pointy volcano — I was in love!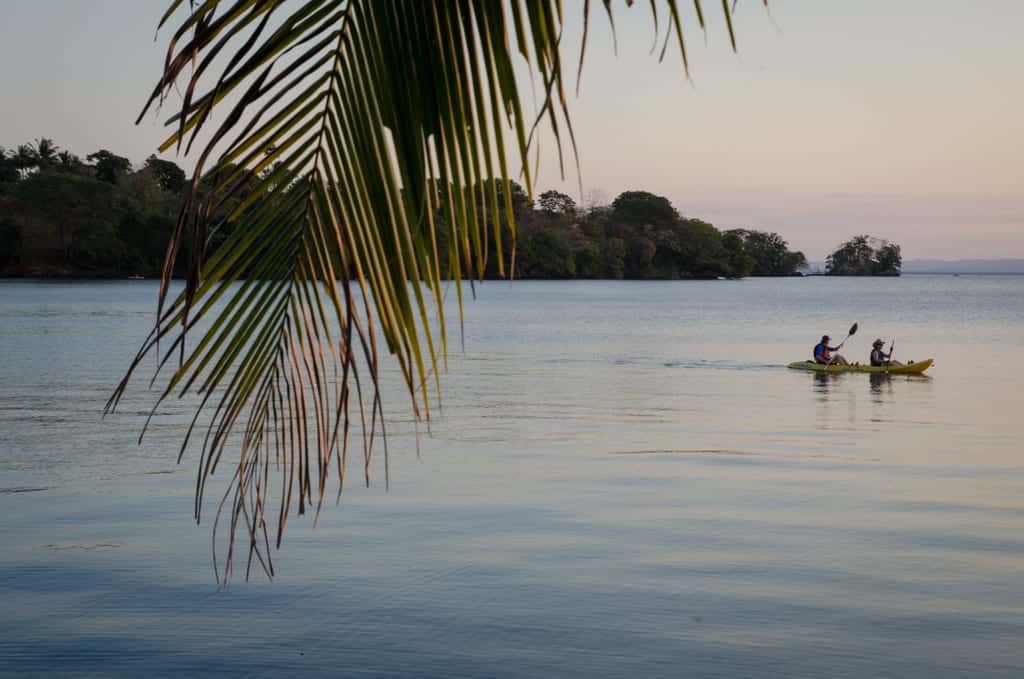 Some kayakers took in the sunset colors on the water.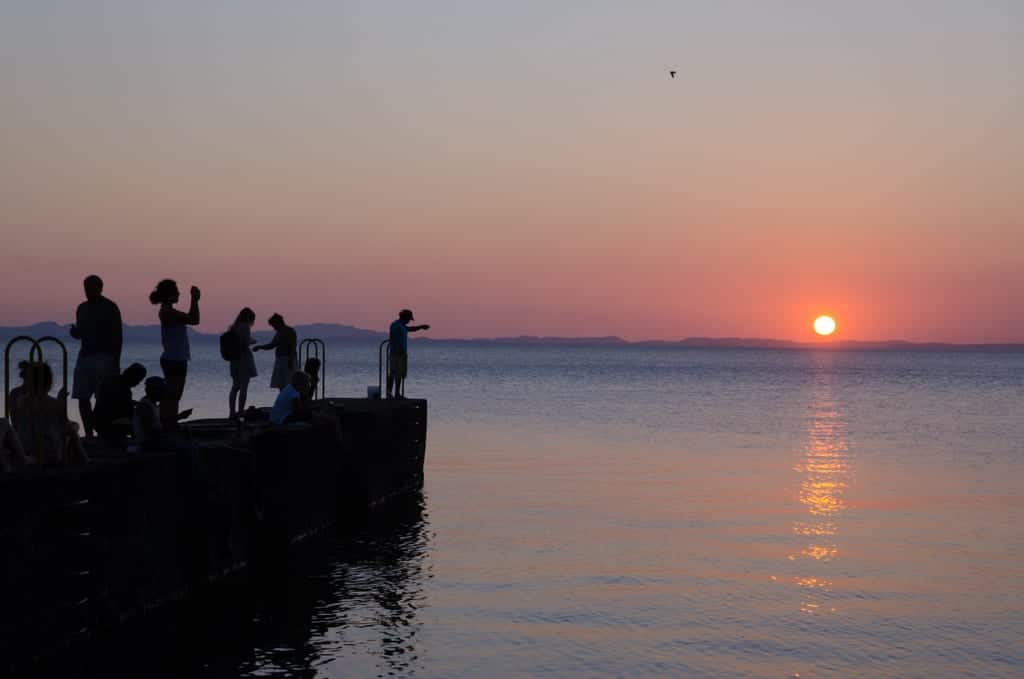 Every night, all the guests come out to shoot the sunset and enjoy a beer or two on the narrow cement dock. I loved the atmosphere — it was like a low-key party every night!
The next day, I decided to take the bus to the town of Santa Cruz, on the Maderas side of the island near the isthmus. This was the gateway to the beaches.
Ometepe is a very early-to-bed, early-to-rise place — I was the last one awake at the hostel at 10:00 PM and the last bus of the day from Merida to elsewhere on the island left at 8:30 AM! I hopped on the big yellow school bus, where everyone squished in like sardines, paid my 15 cordobas (60 cents), and jumped off as the driver yelled, "Santa Cruz, Santa Cruz!"
Three beaches line the east side of the isthmus: Playa Santa Cruz, Playa San Fernando, and Playa Santo Domingo. Though, honestly, they're more like one big beach.
I will never get tired of seeing Volcán Concepción pop up everywhere you go.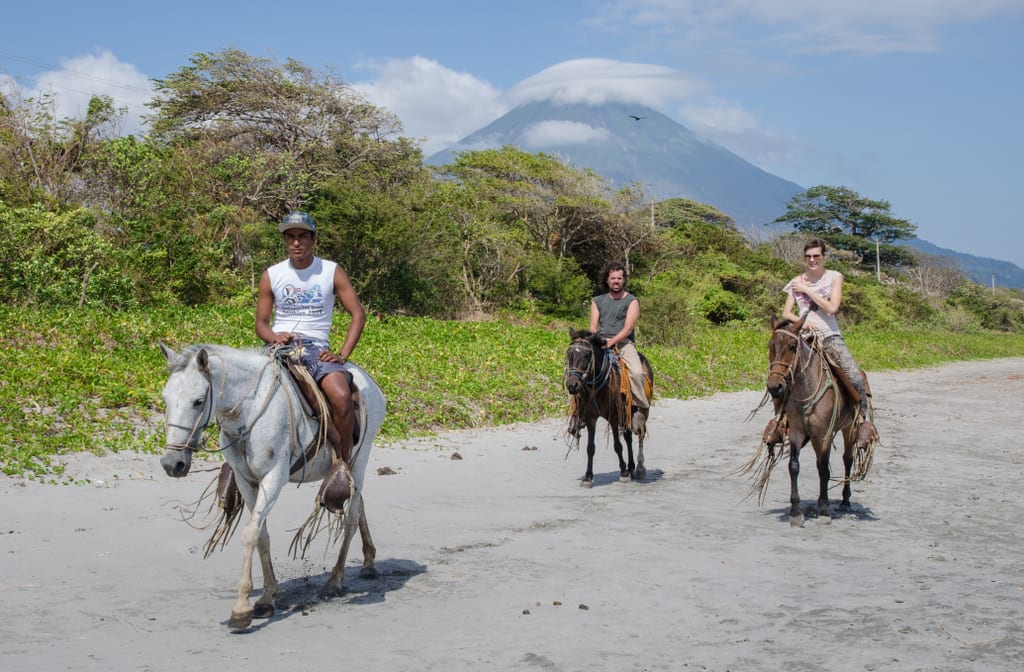 Horseback riding on the beach! In retrospect, I would have loved to do this.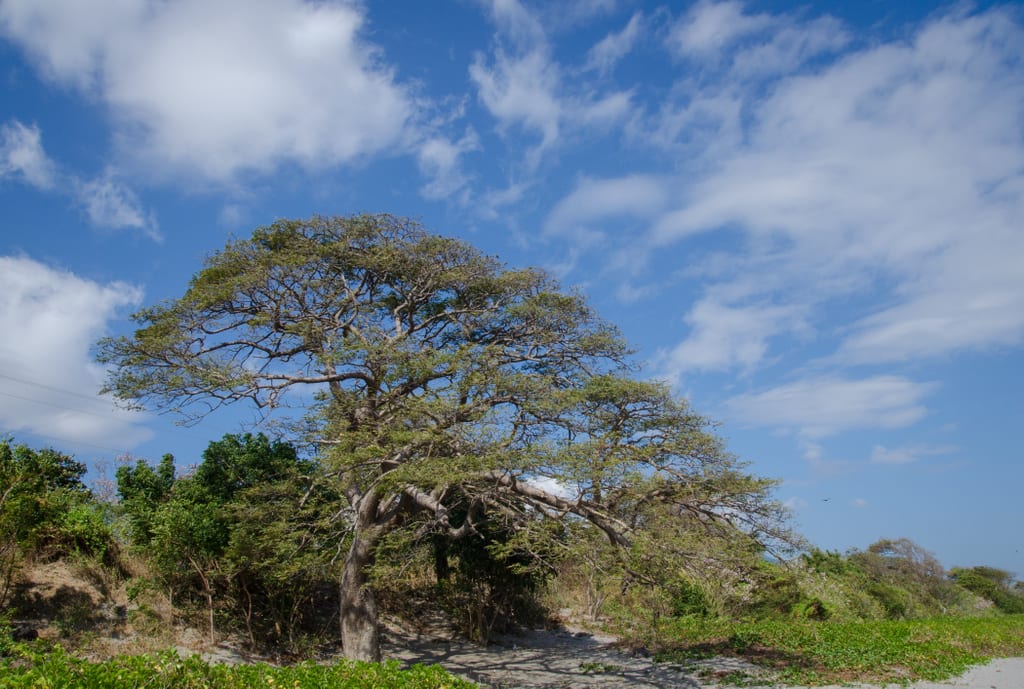 I loved this tree and the clouds.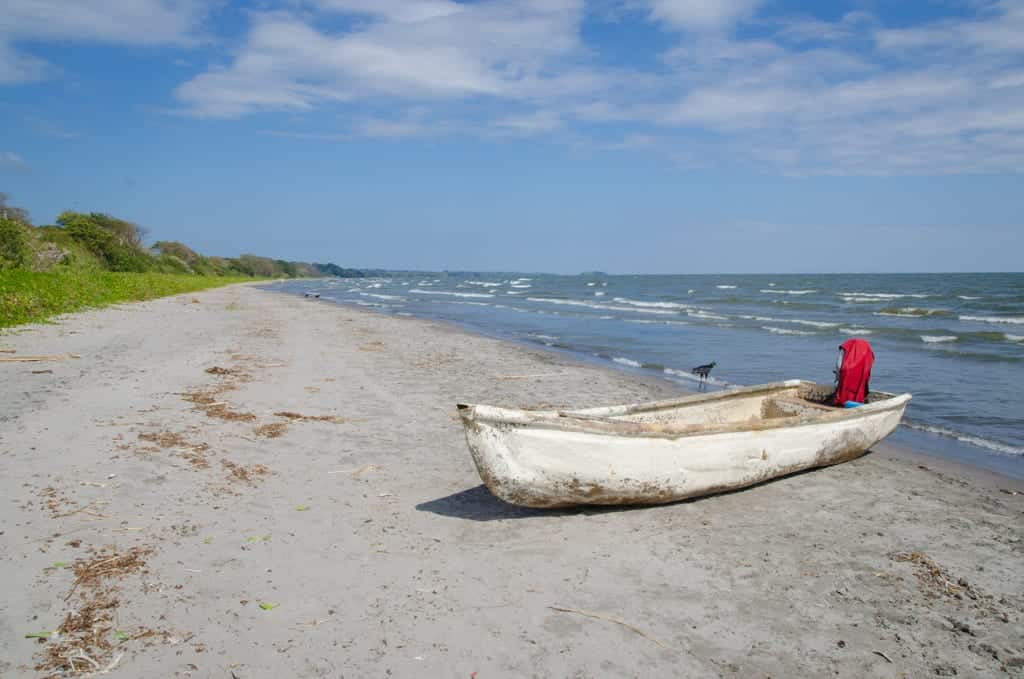 Ometepe, and in particular the beaches, reminded me of White Lake in New Hampshire, where I spent my summers camping. It has a very similar feel — a quiet place that demands you to slow down and enjoy the surrounding atmosphere.
---
RELATED:
How to Protect Your Belongings on the Beach
---
Though White Lake never had pigs that jumped in the water for a swim!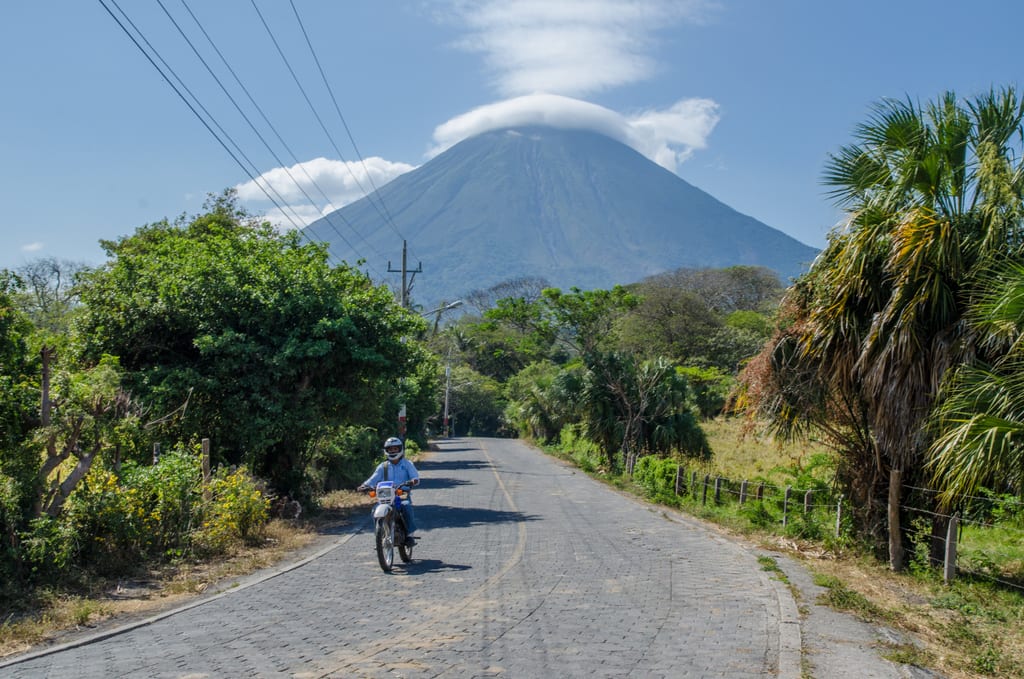 After lunch (delicious whole grilled fish with gallo pinto (rice and beans), fried plantains, and salad) from a roadside restaurant, I set off on a walk to the Ojo de Agua, a swimming hole on the northern island, just north of the isthmus.
My guidebook (which I keep as a PDF on my phone) implied that there was some kind of side path shortcut to the Ojo de Agua. There wasn't. I'd have to walk the main road the whole way, a distance of about two miles. Which isn't a bad distance to walk, ordinarily, but in 95-degree weather (35 C)? Not easy, especially with the lack of shade.
Still, I had my beautiful Volcán Concepción to admire and guide me along the way.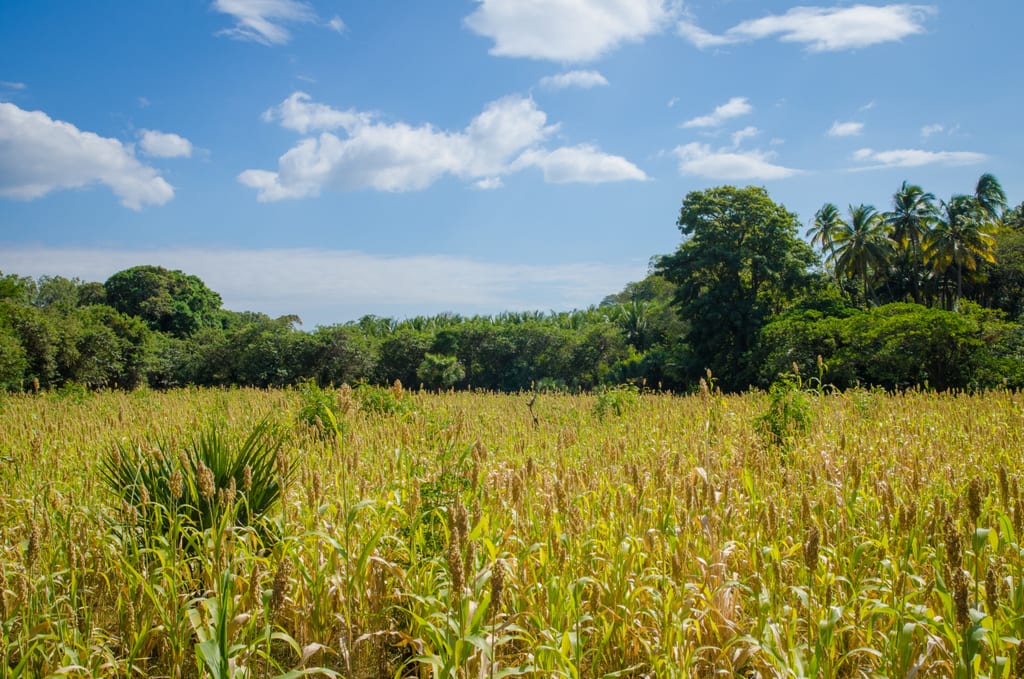 The sun bore down. Sweat ran into my eyes. My backpack had begun to feel heavier and heavier.
I passed a few shirtless Scandinavians with backpacks walking in the opposite direction and asked how long I had to walk to the Ojo de Agua. "About ten minutes," one replied. So twenty minutes, I thought to myself. Twenty minutes it was.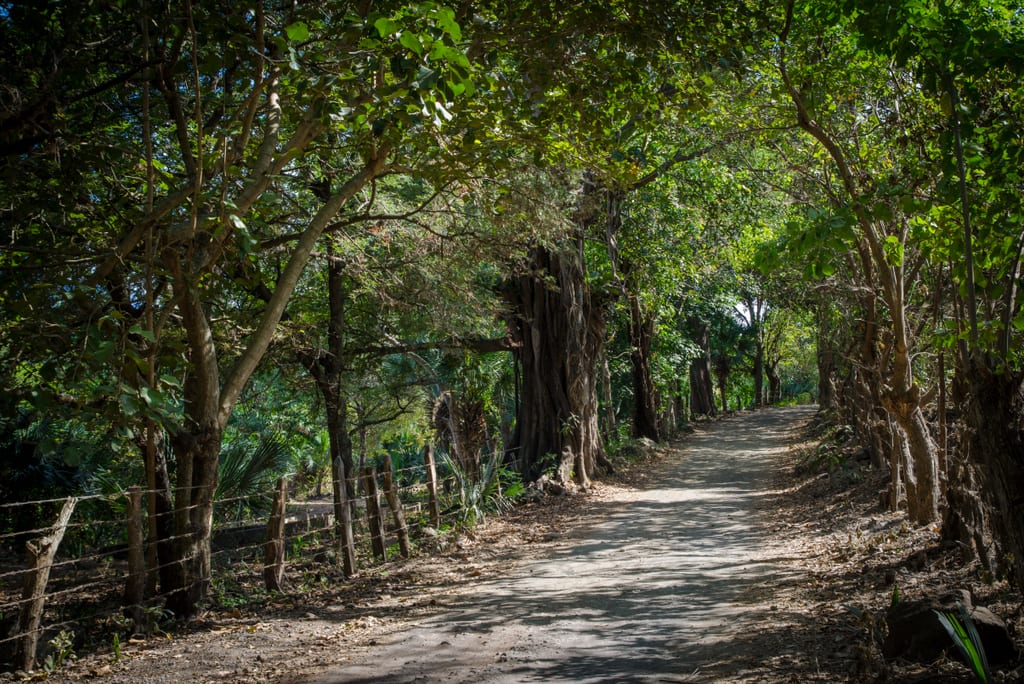 A sign signaled the turnoff for the Ojo de Agua. At this point, I was near melting. The shady forest was a blessing. 500 meters to go.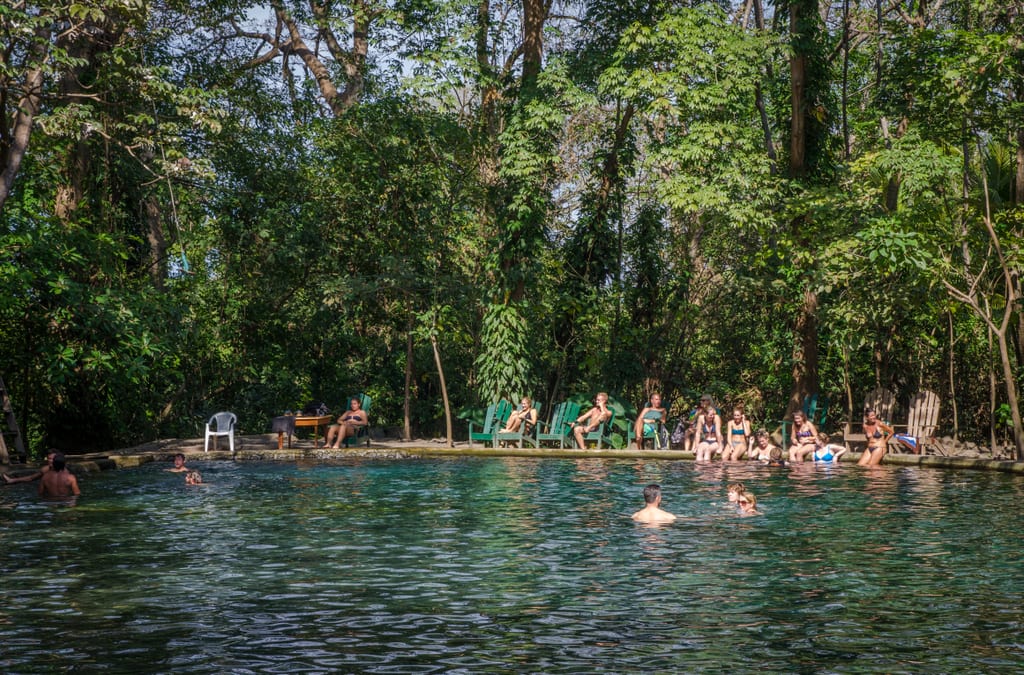 And finally, paradise. The Ojo de Agua. Technically an artificial swimming hole, but created to look like it's part of the natural landscape, and fed by an underground river coming from Volcán Maderas, some people say that the waters contain healing properties and will give you eternal youth.
Stripping off my sweaty shirt and shorts and slipping into that cool water after such a long, hot walk was one of the greatest swims of my life. (It's up there with Kuhmo, Finland.)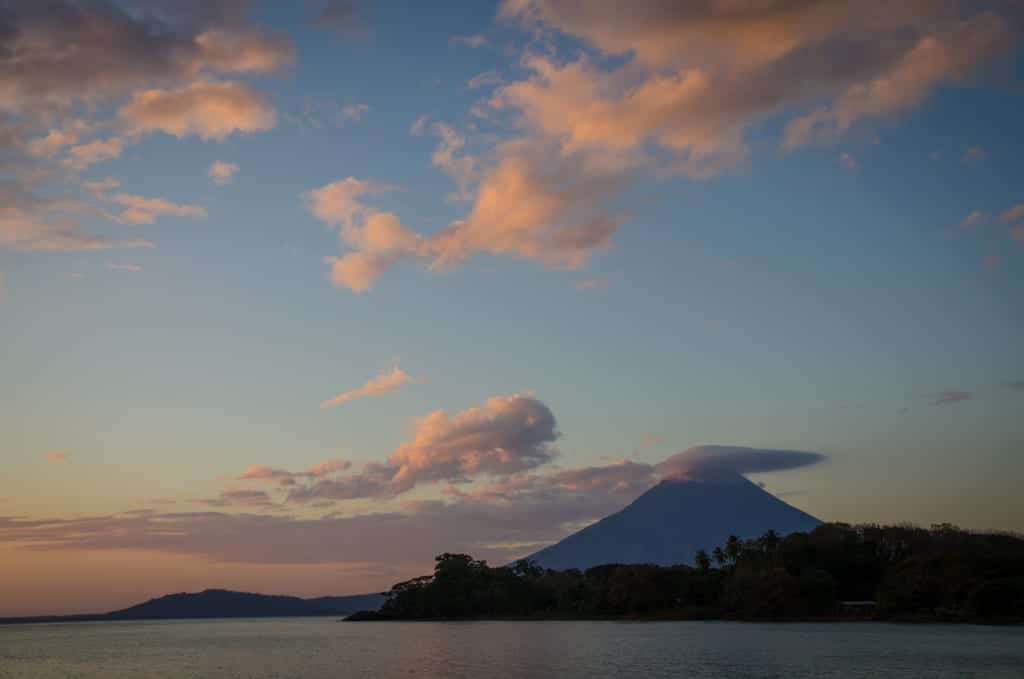 After far too short a time at the Ojo de Agua (ideally, you should allot a whole afternoon), I grabbed the last bus back to Merida at 4:15 PM. That gave me plenty of time to catch that evening's sunset — a cotton candy-like pink and blue confection that ranks among the best I've ever seen.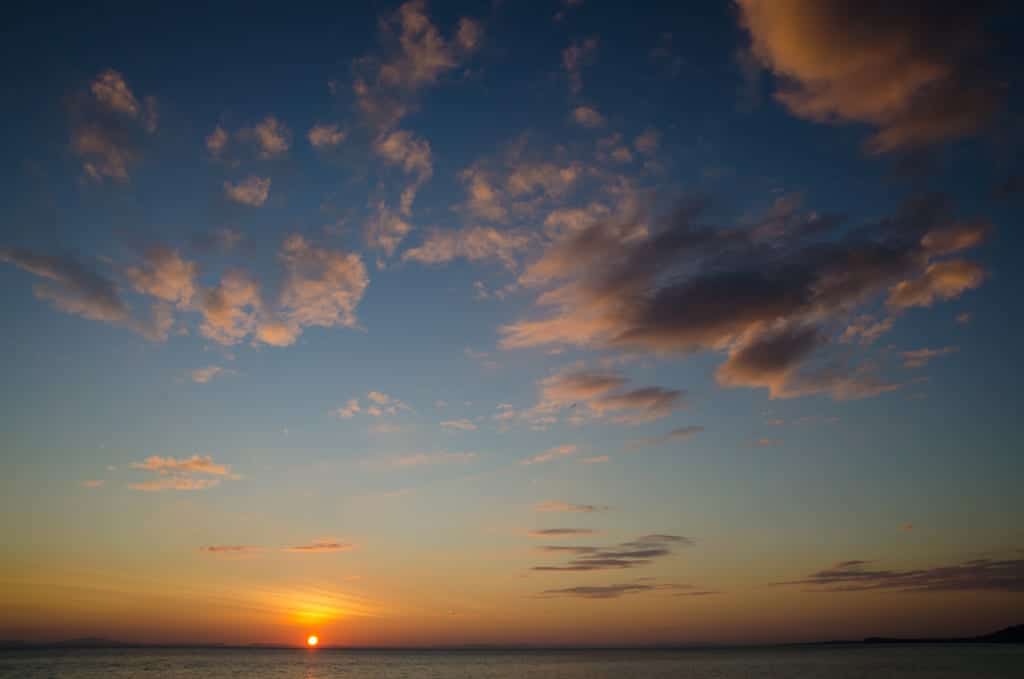 Definitely the best sunset of my three-night stay, and one that I'll always remember.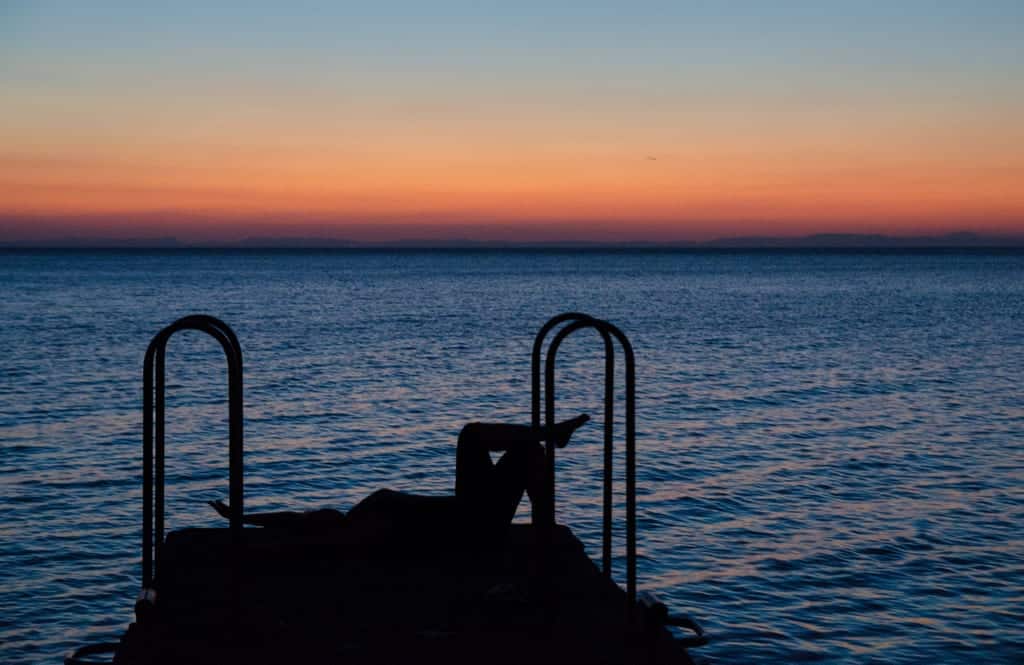 My Australian friend Bugs, whom I met on the pub crawl in San Juan del Sur, took this shot of me on the Hacienda Merida dock. There were lots more shots, but unfortunately I was wearing my baggy Sunday Funday tank top, which gives you the most unflattering silhouette and made me look like my waist was bigger than my hips.
This one came out nicely, though.
I hope this image evokes a feeling — the relaxation, the nature, the color. For me, this is what Ometepe is all about.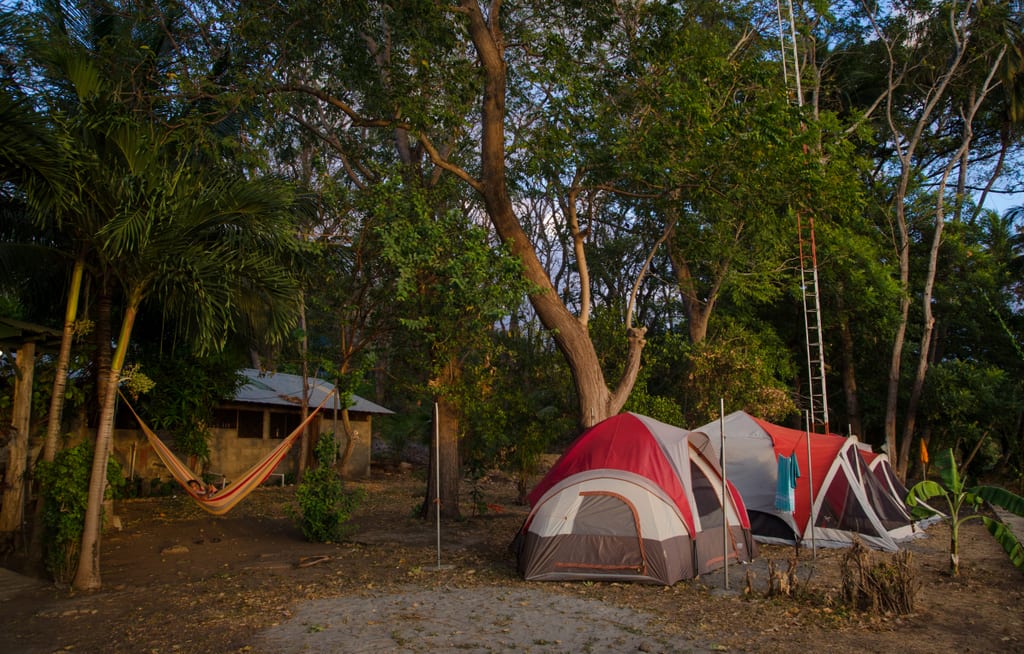 The next day I spent having a low-key day in the Merida area. If you're craving some time camping, the nice thing about Hacienda Merida is that you can rent an already-popped-up tent with a mattress for less than $5 per night. No need to carry around equipment of your own!
And if you'd like to sleep under the stars, you could get a hammock. I need to do that sometime. Though if I did that, I'd have to lock my beloved portable safe to a tree.
Is there any time of day more delicious than golden hour? Not to me!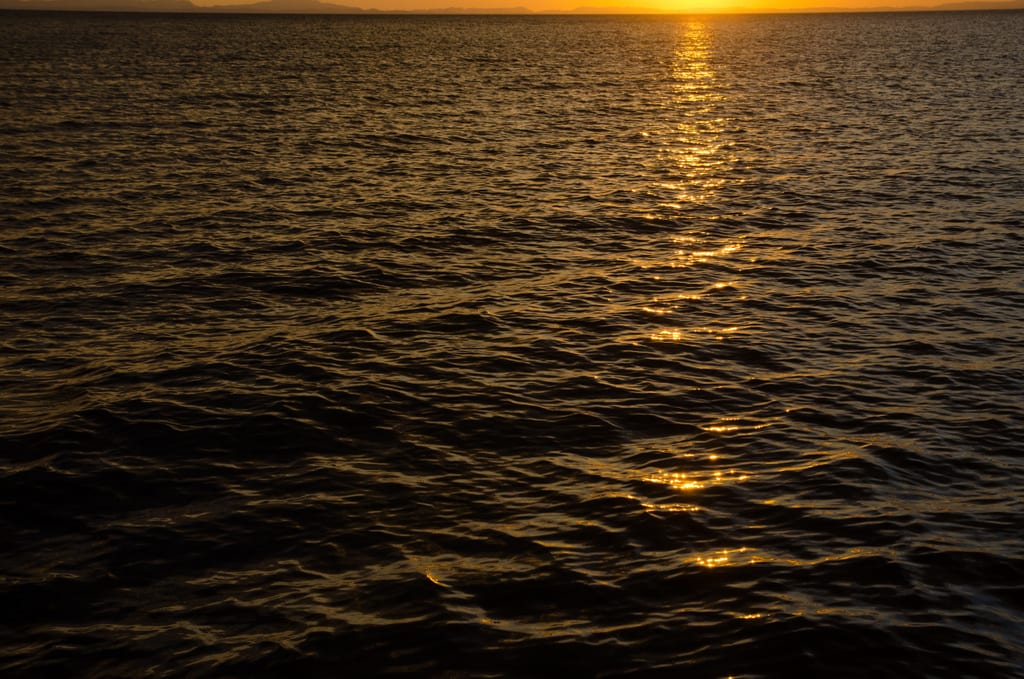 After two sunsets at the guesthouse, I knew the drill. I headed to the dock long before the sunset to grab a prime spot.
Sitting on the narrow strip of concrete were two friends from Canada. Seeing me approach with my Nikon, they made room for me to sit next to them on the edge. Soon we were joined by a brilliant girl, a community organizer from Detroit, and we made room for her as well, the four of us stacked together tightly on the edge of the dock, making use of every spare inch.
I watched the final sunset with three new friends, our faces illuminated in orange as the sun dipped beneath the horizon.
This was Ometepe, and it was spectacular.
Essential Info: To get to Ometepe, take the one-hour ferry from the town of San Jorge, just outside Rivas. There are two kinds of ferries: the large car ferry and the small boat. I took both and while the large ferry was fine, the small boat was an absolute nightmare. You can find a schedule here; I strongly recommend waiting at the dock until you can take a large ferry.

I stayed at Hacienda Merida, which I very much enjoyed and recommend. The sunset views are out of this world. Keep in mind that the last bus from Merida to the rest of the island leaves at 8:30 AM, though there are several buses back to Merida in the afternoon. Tents and hammocks start at $4.60; dorms start at $7.00; rooms start at $25.

Do not stay in Moyogalpa. This is the port town where the ferries come in and there are lots of hostels here, including ones you can book online, but honestly, Moyogalpa is a tourist ghetto that could be anywhere in Central America and the true pleasure of Ometepe is getting to escape to a chilled out guesthouse on the lake where you feel enveloped by nature. (The one exception: if you're hiking Concepción, as the trek sets off from Moyogalpa. But try to stay somewhere else on Ometepe, too.)

The best way to get around Ometepe is by bus, costing less than 50 cordobas ($2) per journey. Renting a motorbike or bicycle gives you a lot more freedom. Keep in mind that Merida is at the base of a very hilly, unpaved road — if you're not in shape, the bike ride could be more like torture to you.

Ometepe is a slow burn kind of destination. Don't rush it — I recommend spending at least three nights here.

Be sure to buy travel insurance before your trip. I never travel without it and use World Nomads.
Have you ever been to an incredibly unique place? Where was it?
Autor: Adventurous Kate
Fuente de contenido