We explore the best parks in Buenos Aires to help you find a spot of calm in Argentina's whirlwind capital
Buenos Aires whizzes past. While its cafés, bars and restaurants spill out onto the sidewalks, honking throngs of traffic hurtle by just inches away. Porteños (residents of Buenos Aires) barely raise an eyebrow over their espressos, but for those of us uninitiated, Buenos Aires can be overwhelming.
For all its tree-lined avenues, the 'Paris of South America' is among the world's least green cities with only around 1.8m2 of green space per capita – well below the World Health Organisation's minimum recommendation of 10m2.
Fortunately, respite can be found. In the feverish metropolis nearly 13 million call home, there is a slew of leafy plazas and public areas where the city's residents spend their time picnicking, dog walking and rollerblading.
As this was our second visit to the city (and with significantly warmer weather), we chose to spend our time exploring the sights on foot, regularly pausing for pitstops in the city's green spaces.
Best parks in Buenos Aires
From a refuge for the city's Japanese community to a sanctuary for birds, lizards and butterflies, these are the best parks in Buenos Aires.
Parque Tres de Febrero
Famed for the Rosedal, a gorgeous rose garden with over 18,000 roses, Parque Tres de Febrero is the city's biggest and most popular park. The sprawling grounds, located in fashionable Palermo, are also known as the Bosques de Palermo (Palermo Woods). The park has several artificial lakes with peddle-boats for hire, a poets' garden featuring busts of celebrated writers, and the city's planetarium, the Planetario Galileo Galilei.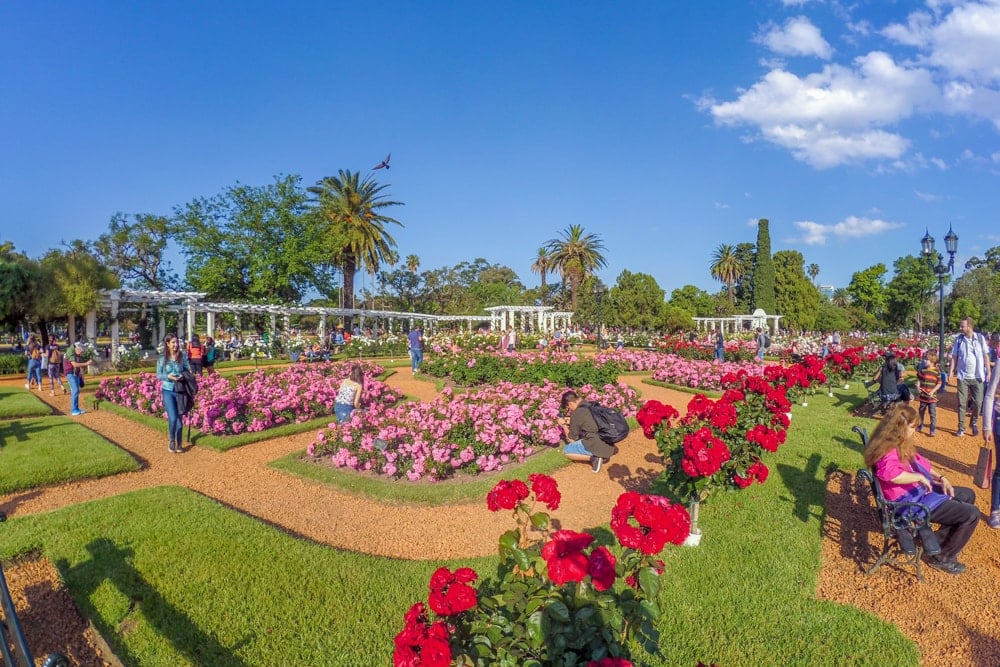 The park is popular with picnickers and families thanks to its extensive lawns and large trees providing ample shade. In the centre of the park is its largest lake which is regularly lapped by joggers, cyclists and rollerbladers.
Jardín Botánico
Pinched between the confluence of two busy avenues, the Botanical Gardens provide a sheltered escape from the hustle of nearby Plaza Italia. The lush gardens, designed by the celebrated landscape architect Carlos Thays and opened in 1898, showcase an array of native plants blended with more diverse flora from around the world.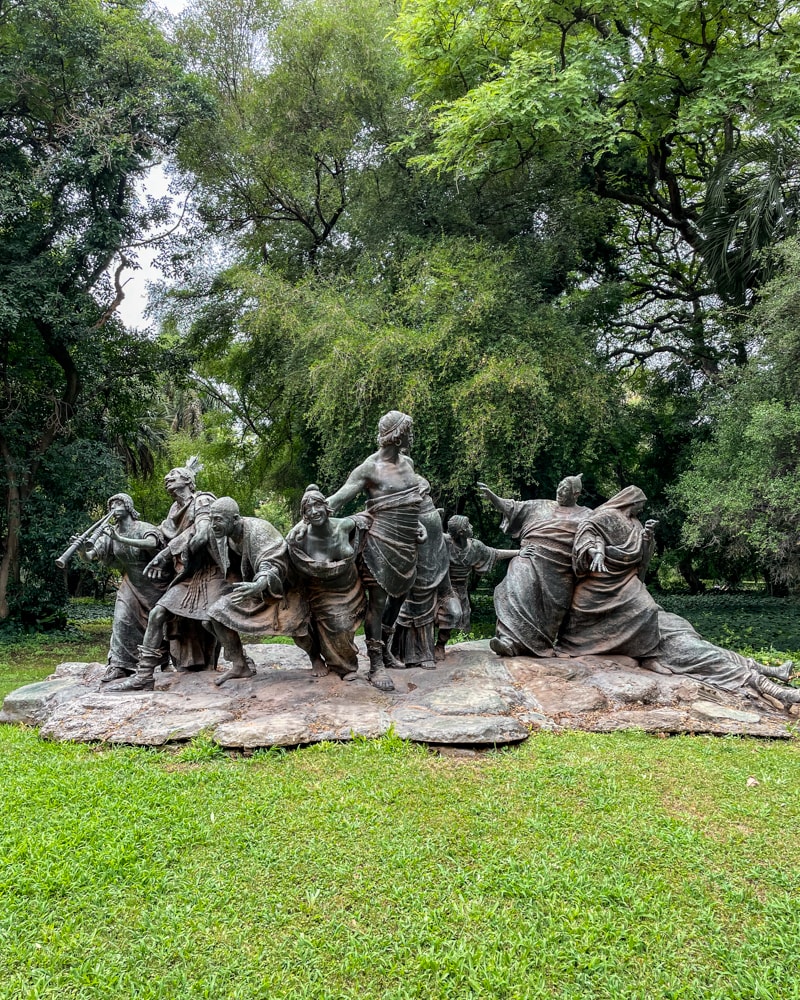 The Botanical Gardens are one of the best parks in Buenos Aires
There are Roman and French-influenced gardens as well as dedicated research areas connected by a network of gravel paths that pass intriguing sculptures, peaceful ponds and art nouveau greenhouses.
Costanera Sur Ecological Reserve
The Costanera Sur Ecological Reserve abuts the honey-hued waters of the Río de la Plata, the world's widest river. It was a popular waterfront walking spot for residents during the 1950s until it was shunned when the Plata's water quality deteriorated. Derelict by the 1980s, the area morphed into a massive landfill site.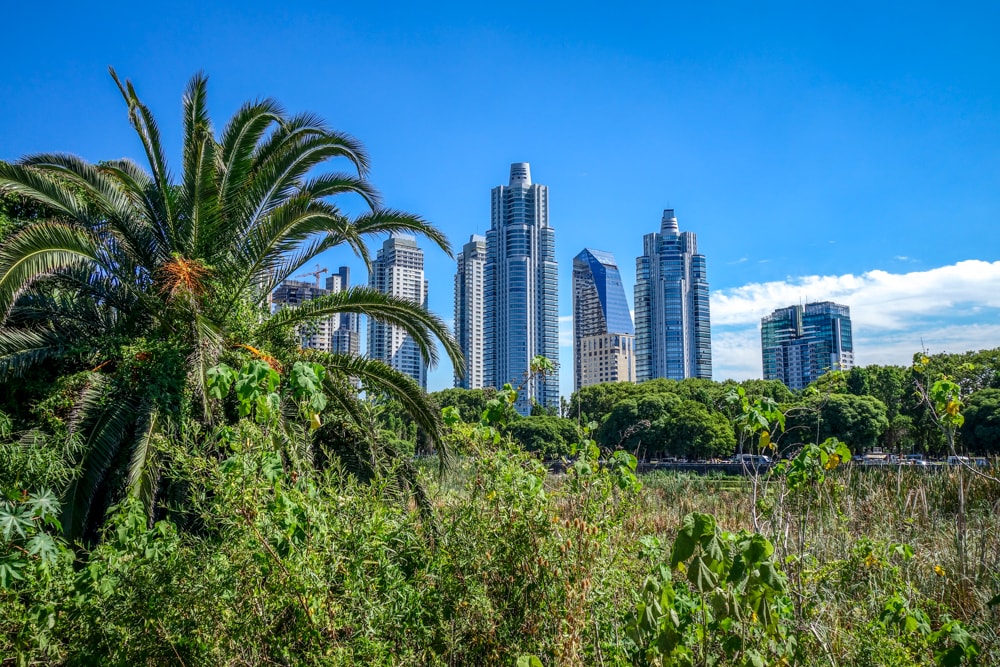 Eventually, nature took back control and the wetland is now rich in biodiversity and the only place in the city inhabited by wild native plants and animals. Colourful butterflies and more than 300 species of birds flit from the trees while giant Argentine tegu lizards and even turtles can be seen from the trails.
Jardín Japonés
Opened in 1967, the Jardín Japonés was a peaceful refuge for the Japanese community in Buenos Aires. The gardens are well-maintained and feature a number of pretty bridges spanning ponds of koi (carp) surrounded by bonsai trees, orchids and Japanese sculptures.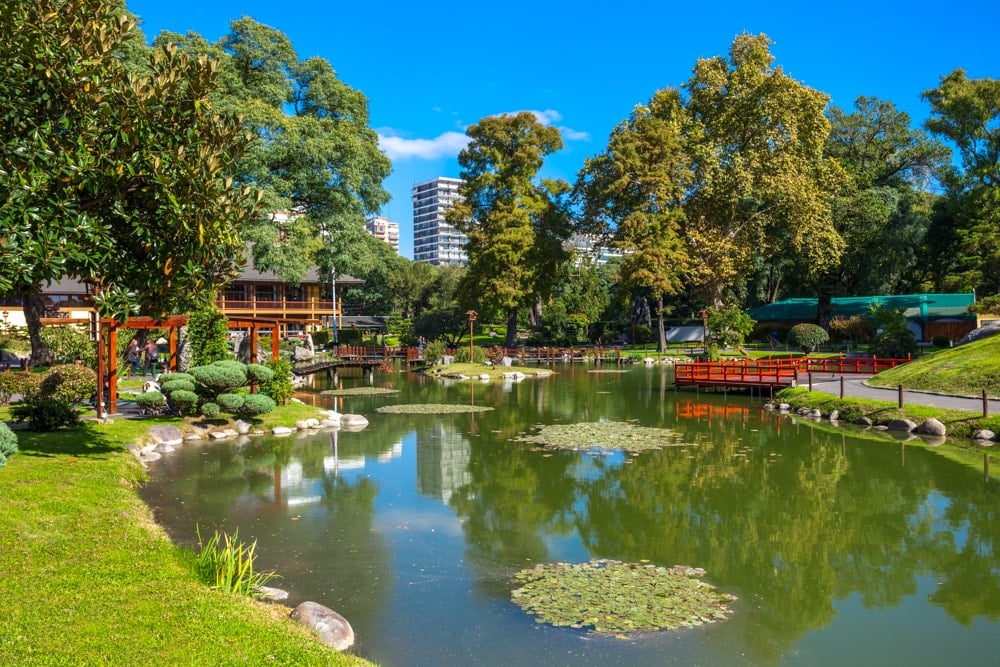 A word of warning, however: the peace seems to evaporate during the Argentine summer. We had to queue to enter the gardens, found them crowded inside and were dismayed to discover tinny pop music playing over multiple speakers. We did visit on a Saturday during the school holidays so you'll likely fare better on a weekday and/or outside holidays.
Plaza Francia
This immaculate park – along with its connected gardens around plazas Mitre, Intendente Alvear and Ramón J Cárcano – boasts manicured flower beds and charming grounds that reflect the chic streets and boutiques of the capital's poshest barrio, Recoleta.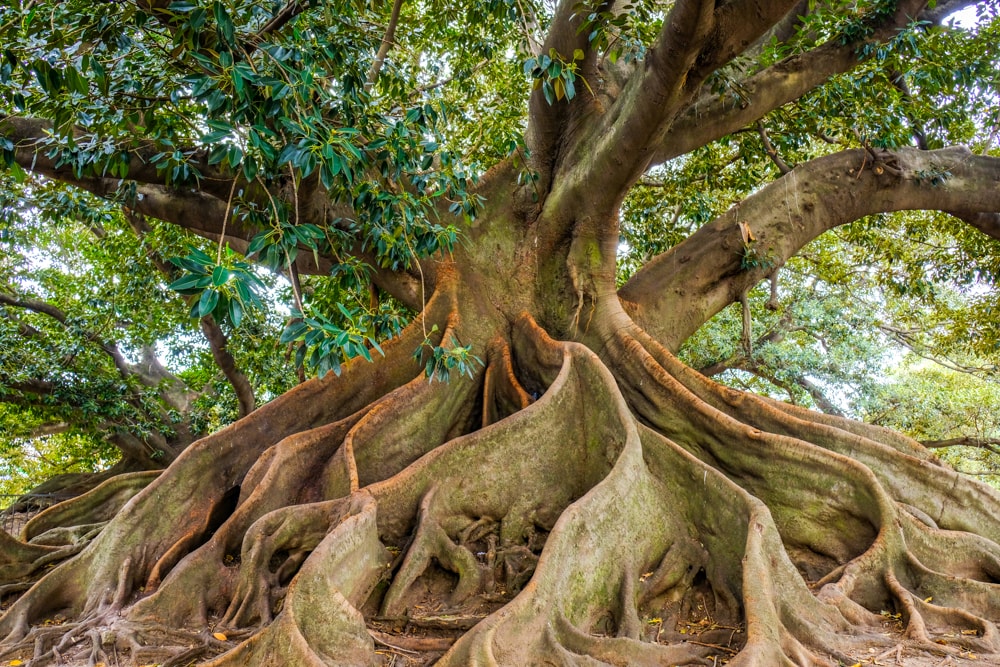 Opposite the entrance to Recoleta cemetery is the majestic Gomera de Recoleta, a rubber tree believed to be over 200 years old. It is an ideal spot to grab an ice cream and people watch.
Parque Lezama
Located in San Telmo, one of the city's oldest neighbourhoods, the entrance to Lezama is guarded by a monument to Spanish Conquistador Pedro de Mendoza who supposedly landed here in 1536 in the first failed attempt to establish Buenos Aires.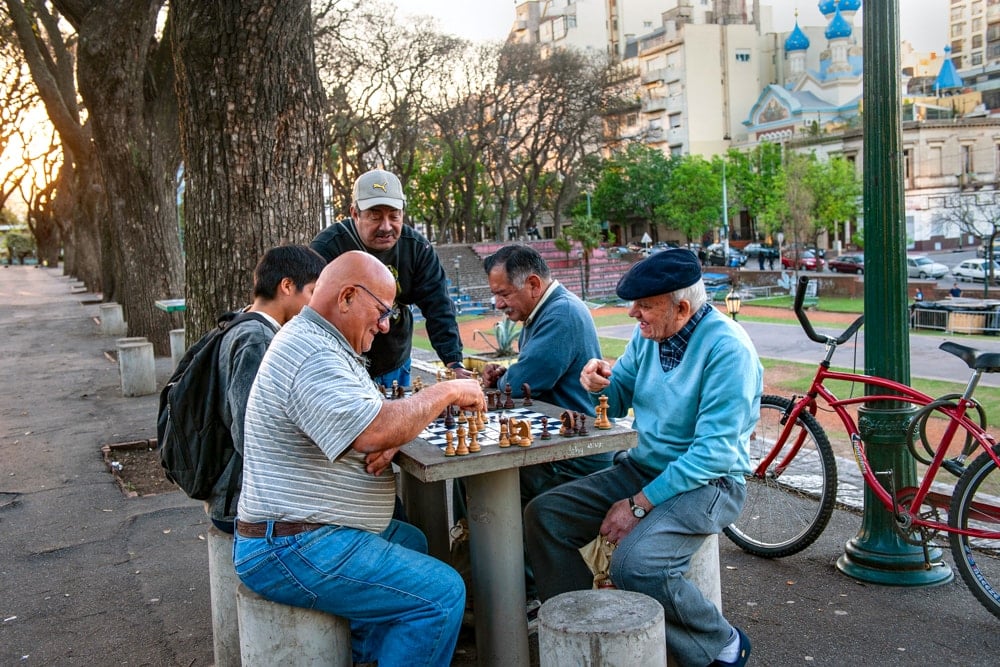 Today the park is made up of a sculpture garden, gazebo and landscaped gardens as well as the former mansion of the Lezama family which is now a museum. The park's tables are regularly occupied by groups of chess players.
Parque Centenario
Located right in the geographical centre of the city, Parque Centenario is a circular park that's popular with the city's free spirits. Don't be surprised to find musicians, tightrope walkers and acrobats honing their artistry within its grounds.
There's also a skatepark, playground and even a group of swing dancers who meet up to rehearse their steps. At the weekends, stalls are laid out with artwork, books and second-hand clothes among other wares.
Other quiet retreats
From the oldest café in Buenos Aires to one of the world's most beautiful bookshops, here are some more oases of calm.
Recoleta Cemetery
It may sound macabre, but the Cementerio de la Recoleta is one of the city's top attractions. It is also the only outdoor space we found where we could completely escape the sound of the city's relentless traffic.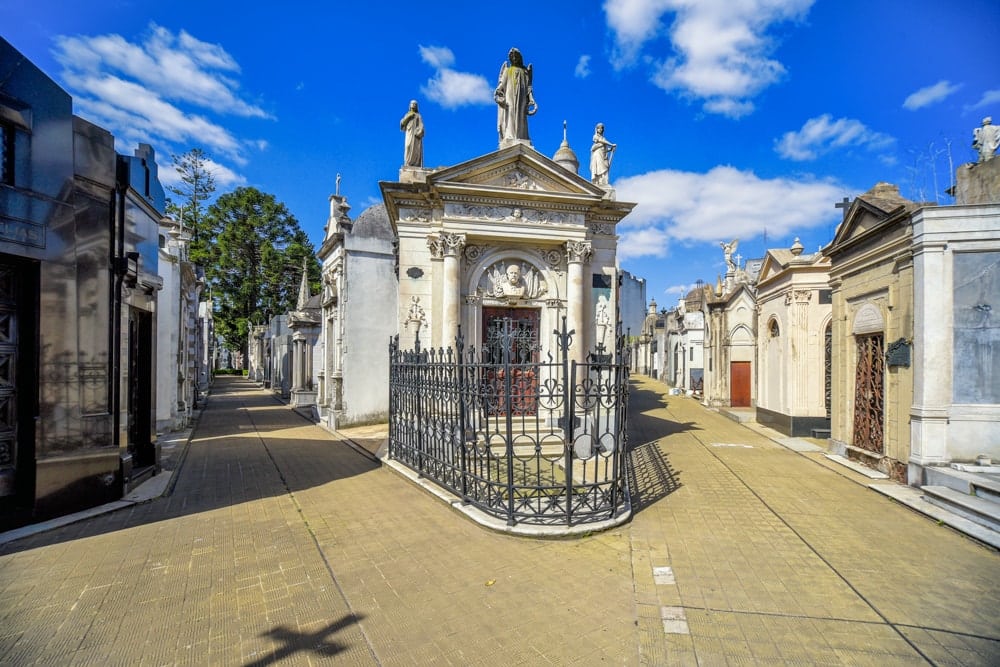 Bordered by high walls, the cemetery is a labyrinthine web of paths lined with ornate statues, crumbling crypts and marble mausoleums. Tombs include past presidents, military heroes, influential politicians and, of course, Argentina's iconic first lady, Eva 'Evita' Perón.
Hotel Club Frances
We stayed at the Hotel Club Francés in the heart of the chic Recoleta neighbourhood where it's easy to see how Buenos Aires came to be known as the 'Paris of South America'. A restored historic building decorated with refined antique artworks, the Club Francés dates back to 1866.
It was in this mansion that the city's distinguished French residents – known as the French Club – would rendezvous. Even if you don't stay at the hotel, we recommend dropping in for a mid-afternoon drink in the elegant bar following a visit to the nearby cemetery.
El Ateneo Grand Splendid
Constructed in 1919 as a performing arts theatre, this majestic building is now one of the world's most beautiful bookshops. It retains many of its original features – ornate carvings, crimson stage curtains and frescoed ceilings – and through them, the elegance and grandeur of days long passed.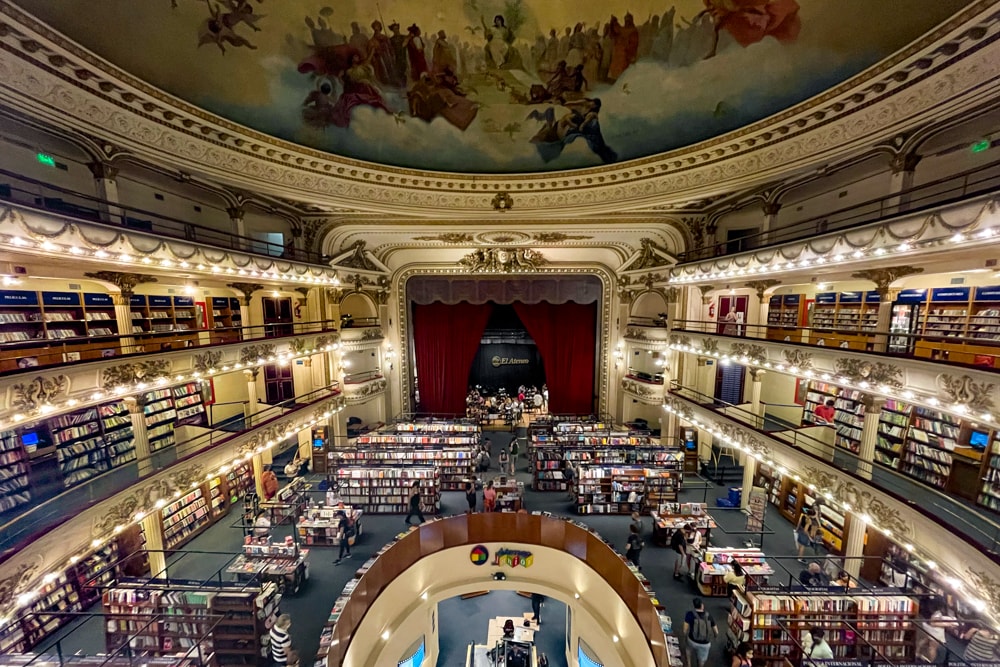 Readers take root in comfortable chairs scattered throughout the shop while the stage is used as a café. Most delightful of all are the rounded balconies now used as tiny reading rooms.
Café Tortoni
Opened in 1858, Café Tortoni is the city's oldest café and one of the 'bares notables' – a collection of 70 historic Buenos Aires cafés and bars that have been preserved as close as possible to their original design and layout.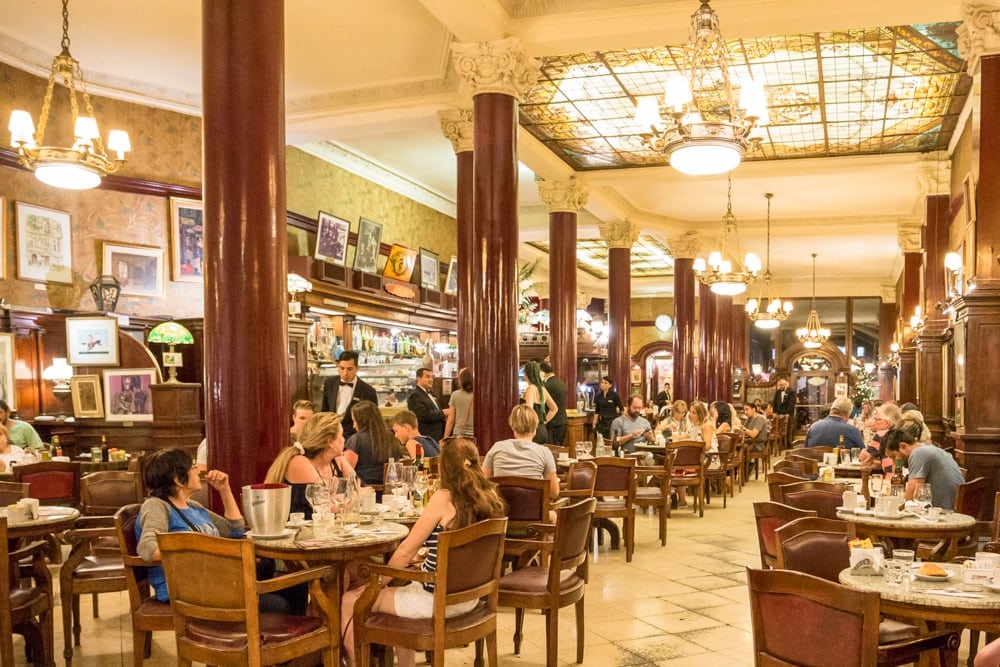 Named one of the most beautiful cafés in the world, the Tortoni is located on the bustling Avenida de Mayo between Plaza del Congreso and Plaza de Mayo, and makes for the perfect lunchtime pitstop. We recommend the medialunas (local pastries) or churros.
Museo Nacional de Bellas Artes
Museums can usually be relied on to be cool and quiet, and Argentina's premier fine arts museum won't let you down. Free to enter, the Museo Nacional de Bellas Artes houses an impressive collection of over 12,000 pieces including works by Argentina's foremost artists as well as Goya, Picasso and Renoir.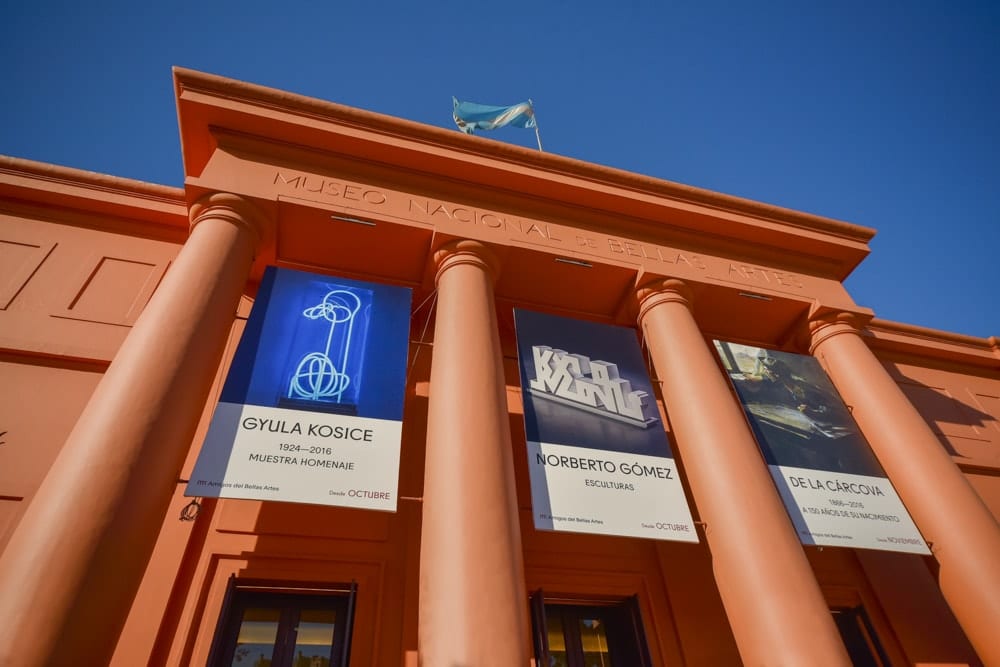 Biblioteca Nacional Mariano Moreno
Argentina's national library and the largest in the country is one of the city's most striking buildings. The concrete Brutalist construction towers above the surrounding grounds and neighbourhood. Even though it doesn't hold a torch to El Ateneo, its modernist interior still makes for a peaceful retreat from the city's sidewalks.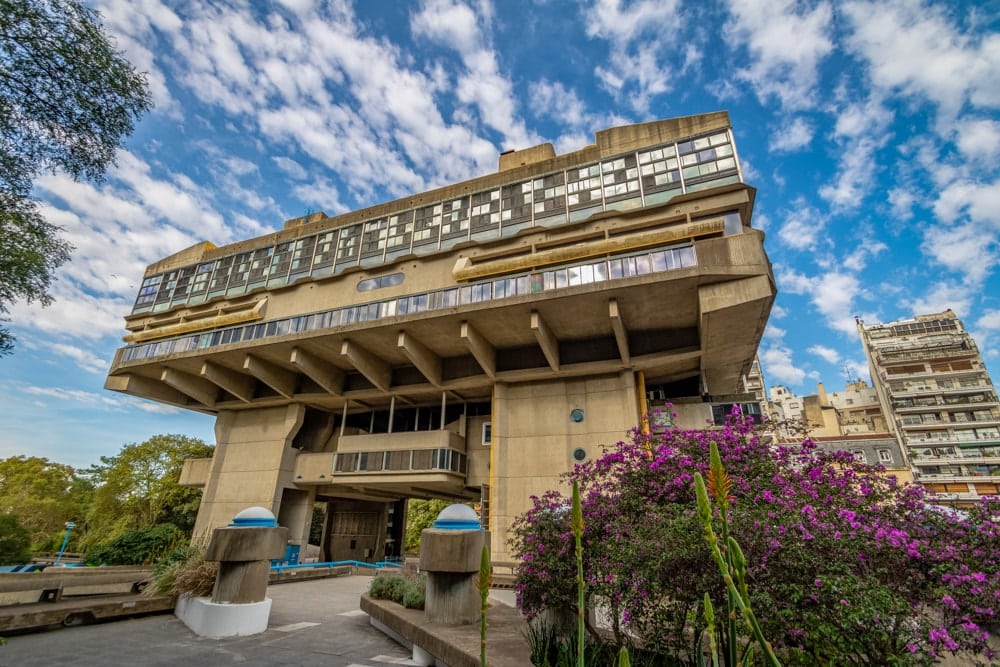 The Essentials: best parks in Buenos Aires
What: Exploring the best parks in Buenos Aires during a short city break en route to our expedition in Antarctica.
Where: We stayed at the Hotel Club Francés, a grand and historic boutique hotel in the heart of the upmarket Recoleta neighbourhood. The rooms – and beds – are ridiculously large and luxurious and all come with views of either the garden or the chic Rodriguez Peña while some even have a sauna and spa bath.
Downstairs are the exquisite lobby, bar and restaurant areas as well as the bright and leafy solarium where the à la carte breakfast – replete with French pastries – is served. In the evening, the gourmet restaurant cooks up sumptuous French and Argentinian dishes.
When: The best time to visit Buenos Aires is during the shoulder seasons from April to June or September to December when temperatures are milder, crowds thinner and prices lower. As we were en route to Antarctica, we visited Buenos Aires in January, which is the best time for visiting the polar region but also peak season in Argentina.
How: We walked around the city, which is easy to navigate but can be a bit of an affront to the senses. There is an underground metro system, known as the Subte, made up of six lines that connect the city's main avenues, train stations and coach stations. To use the Subte (and buses) in Buenos Aires, you'll need to get a SUBE card and charge it with credit from one of the numerous 'kioskos' (kiosks and corner shops) or eight tourist information centres spread around the city. Uber is available but isn't as quick or easy as in other cities.
Domestic bus routes run between Buenos Aires and major cities including Salta, Mendoza and Córdoba. A handful of long-distance trains run to cities including Córdoba, Mar del Plata, Rosario and Tucumán.
Buenos Aires is easily accessible by air from international, continental and domestic destinations. We flew from London to Buenos Aires with British Airways. Book via Skyscanner for the best prices.
One final note: take all your cash in USD and convert it to local currency once you're in Argentina. The country's 'Blue Dollar' rate means you can get a lot more for your money compared with withdrawing from a cash machine or paying by card.
---
Enjoyed this post? pin it for later…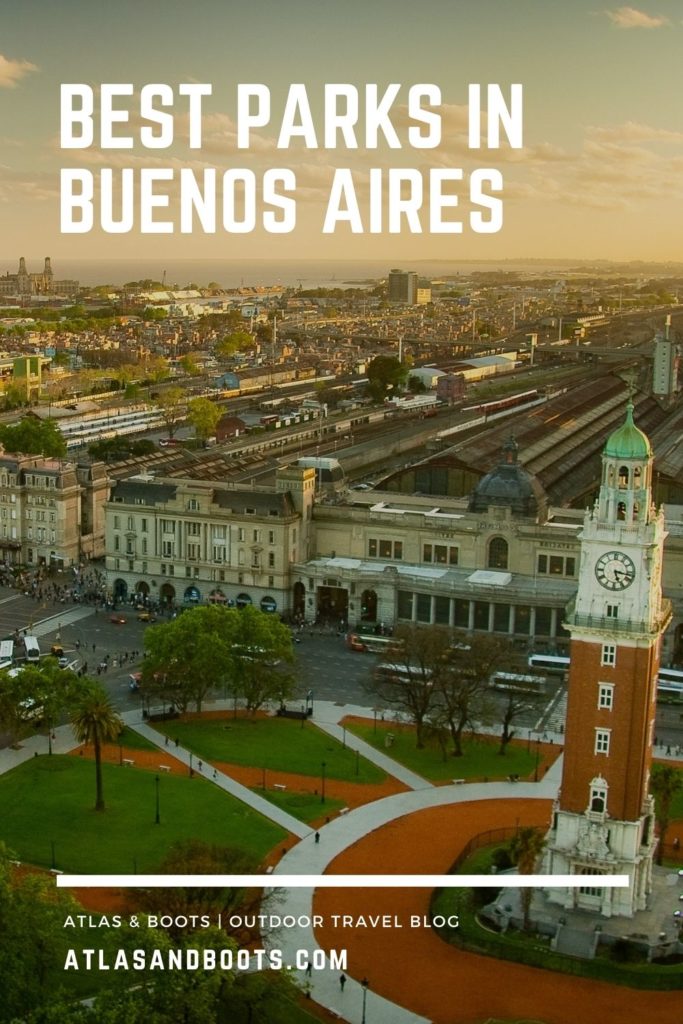 ---

Autor: Peter
Fuente de contenido