Adventurous Kate contains affiliate links. If you make a purchase through these links, I will earn a commission at no extra cost to you. Thanks!
Looking for the best things to do in Oaxaca? I've got you covered! Oaxaca is one of my favorite places in Mexico, and I think it's one of the most special cities in Latin America.
Oaxaca (pronounced wa-HA-ca) ticks all the boxes — it's an incredibly beautiful city, it's an endlessly interesting city; it's large enough to have tons of things to do but small enough to get around on foot; and the value for money is EXCELLENT. Oh, and did I mention it's a culinary nirvana?
I arrived in Oaxaca a sleep-deprived zombie, thanks to taking the 10-hour overnight bus from San Cristóbal de las Casas. The sun shone beautifully, warming my face. A strong coffee at a cafe on the Zócalo and a Oaxacan tamale, steamed in a banana leaf and filled with black mole, brought me back to life. I people-watched with a smile on my face. I was hooked on this city already.
I spent a full week in Oaxaca, exploring it top to bottom. Mexico is one of my favorite countries in the world, and I love to visit every winter when possible. Now I'm considering spending a winter or two in Oaxaca, just to enjoy it for longer.
This is my Oaxaca travel guide, and I hope it helps you plan a fantastic trip.
(Please note that there is both a state of Oaxaca and a city of Oaxaca in Mexico. This guide refers to Oaxaca city, also called Oaxaca de Juarez, which is within Oaxaca state.)
This guide was updated as of December 2021.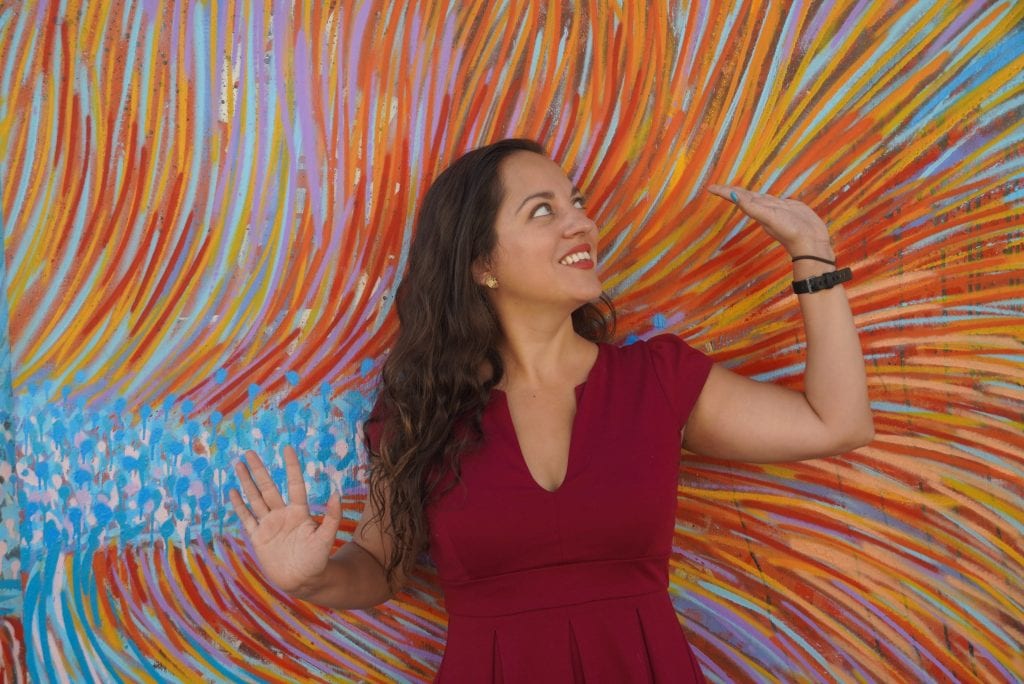 Why Travel to Oaxaca?
There are some cities that seem to epitomize their countries. Take Kyoto: you have pristine temples and gleaming skyscrapers, ryokan and high-end kaiseiki meals and local markets selling unusual foods. It's exactly what people picture Japan to be. Or Sevilla — a city of orange trees and flamenco and ornate buildings and bullfighting, the kind of destination people imagine when they think about Spain.
And Oaxaca is that city for Mexico. While Mexico is a very diverse nation, Oaxaca is like a dream image of what people perceive Mexico to be.
A warm, colorful city located in a valley among mountains. Street vendors serving up delicious food. Women dressed in colorful embroidered dresses. Ancient pyramids just outside the city. Parades and festivals and art.
If you're looking to base in Mexico for a full week, exploring the city in depth and taking day trips to nearby destinations, Oaxaca would be my top recommendation.
Read More:
Oaxaca Travel FAQ
What are the best cheap things to do in Oaxaca?
Take the Oaxaca free walking tour (remember to tip your guide). People-watching on the Zócalo is free; having a meaty meal at 20 November Market is cheap and fun.
How do you pronounce Oaxaca?
Oaxaca is pronounced "wa-HA-ca."
Is Oaxaca safe?
Yes, Oaxaca is a very safe city to visit, even for solo female travelers. Take the same precautions you would in your home country: be aware of your surroundings, don't drink too much, and keep in touch with someone at home.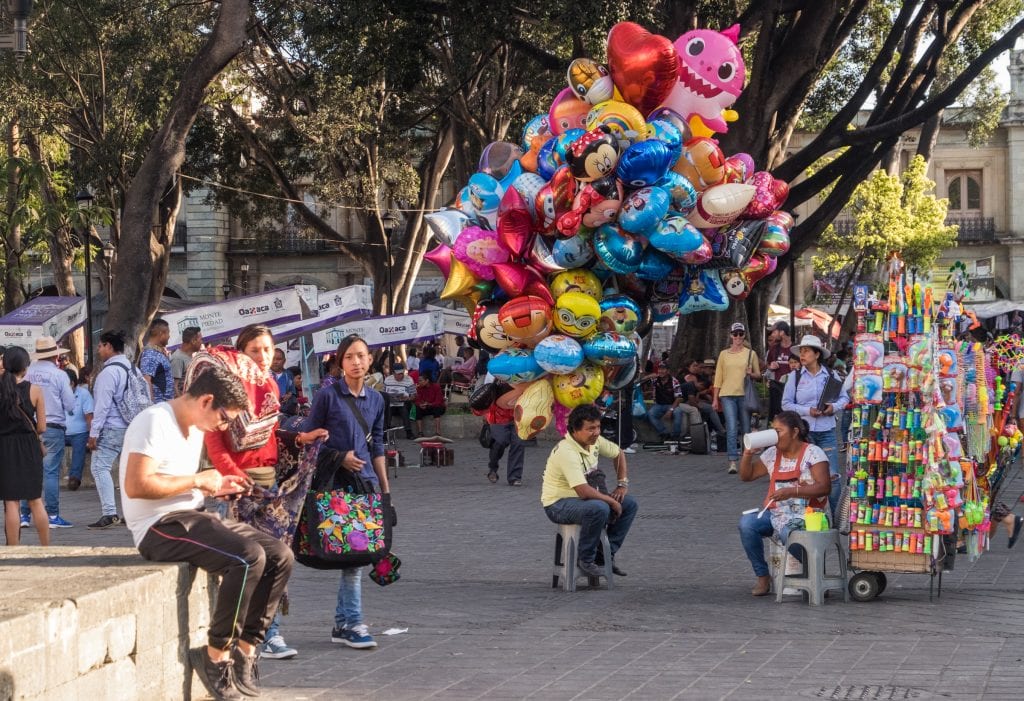 Things to Do in Oaxaca
One of the best things to do in Oaxaca is simply walk around the city and enjoy the atmosphere. Oaxaca is a city that lends itself to wandering, and I could wander Oaxaca for hours.
Here are some more things to do in Oaxaca:
People-Watch on the Zócalo
The Zócalo is the main square in Oaxaca's city center. It's a park with lots of pathways and it serves as a gathering place for Oaxacans. Like many other cities, Oaxaca's main square is the place to see and be seen around sunset.
Here you'll find balloon vendors and street food stalls, teenagers giggling in crowds, multi-generational families enjoying each other's company, and the occasional pair of well-dressed chihuahuas. Occasionally you'll catch a musical performance. It's local culture at its best!
Use the Zócalo as your base, and from there you can set out in any direction and enjoy Oaxaca's streets.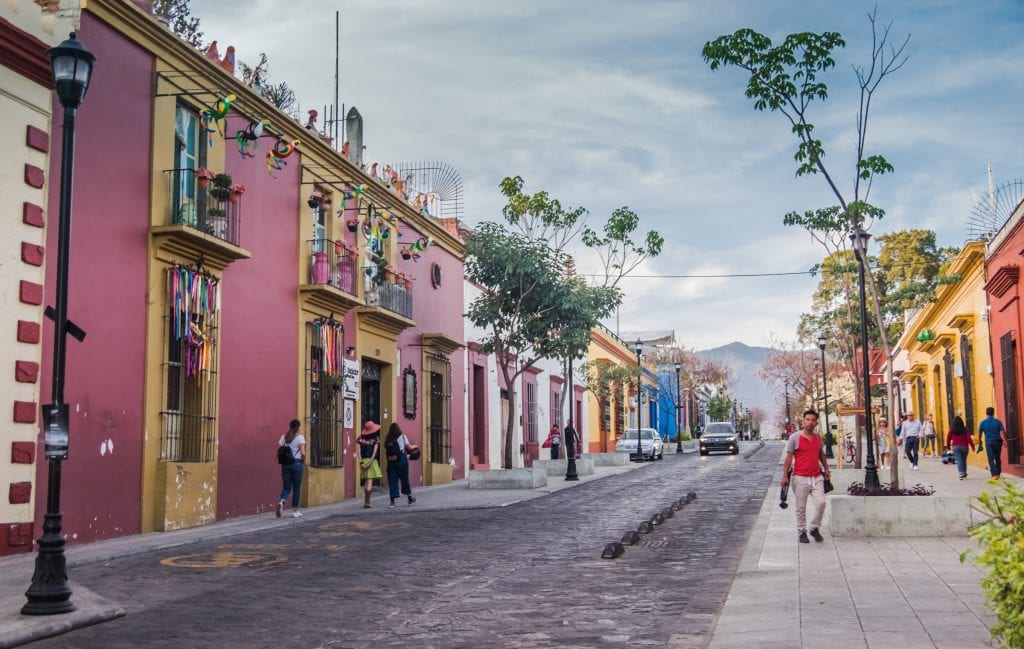 Free Oaxaca Walking Tour
Taking a free walking tour is one of my favorite ways to get my bearings in a new city. Oaxaca Free Walking Tour has daily tours led by local guides.
On this tour you'll get to know your way around the city while learning about Oaxacan history, arts, gastronomy, Indigenous cultures, and social and political movements. It's one of the best things to do in Oaxaca on your first day to give you the framework for the rest of your trip.
Just keep in mind that a free tour is not TOTALLY free — your guide expects (and deserves) tips. Most free tours even have to pay their company a portion of the tips they receive. Tip generously for your free tour. Don't be one of the people who shamefully slinks away.
Free tours are daily at 10:00 AM and 4:00 PM, departing from Teatro Macedonia Alcalá.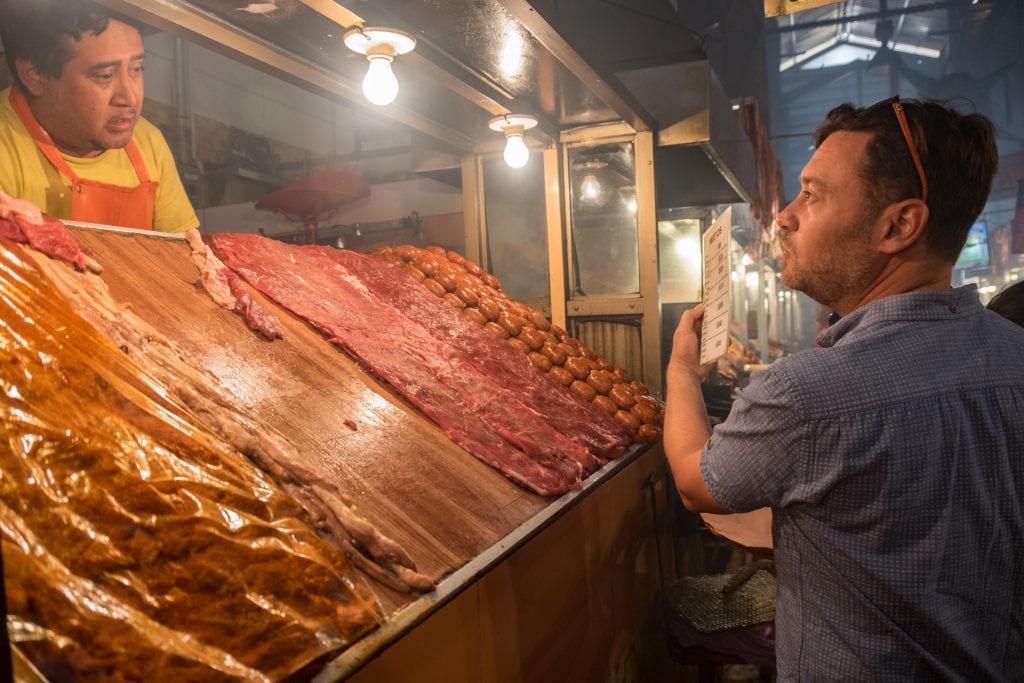 Eat Meat at Mercado 20 Noviembre
Looking for a fun, local, cheap food experience? Well, this one is particularly for carnivores. Head down to Mercado 20 Noviembre and you get to choose the meat of your dreams!
It's a bit intimidating, but don't worry — Oaxacans are lovely people and they'll help you if you need it. Start out by choosing vegetables to eat, then walk up to one of the butcher counters and order the meat. You'll be given a number and you can sit down at the tables. When it's ready, they'll let you pick it up. From the table, you can order tortillas, condiments, and refreshments from the wait staff (I recommend a Victoria beer).
Mercado 20 Noviembre is just south of Mercado Benito Juárez, another big market in Oaxaca that is worth exploring.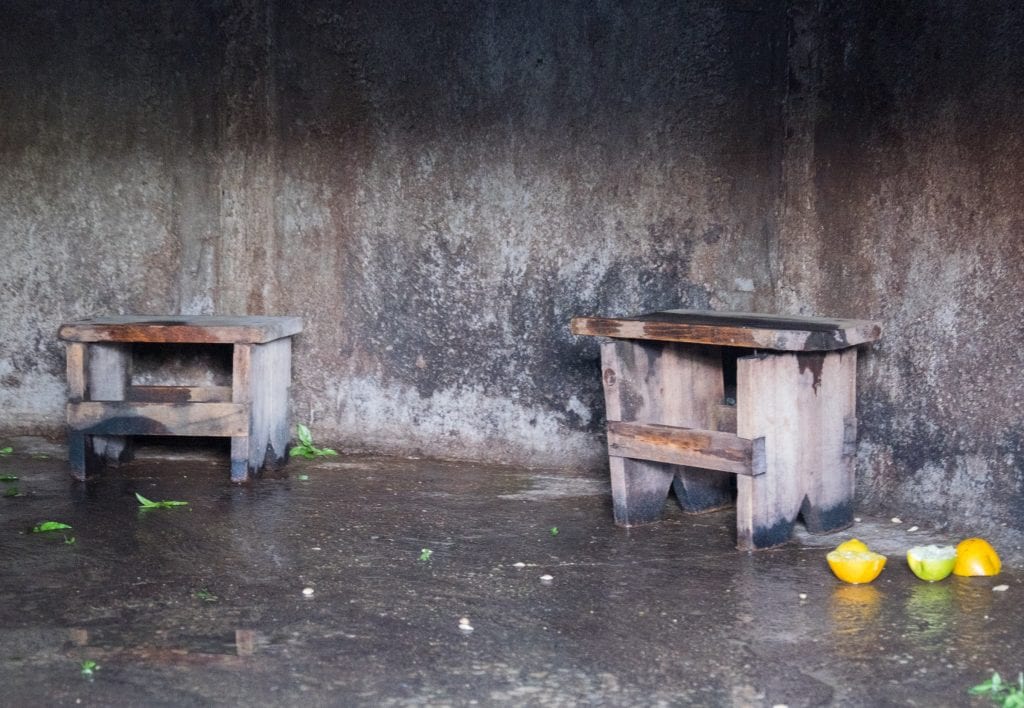 Experience a Temazcal
One of the most unforgettable things I did in Oaxaca was visit Cevarium Temazcal, a traditional "sweat lodge" operated by a lovely Zapotec couple, Blanca and Osvelia. This is an activity that you'll remember forever.
The Temazcal is a traditional health method for the Zapotec, and this particular Temazcal offers you a way to respectfully engage in an Indigenous activity in Oaxaca.
There were three of us participating: me, Charlie, and another woman. We wore bathing suits and each sat on a small stool inside the low-ceiling temazcal. Then Osvelia closed the door and the heat began! He gave us directions on what to do. We squeezed oranges on ourselves ("Like a turkey," he said.) We rubbed local clays on our faces and dumped cold buckets of water on our heads. We each sat in our own cool bathtubs in the hot room as Osvelia poured chocolate and mole over us.
I found it to be like a meditation, a way to step outside your body and concentrate on the here and now.
What I most appreciated was how much Osvelia reassured us. "Don't suffer," he repeated over and over, reminding us that if it was too much heat, we could lie down or even leave.
On recommendation from others, we did the version with the herbal bath. Book through Facebook Messenger. The regular Temazcal experience costs 1000 pesos ($51) for one person, 1200 pesos ($61) for two people, or 500 pesos ($25) each for 3-6 people; the Temazcal experience plus the herbal bath costs 1300 pesos ($66) per person. Book ASAP because this tends to sell out.
Cevarium Temazcal is located outside the city, but they can send their driver to pick you up for an extra fee (highly recommended because most local drivers won't be able to find it).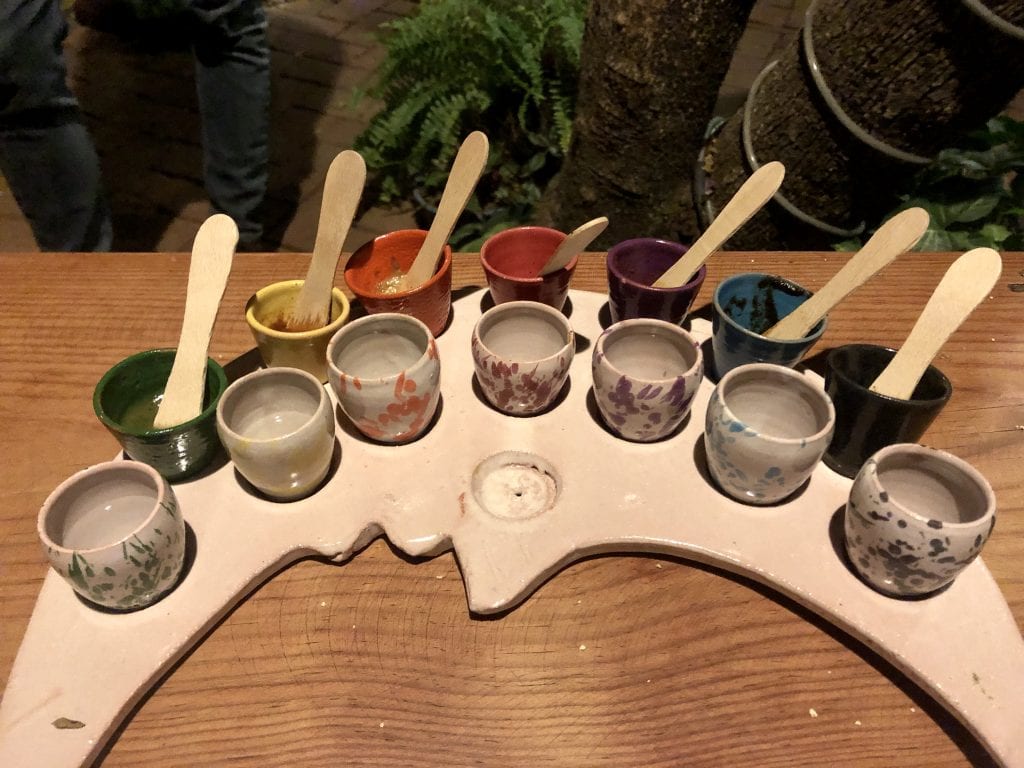 Take a Mole and Mezcal Pairing Class
One of my absolute favorite things to do in Oaxaca was a mezcal and mole pairing. Mole and mezcal are two specialties from Oaxaca, but you have no idea how complex they are until you try them one at a time, savoring them, noting all the differences! It's a great place to try several moles at once.
This experience is given by Daniel, a sommelier with a really interesting background. In fact, we enjoyed his tour so much that we hung out with him later on and he showed us around the cool parts of the Xochimilco neighborhood.
Think mezcal is tequila's smokier sister? Get ready to have your mind blown — high quality mezcal isn't supposed to be smoky at all, Daniel told us! It's like wine. It's subtle and vibrant, and once you attune your mind to its flavors, you'll be amazed. This mezcal tasting might have the side effect of ruining you for mezcal!
You can book it here. Rates from $52. Very highly recommended.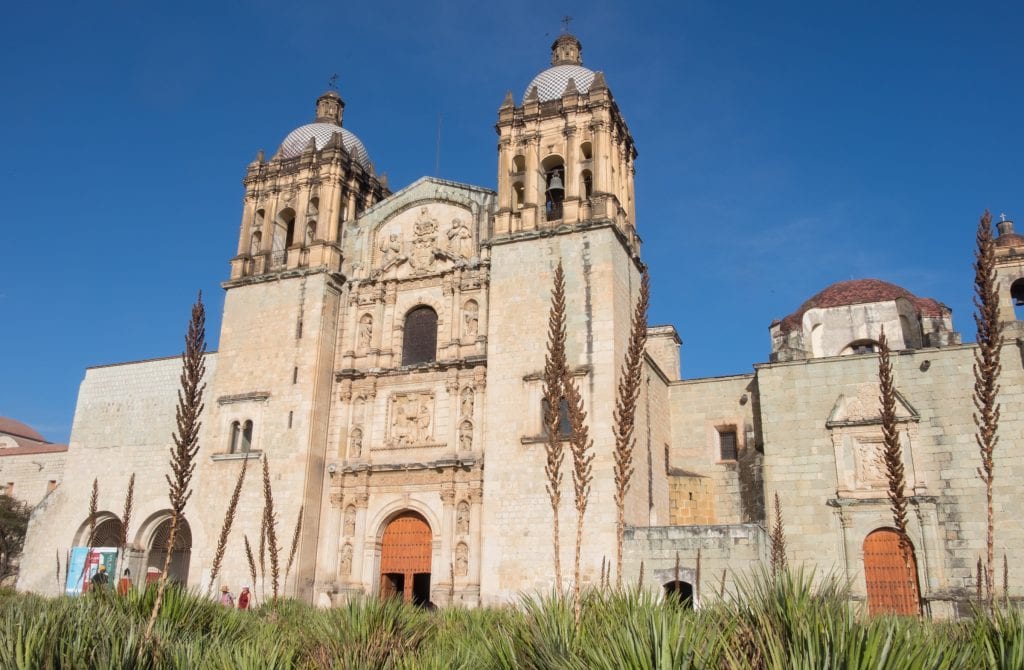 Visit Templo Santo Domingo and the Museo de las Culturas
These two Oaxacan sites are located in the same complex. Templo de Santo Domingo is a church — soft stone on the outside, intricate gold patterns on the inside.
The Museo de las Culturas, or Museum of Cultures, is a museum highlighting the cultures of the many Indigenous communities of the region. Exhibitions focus on pre-Hispanic through the present day. Don't miss the display from Tomb 7 at Monte Albán, filled with gold, silver, and gemstones.
Templo Santo Domingo is free to enter; entry to the Museo de las Culturas is 80 pesos ($4). The museum is primarily in Spanish, but the Google Translate photo app on your phone can translate in real time.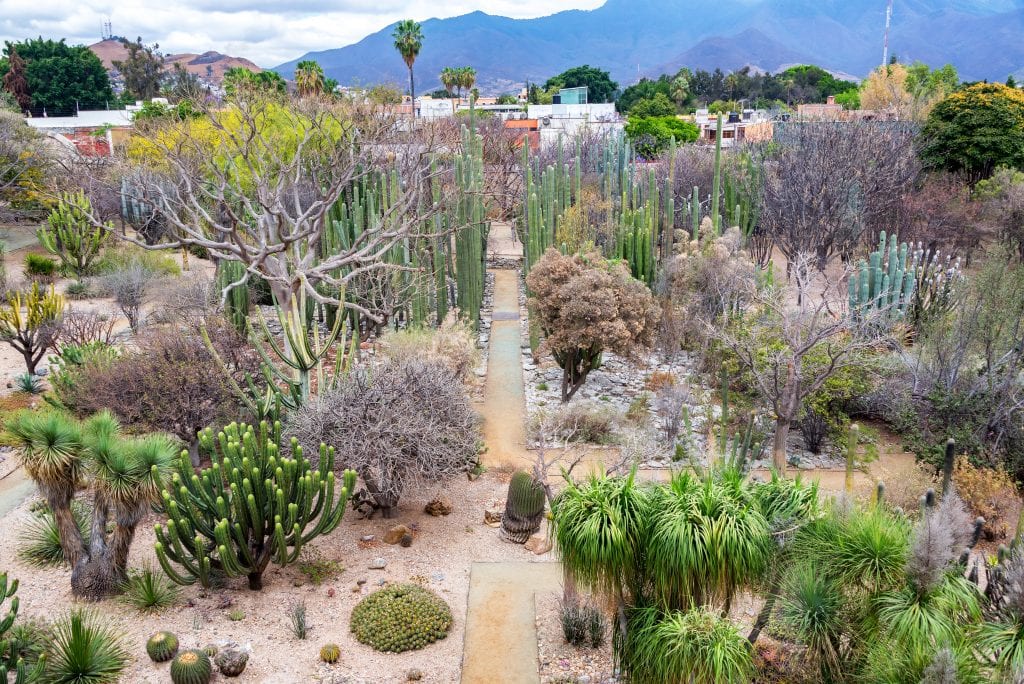 Visit the Ethnobotanical Garden
Next door to the Templo Santo Domingo is Oaxaca's ethnobotanical garden, containing a beautiful collection of plants from all over the state of Oaxaca.
Oaxaca is the most biodiverse state in Mexico and the plants are grouped according to ecological region. To this day, the plants are watered manually from water collected from the church's roof!
These botanical gardens are not a walk-in attraction — you must book a guided tour. English language tours take place on Tuesdays, Thursdays, and Saturdays at 1:00 PM and cost 100 pesos ($5) per person.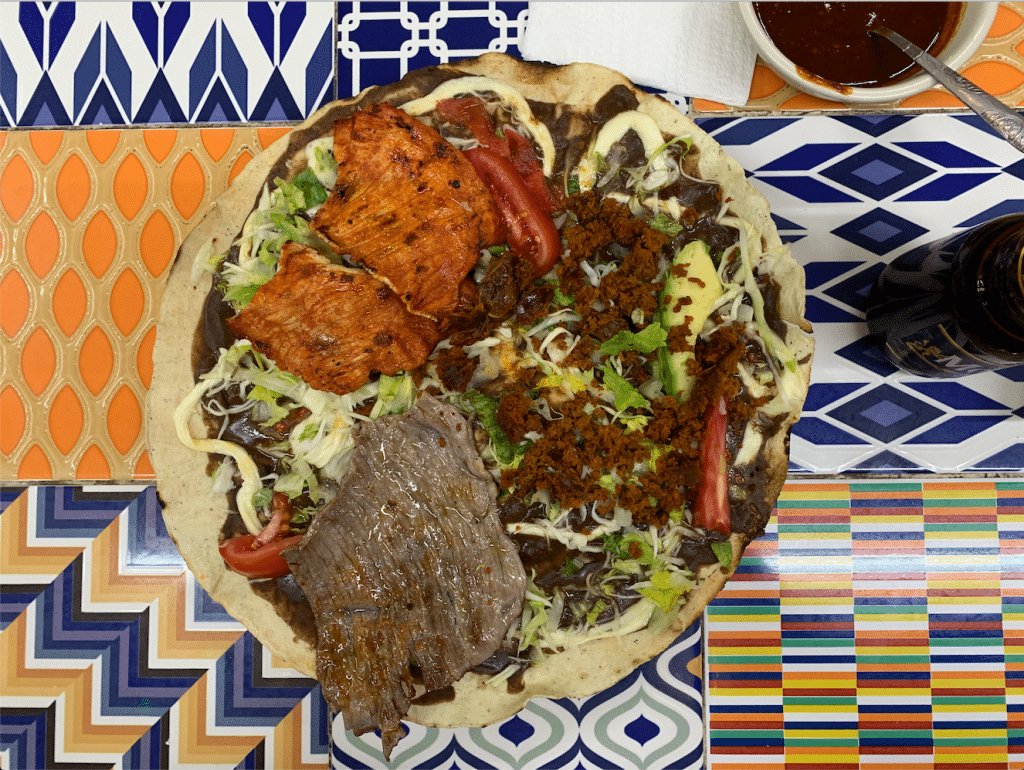 Eat All the Oaxacan Food
Oaxacan food is fantastic — the best in Mexico. And for good reason. Take this opportunity to dive into local Oaxacan specialties, many of which are tough to find outside the region.
Here are a few dishes that you should prioritize trying in Oaxaca:
Tlayudas — Large tortillas topped with refried beans, avocado, tomatoes, any kind of meat, and sometimes Oaxacan cheese. Some people call it Oaxacan pizza.
Mole — Forget any mole you've ever had, because Oaxaca does them better, and in seven very different varieties. Try as many as you can!
Tamales Oaxaqueños — You may know tamales, but Oaxaca's version are steamed in banana leaves and often filled with mole negro.
Memelas — Similar to tostadas, but featuring a soft, thick corn base topped with beans, cheeses, meats, and salsas. They're most popular for breakfast.
Empanadas — Different from other Latin American empanadas, Oaxacan empanadas are tortillas filled with toppings, folded in half, and grilled.
Huitlacoche — Corn fungus, often served in tacos. It's a seasonal item (May-September). Mushroomy and earthy, it tastes better if you don't think about what you're actually eating.
Quesillo — Also known as Oaxaca cheese, this is a stringy white cheese that goes on everything.
Chapulines — Fried grasshoppers. You can use them as a topping or just eat them like French fries!
Tejate — A frothy, chalky-looking beverage that is a bit of an acquired taste, made with ground corn and cacao.
Taking a food tour is a great way to try lots of Oaxacan specialties! Oaxaca Flavors is a tour that will stuff you with more than two dozen delicious specialties over the course of four hours. I recommend doing this early in your trip so you'll find out your favorites and order more of them. Contact them for current rates.
See below for the best restaurants in Oaxaca.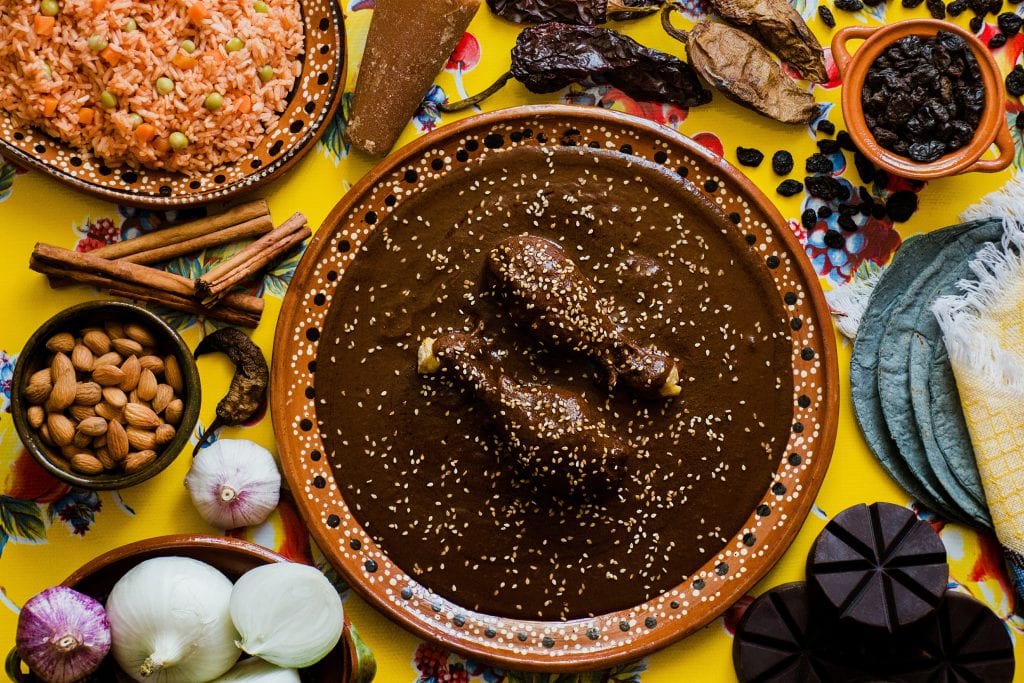 Take a Cooking Class
Taking a Oaxaca cooking class is one of the best gifts you can give yourself and your loved ones. Imagine inviting your friends over for Mexican food, they'll be expecting tacos, and you'll make them a fantastic meal with complex, deep flavors!
Most Oaxaca cooking classes include a market visit to select produce before cooking. Most classes have everyone pitching in together on communal dishes; others have you cooking your own individual dish.
Here are some options:
This Oaxacan cooking class teaches how to make a full meal including a mole, plus multiple kinds of salsas and tortillas. From $77.
This traditional Oaxaca cooking class will teach you how to make your own meal, down to the tortillas, and has vegan and vegetarian options available. From $51.
This Oaxacan cooking class has you visit a market before cooking a three-course meal together. From $57.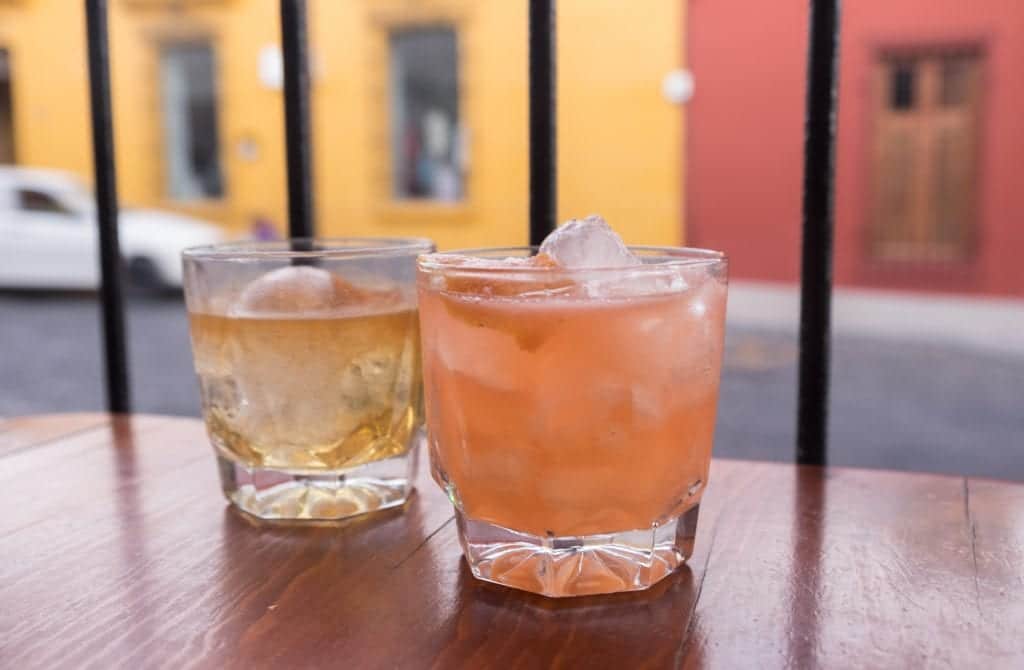 Try Mezcal Cocktails
There are lots of nice cocktail bars and mezcalerias in Oaxaca. While you could peruse the top lists, nothing compares to randomly stumbling into a cool-looking place and staying for one drink, two drinks, maybe more, and declaring it your place.
We enjoyed a bar called Mezcalogia, which had plenty of clever concoctions. Great place for a late afternoon treat.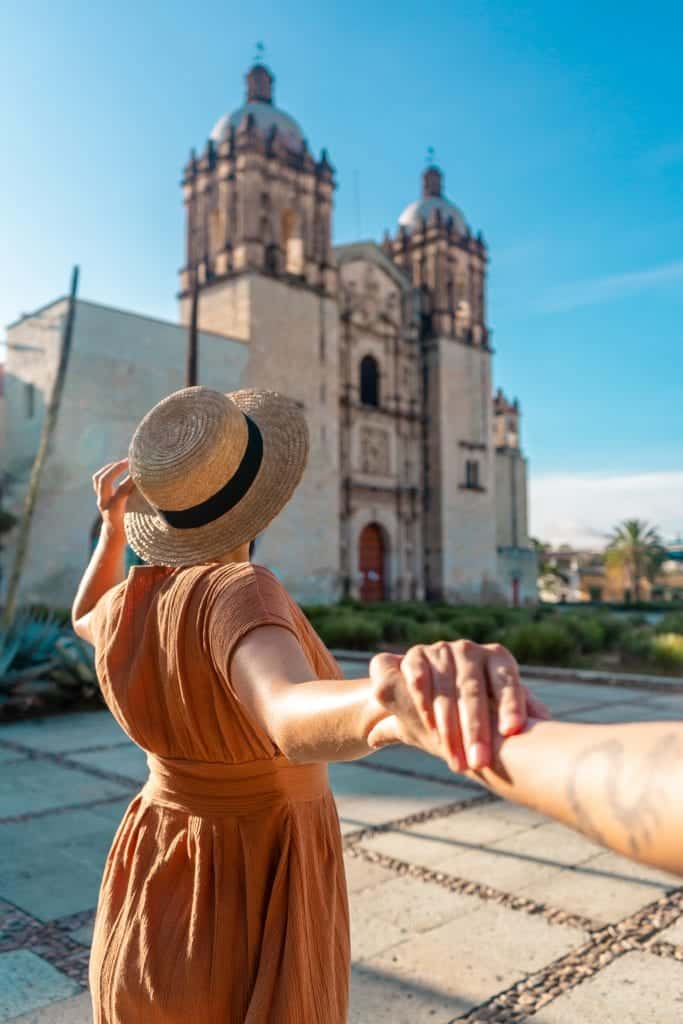 Book a Professional Photo Shoot
Want REALLY nice photos of yourself in Oaxaca? Book a pro photographer for a few hours! Airbnb Experiences has made it the best way for travelers to get flattering professional photos of themselves around the world for affordable prices.
Juan Pablo has shot for National Geographic and Maxim — and you can be his next subject.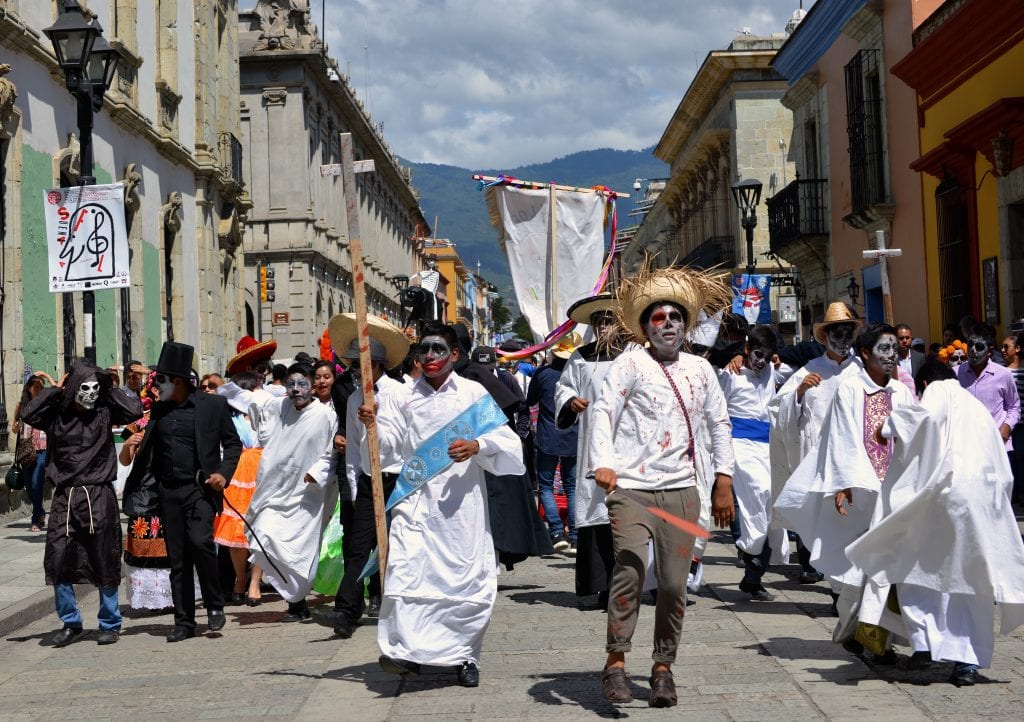 Celebrate the Day of the Dead
El Día de los Muertos, the Day of the Dead, takes place all over Mexico — but Oaxaca is one of the best places to celebrate.
Day of the Dead is a festival combining pre-Hispanic and Christian traditions, a time when the door between the earthly world and the spiritual world has opened. Locals create ofrendas (offerings) for their departed loved ones at their burial sites, bringing things they would have enjoyed while living.
In Oaxaca, it extends beyond the dates of October 31-November 2 — there are comparsas (parades) and events during the last week of October and first week in November, with most of them happening on November 1.
This is a popular time to visit Oaxaca, so book your accommodation as early as possible.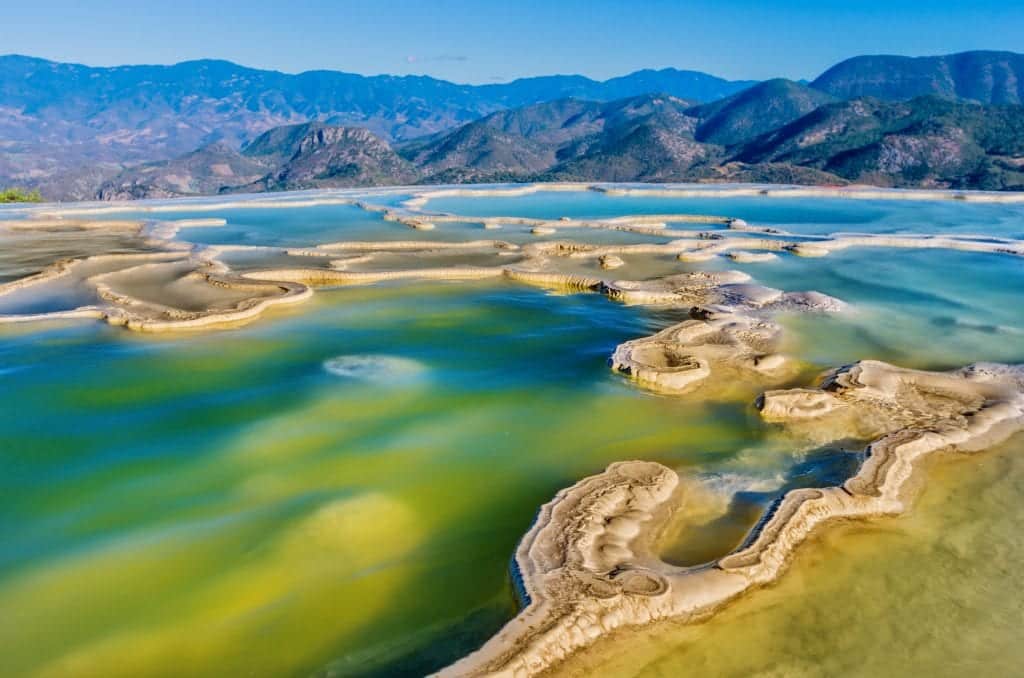 Best Day Trips from Oaxaca
It may be hard to tear yourself away from the city of Oaxaca, but there is SO much beauty surrounding the city as well. Some of the best things to do in Oaxaca are within a few hours' drive of the city.
Here are some day trips from Oaxaca worth putting on your list.
Hierve el Agua
The single most spectacular natural site close to Oaxaca is the Hierve el Agua, a natural geological formation that resembles a frozen waterfall.
This is where you'l get some of the best Instagram photos of your trip. There are lots of different angles of the formation, and if you're lucky, you might be able to get some reflective shots. You can even go swimming in the pools — just be prepared for the water to be on the cool side!
Most day trips to the Hierve el Agua include nearby sites — a 2,000-year-old tree called El Tule is very often included, and sometimes you can get the town of Mitla included too.
This is one Oaxaca day trip that I recommend doing as an organized trip rather than doing it on your own — it's hard to tick all three things off if you're not familiar with the region.
That said, if you're looking to do a high-quality photo shoot at sunset, or want to spend the day hiking around the area, you're better off renting a car and driving on your own.
You can book a tour to Hierve el Agua, Tule tree, and Mitla here. From $21.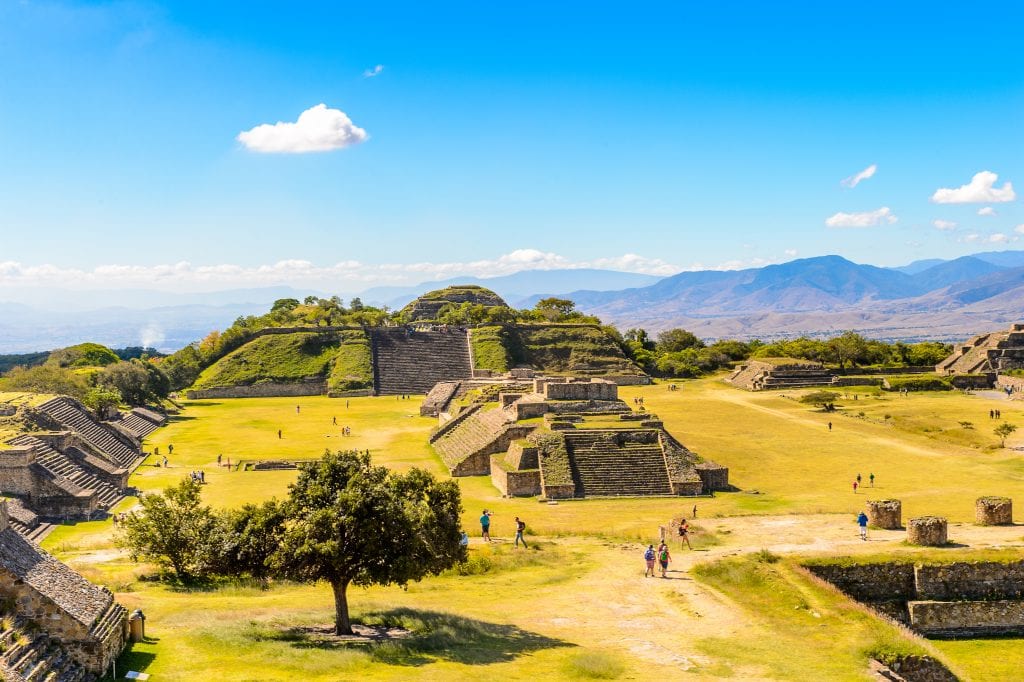 Monte Albán
Monte Alban is the best set of ancient ruins close to Oaxaca — and one of the best in all of Mexico. You can actually climb the pyramids here!
Monte Albán is an archaeological site originally constructed in the eight century BCE. Between 500 BCE and 850 CE, it was the most important political center in Zapotec culture.
Today Monte Albán is a UNESCO World Heritage Site, along with the city of Oaxaca. You'll find a great plaza, truncated pyramids, a ball court, and there are more than 170 tombs.
Don't miss Los Danzantes — slabs of rock carved in the image of contorting people. While the name suggests they were dancers, today many archaeologists believe they were prisoners depicted mid-torture.
You can book a guided half day tour of Monte Albán here. From $19.
You can also book a shuttle from Oaxaca to Monte Albán here. From $7.99.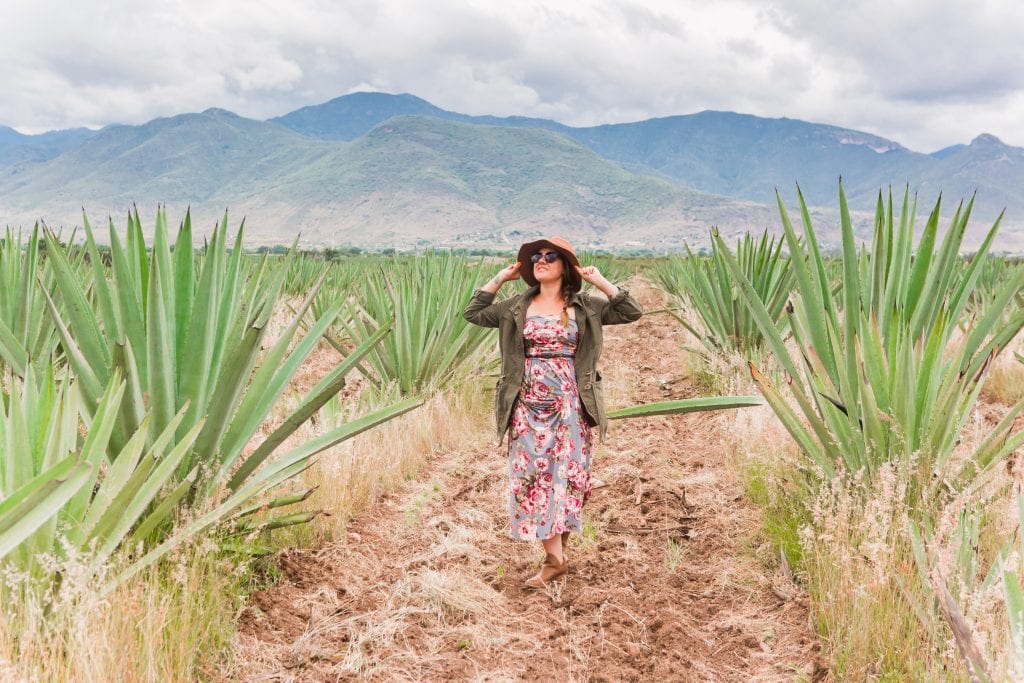 Mezcal Fields
Dreamed of getting photos of yourself frolicking in the agave fields? Are you obsessed with mezcal? Or do you just want to spend a day seeing nature beyond the city? A day trip to the mezcal fields is a great thing to do in Oaxaca. You will be one with the agave plant!
If you're into Instagram photos, this is a great option. But don't pass up an opportunity to learn more about an often misunderstood spirit.
This Mezcal tour meets in Oaxaca, takes you out to a mezcal distillery and mezcal fields, then provides you with a delicious lunch with even more mezcal. From $79 per person.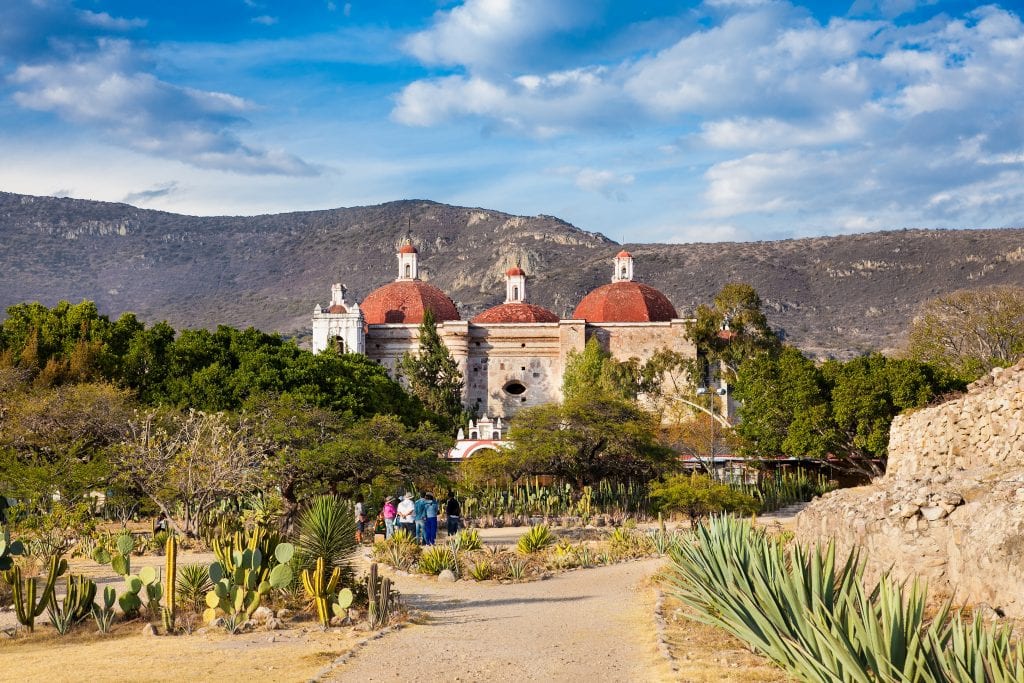 Mitla
If Monte Alban was the most important Zapotec political center, Mitla was the ancient religious center. Dating back to pre-Hispanic times, Mitla was the home of the high priests — the most respected and feared people in society.
Most interesting are the mosaics, carved out in geometric patterns and depicting the Earth, the sky, serpents, and other figures from nature.
It's easy to combine a trip to Mitla with the Hierve el Agua and El Tule, the 2,000-year-old tree.
You can book a tour to Hierve el Agua, Tule tree, and Mitla here. From $21.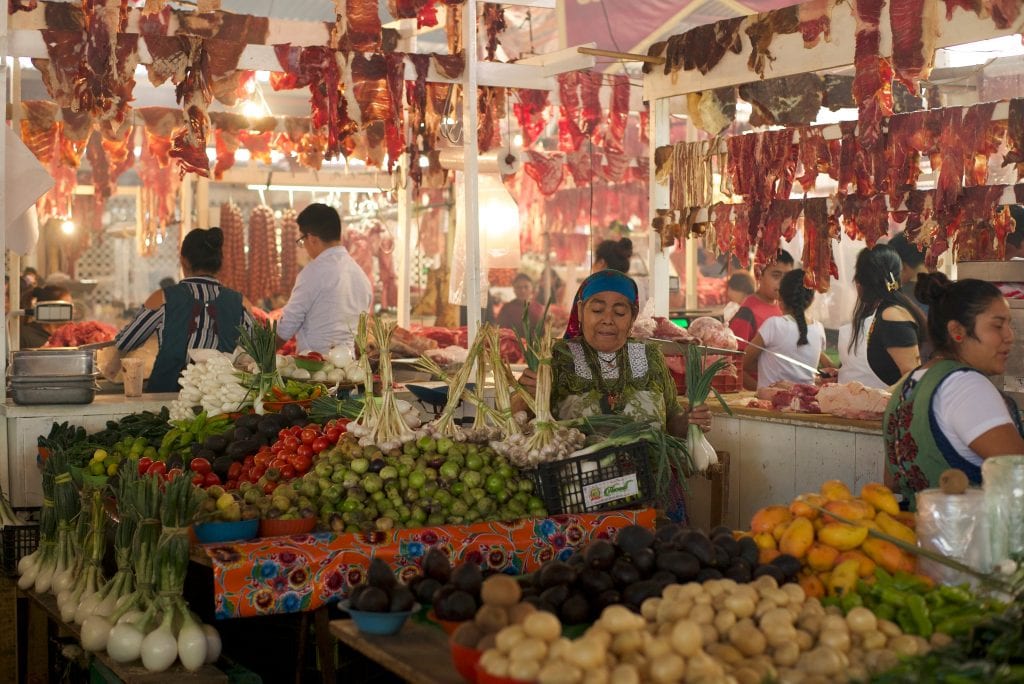 Tlacolula Sunday Market
Will you be in Oaxaca on a Sunday? Consider making a trip to the town of Tlacolula. On Sundays Tlacolula becomes home to one of the largest Indigenous markets on the planet.
People come from all over the state of Oaxaca to sell their wares at this market. You'll find everything from fruits and vegetables to crafts, household supplies, and all kinds of meat.
This is the perfect place to get handcrafted souvenirs from Oaxaca. (Though if you have your heart set on a certain item, check prices in Oaxaca markets beforehand — sometimes it's cheaper there.)
And the people-watching is unparalleled. Remember to be respectful as a photographer and a visitor to an Indigenous community. Always ask people permission before taking photos of them or their wares.
Don't miss stopping at Tlacolula's Templo de la Asunsción to admire its ornate gold chapel.
To get to Tlacolula from Oaxaca, it's best to take a colectivo, or shared taxi. They take 45 minutes and cost about 25 pesos ($1.25). Ask your accommodation where to get a colectivo to Tlacolula; they'll know which pickup spot is closest to you.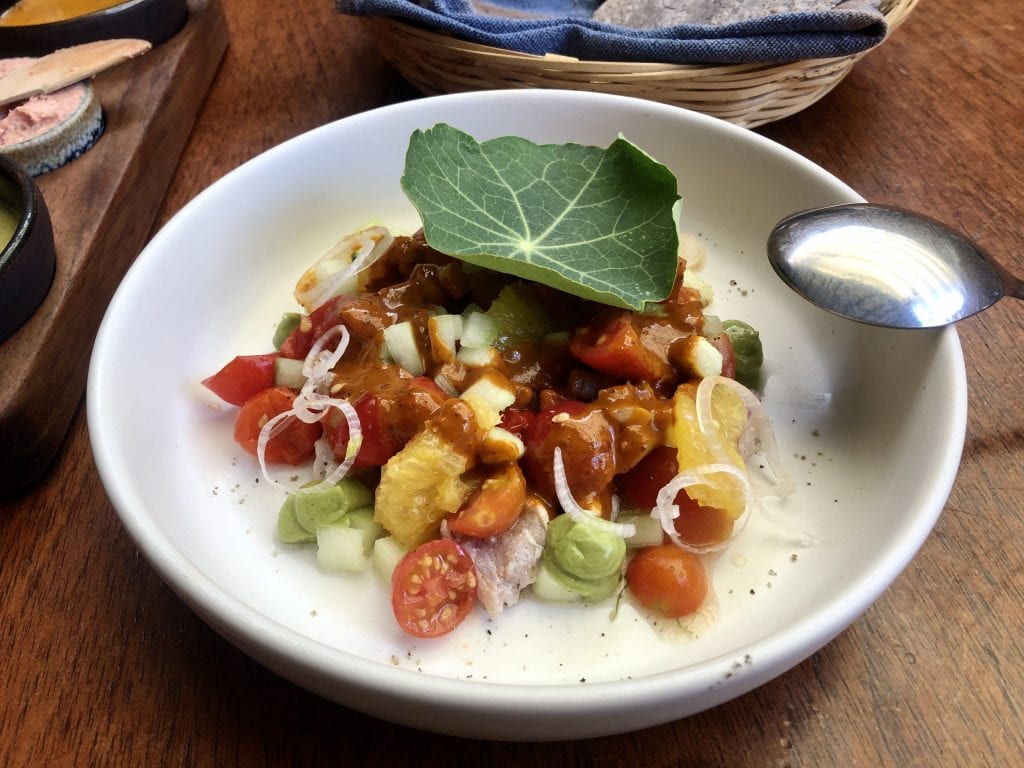 Where to Eat in Oaxaca
Oaxaca is the best food destination in Mexico — period. Of course, every Mexican extols their own region's culinary traditions, but most grudgingly admit that Oaxacan cuisine is on another level.
For cheap, filling and delicious meals, head to any of the markets and see which stalls are popular. No matter where you are in the world, if it's got a big crowd of locals waiting to eat, it's got fantastic food. And don't miss the meat experience at Mercado 20 Noviembre mentioned above, or a food tour.
One of the nice things about Oaxaca is that you can enjoy fine dining for a very reasonable price (and often for cheaper than Mexico City). I highly recommend planning for at least one high end meal in Oaxaca. If you're a hardcore foodie, you'll want several.
Here are my personal top recommendations for Oaxaca restaurants:
Origen
Origen was my personal favorite high-end restaurant we experienced in Oaxaca. Everything was inventive, delicious, immaculately plated, and thoughtfully designed. If you want to treat yourself, they have a five-course tasting menu.
Los Danzantes
Los Danzantes? You might recognize that name from the Monte Albán ruins! This is another high-end restaurant in Oaxaca with a large courtyard area. The dishes are outstanding and great value for money — yet it feels a bit more playful and fun than other high-end restaurants. Great cocktails, too.
Ancestral Cocina Tradicional
Ancestral Cocina Tradicional is where we had our mole and mezcal experience, which you should do, but if not, I recommend having dinner at the restaurant. They serve all seven of the moles in a magical garden setting. It's especially nice after dark.
Boulenc
I love a good hipster brunch place — and Boulenc is the hippest brunch restaurant in Oaxaca. Go early or prepare to wait; this place is very popular. Go Mexican and have some delicious molletes (toast with beans, pico de gallo, and cheese)…or go American with some killer pancakes.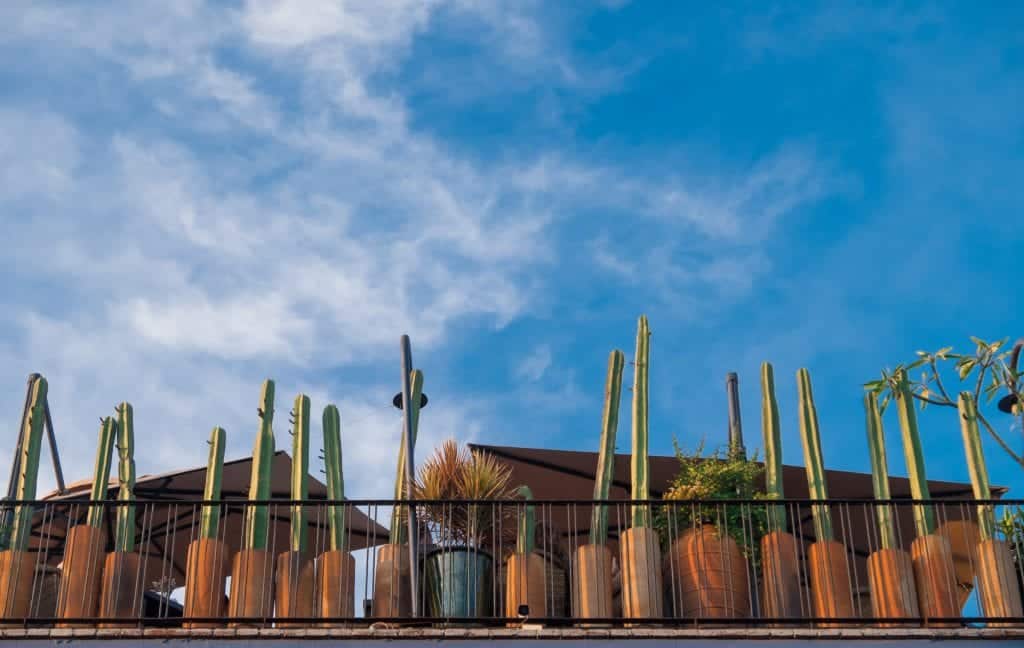 Where to Stay in Oaxaca
Where's the best place to stay in Oaxaca? Oaxaca is a compact and walkable (albeit hilly) city. As long as you aim for the city center, you'll be in a good spot for exploration. Know that staying right on the Zócalo can be a bit loud (though Mexico is a loud country in general — you'll want to bring earplugs no matter where you're going).
If you're looking to stay somewhere a bit less touristy, you might like the Xochimilco neighborhood, just off the center. They've got great coffee shops and a wonderful local ambiance. It's cheaper, too.
Best Oaxaca Hotels
Here are the top-rated hotels in Oaxaca at various price points:
Best Luxury Hotel in Oaxaca: Pug Seal Oaxaca
This luxury boutique hotel located in the center of town is filled with color, art, and high quality luxury finishings. The murals are a nod to Oaxacan tradition while having a more modern feel. Rooms surround a gorgeous courtyard and the hotel is known for its delicious (and included) breakfasts. Pug Seal is a local Mexican brand that keeps it from being a cookie-cutter luxury hotel.
Best Mid-Range Hotel in Oaxaca: Nana Vida Hotel Oaxaca
For a hotel that is solid and upscale, Nana Vida Hotel Oaxaca ticks all the boxes. It's cozy, colorful, and filled with art. What sets it apart is the staff, who earn consistent, gushing raves from past guests. There's a restaurant on site and its location, in the heart of the city center, puts you close to the action.
Best Budget Hotel in Oaxaca: Capital O El Nito
There are dozens of simple hotels all over the city center, where you can get a simple room for a low price. Capital O El Nito offers you exactly that — a clean room, an attentive staff — but with a killer location, just steps from the Zócalo.
Best Hostel in Oaxaca: Azul Cielo Hostel
Located on the edge of the city center, a 10-minute walk from the Zócalo, Azul Cielo Hostel offers a lot more value for money than more central hostels. The rooms are clean and colorful; there's a sizable terrace with a bar, and they even offer yoga classes, Spanish classes, bicycle rentals, and cultural activities. Private rooms, coed dorms, and women-only dorms are available.
Find deals on Oaxaca hotels here and see all Oaxaca home rentals here.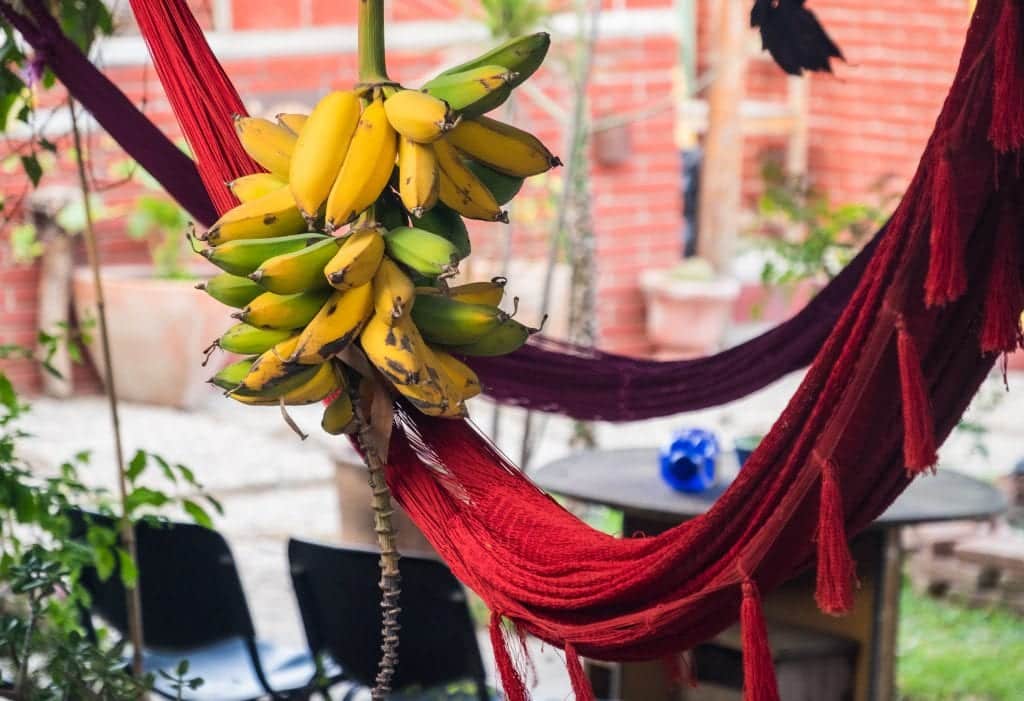 Best Time to Visit Oaxaca
There is no bad time to visit Oaxaca! While there are seasonal fluctuations, Oaxaca's location in a valley at 5,102-foot elevation (1,555 meters) means that weather is relatively consistent for most of the year, with warm days and cool nights. You can plan a trip any time of year and have an enjoyable time in Oaxaca.
(That's not the case for every city in Mexico. Land in Mérida in May and you'll be sweltering with high humidity and scorching high temperatures; visit Mexico City in December and you'll need a winter coat at night!)
Dry season in Oaxaca is from October to April; rainy season is from May to September. Even so, rainy season usually has clear mornings and brief showers in the afternoons.
The hottest months in Oaxaca are April and May; the coldest months in Oaxaca are November and December.
But if you're looking for the sweet spot, where you have warm, sunny weather and very little rain, aim for October, November, February, or March.
Oaxaca gets the most visitors from December through February. Holy Week and Easter are a popular time to visit for Mexican travelers; expect higher prices and lower availability at this time.
Looking for Oaxaca festivals? Day of the Dead, El Día de los Muertos, is the biggest one of all. Festivals and parades are celebrated from the last week in October through the first week in November.
The Guelguetza Festival takes place in July and features dance performances from Oaxaca's many Indigenous communities.
How to Get to Oaxaca City
Oaxaca is home to a small international airport. You can find direct flights to major Mexican hubs including Mexico City, Cancún, Mérida, and Guadalajara, as well as Oaxacan destinations like Puerto Escondido; internationally, there are direct flights to Los Angeles, Dallas, and Houston.
Keep in mind that this means that you need to plan your itinerary carefully — you can't fly direct from Oaxaca to Tuxtla Gutiérrez (near San Cristóbal de las Casas) or Querétaro (near San Miguel de Allende).
Check for flights on Skyscanner — I find they tend to have the best rates.
If not flying, your best bet is to take the bus to Oaxaca. ADO buses are a safe, clean, and reliable way to get around Mexico, though you'll want to bring your headphones, as there's often a loud movie playing. You can see their schedules here.
Oaxaca is a six-hour bus ride from Mexico City, a 10.5-hour bus ride from Puerto Escondido (it takes an indirect route; you can drive it in about four hours), and a 10-hour bus ride from San Cristóbal de las Casas.
I took an overnight bus from San Cristóbal de las Casas to Oaxaca. It's the most efficient way to get between the two cities, and it saves you a night's accommodation, but I know very few people who get a good night's sleep on a bus.
Another option is renting a car. While you don't need a car while in Oaxaca, renting a car can be very helpful when driving long distances in Mexico. It's also good if you want to tackle any of Oaxaca's day trips independently. You can find the best deals at RentalCars.com.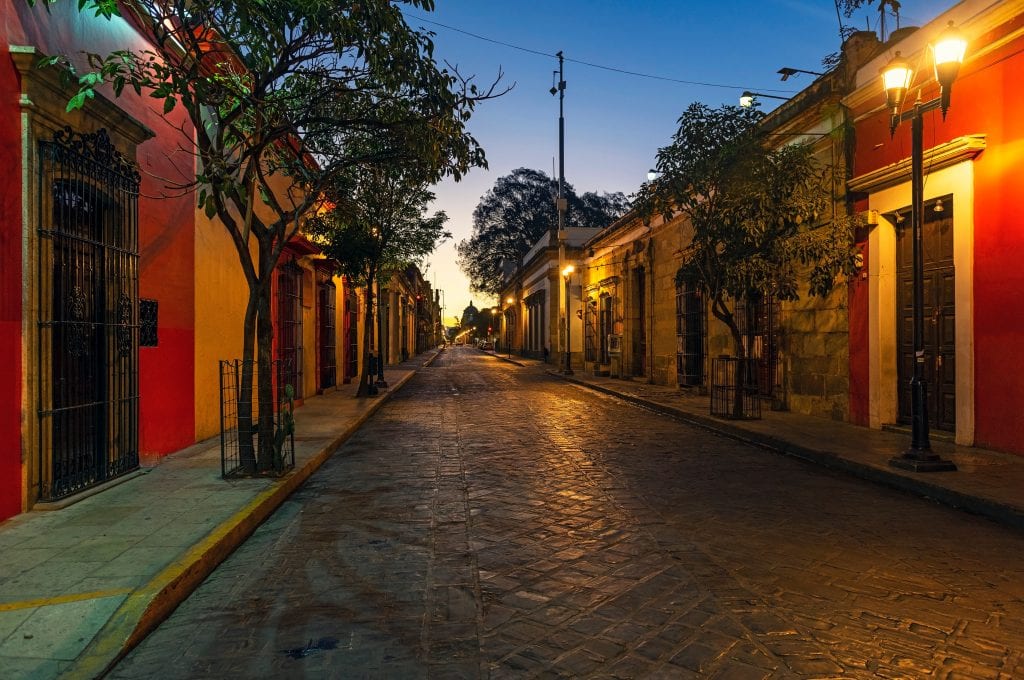 Is Oaxaca Safe?
Yes, Oaxaca is a very safe place to visit — including for solo female travelers. In fact, it's one of the top destinations in Mexico I would recommend for a first-time solo female traveler.
Mexico is probably the country that receives the worst PR in American media. If all you watch is cable news, you're probably convinced that Mexico is a hellhole where cartels are waiting to butcher innocent tourists.
Mexico has its problems, but all of those cartels are operating FAR from where tourists go and have no interest in them.
What you actually get in Mexico — particularly away from the beach resorts — is towns and cities where wonderful, warm people are living normal lives. A lot of first-time visitors to Mexico are stunned at how different this is from what they've been told.
As for Oaxaca itself, this is a small city where locals look out for each other. Additionally, Oaxaca is home to lots of street vendors, which means that people will always be around. Most crimes against women happen in isolated situations, not when there's a whole audience to witness them.
Tourism is the bread and butter of Oaxaca — for Mexican travelers as well as international travelers. They want you to have the best experience possible, and they know nobody will come there if it's not safe.
If you're traveling to Oaxaca, whether on your own or with a friend or partner, follow my universal travel safety advice: Research your destination before you arrive. Only take what you need when going out and leave the rest of your belongings locked up in your accommodation. Limit your drinking. Keep in touch with someone at home who knows where you are and where you're going.
Planning a Trip to Mexico:
Places to Visit in the Yucatán and Mexico's Caribbean Coast:
Places to Visit in Inland Mexico:
Places to Visit on Mexico's Pacific Coast: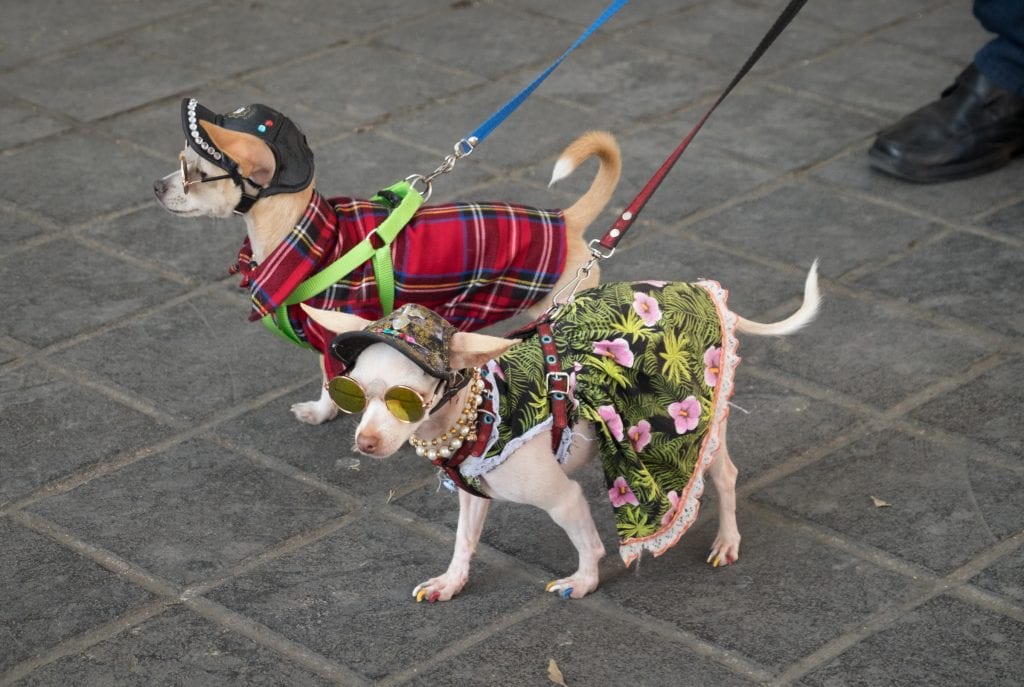 Oaxaca is waiting for you!
I just know that you're going to fall in love with Oaxaca! It's the kind of city that fills you with happiness — along with delicious tlayudas and memelas and tamales and mole.
Go enjoy your trip to Oaxaca — then come back and tell me all about it.
---
More on Mexico:
Two Weeks in Mexico: The Ultimate Itinerary
Solo Female Travel in Mexico: Is it Safe?
Ultimate Guide to 50+ Best Cenotes in Mexico
Destination Guides: Bacalar, Isla Holbox, Campeche
See all Mexico posts here.
---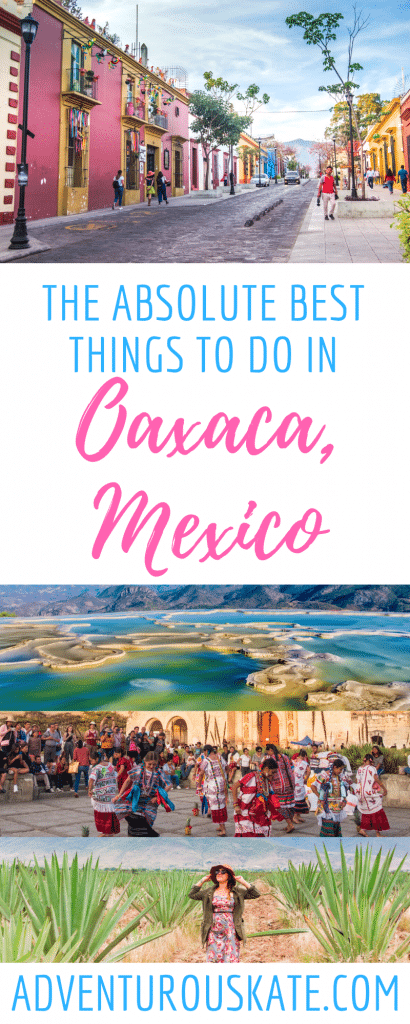 Have you been to Oaxaca? I'd love to hear your travel tips!
Autor: Adventurous Kate
Fuente de contenido