Adventurous Kate contains affiliate links. If you make a purchase through these links, I will earn a commission at no extra cost to you. Thanks!
Throughout the world, I've found places that I've fallen in love with — perfect beaches, isolated islands, wild and interesting cities of all sizes.  New places are constantly being added to my list of favorite places in the world.
But could I live there?  That requires a whole different set of criteria.  In an ideal place, the weather is sunny and warm, the cost of living is cheap, it's well-connected travel-wise, and it's home to lots of fellow expats and cool locals, with plenty of things to do.
No place is perfect — each one has at least one downside.  But here are the places that top my list:
Innsbruck, Austria
I never expected to fall in love with Innsbruck!  I always imagined it as a posh winter resort, but it's actually a cool mid-sized city with lots of fun bars and a big, party-loving student population.  There are parks everywhere, the people seem so active and outdoorsy, and there's easy access to the gorgeous Tirol countryside.  Best of all?  The Alps surround you in every direction.  I could never get tired of looking at them.
The downside: winter.  I started traveling in part to avoid the long, snowy winters of New England.  Innsbruck, quite obviously, gets doused in snow each year.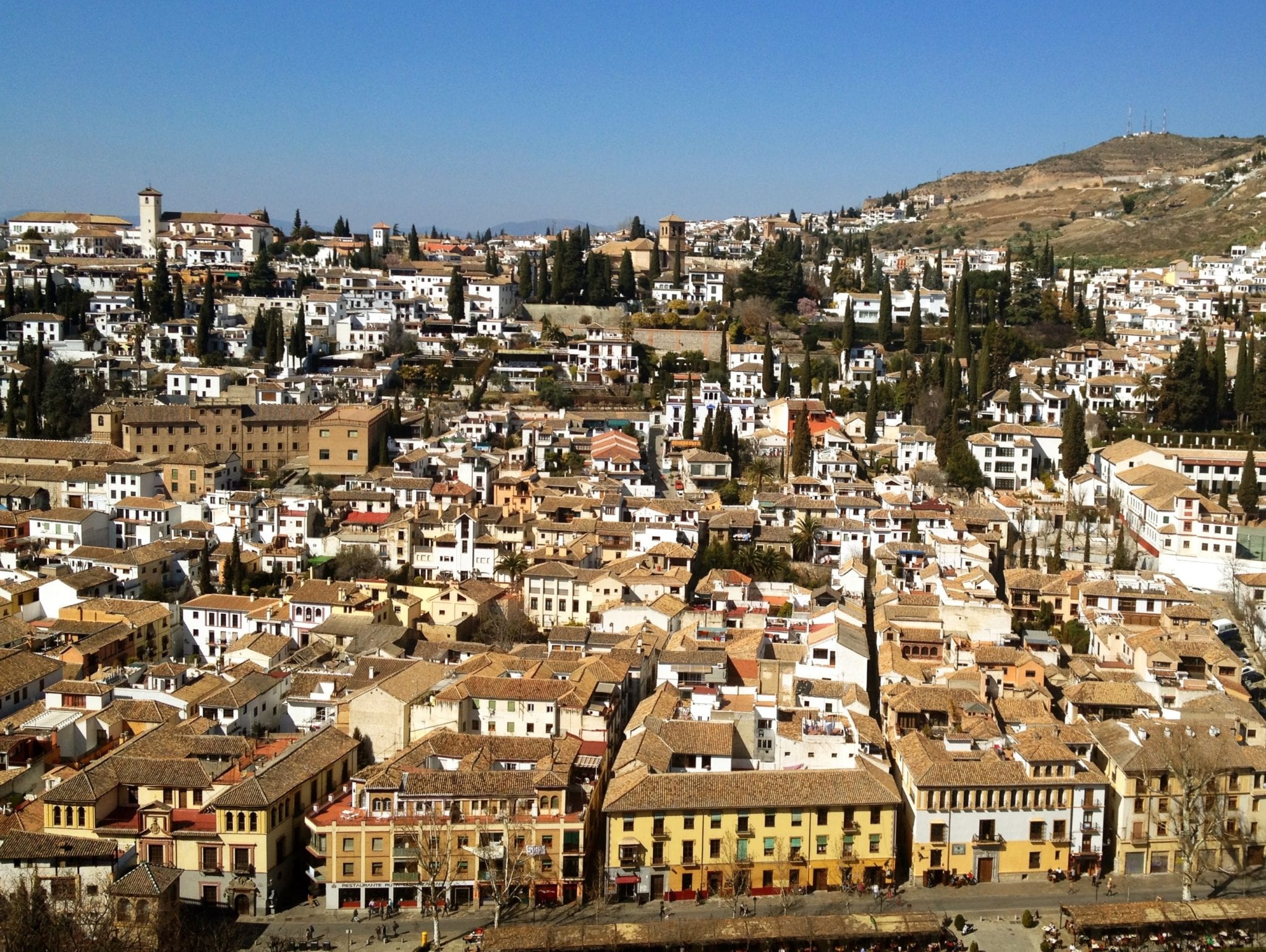 Granada, Spain
I would love to live in Spain, and Granada tops my list of Spanish cities where I would live.  Granada is a very comfortable city with lots of nice people.  It's absolutely gorgeous, with lots of different neighborhoods.  Watching the sun set over the Alhambra as flamenco music plays is one of the most romantic experiences you can have, for free, on a nightly basis.  The weather is OUTSTANDING.  And, of course, the FREE TAPAS culture is amazing!
The downside: it's not as well-connected.  The Malaga airport is over an hour away, and connects decently within Europe, but for any further than that, I would have to fly through Madrid.
Ao Nang, Thailand
I hadn't heard much about this beach town before arriving in Thailand, but it became one of my most memorable stops.  Ao Nang — which is part of the town of Krabi — is home to an amazing expat community, mostly dive instructors from Europe.  Ao Nang is home to a lot of characters, and you see far more expats than backpackers.  I have my favorite restaurants, the bars are great, and people REALLY know how to party here.  Krabi also has an international airport and it's the ferry hub for all the islands on the Andaman Coast.  They also film the occasional movie here!
The downside: too much of a good thing.  If I lived here, I would get sucked into the partying vortex.
Bologna, Italy
Between living in Florence and traveling the peninsula for years, I've always loved Italy — but as soon as I arrived in Bologna, I knew this was the city I was waiting for all along.  Fabulous Bologna is a medium-sized, student-filled, lesser-touristed Italian city where I could blend in as a local (with the right expensive black clothes, of course).  I love Bologna's night markets, its architecture, and especially its food, widely (and grudgingly) acknowledged as the best in Italy.
The downside: the reality of living in Italy.  Between the bureaucracy, the endless red tape, and the supremely laid-back attitude when you need to get stuff done, visiting Italy is a lot more pleasant than living there.  Also, I would gain a hundred pounds.
Buenos Aires, Argentina
I felt like this city and I were perfectly suited for each other!  A late-to-bed, late-to-rise schedule I can agree with, tons of nightlife, lots of interesting neighborhoods, plenty of beautiful parks, and amazing people.  The Couchsurfing community here is so extensive and enthusiastic that I know I would never lack for friends or things to do, and my Monday nights would be spent throwing myself around at a sweaty percussion show.
The downside: no food variety.  Argentines love their steak, pizza, pasta, and empanadas.  That's great for about a week, and then you start going crazy for vegetables.
Bangkok, Thailand
In my six months in Southeast Asia, I spent nearly a month in Bangkok alone — it feels like home to me.  Bangkok is a rare big city where everything is affordable, and it's the biggest travel hub in the region.  Bangkok is great for shopping (especially for cheap shopping) and my nights out have been so wacky.  I love that travel bloggers are always passing through Bangkok for both short and long stays.  The biggest highlight of Bangkok is the street food — it's on every corner and SO DELICIOUS.
The downside: it's hard to get out.  Between the traffic and sprawl, it often takes two hours to get into or out of Bangkok.  It seems easier to stay and never go anywhere else.
Edinburgh, Scotland
It always makes me so happy each time I return to Edinburgh, my favorite city in the UK.  It's one of the most beautiful cities in the world, the architecture is fabulous, and it's filled with cool shops, bars, and restaurants.  There are also plenty of expats and visitors passing through.  Scottish people are some of my favorite people in the world, and it's virtually impossible to not have a good time out in Edinburgh.
The downside (and it's a big one): THE WEATHER.  I've been lucky enough to have perfect weather every time I've visited Edinburgh, but it's cold, rainy, foggy, and dark for far too much of the year for my taste.
Paris, France
Beautiful Paris, the first city I ever loved, still holds its original position as my favorite city in the world — though places like Granada and Bangkok threaten to usurp it.  Oh, Paris is just magical — walking through the beautiful streets, sipping Bordeaux at a cafe, watching the impossibly chic people stroll around the streets.  Paris is also practical — the public transportation system is great and Paris is probably better-connected airline-wise than any other city in the world.  But just knowing that you are a resident of this city is an enormous ego stroke.
The downside: it's expensive.  Everyone wants to live in Paris, so it doesn't come cheap.  And if you find something that you can afford, it's hard to live the life you should live in Paris on a cheap budget.
What about you?  What places are on your "I Could Totally Live Here" list?
Autor: Adventurous Kate
Fuente de contenido