Adventurous Kate contains affiliate links. If you make a purchase through these links, I will earn a commission at no extra cost to you. Thanks!
From the moment I saw the city of Guanajuato, I was in love. Bright colors burst out in every direction. Tiny winding alleyways curled away from busy streets, leading to verdant parks. Troubadours filled the air with music.
Guanajuato was so alive. And everyone around me seemed to be in a fantastic mood, taking selfies in front of the beautiful buildings, laughing through conversations at sidewalk cafes, buying balloons from street vendors.
How is Guanajuato not the most popular city in Mexico?! I thought. This place is incredible!
Well, here's the thing — Guanajuato is one of the most popular cities in Mexico. But not for international travelers. For Mexicans, Guanajuato (pronounced gwan-ah-HWAH-to) is an incredibly popular travel destination, especially for people interested in Mexican history and the arts.
For international travelers, particularly English-speaking North Americans, Guanajuato is a bit off the beaten path, dwelling in the shadow of its popular neighbor, San Miguel de Allende.
Mexican people have long known how special Guanajuato is: not just for its museums or history, but for how the city feels.
Come here and you'll discover a UNESCO World Heritage Site where art seems to spring out of the pavement, where you can enjoy sumptuous views of colorful homes against a mountainous landscape, a city that was formative for Diego Rivera, arguably Mexico's most famous artist.
You'll also discover a vibrant university city filled with estudiantinas, or music students, where the most popular evening activity is to join a roving gang of musicians and sing and dance with them through the city.
After a few hours in Guanajuato, I knew it had rocketed to the top of my favorite places in Mexico, even cracking a spot among the top five alongside Bacalar, Oaxaca, Mexico City, and Mérida. (Sorry, Isla Holbox. You're now #6.)
It is my honor to share Guanajuato with you. It's a great place — and you're going to love it here.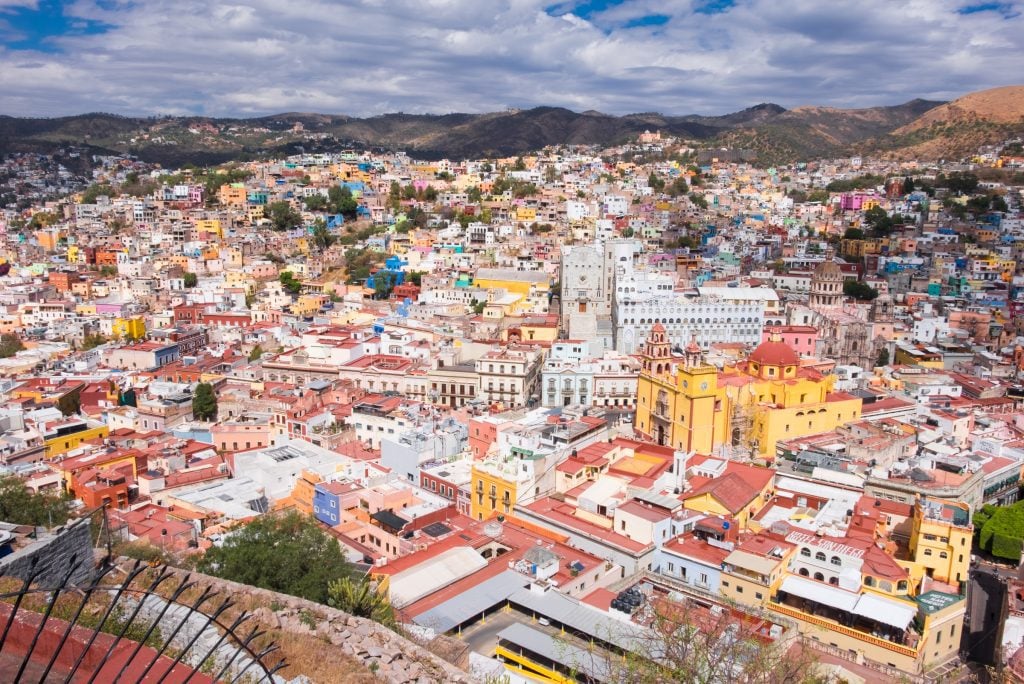 Guanajuato City is located within Guanajuato State, a few hours northwest of Mexico City; Guanajuato State is also home to the cities of León, San Miguel de Allende and Santiago de Querétaro. This area is high altitude (Guanajuato city is 2,045 meters or 6,709 feet) and features lovely spring-like weather year-round.
Because Guanajuato is the name of both the state and the city, this can be confusing when booking tours and activities. Search for "guanajuato wine tasting" and it will deliver you a list of results all in San Miguel de Allende, or Querétaro, which is not what you want! Some tour websites automatically default to San Miguel when you input Guanajuato.
But everything in this guide has been double-checked to make sure it takes place in Guanajuato city, or departs from Guanajuato city — nowhere else in the state. I've got you.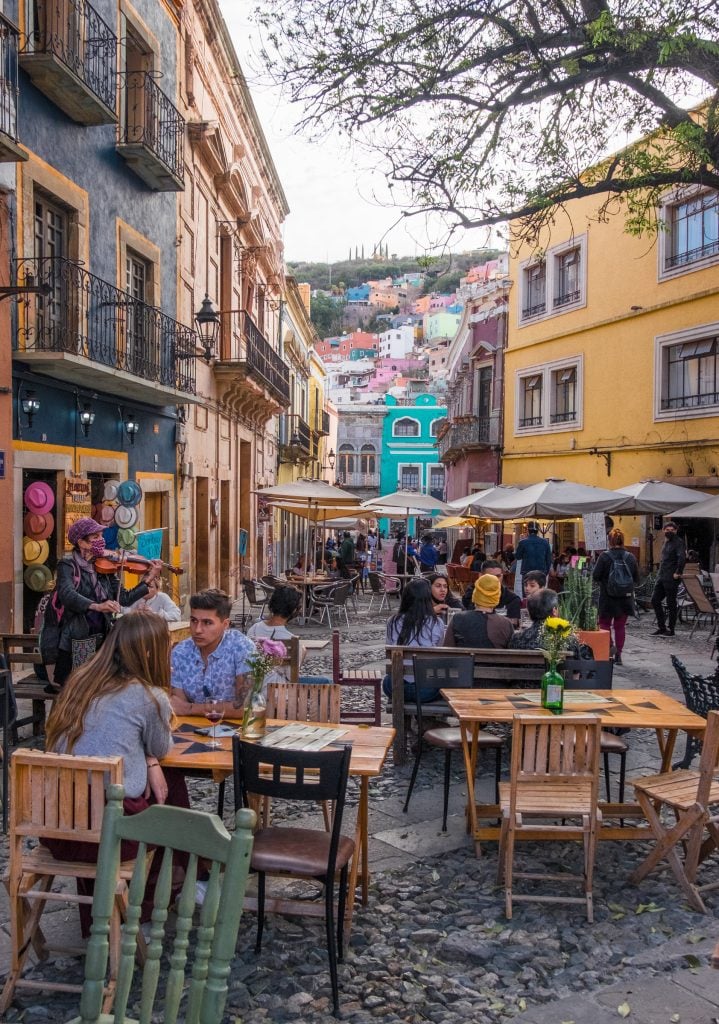 Guanajuato: A Mexican City for Mexican Travelers
What I love most about Guanajuato is that it's an enormously popular destination for Mexican travelers — far more so than international travelers. And from what I saw, it seemed that most international travelers were likelier to be from Latin America than the US, Canada, or Europe.
When we joined a callejeonada musical parade one night — more on that below — the musicians asked where everyone was from. "Oaxaca!" "HEY!" "Veracruz!" "HEY!" "Guadalajara!" "HEY!" "Tijuana!" "HEEEEEEEY!" People from all over Mexico.
Consequently, there is far less English spoken in Guanajuato than other popular tourism destinations in Mexico. In resort areas of Mexico, even cities like Mexico City and Mérida and Oaxaca, if someone speaks Spanish to you and you reply in broken Spanish, they'll often smoothly switch to English, or at least speak Spanish slowly. In Guanajuato, speaking broken Spanish to a local often gets you a deer-in-headlights face.
Let me be clear — this is a GREAT thing! I don't expect Mexicans to speak English, and I hate that Mexicans have to default to English in so many of their touristy areas. I say this to point out what a refreshing difference it is from other cities in Mexico.
Can you survive in Guanajuato if you don't speak Spanish? Sure. "Buenos dias," "gracias," and "dos cervezas" will get you by, and in a pinch, the Google Translate app is excellent for translating text or spoken words.
In the meantime, sit back, relax, and appreciate that the city of Guanajuato does not bend over backwards for foreign tourists. It is deeply, proudly Mexican.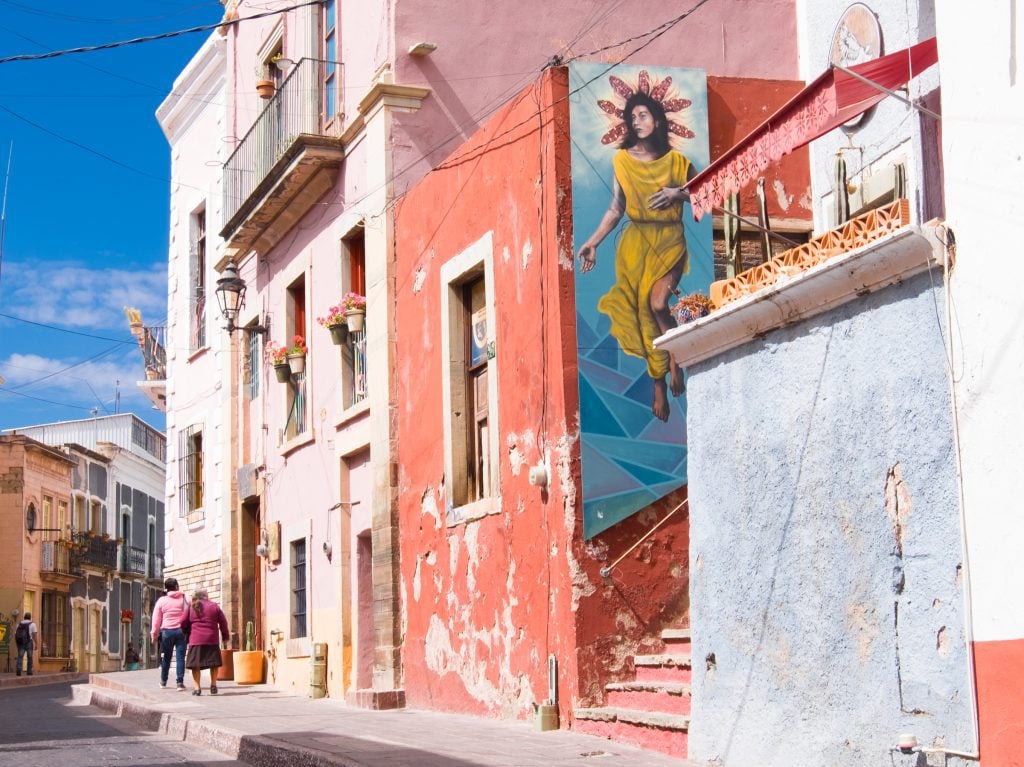 Guanajuato vs. San Miguel de Allende
You may have heard of San Miguel de Allende, another colonial city in Guanajuato state. San Miguel is incredibly popular with North American retirees and wealthy Mexicans, and many travelers visit both cities on a trip.
Charlie and I had several nights to divide between San Miguel and Guanajuato. He had already been to both cities before. What would be the best way to divide those days?
"More time in Guanajuato," Charlie insisted. "Are you sure?" I asked. Oh, he was sure, and soon I knew he was right.
San Miguel was, in fact, a beautiful city. Here I found painstakingly restored churches and homes, quiet cobblestone streets, upscale cafes, chic rooftop bars, and restaurants where acrobats perform on tightropes.
And it had been gentrified to death by gringos. So much of what makes Mexico great was nowhere to be found. It was creepily quiet, which isn't a phrase I'd use to describe anywhere else in Mexico.
I can see why people love San Miguel. Many of them choose San Miguel because it feels like a fancy neighborhood in America.
But once you get to Guanajuato and feel how ALIVE and BRIGHT and MUSICAL it is, you'll think, "THIS is what I was talking about!"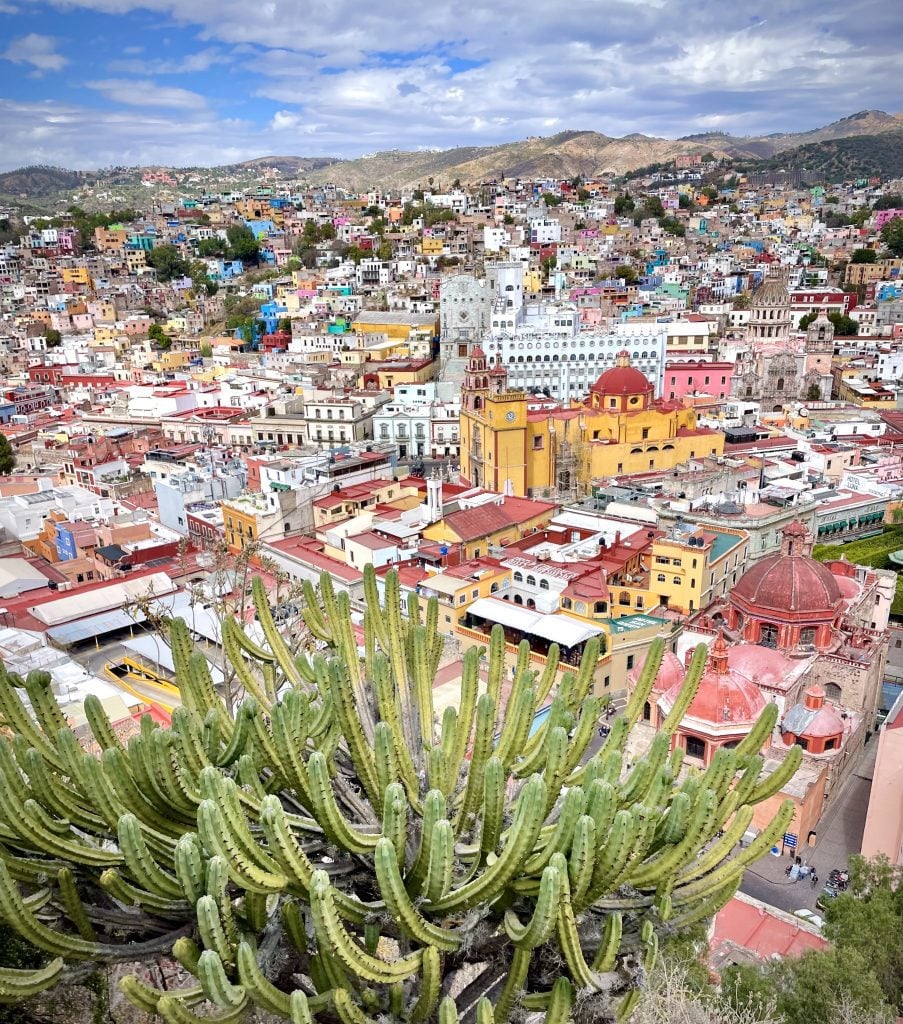 Things to Do in Guanajuato
Once you arrive in Guanajuato, you're going to want to get out and explore the streets on foot. And that's the backbone of a Guanajuato visit! Beyond that, I've put together a list of the best things to do in Guanajuato city.
What is better, Guanajuato or San Miguel de Allende?
Both cities are worth visiting and just 90 minutes apart, but I think Guanajuato is more beautiful than San Miguel, more interesting, more local, more lively, and it happens to be cheaper too.
What are some fun free things to do in Guanajuato?
One of the best free things to do in Guanajuato is simply wander the narrow streets and get lost. It's one of the most beautifully intricate cities in Mexico, and getting lost is part of the fun!
How do you get to Guanajuato?
Guanajuato has its own international airport with flights to cities in Mexico and the US. Otherwise, you can take buses from cities like San Miguel de Allende (90 minutes) and Mexico City (5-6) hours.
How do you pronounce Guanajuato?
Guanajuato is pronounced gwan-ah-hu'AH-to or gwan-ah-HWAH-to.
Is Guanajuato safe?
Guanajuato is an extremely safe city in Mexico. You can feel free to wander and explore the city center without having to avoid certain areas. Like all destinations, stay aware of your surroundings, don't get too intoxicated, and keep in touch with someone at home.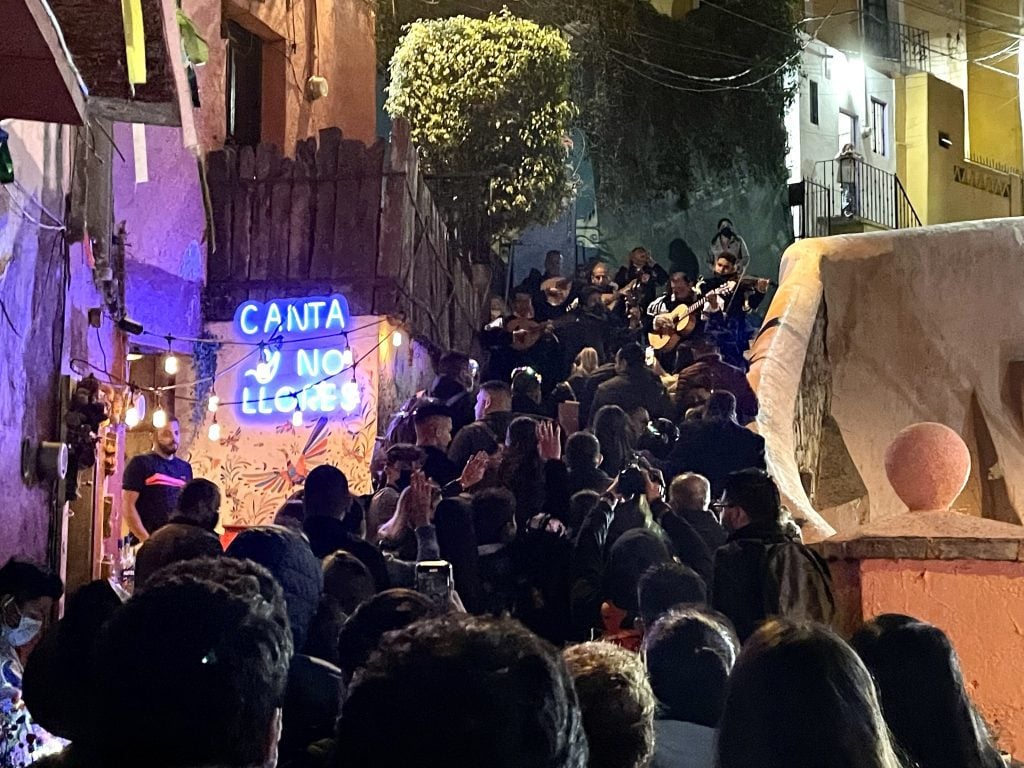 Join a Callejoneada
If there is any one thing you MUST do in Guanajuato, it's joining the callejoneada! This activity IS Guanajuato!! Throughout the city, you'll see men and women in traditional troubadour costumes asking people to buy tickets to an activity. This is what they're selling.
The callejoneada is a musical tour through the alleyways of Guanajuato, led by a traditional band of musicians. Guanajuato has a long history as a center for music instruction.The music is beautiful and the whole atmosphere is exploding with fun. This is what I love about Mexico!
There are songs, dancing (including the Macarena!), tours through the streets, and one point they separate the men and women and have the men get down on one knee and profess their love! Later, they act out legends of the town.
It was entirely in Spanish, and though I speak kindergarten-level Spanish, I had no idea what was going on (especially when Charlie and I got separated for the men and women part). But it was SO MUCH FUN! One of the best traditional Mexican activities I've ever done.
To book a callejoneada, go up to one of the many costumed troubadours in the city center (assuming they don't go up to you first). You can buy tickets direct from them, which should cost around 120-200 pesos each ($6-10). They will tell you the time and place to meet the group, and you will meet the person with the same color of costumes as them (i.e. black uniform with white sleeves, or black uniform with red sleeves, etc.).
Does that sound too intimidating to do in Spanish? You can book a ticket through Airbnb Experiences for a similar price.
(A quick note: I can understand why this might sound intimidating, especially if you don't speak Spanish. But trust me: you will be welcomed with open arms and enjoy every minute of it!)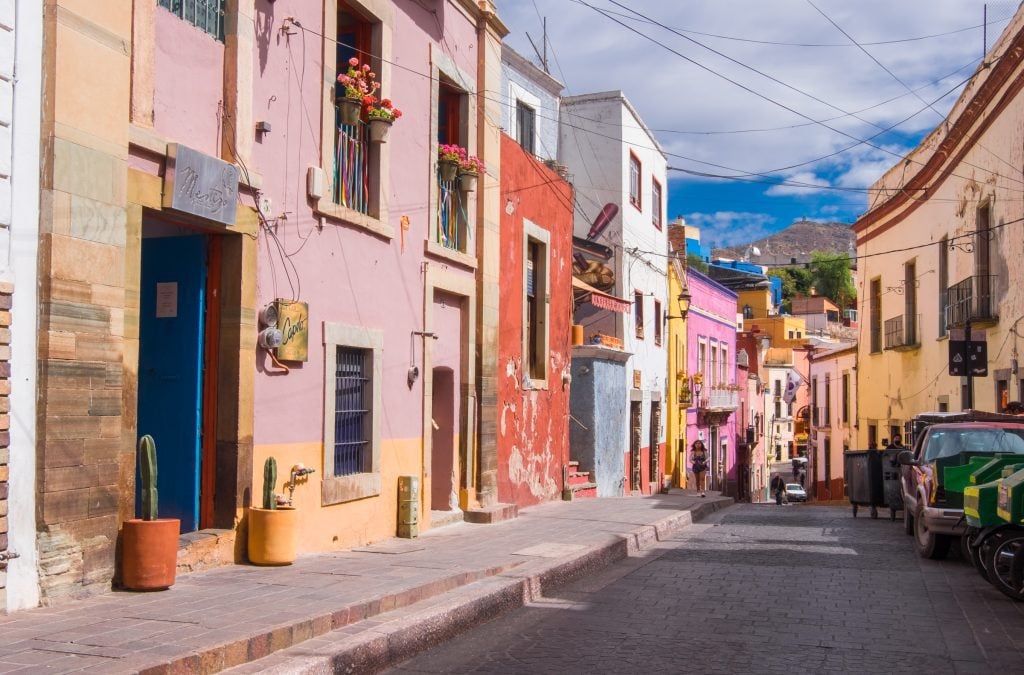 Explore the Colorful Streets
I know, do you REALLY be told to walk around and explore? Make some time to do this anyway. You'll be glad you did.
Guanajuato is the kind of city that lends itself to wandering, with lots of narrow alleyways and colorful plazas behind what appear to be nondescript corners. There are lush parks, and narrow staircases leading up to splendid views.
Guanajuato also happens to be a very safe city, where you can be confident about wandering around without a destination in mind.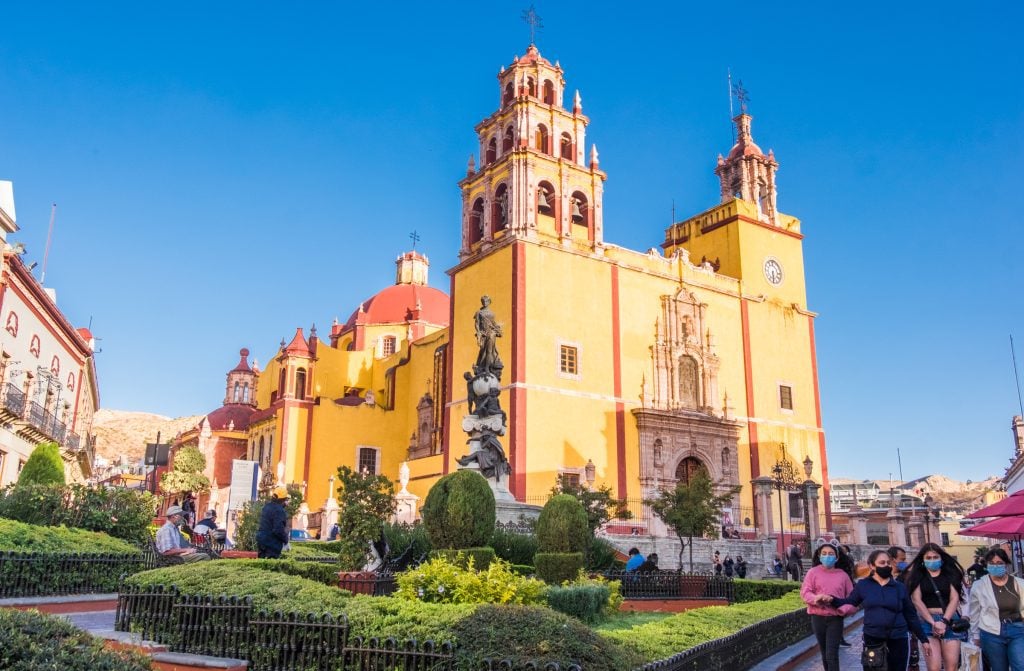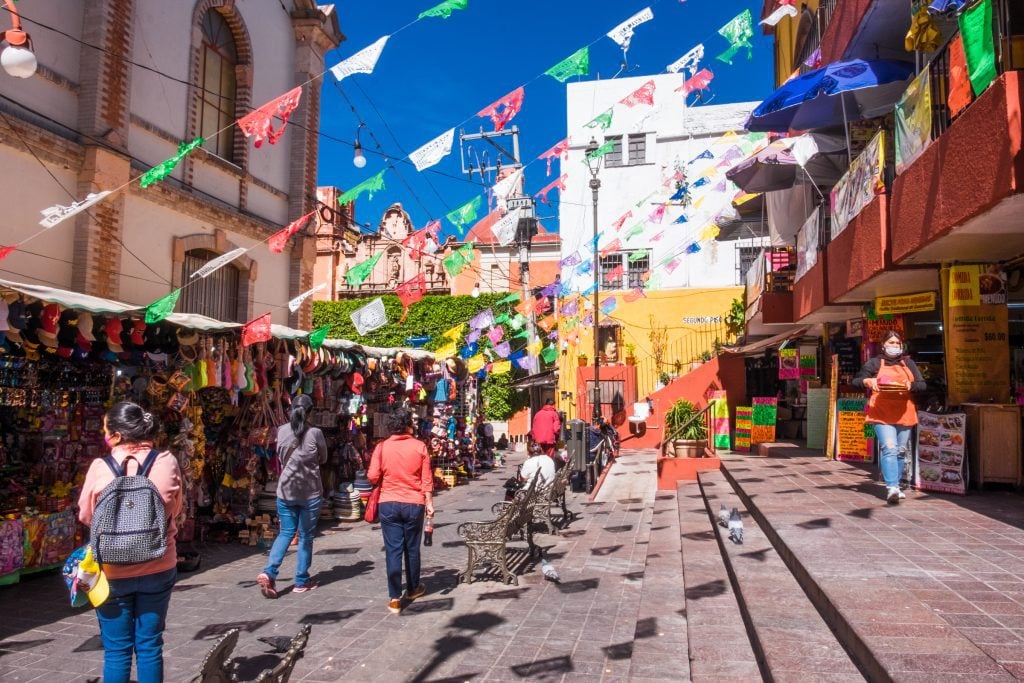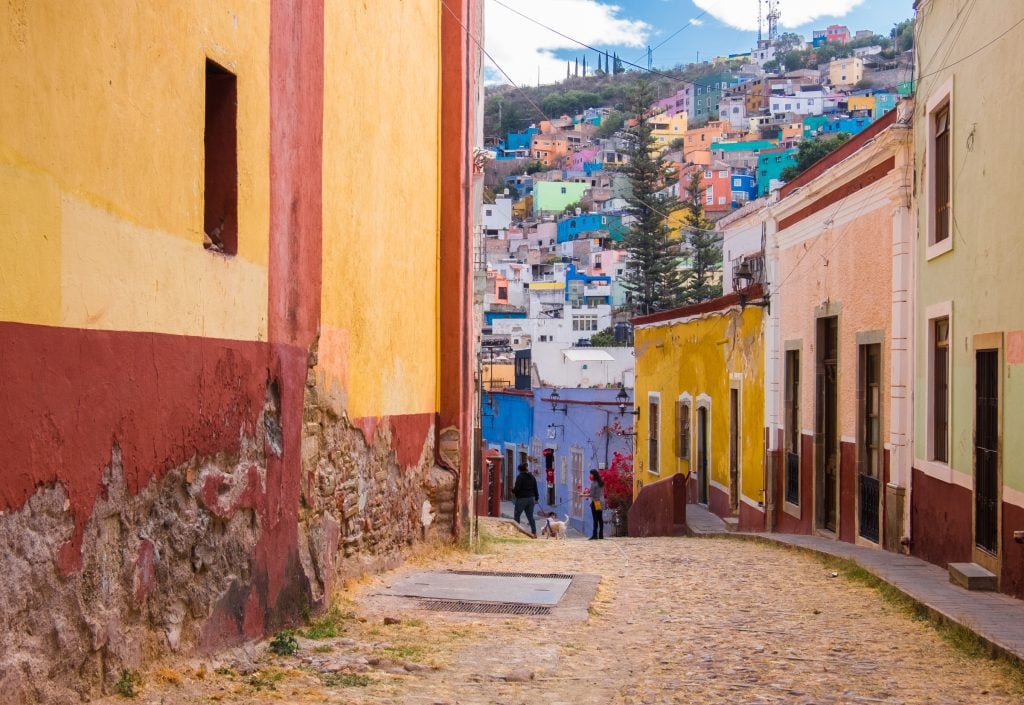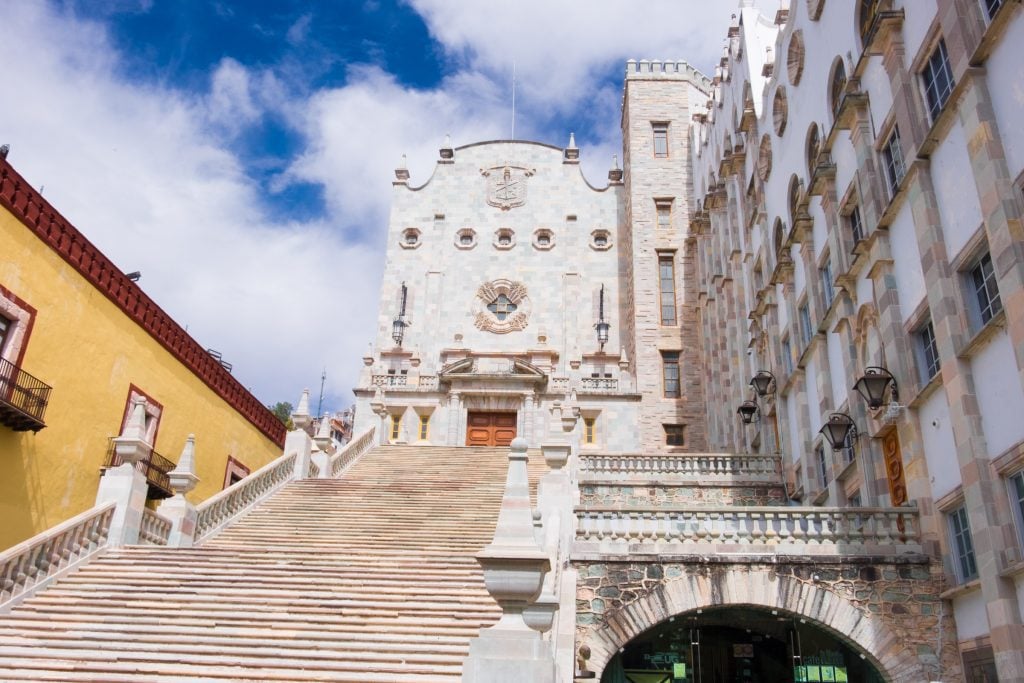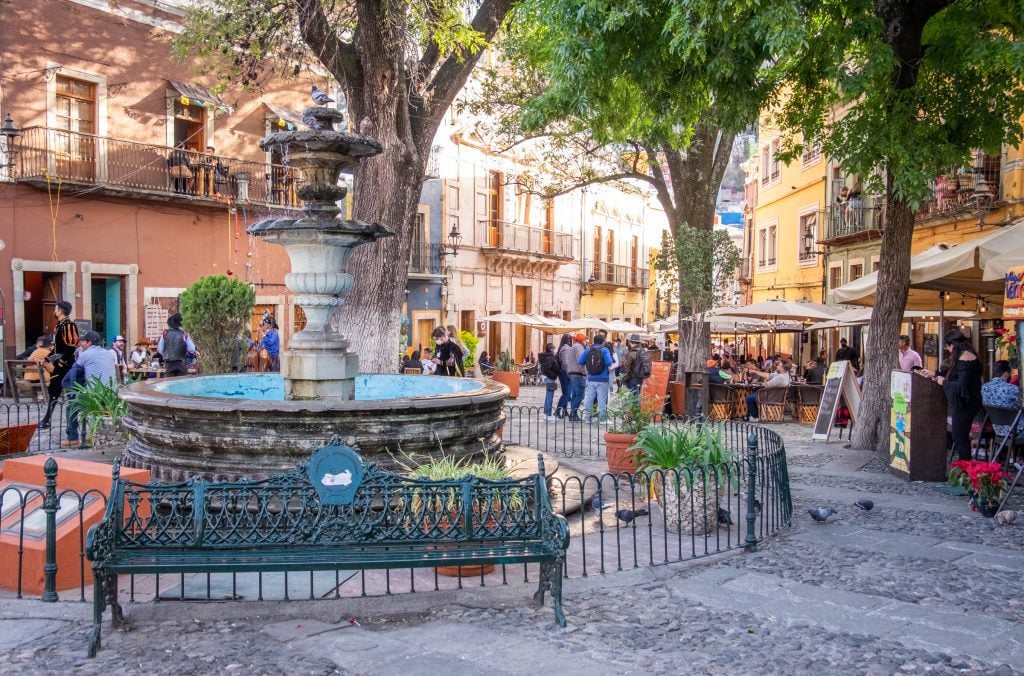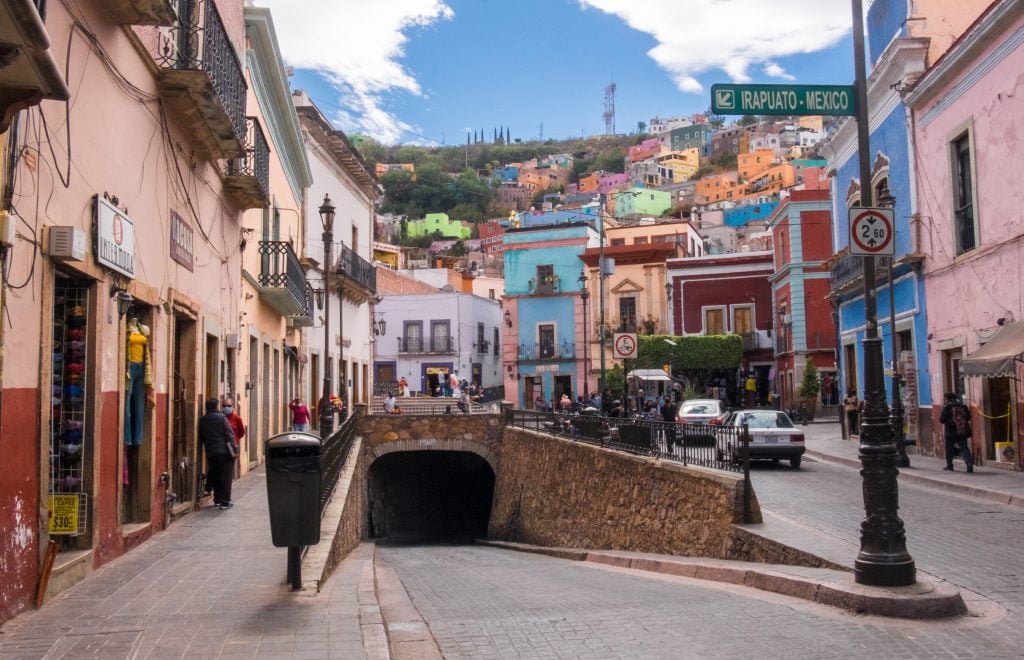 Some buildings worth visiting: the Basilica of Our Lady of Guanajuato (the big yellow church also known as the Basílica de Nuestra Señora de Guanajuato), Templo de San Diego (the pink church with a bright red-pink dome), the University of Guanajuato (an elegant white building), and the Templo de San Francisco (big red church).
And don't miss the tunnels! As soon as you'll arrive, you'll notice the cars heading underground to avoid the twisty streets of the city center. But many of these tunnels are open to pedestrians and can get you across the city faster than on the surface.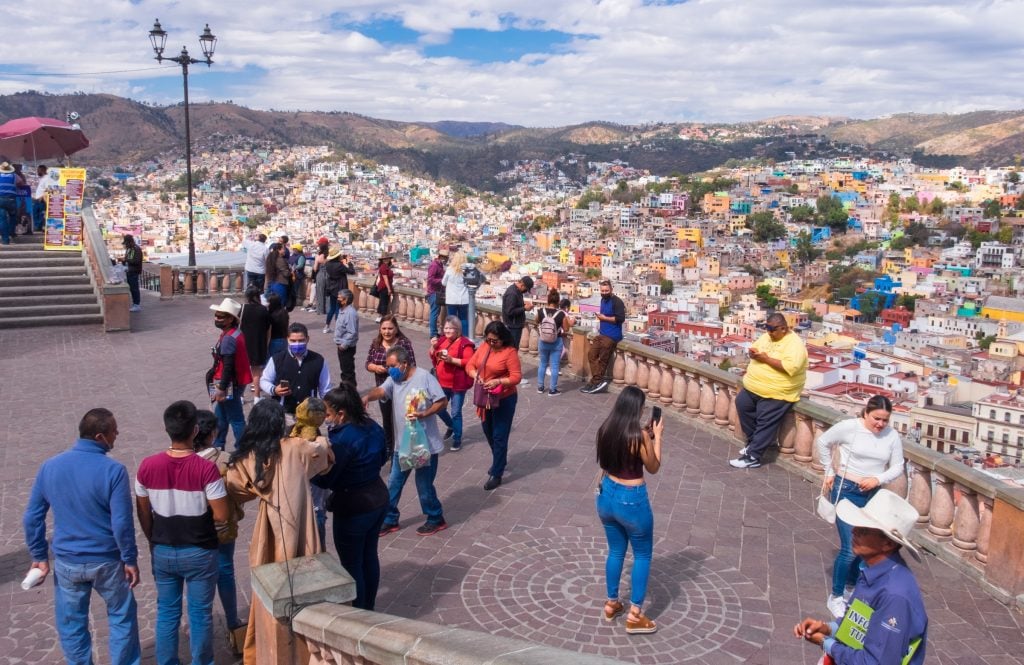 Take the Funicular to the El Pípila Viewpoint
You know that famous view of Guanajuato, where you can see colorful buildings piled on hills for miles? It's taken from the plaza at the Pipila statue overlooking the city. To get there, you take a funicular from the city center.
This may be one of the best views in all of Mexico. It's certainly my favorite view in Mexico! If you're a photographer, you'll want to come here at different times of day to take in the different colors.
The "Pipila" in question is Juan José de los Reyes Martínez Amaro, a local hero during the Mexican War of Independence. It's the second-tallest monument in Guanajuato state; only the Cristo Rey statue on Cerro del Cubilete in nearby Silao is taller.
At the top, you'll find food vendors and places to sit. It's a great place to enjoy some fresh fruit or an agua fresca, a juice-like drink. I found a woman selling strawberry horchata aguas frescas, and that was the perfect drink for the perfect view!
Funicular tickets are 30 pesos ($1.50) for a single ticket or 60 pesos ($3) for a return ticket. I recommend buying a return ticket; it's cheap and there's no special reason to walk up or down.
Tip: don't forget to take pictures ON the funicular! You can lean out windows for unobscured shots. I got my favorite photo of Guanajuato while on the funicular (the one a few photos above with the cactus in front of the view).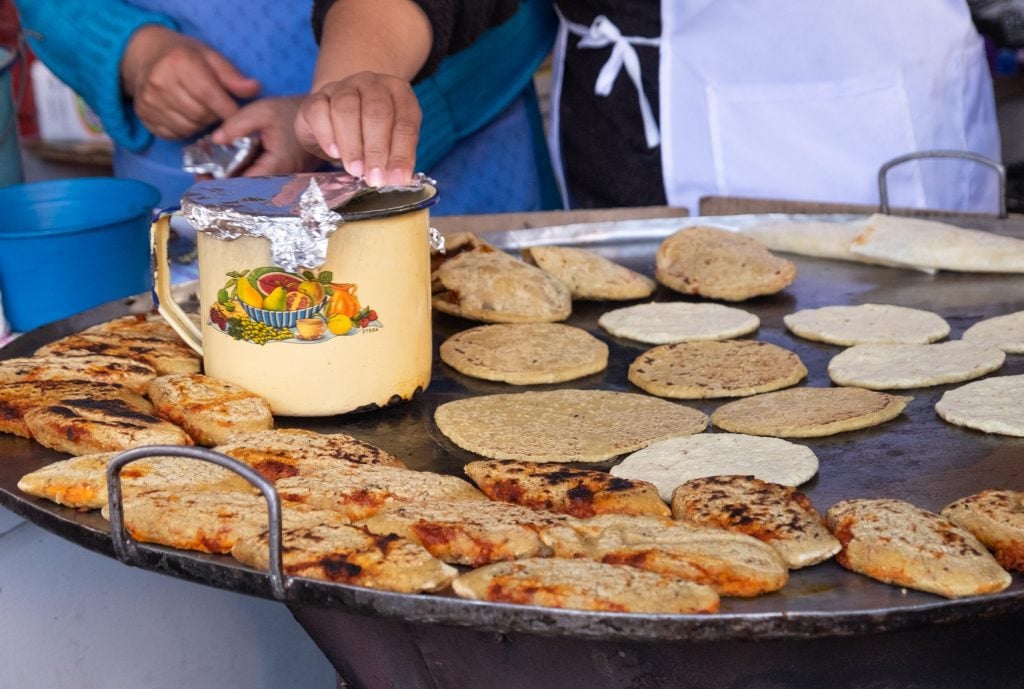 Go on a Food and History Tour
Remember how I said there are few English speakers in Guanajuato? This is one of them. Susana runs a wonderful food and history walk through Airbnb Experiences, sharing her lifelong experiences in Guanajuato and showing you all the foods to try.
I was the only guest for Susana's tour, and we were around the same age — it felt like I was walking around the city with a new friend! Susana educated me on Guanajuato's history through mining, war, art, and music, and pointed out interesting buildings along the way. The tour started and ended in the city center but was mostly in local neighborhoods.
We stopped at local markets for the best dishes in town, and she introduced me to champurrado, a chocolate-flavored atole (hot rice-based drink) that is now my favorite Mexican breakfast treat. Get an atole and a tamale and you'll be fueled for a morning of walking!
You can book the tour with Susana here.
Also: if you're interested in gastronomy, why not learn to cook Guanajuato cuisine? This Guanajuato cooking class comes highly recommended.
Visit the Alley of the Kiss
At any time of day in Guanajuato, you'll see people lining up to take photos and perhaps smooch in a tiny, colorful alley. This, the Callejon del Beso (Alley of the Kiss), is the setting of Guanajuato's most famous tale.
Centuries ago, a girl from a wealthy family and a boy from a poor family fell in love. Their romance was forbidden — so the boy rented a room across from the girl's bedroom window, and they would meet in the night to kiss across the alley.
Unfortunately, the story had a tragic ending. The girl's father eventually discovered them, and he stabbed his daughter to death in fury. The boy threw himself over the balcony in grief.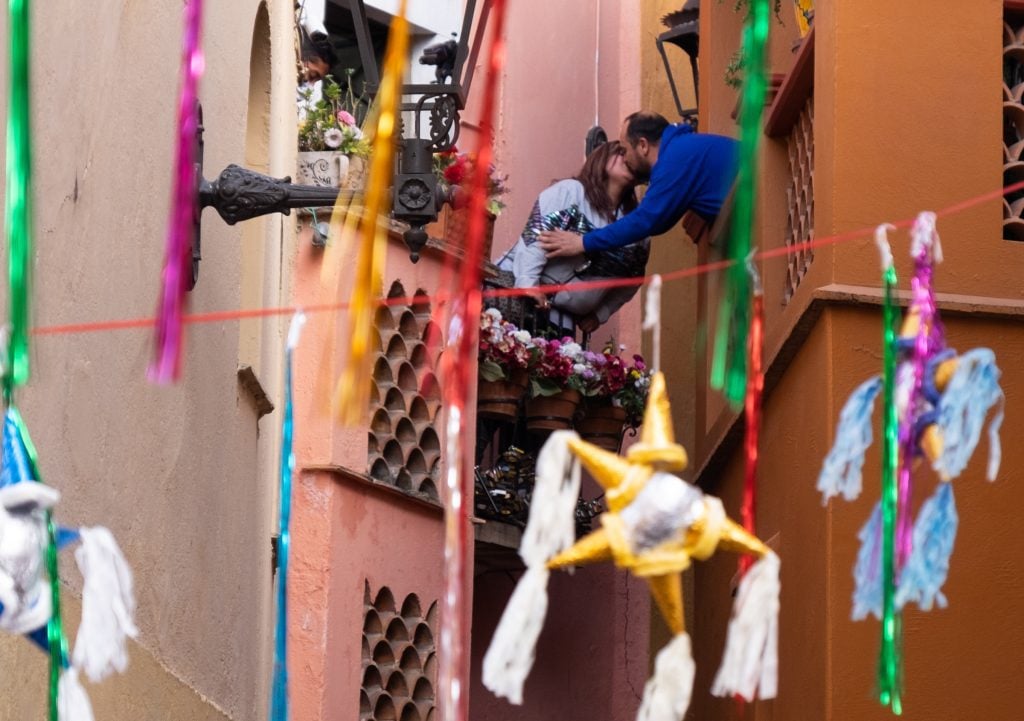 Today, if you and your loved one stand on the red step of the alley and kiss, you'll have seven years of happiness. There is also an option to visit upstairs and kiss across the balconies as the young lovers once did.
I recommend going early in the day to avoid waiting in the long line.
Visit Diego Rivera's House Museum
When you're visiting the hometown of perhaps the most famous Mexican artist of all time — at least until his wife usurped him — you need to do a little bit of Diego touring! Diego Rivera's childhood home in Guanajuato is now the Museo Casa Diego Rivera. The museum is part a re-creation of his home and part art museum.
Rivera was born in 1886 and began drawing at age three. A man of Spanish, Amerindian, Jewish, African, Italian, Portuguese, and Russian heritage, he used his diverse background to sympathize with the masses and create in increasingly diverse styles of art. You can see dozens of pieces in this museum.
This is what impressed me the most at the Museo Casa Diego Rivera — the sheer breadth of Rivera's talent and how he freely leapt into new styles and excelled at all of them. I was never a big Rivera fan, but that changed after visiting this museum.
Admission to the Diego Rivera Museum is 60 pesos ($3 USD). Keep an eye on the signs, as photography is only allowed in certain areas of the museum.
Want more Diego? You can take a Diego Rivera and Frida Kahlo tour in Guanajuato.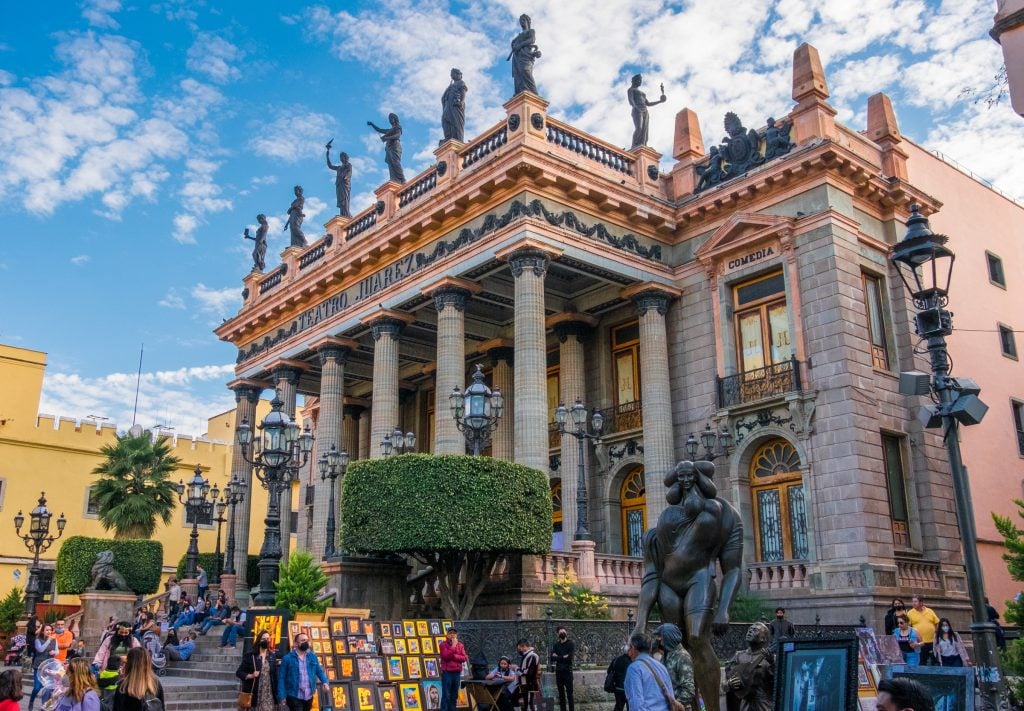 Visit Teatro Juarez
You can't miss Teatro Juárez in Guanajuato — it's the meeting point for every callejoneada in town, in front of a lush green park, musicians gathered at the outdoor cafes. This 19th century neoclassical building is one of the architectural marvels in the city and is topped with statues of the eight Greek muses.
Inside is just as beautiful as outside, all red and gold, and visitors are welcome when performances aren't taking place. You can visit 9:00 AM-1:00 PM and 4:00 PM-6:00 PM for 30 pesos ($1.50 USD).
But if you're in Guanajuato for a few days, check out the schedule and see if you can catch a performance! This is one of Mexico's most musical cities.
Visit Mercado Hidalgo
Every city in Mexico has its own market that serves as the beating heart of the city. In Guanajuato, that would be Mercado Hidalgo, located right in the city center.
Here you'll find hundreds of food stalls cooking up cheap, tasty meals, and vendors selling fruits, vegetables, meats, and souvenirs. This market would be a great way to enjoy a self-guided food tour in Guanajuato. Just grab what looks delicious! It will be cheap no matter what!
And don't overlook the outside, too. No matter where you are in Mexico, some of the best action is right outside the market, where even more vendors set up shop.
Enjoy a Coffee at Vivo Café
If you enjoy high quality coffee, you should drop by Vivo Café, right in the city center. But if you're a hardcore coffee snob, you will be here every morning! This is the perfect place to start your day in Guanajuato.
I speak from experience — it can often be surprisingly difficult finding good coffee in Mexico. Too often locals rely on sub-par coffee, sometimes instant coffee. There are often one or two good decent places in town.
Here you get to enjoy a perfect flat white served by friendly employees in a quirky yet comfortable setting. It doesn't get any better than that!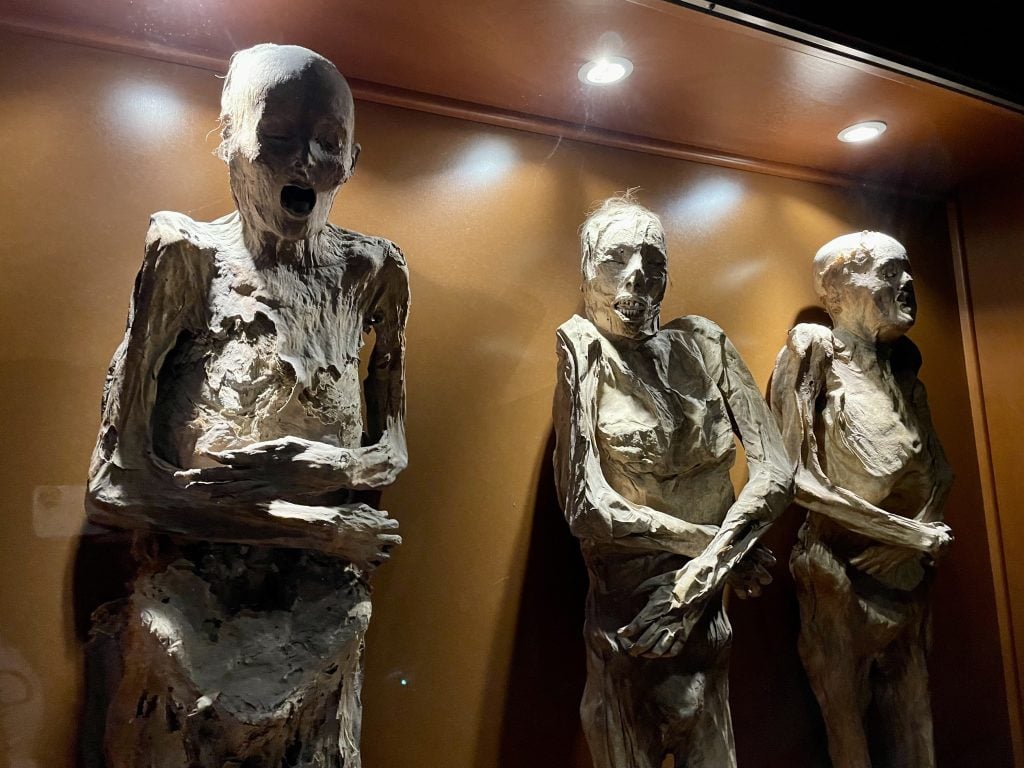 Museum of the Mummies of Guanajuato
WARNING: The Mummy Museum contains displays of mummified babies and children. These exhibits cannot be avoided while in the museum. If this will upset you, please don't go.
If you're familiar with Day of the Dead, you know that Mexicans have a playful relationship with death. A relationship where the lines are blurred. And that comes into play at El Museo de las Momias, a museum filled with dozens of mummified human bodies.
In 1833, Guanajuato experienced a cholera outbreak that led to mass death in the city. Bodies were stored underground; a combination of the environment and embalming led them to remain remarkably preserved, their faces frozen in horror.
Speaking personally, I didn't enjoy my time here. Seeing the mummified babies, I couldn't help but think of my friends who have lost children and how awful it would be if they came here without knowing that.
Entrance to the Mummy Museum is 85 pesos ($4.25) for adults, 50 pesos ($2.50) for children and students.
Become an Artist in this Colorful City
Guanajuato is a city that inspires you as a creator — and not only if your name is Diego Rivera. On my first day in Guanajuato, I texted my friend who is a painter — "You have to come here!" I told her. "This place looks like your art!"
But what if you're not much of an artist? Or you're an amateur artist? You can still enjoy it. The following art tours are taught by an artist named Pau. These experiences are open to everyone, regardless of ability, and all materials are provided:
Join a sunset sketchbook tour in Guanajuato, where you sketch the city from the Pípila viewpoint at the top of the funicular, taking in the rich colors of sunset.
Join a sketchbook tour focusing on Guanajuato's alleyways AND enjoy some street food for lunch together. Another great option.
Join a watercolor tour at the Botanical Garden and learn botanical painting techniques while learning about Guanajuato with your group.
Go Hiking in the Guanajuato Mountains (or Bike, or Horseback Ride)
Guanajuato is surrounded by tall mountains and hiking trails for all levels of ability. The best way to explore the countryside and stay safe is to join a group hiking tour.
Join a morning hiking tour to La Bufa, one of Guanajuato's most famous hikes, described as "somewhat rigorous" and "not long but vertical in parts," ending with an amazing view above Guanajuato city.
You can also do an evening hiking tour to La Bufa, which gets you sunset views.
Or join a hike of the Oak Forest of Guanajuato, a peaceful 7 km (4.3 mile) walk through the woods hosted by my guide Susana, who also does the food and history tour I mentioned above!
Would you rather tour on a bicycle? This fun Guanajuato cycling tour begins in the city and takes you up into the mountains.
How about exploring by ATV? This ATV tour in the Guanajuato mountains takes you around several of the old mining towns.
Want something more extreme? You can go rappelling down the mountains of Guanajuato! (That is SO not my thing, but more power to you if you are brave enough to do that!)
How about a horse? You can explore the mining towns above Guanajuato on horseback! A nice half-day excursion from the city.
Would you rather stay fit in town? Join a running tour in Guanajuato! It's customized for all running levels and hosted in English, Spanish, and Portuguese.
Go Wine Tasting
Mexico has become more and more famous for its wine in recent years, and new and interesting wine regions are growing all over the country. One of the most interesting regions is Guanajuato's wine route, which is in the hills outside the city.
What's the best way to explore Guanajuato's wineries? I recommend booking a winery tour so you can sit back, relax, and enjoy the wines without worrying about driving.
Alternatively, you can rent a car and visit wineries like Rancho Toyan, Tres Raices, and Hacienda San Jose la Vista. Keep in mind that many of these are closer to San Miguel de Allende than Guanajuato, and you may want to visit from there.
Please only drive to wineries if you have a designated driver. It's not worth losing your life or someone else's.
Would you rather book a bar tour in the city? This bar tour takes you to four cool, local bars in Guanajuato.
Visit the Silver Mines
Mining is a central pillar of Guanajuato's history and culture. At its peak, during the 17th and 18th century, Guanajuato once supplied one third of the world's silver! So much of what has happened in this city comes back to the mining industry, for better and for worse.
Today, visitors to Guanajuato can visit the city's mines to learn about this history. Some that are open to visit include the Valenciana mines, and the Museum of the Ex-Hacienda de San Gabriel de Barrera is another great resource for this history.
You can visit on your own, or booking a Guanajuato city and mining tour here.
Eat Enchiladas Mineras
If there's any one signature dish in Guanajuato, it's enchiladas mineras — Miners' Enchiladas. This was a popular dish that women cooked for their miner husbands during Guanajuato's heyday of silver mining.
Traditionally a vegetarian dish with potatoes, carrots, and onions, today you can often find them with chicken. Corn tortillas are dipped in a sauce made from guajillo chiles and filled with vegetables and topped with cotija cheese.
We enjoyed some enchiladas mineras at Restaurante Corazón Mexicano, a restaurant around the corner from the Alley of the Kiss. Charlie got the enchiladas, and I got a green pozole that I absolutely adored.
But if you want the best of the best, head to Enchiladas Mineras Doña Lupe. I've heard these are the best ones in town.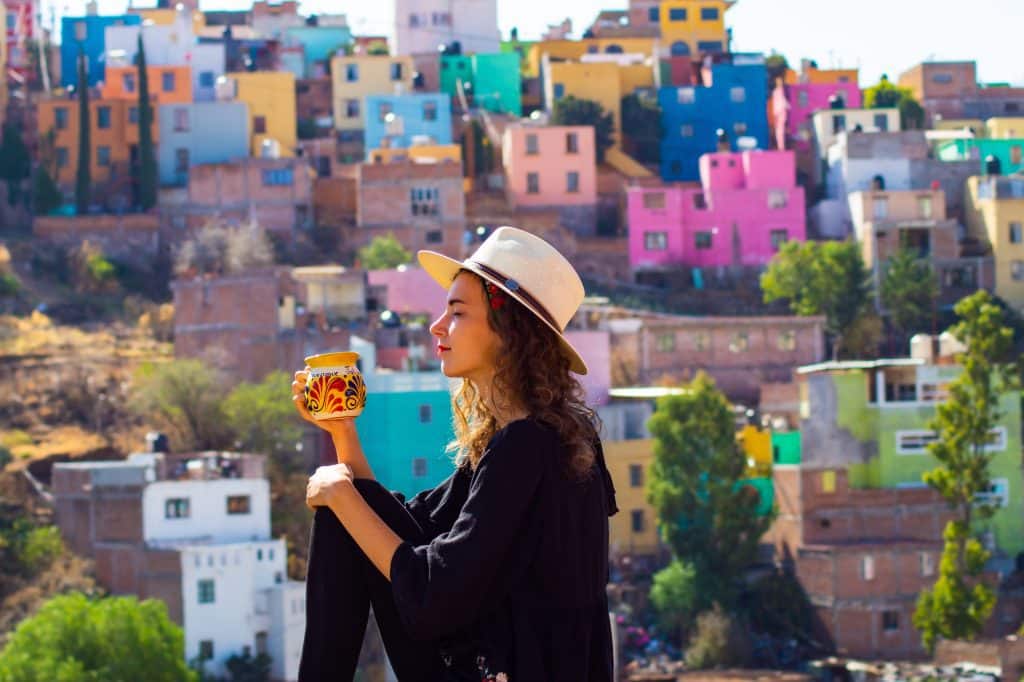 Book a Professional Photo Shoot
I LOVE booking photo shoots on my travels through Airbnb Experiences because it's an affordable way to get incredible photos of myself! And here's a tip: if you're visiting several cities in Mexico, save your photo shoot for Guanajuato.
After traveling all over Mexico, I think Guanajuato is the ideal backdrop for travel portraits. Not only is the city a spectacular backdrop, it's so colorful that you'll be able to find the perfect blue, red, or yellow house that makes you look dynamite.
Airbnb Experiences has several options. Photographer Sac takes you on a two-hour shoot around the city; Photographer Vanina takes you on a two-hour downtown Guanajuato shoot, and Photographer Jorge takes you on a four-hour combination history tour and photo shoot around the city. Both are stellar photographers.
And if you don't have time to squeeze a photo shoot in, consider doing one in Oaxaca, another colorful city.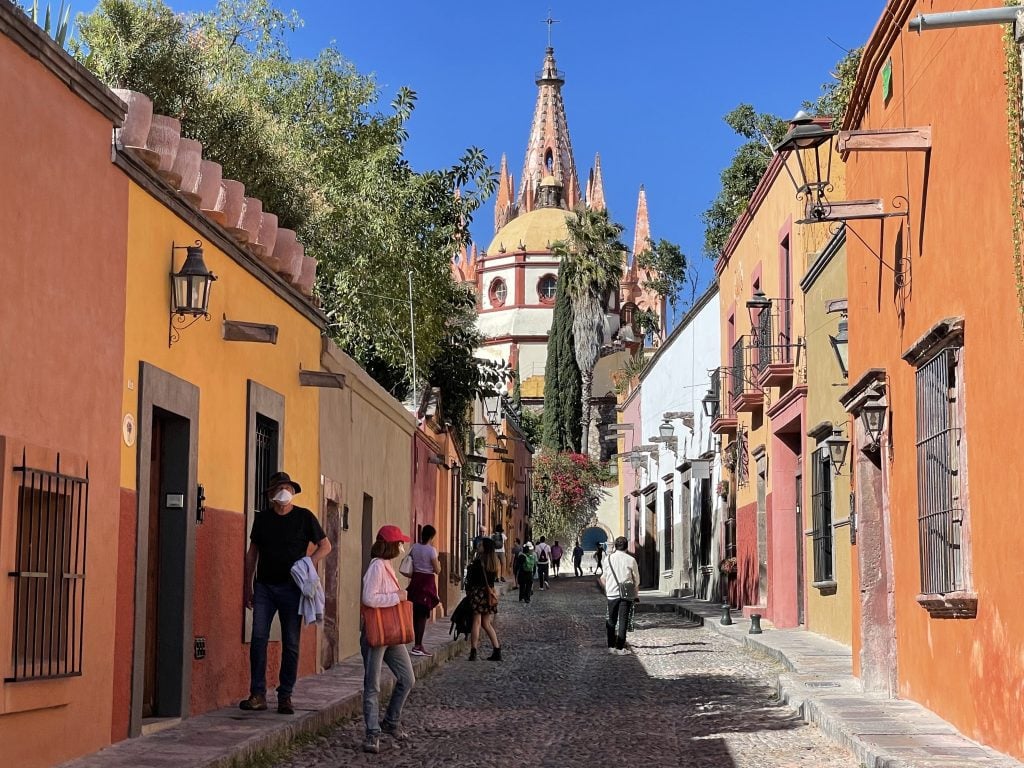 Take a Day Trip to San Miguel de Allende
A lot of people visiting Guanajuato State are visiting both the cities of Guanajuato and San Miguel de Allende. Should you stay overnight in both? Sure. I think it's worth staying overnight in San Miguel (and the Selina San Miguel de Allende is a FANTASTIC hotel with a great rooftop bar in a perfect location).
San Miguel is one of the most beautifully restored cities I've visited in Mexico, and it's filled with elegant shops, sleek cafes, and tons of rooftop bars and restaurants.
If you only have time for a day trip, though, it's still worth it. San Miguel de Allende is only a 90-minute bus ride from Guanajuato, and departures are frequent.
Another option is to stop at Dolores Hidalgo on one of the journeys. It's another lovely small city in Guanajuato state, halfway between Guanajuato and San Miguel.
Alternatively, this Airbnb Experience takes you to Dolores Hidalgo, Atotonilco, and San Miguel de Allende — a day trip that allows you to see a lot.
Is Guanajuato Safe?
Guanajuato is a very safe city in Mexico, and that includes for solo female travelers. I am an expert on solo female travel in Mexico — you can see the full solo female travel in Mexico guide here — and while I technically traveled to Guanajuato with my boyfriend, I spent a lot of time in Guanajuato out and about on my own.
Guanajuato is a city where you can feel confident going out and about, exploring different neighborhoods on a whim without having to constantly look around for safety. Always be aware of your surroundings, keep an eye on your bag, and limit your drinking — as you should anywhere else in the world.
As I often say, Mexico probably receives the worst PR in American media. If all you watch is cable news, you're probably convinced that Mexico is a hellhole where cartels are waiting to butcher innocent tourists.
Mexico has its problems, but all of those cartels are operating FAR from where tourists go and have no interest in them. You won't even be thinking about that in Guanajuato.
What you actually get in Mexico — particularly away from the beach resorts — is towns and cities where wonderful, warm people are living normal lives. A lot of first-time visitors to Mexico are stunned at how different this is from what they've been told.
As for Guanajuato itself, this is a small city where locals look out for each other. Like many cities, Guanajuato is home to lots of street vendors, which means that people will always be around, including at night. Most crimes against women happen in isolated situations, not when there's a whole audience to witness them.
I didn't get catcalled at all in Guanajuato, which was a nice change of pace in Mexico.
I do think it's helpful to have some Spanish before traveling in Guanajuato, as few people working in tourism speak any English. You don't have to be fluent, but knowing the basic words from "buenos días" to "gracias" to numbers can go a long way.
And keep in mind that the water is not safe to drink in Mexico, so pick up a bottle of water at a store (your hotel may also have bottled water for you). Guanajuato can be noisy, along with everywhere else in Mexico, so bring some earplugs.
Finally, Guanajuato is 2,045 meters (6,709 feet) above sea level, which is higher than Denver, Colorado. If you're coming to Guanajuato from sea level, you may get exhausted easily the first few days. Take it easy, drink a lot of water, and limit your alcoholic drinks until you've adjusted.
Read More:
Solo Female Travel in Mexico: Is it Safe?
Top 10 Travel Safety Tips for Women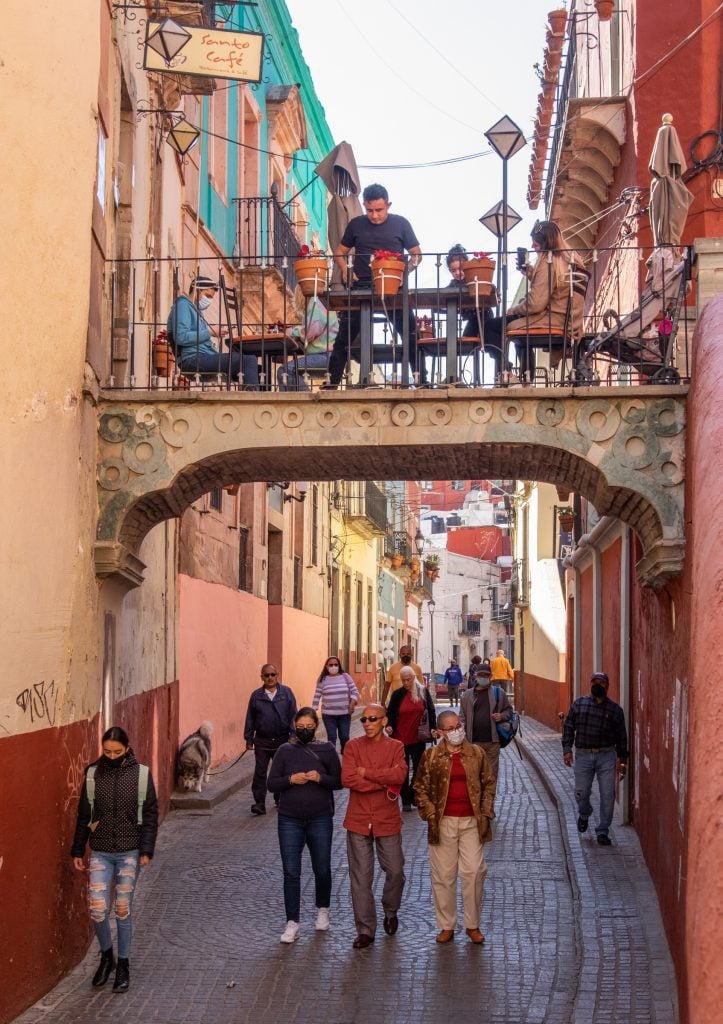 Best Time to Visit Guanajuato
Don't expect Cancún weather in Guanajuato! Guanajuato is an inland, high-altitude city in Mexico, which makes it a pleasant place to visit with spring-like temperatures year-round. It's much cooler than Mexico's beach resort towns.
Guanajuato's rainy season is from June through September, which is also low season. High season tends to be from December through March.
But peak season in Guanajato is in October during the Festival Internacional Cervantino! Three weeks in October bring countless artistic performances — music and dance, murals and opera, fashion and poetry, anything that can be considered performing arts or visual arts.
The Cervantino Festival is followed by the Day of the Dead, which is another popular festival time in the city.
No matter what time of year you visit, I recommend packing a jacket, sweater, or warm layer. I was in Guanajuato in February, one of the coolest months of the year, and typically wore jeans, a t-shirt, and a merino wool cardigan on top.
(That was enough for me, who grew up used to cold winters, but I noticed many Mexicans were in puffer jackets. If you're used to a warmer climate, you might want a jacket like the Uniqlo ultra light down jacket, my favorite versatile travel jacket.)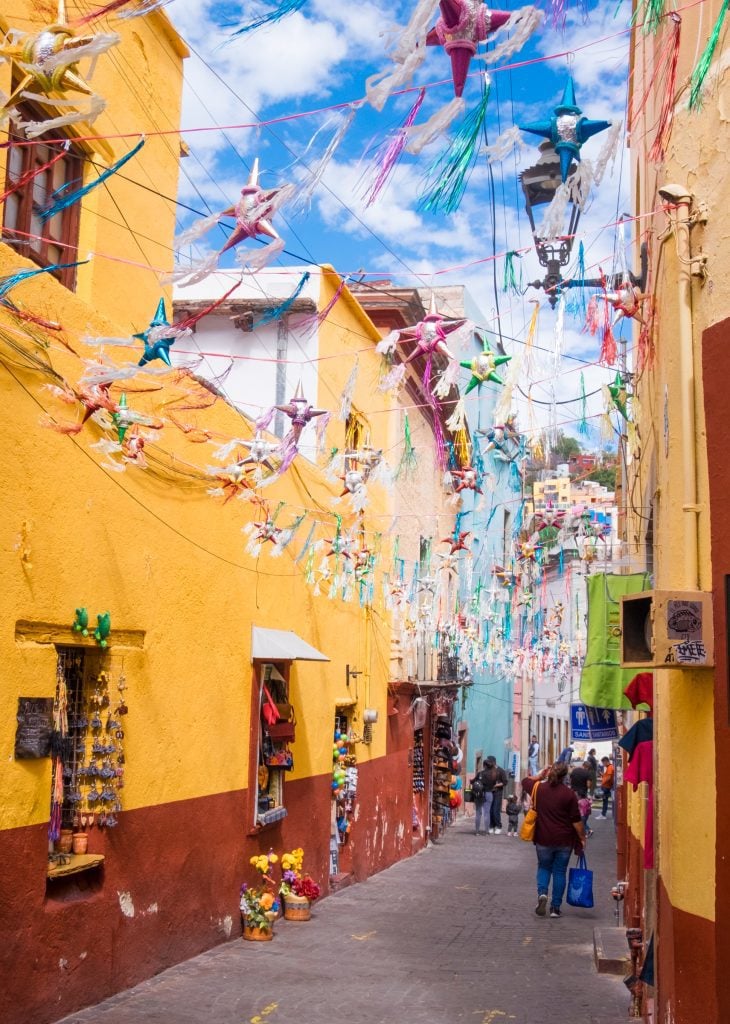 How to Get to Guanajuato City
Guanajuato is home to its own major international airport (BJX), with direct flights to Mexican cities including Mexico City, Cancún, and Puerto Vallarta; and US cities including Chicago, Houston, and Los Angeles.
I recommend checking flights on Skyscanner for the best deals.
Guanajuato is also well-connected by bus lines like ETN and Primer Plus. I arrived by bus from San Miguel de Allende (90 minutes) and departed by bus to Mexico City (5-6 hours). Bus travel along these routes in Mexico is very safe and comfortable.
Another option is renting a car. While you don't need a car while in Guanajuato — the city center is a maze with tiny streets and underground tunnels crisscrossing each other — renting a car can be very helpful on a longer trip in Mexico.
Perhaps a road trip from Guadalajara to Mexico City via León, Guanajuato, Dolores Hidalgo, San Miguel de Allende, and Querétaro? That's a great trip right there!
Renting a car is also good if you want to tackle any of Guanajuato's day trips independently, like the wine route. You can find the best deals at RentalCars.com.
Where to Stay in Guanajuato
Guanajuato is a very affordable city with a huge variety of hotels. And because prices are lower here, perhaps you can afford something nicer than what you would typically book.
Please keep in mind that Guanajuato is filled with steep hills in every direction and can be tough for people with mobility challenges. Accommodation can be difficult for this reason; many hotels are located on steep alleyways and don't have elevators. Be sure to do your research.
In Guanajuato I stayed at La Casona de Don Lucas, a comfortable mid-range hotel in perhaps the best possible location in town, right in front of the Basilica of Our Lady of Guanajuato (the big yellow church in the center). I definitely recommend it as a value for money stay.
IF YOU WANT A LUXURY HOTEL: 1850 HOTEL BOUTIQUE — An absolutely gorgeous hotel in the heart of the city center, plus an elegant rooftop bar with views of the city, and a staff that goes above and beyond at every chance (and speaks English).
IF YOU WANT A MIDRANGE HOTEL: LA CASONA DE DON LUCAS — Comfortable, cozy, with an unbeatable location in the center of town. Room rates include a hearty Mexican breakfast. Some quirks (we had the one oddly placed room that had a window out to the lobby) but overall excellent value for money.
IF YOU WANT A BUDGET HOTEL: HOTELITO PRIVADA DEL CHAN — An adorable and charming budget hotel on the edge of the city center, but so welcoming, so colorful, and so very Guanajuato.
Find deals on hotels in Guanajuato here and see all rentals in Guanajuato here.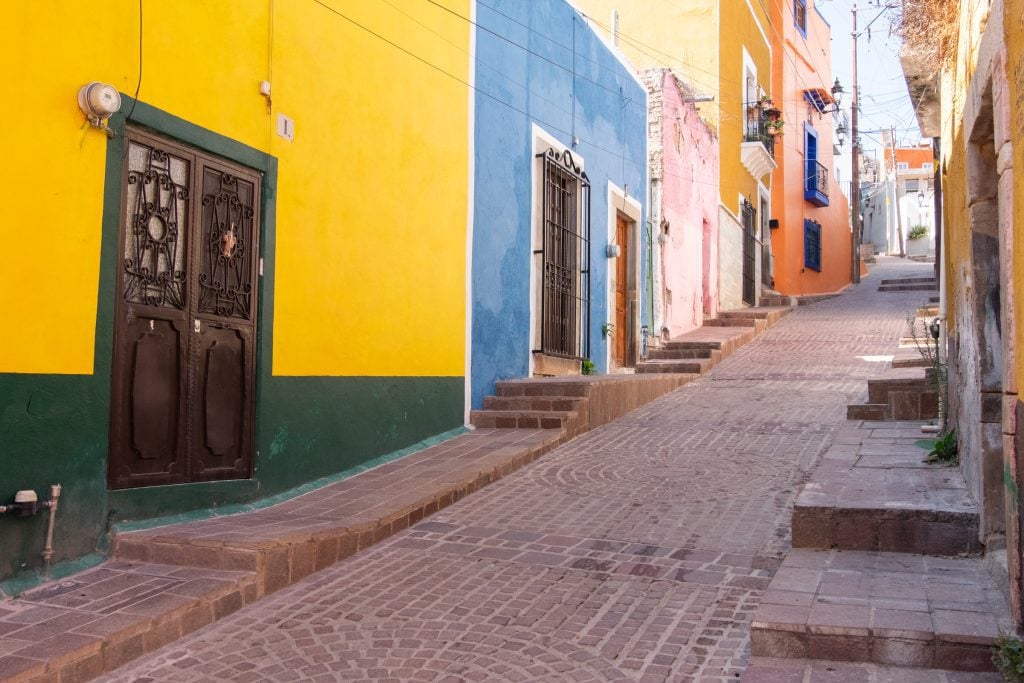 Travel Insurance for Guanajuato
One last note — it's absolutely vital to have travel insurance before traveling to Mexico. If you get sick or injured on your trip, if you get robbed, or even if you have to be flown home for more care, travel insurance will protect you from financial ruin. I use and recommend World Nomads for trips to Mexico.
Travel insurance will help you in your hour of need if you come down with appendicitis in Guanajuato or trip and break an ankle while hiking in the mountains, and if your flights get canceled due to bad weather, you can get accommodation and new flights paid for.
As always, be sure to read your policy carefully and make sure it's a fit for you. See what World Nomads covers here.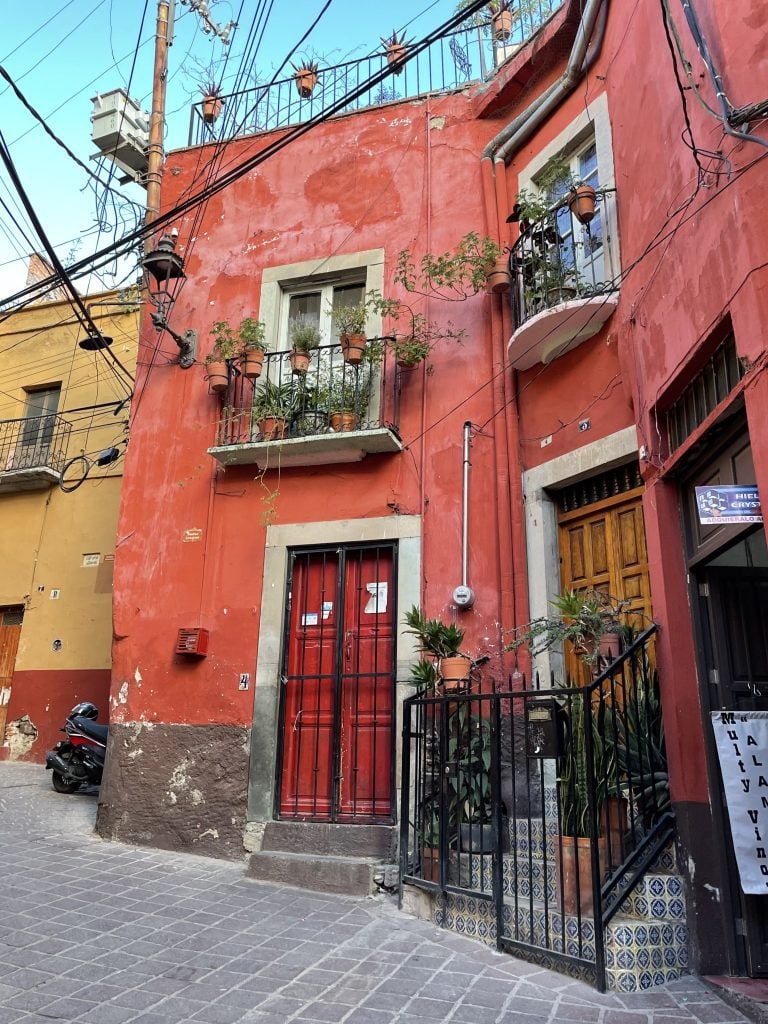 Is Guanajuato Worth It?
Guanajuato is SO worth it! It's such a gorgeous city, and its beauty is only matched by the music that fills the air. Guanajuato is a true gem of Latin America. My only regret is that it took so many visits to Mexico before I ever visited!
Today, I've been to several dozen places in Mexico, but Guanajuato ranks within my top five favorite places. THAT'S how good it is. And I genuinely hope that this endlessly colorful city enchants you as much as it enchanted me.
Go enjoy your trip to Guanajuato! Have the best time.
Planning a Trip to Mexico:
Places to Visit in the Yucatán and Mexico's Caribbean Coast:
Places to Visit in Inland Mexico:
Places to Visit on Mexico's Pacific Coast: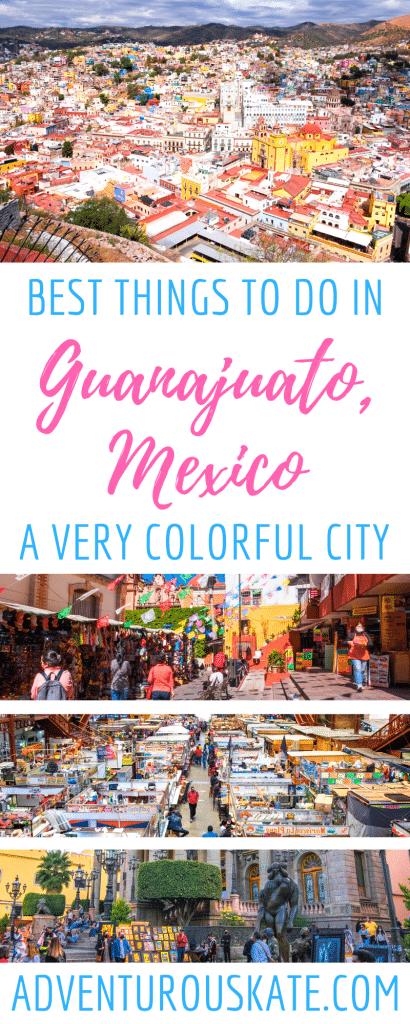 Have you been to Guanajuato? What do you recommend? Share away!
Autor: Adventurous Kate
Fuente de contenido