Adventurous Kate contains affiliate links. If you make a purchase through these links, I will earn a commission at no extra cost to you. Thanks!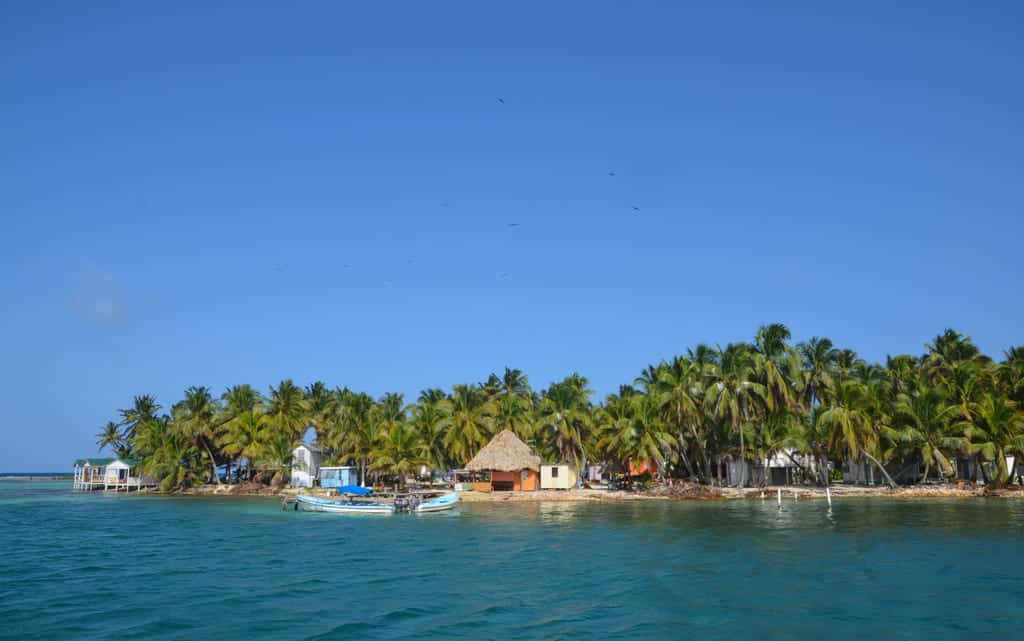 I didn't think that Central America could get any better — and then I got to Belize. I've never really dreamed about Belize as a destination. I knew I'd like it, but it didn't occupy my imagination the way Nicaragua did.
In this country, I found a land of Mayan ruins and caves filled with human sacrifices, of laid-back Caribbean islands and the most turquoise water you've ever seen.
The culmination of my trip was my favorite adventure of the year so far: sailing down the coast of Belize for three days with Raggamuffin Tours. (Note from 2023: Unfortunately, Raggamuffin Tours has since closed.)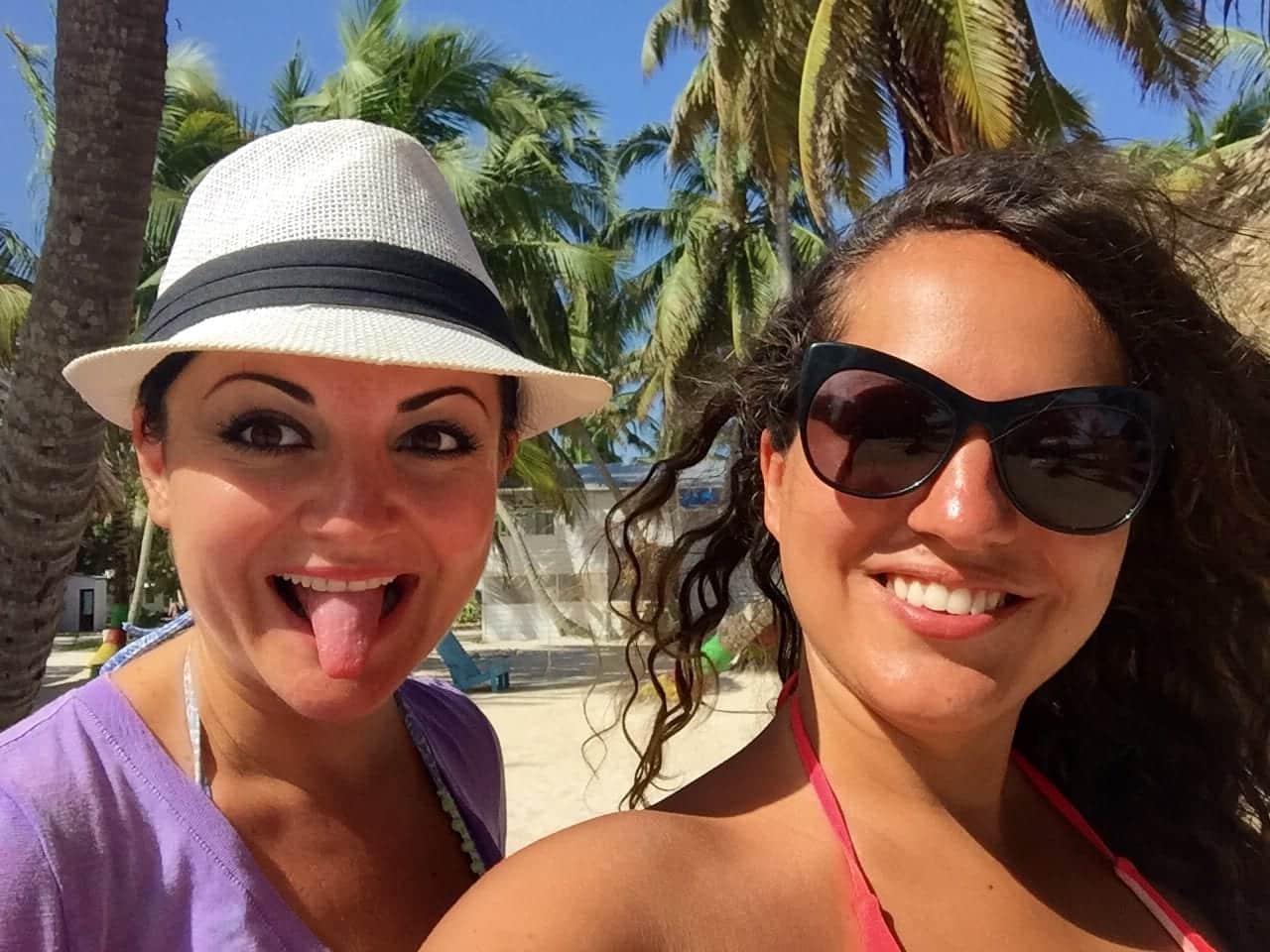 I was talking to my friend Alex about Belize a few months ago and he suggested this cruise, saying he did it a few years ago and had an incredible time. I Googled it — it looked fantastic. But a bit steep at $350 for three days.
Erisa and I decided to travel to Belize together after our tour, and while I was looking forward to Belize, it was a much bigger travel dream for Erisa. I knew this cruise would be right up her alley.
"Should I pitch them?" I asked her. "See if they'll give me a comped trip? I'll split it with you."
"YES!" she exclaimed. "Why wouldn't you?"
"Eh. I don't mind paying." You might have noticed that I rarely do comps or advertising on the site these days. I used to do a ton, but it's a lot of pressure. I know that you guys prefer when I pay out of pocket, which I do about 98% of the time these days. I can't stand travel blogs that are nothing but comp after comp after comp. I prefer to go where I want, do what I want, and write about whatever I want.
But…if I went on this trip, I would be writing about it anyway. Why not pitch them and see what they say?
I pitched Raggamuffin Tours by email and they offered me a complimentary cruise in exchange for a post. I accepted their offer and split the value of the comp with Erisa, each of us paying half.
From the Caribbean island of Caye Caulker, we set off for three days in paradise.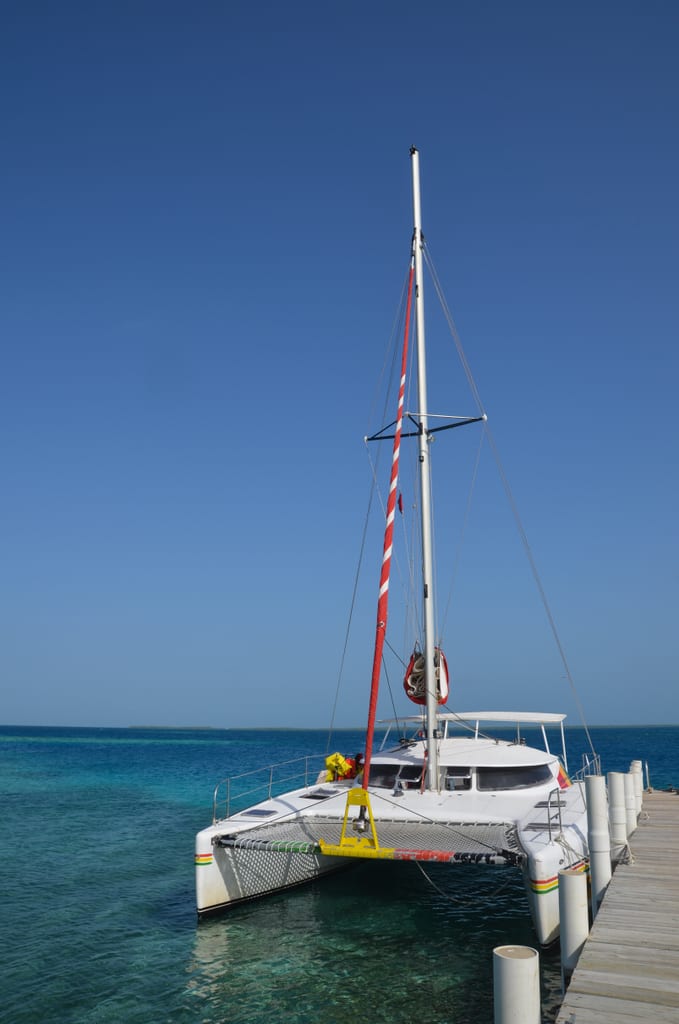 Sailing in Belize
Our boat was an elegant white catamaran that had lots of space to chill out on board, including a net above the water.
Each day would begin with a few hours of sailing through fluorescent turquoise waters. The water around the reef is quite shallow and you could almost always see the bottom.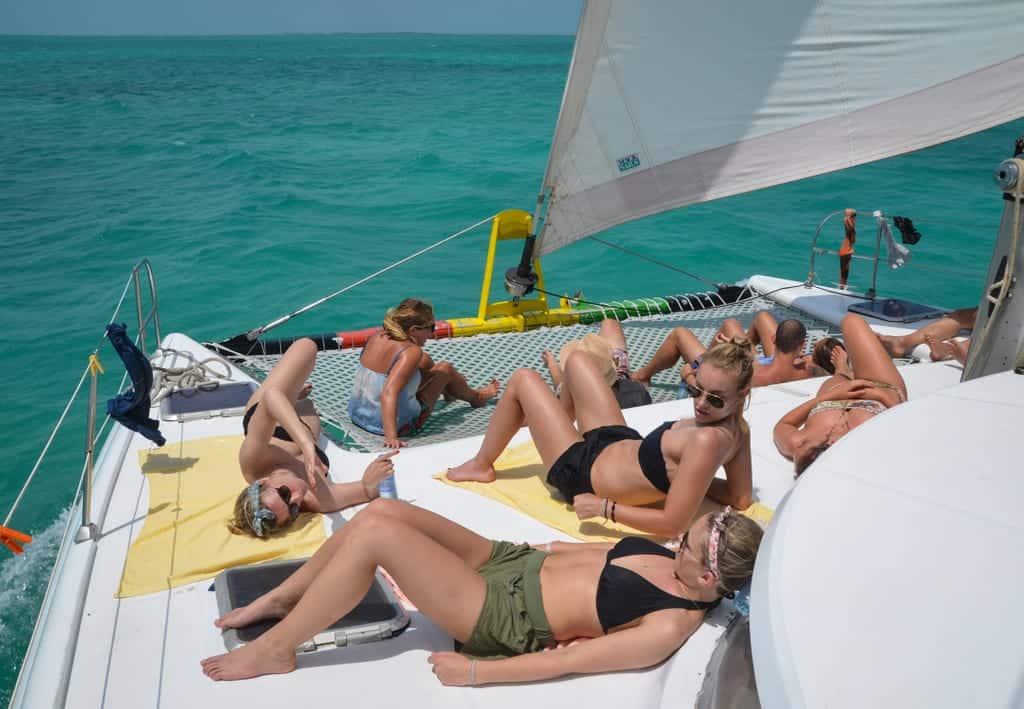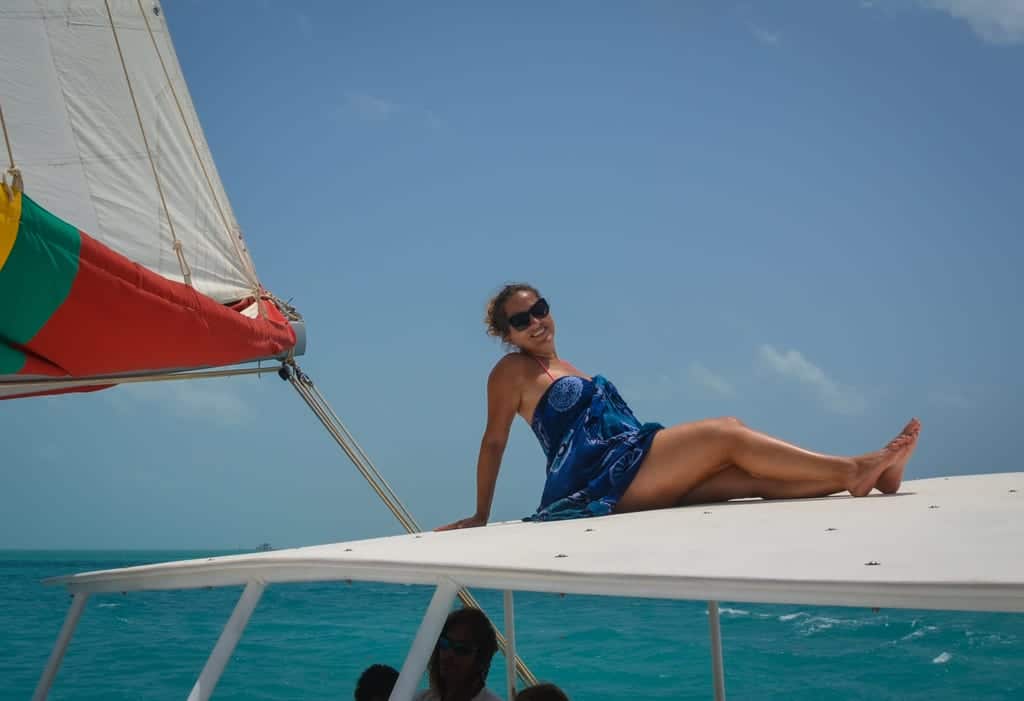 Our first snorkel and swim break took place mid-morning. The crew would take us out on a mini-tour and show us the wildlife. Later on, they brought out the spear gun for fishing.
Lunch was next. The food was universally delicious. Dinners had tons of dishes from which to choose; lunches were more simple but hearty and filling. Cookies and chips would make their way out in between meals. And unlike other similar trips I've taken, we didn't have to do any dishes. Yay!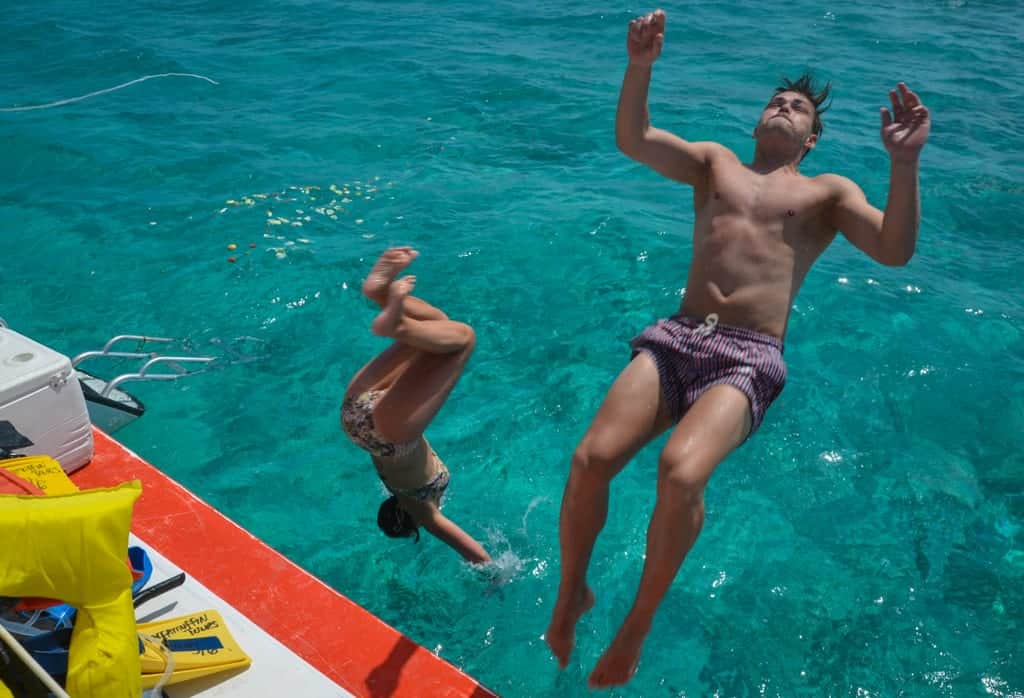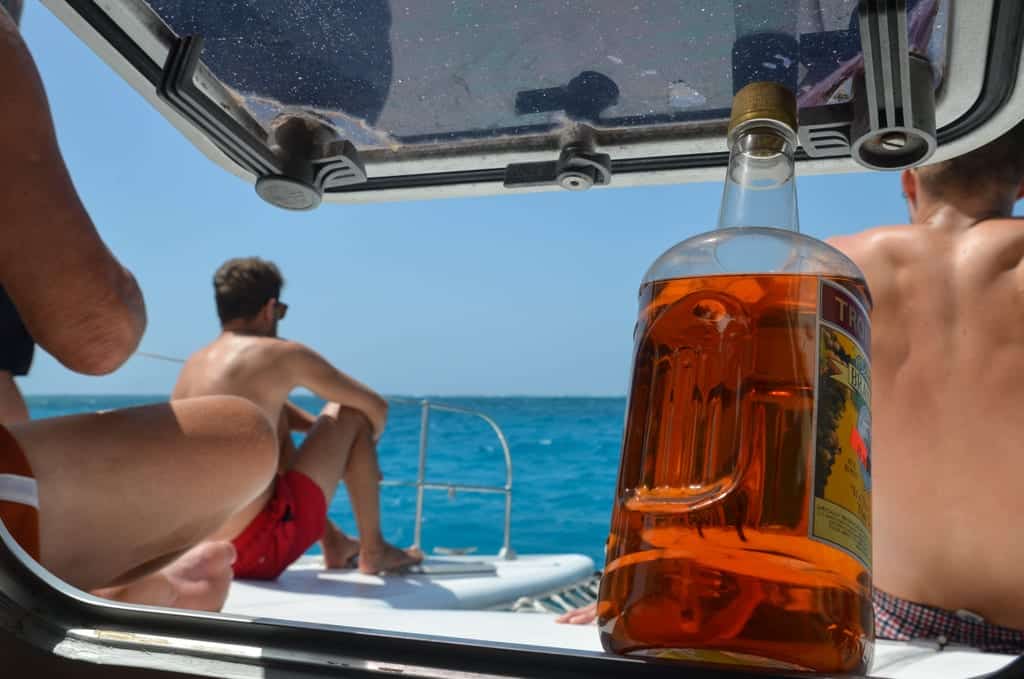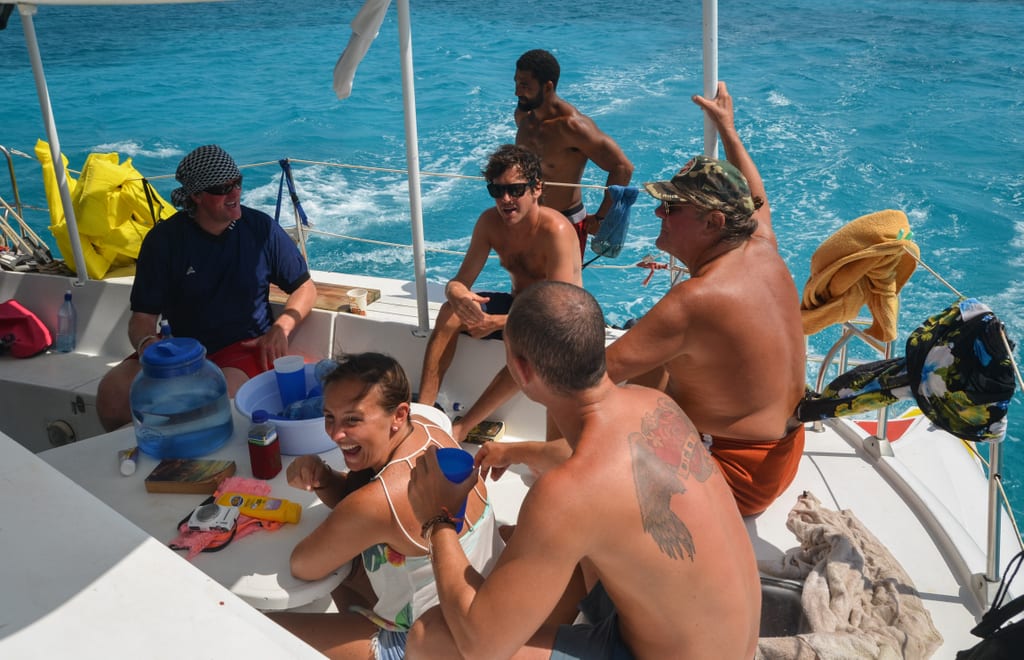 After sailing a bit more after lunch, we stopped for another snorkel tour.
By the time we finished, out came the rum punch. And I was glad it didn't appear until then. It would be easy for this cruise to turn into a crazy drinking-all-day adventure, especially since it was open bar, but I think it was so much better that we stayed sober for most of the day.
We would then set up camp for the night on an island, have a delicious dinner, and keep the drinks flowing until we fell into bed, exhausted.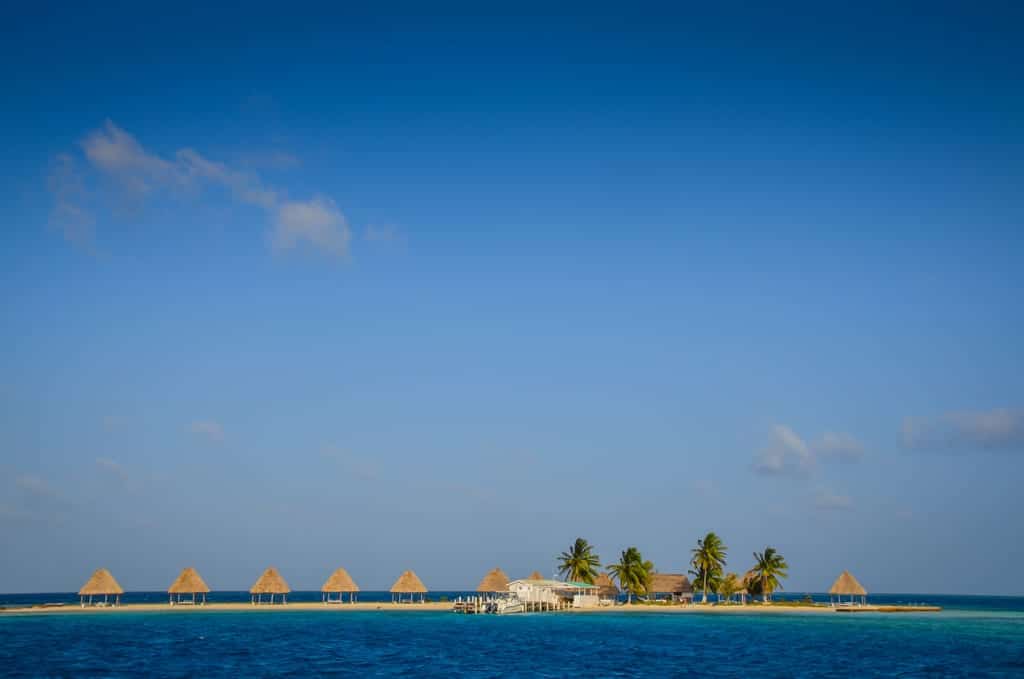 Rendezvous Caye
LOOK AT THAT ISLAND. Is it even real?! It looks like a cartoon!
Our first night was spent on the uninhabited Rendezvous Caye. I've never stayed on an uninhabited island in my life, and it was a freaky feeling!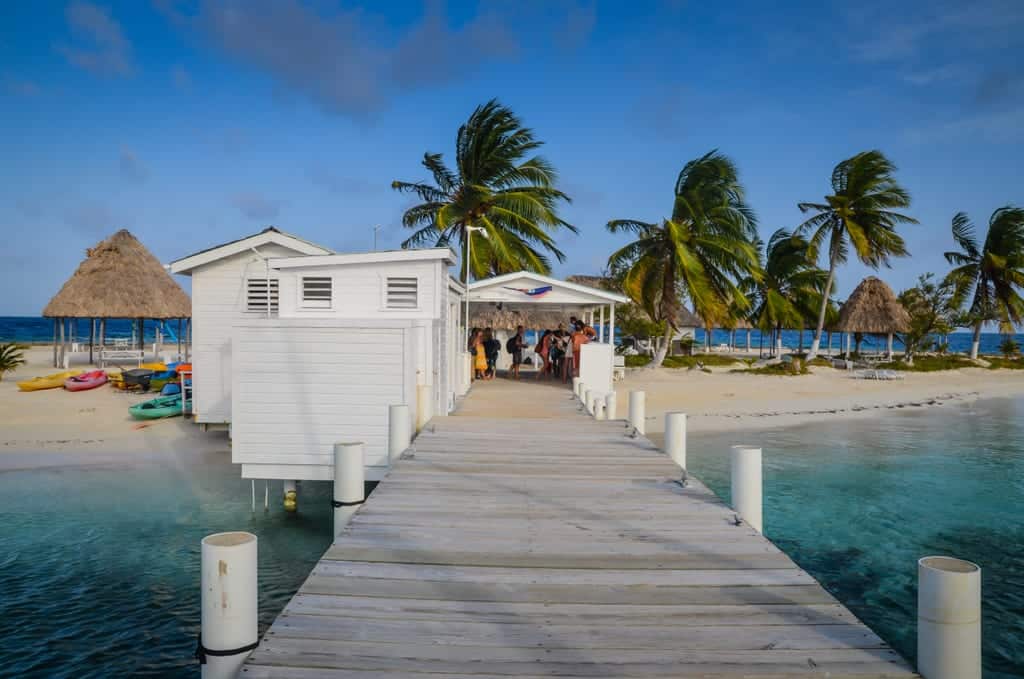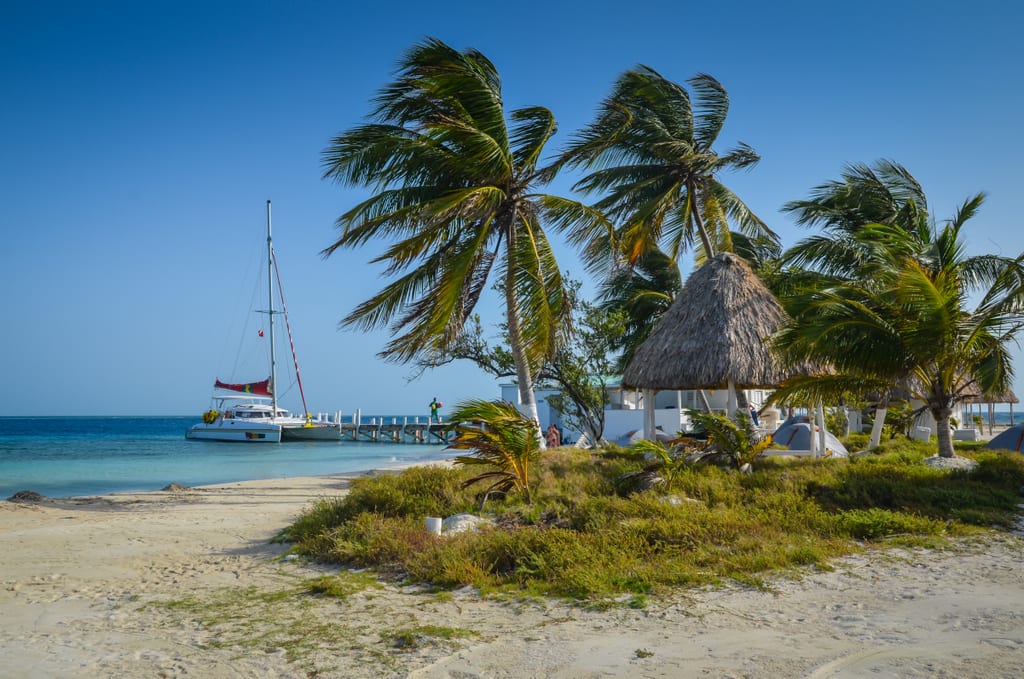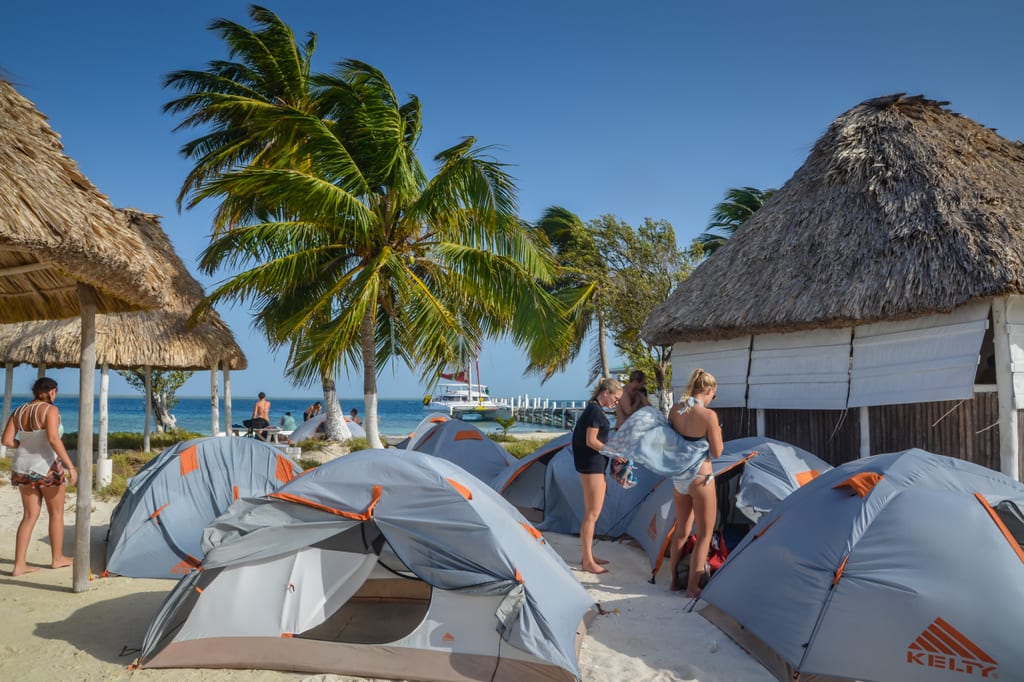 We set up a little tent city and went out to snorkel. This island is literally on top of the reef, so the snorkeling is just as amazing as it was while we were sailing!
Despite being uninhabited, there are a few facilities on Rendezvous Caye, including some toilets. There are also a few caretakers that stay on the island, alternating shifts one at a time.
Tobacco Caye
Tobacco Caye was another tiny island, but it felt so cosmopolitan compared to Rendezvous Caye! Boats run here daily from Dangriga, there is a small collection of simple accommodations, and a few dozen people call this island their home.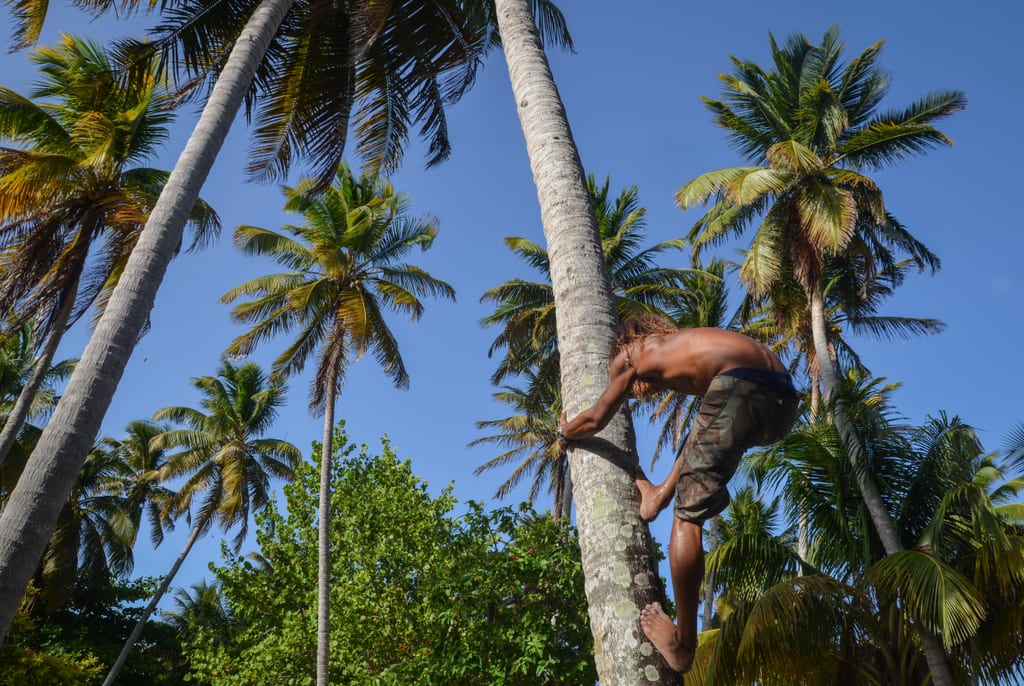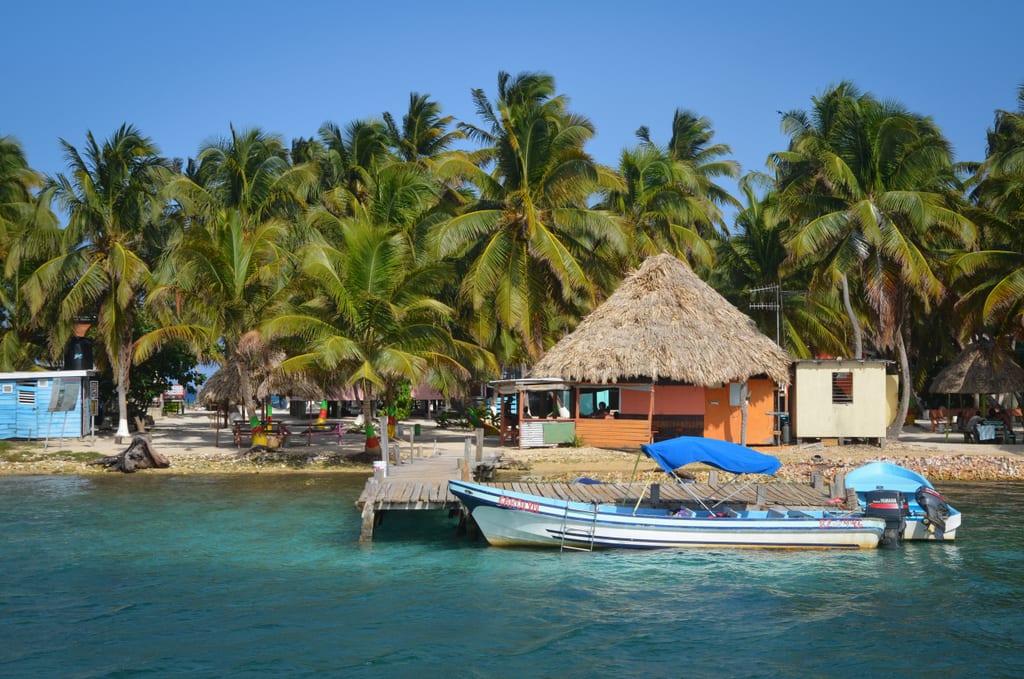 Tobacco Caye also has a bar with beer (which we didn't have on the boat) and wifi. Believe it or not, I kept myself away from the wifi. This trip was a digital detox.
The Crew
The Raggamuffin guys are some of the funniest (yet most professional!) guides I've come across. They are full of stories and music and they always have smiles across their faces.
Honestly, Erisa and I spent the whole trip hanging out with them. They made us laugh until our sides ached.
Captain Kevin kept us safe, and yes, his hair naturally grows that way.
At one point he randomly said, "You know how Shaggy said it wasn't me?…It was me."
I nearly died.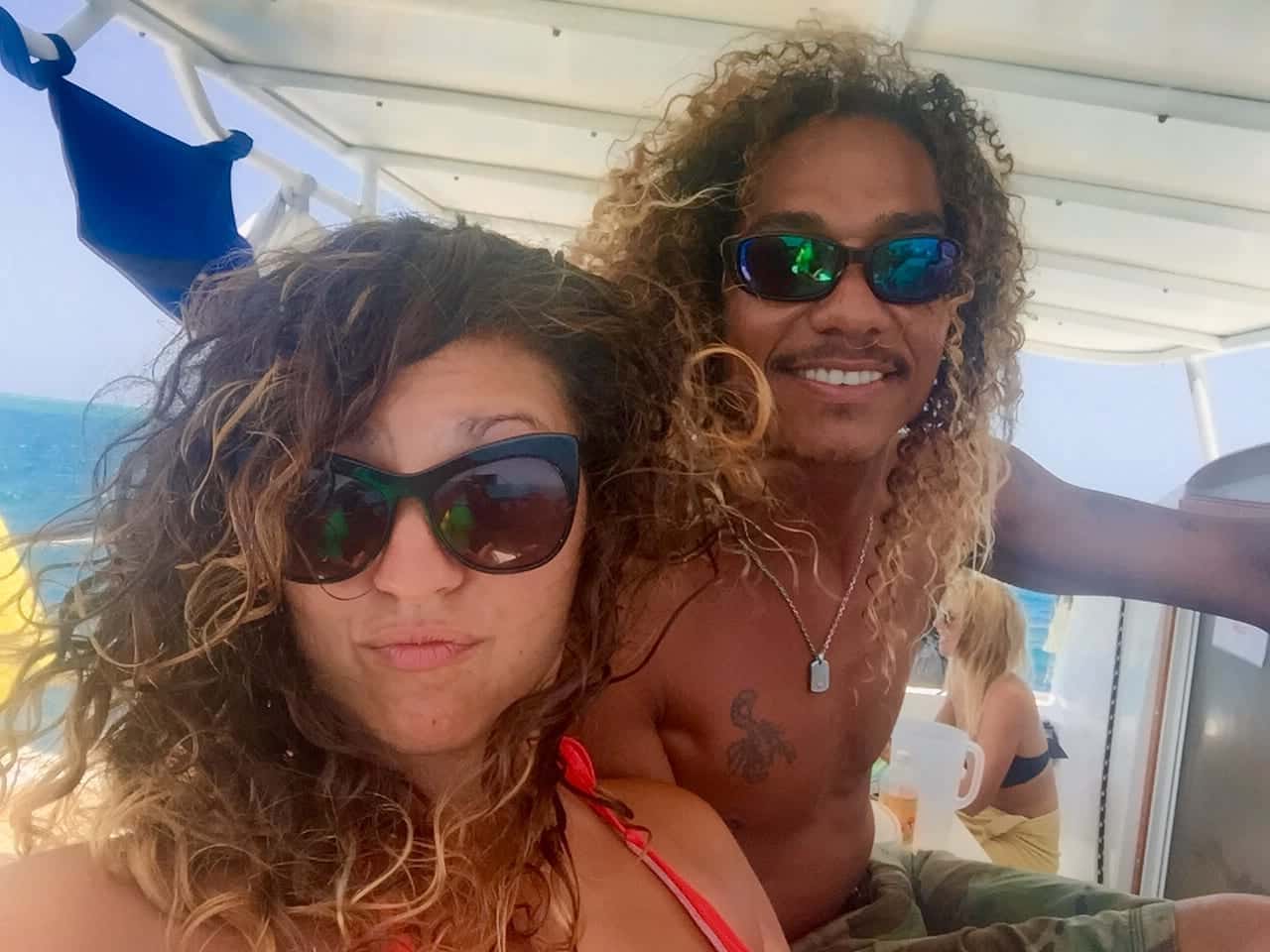 Also, we had the same hair. And the same tan by the third day.
Dane was a ham and a half. If he wasn't part of a joke or conversation or a photo, he'd throw himself in!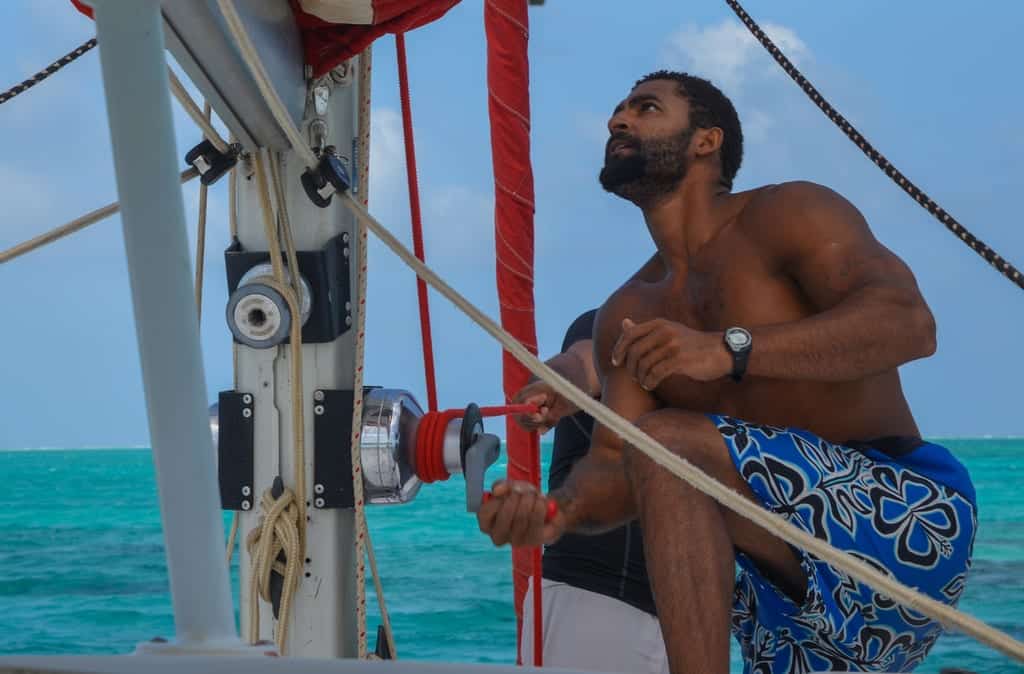 Chris. The world traveler and resident gentleman.
I called him Arms. You can see why.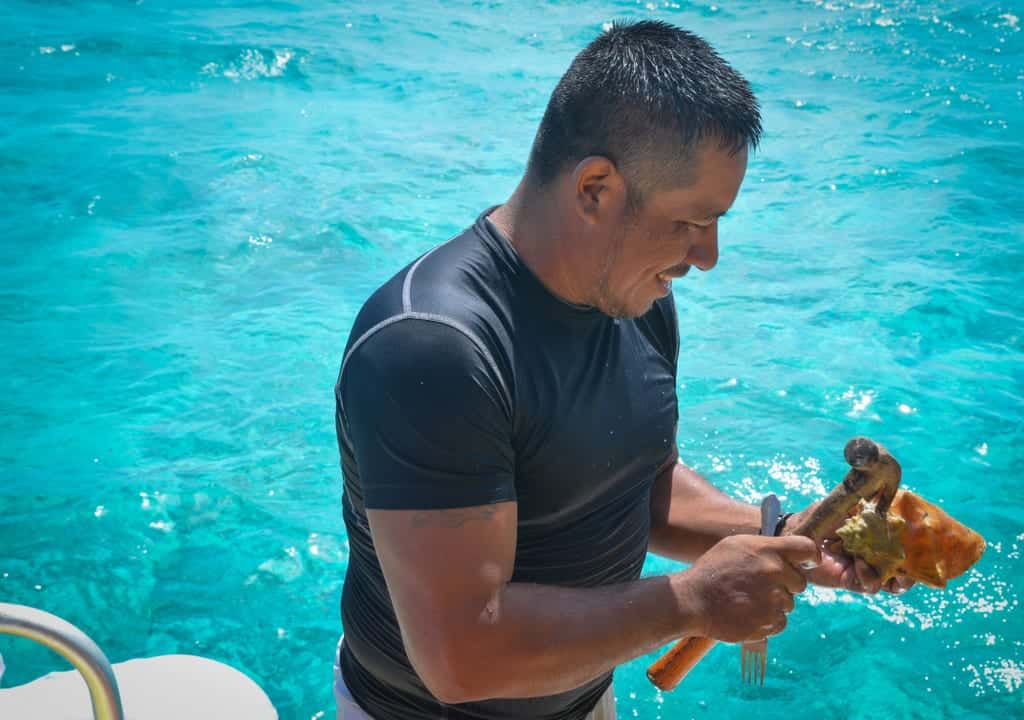 And Ellio. He actually took us hunting for our dinner, grabbing conch shells from the ocean floor.
Here's a video I took of us goofing off on the boat:
Raggamuffin is one of the more expensive outfitters in Caye Caulker, but that's because they're high quality. The equipment is top-notch, the trips are well organized, and the crew is fantastic. Lots of companies will do their one-day sailing trip for cheaper, but they won't do it as well. (Raggamuffin is the only company running a three-day trip like this.)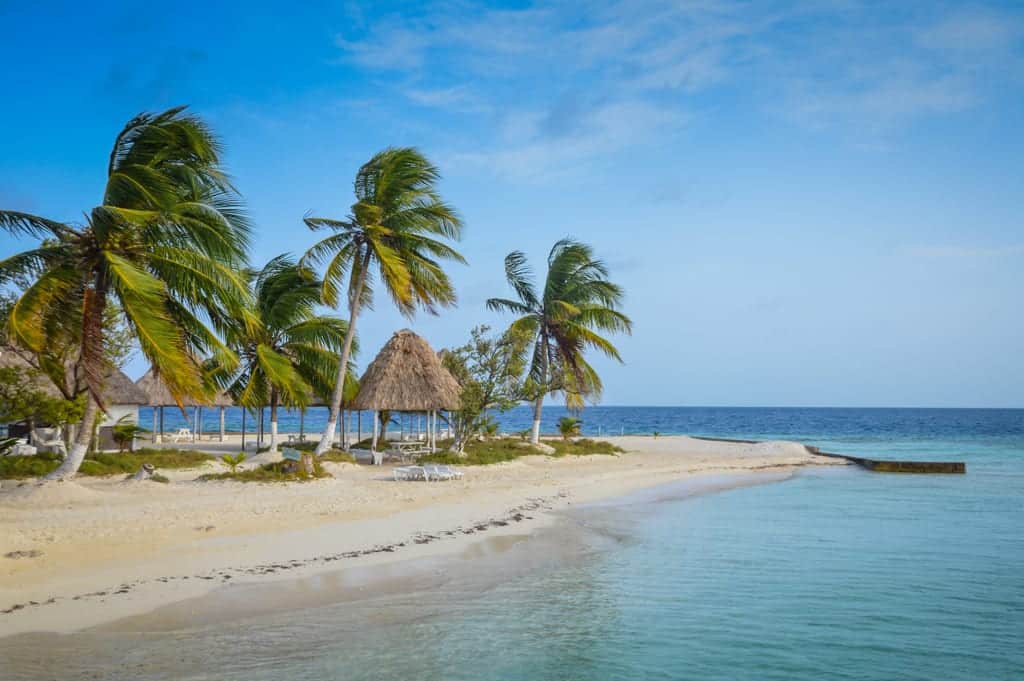 The Best Moments
There was so much happiness on this trip, and a few moments on board made it magical.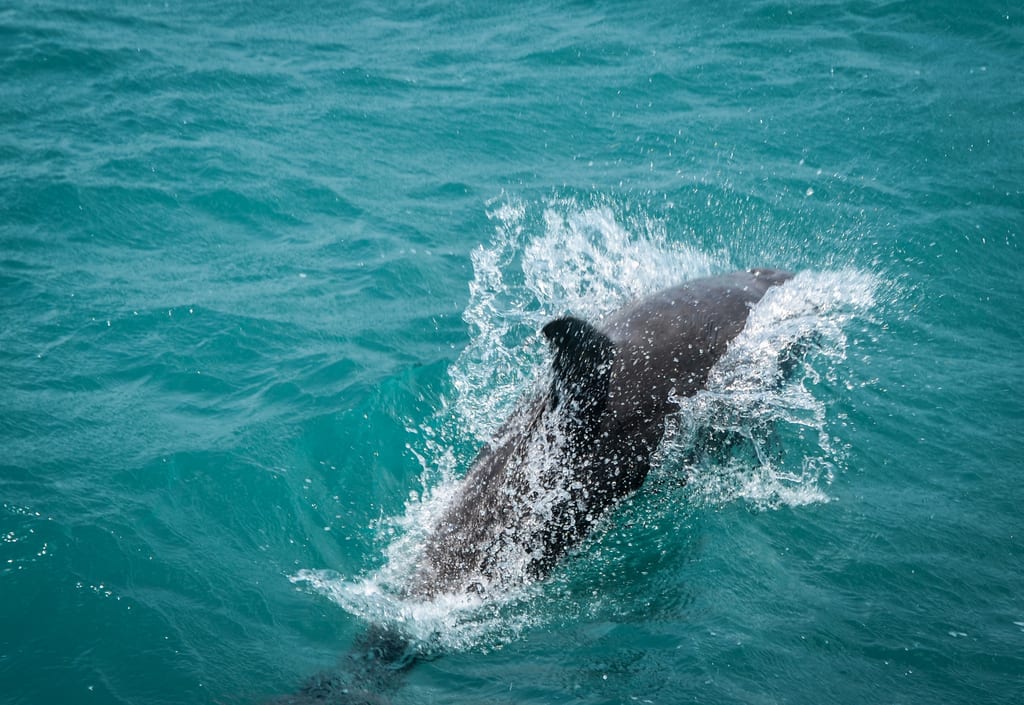 The day we saw dolphins! On our first day, some dolphins swam up to the boat and swam alongside us. I've seen dolphins in the wild before (in Plettenberg Bay, South Africa), and I hope I never get tired of this sight.
The afternoon we grooved to 90s R&B. If you know me, you know that 90s R&B is probably my favorite music genre of all time. It's my childhood. Hearing the greatest hits of 1995 was a fantastic throwback.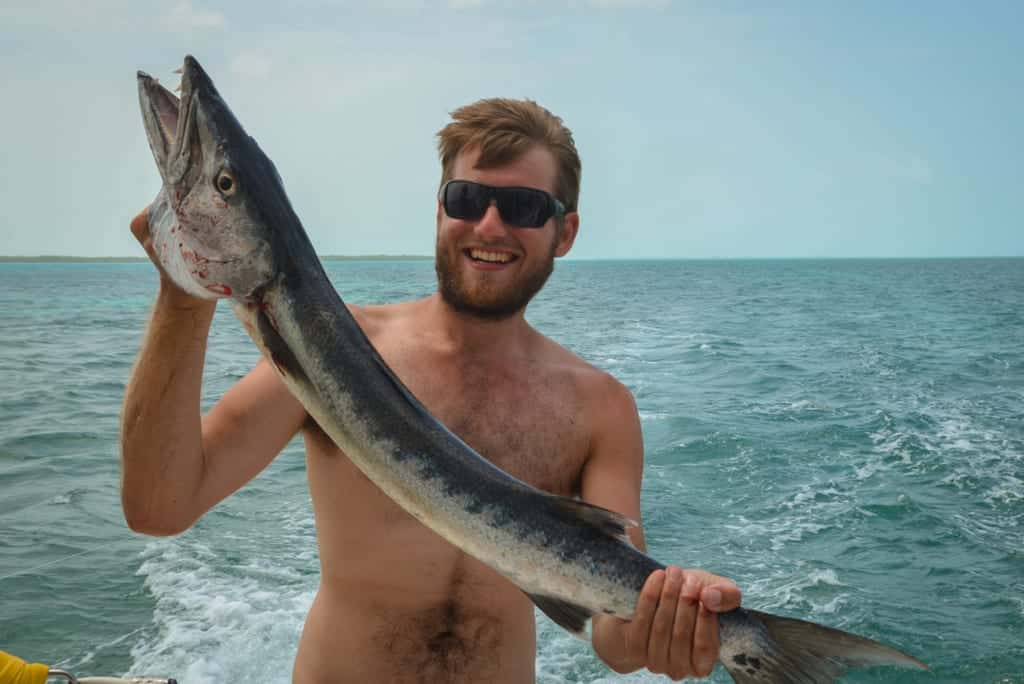 The morning Paul caught a barracuda. High drama! It was like a movie and everyone gathered to watch the action. Would he be able to reel it in? He did. We had it for dinner that night and it was delicious.
The night we had a dance party on Tobacco Caye. On our final night, we ended up turning up the dance music on the boat and throwing an impromptu limbo contest. Also, thanks for hiding my rum punch that night, she-who-shall-not-be-named.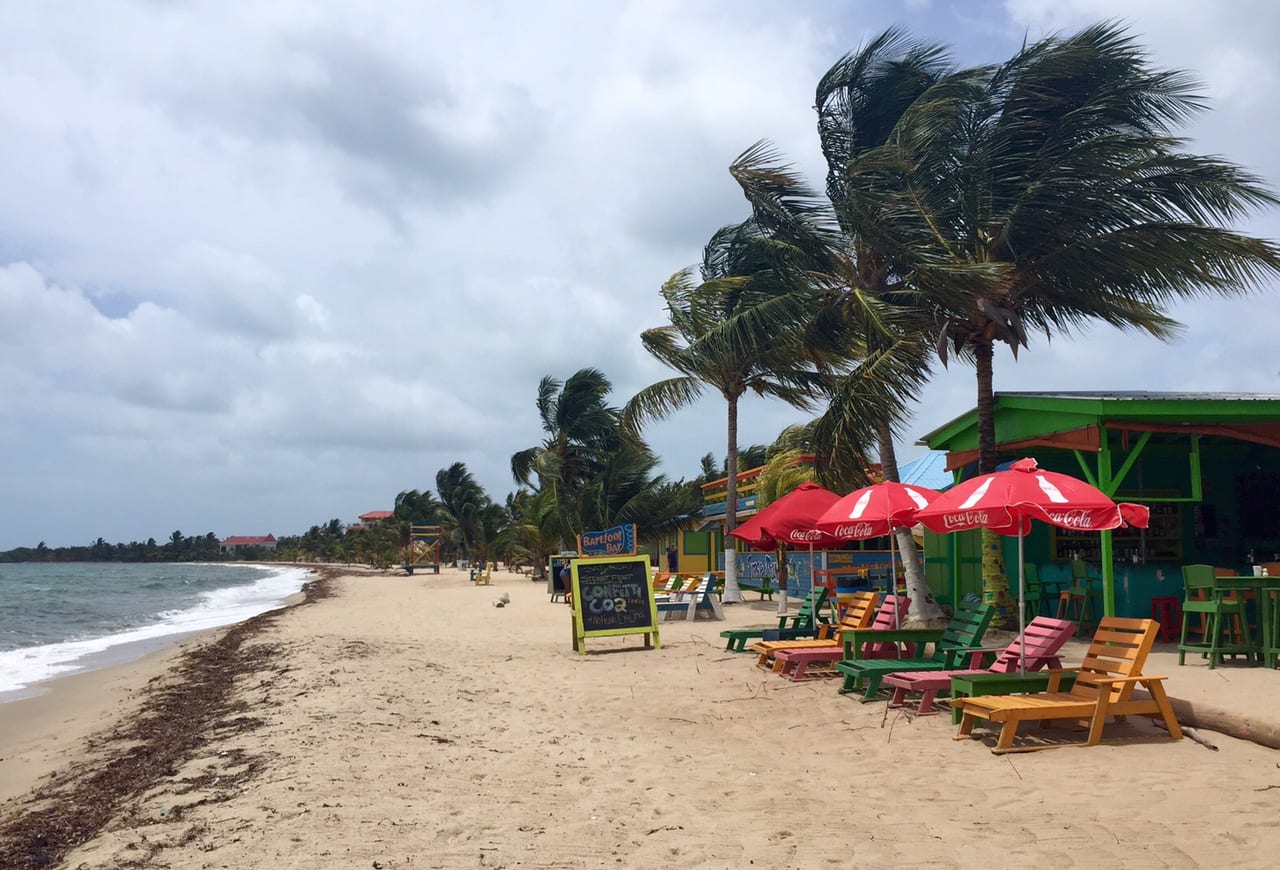 Placencia
The tour ended in Placencia, a beach town in the south. And I'll be honest — Erisa and I were miserable the entire time we were there. We had been riding a massive high for the past three days (not to mention for the past month since El Salvador), and the abrupt end was like being dropped from a great height.
We cried into our cocktails.
The crew had to leave immediately after dropping us off. (They sail back to Caye Caulker in a single night.) And though we had fun hanging out with our fellow passengers for a few days, singing karaoke and chilling on the beach, we missed our crew and couldn't stop talking about them.
The beaches of Placencia weren't nearly as nice as what we saw on the islands further north. The water was dark and opaque, not the trademark clear turquoise of the Caribbean. Most of the beachfront was clean, but some areas were filled with trash. The town was sleepy and seemed to be geared toward older travelers.
So after two days, Erisa and I headed straight back up to Caye Caulker to hang out with our crew again. HA! And it was the best decision ever. We had a blast.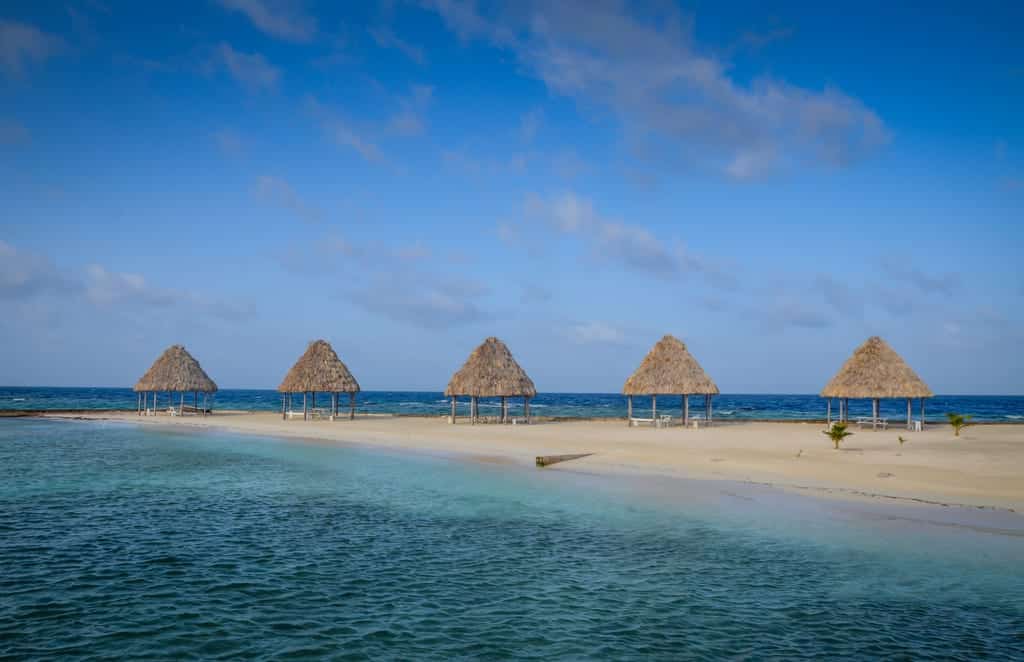 Sailing in Belize: What You Should Know
If you're considering this Belize sailing trip for yourself, here are some things you should know:
Not all trips get the beautiful catamaran — smaller groups just get the sailboat, which I went on for a snorkeling day trip, and it seems so tiny in comparison.
The crowd was mostly couples in their thirties, though we had a few solo travelers, some friends, a group of siblings, and handful of people outside that age group. People came from mostly from the US and Australia, as well as Canada, the UK, Norway, and Albania (don't think I'd forget you, Erisa!).
I really liked the group. I think the price point kept it from becoming a young backpacker party cruise.
Bring a TON of strong sunscreen and reapply several times a day. If you burn easily, I urge you to wear a shirt or rash guard on top of your bathing suit while snorkeling — it's so easy to burn your back. Be extra vigilant and cover up.
There aren't really showers on this trip until you get to Tobacco Caye. Trust me, you won't miss them. There are toilets on both islands, though. And while there's a toilet on the boat, I used it exactly once in three days. Everybody was peeing in the ocean, or the faciliseas, as Erisa and I called it. No shame!
Despite what the website says, pillows are NOT included. Bring your own or something comfy to sleep on, like a fleece.
Watch out for falling coconuts on Tobacco Caye. You could die if you got hit by a falling coconut. I avoided standing under and sometimes even walking under the palm trees. I saw one coconut fall and it freaked me out.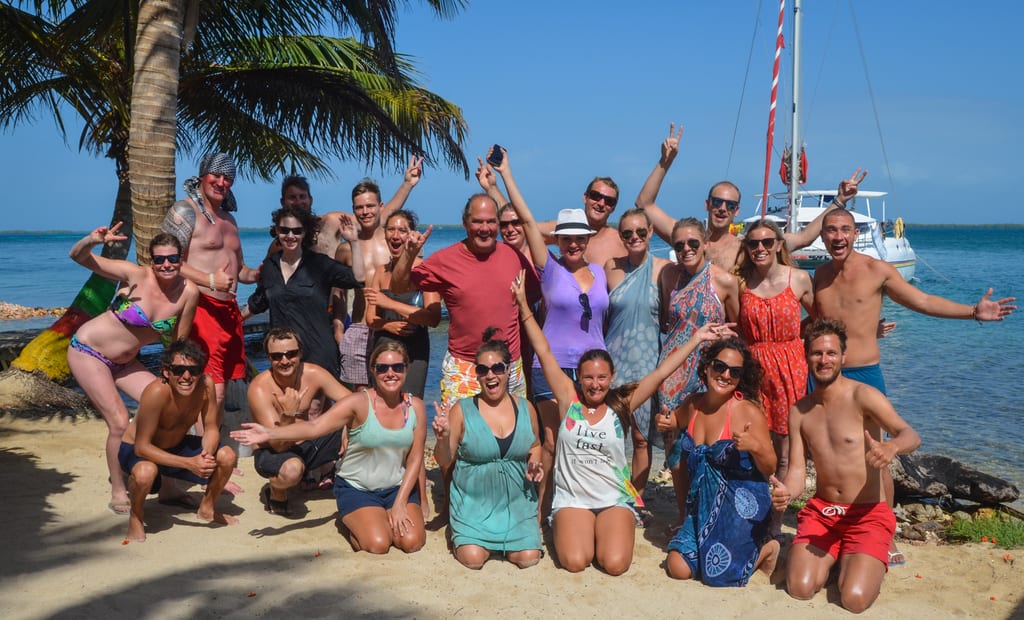 Belize Sailing: The Takeaway
This cruise was one of the best things I did in Central America. It was pure joy from start to finish. I can't recommend it enough!
Belize is expensive compared to other Central American countries (excluding Costa Rica) — prices are on par with the US. I met several backpackers who sped through Belize or skipped it altogether due to the prices.
Don't skip Belize. It's so worth it. It's so beautiful and wonderful and the people are so friendly. It's the closest thing I've found so far to the tropical paradise of my dreams — yes, even more so than Little Corn Island!
On a personal note, this trip was an important step in my recovery from my shipwreck in Indonesia four years ago. Though it's been a long time, I still freak out on lots of boat trips, especially when the weather is bad or the boat is in poor condition. But between the quality of the catamaran, the professionalism of the crew, and the fact that we did daytime sailing only and stayed in calm waters, I didn't get scared once!
Honestly, I found myself wishing this cruise were a few days longer. I think there is definitely a market to make it a five-day cruise, or even a weeklong trip. Assuming showers are provided at least every other day.
Because the trip was so short, I feel like I didn't get to know my fellow travelers as well as I have on past trips, like my weeklong Croatia cruise. Or maybe that was just because I hung out with the crew the whole time. Either way, I would jump on a longer trip in a fraction of a second!
---
READ NEXT:
Solo Female Travel in Belize — Is it Safe?
---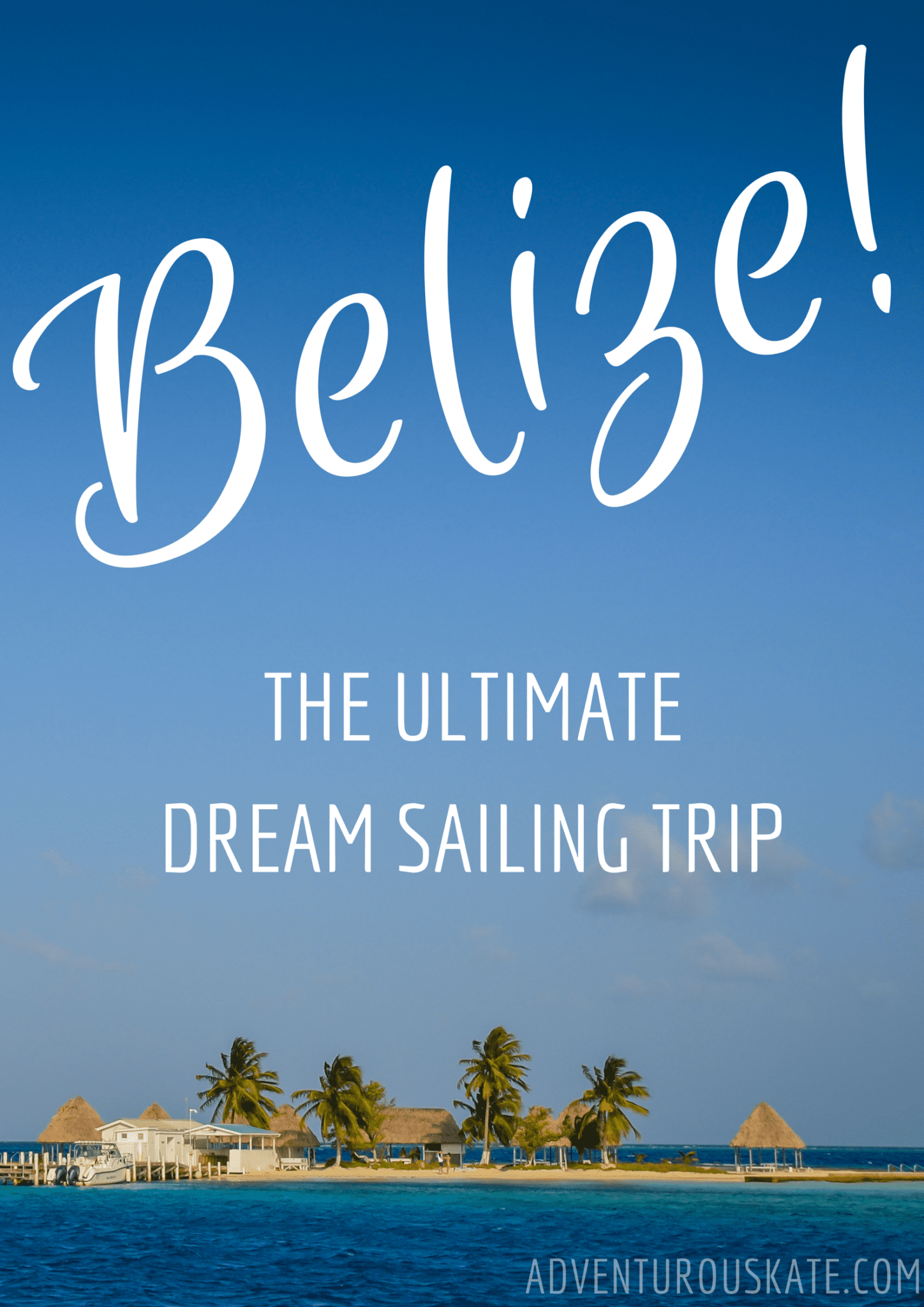 Essential Info: Raggamuffin Tours' Overnight Belize Sailing cruise lasts three days and two nights and sails from Caye Caulker to Placencia. The trip costs $350 USD.

If it's out of your price range but you still want to snorkel the Belize Barrier Reef, Raggamuffin offers  a one-day snorkel trip that visits three sites, including Hol Chan and Shark Ray Alley, for $70 USD. (They offered me a complimentary one-day trip as well.)

In Placencia, we stayed at Lydia's Guesthouse, which had comfortable doubles with shared bath for $60 BZD ($30 USD). Internet was mediocre at best. You can find the best rates on other accommodation in Placencia here.

In terms of food in Placencia, we had an excellent high-end meal at Rumfish. It was probably the nicest meal I had in Central America! The Tipsy Tuna was a fun bar and restaurant with good casual food and the best internet I found in town.

After the trip, we took a 6:00 AM bus from Placencia back to Belize City, which took about five hours and I believe cost around $40 BZD ($20 USD). You can also fly anywhere in the country via Belize City, which would cut down travel time massively.

Be sure to buy travel insurance before heading to Belize. If anything goes wrong, travel insurance will make sure you're covered financially. I use and recommend World Nomads.
Many thanks to Raggamuffin Tours for offering me a complimentary three-day sailing trip. I technically paid for half, though, because I split the value of the comp with Erisa. All opinions, as always, are my own.
Would you do a sailing trip in Belize?
Autor: Adventurous Kate
Fuente de contenido