The best things to do on Ambergris Caye, the sun-soaked island just a stone's throw from the Belize Barrier Reef
The largest island in Belize is also the country's most popular tourist destination – and for good reason. La Isla Bonita as it's affectionately known is perfectly positioned just a short distance from arguably the country's greatest asset: the Belize Barrier Reef.
With its dazzling variety of underwater life, the Belize Barrier Reef is part of the world's second-largest reef system, the Mesoamerican Reef. Formed by an underwater mountain range creating countless reefs and lagoons, the UNESCO-listed Belize Barrier Reef boasts every imaginable shade of blue. Ambergris Caye is also the main launch pad for trips – by boat or plane – to the world-renowned Great Blue Hole.
On the caye itself, island life is in full swing. At your hotel, you can spend your days kayaking, paddle boarding, swimming, windsurfing or simply lazing in a hammock. Further afield, there are marine reserves, a national park and a wildlife refuge to visit, not to mention San Pedro, the island's main town and possibly the golf cart centre of the world.
We've picked out the eight best things to do on Ambergris Caye, so you can make the most of your sun-blessed days on La Isla Bonita.
1. Blue Hole Scenic Flight
Measuring 318m (1,043ft) across and 124m (407ft) deep, the Blue Hole and its surrounding reef system are truly mesmerising. But it's one of those sites that actually looks better from afar – or above to be precise. The best way to see the Blue Hole is by scenic flight. This will allow you to truly appreciate the giant sinkhole's size and features.
From the air, you can see the hole's near-perfect circumference, its deep-azure eye, its vibrant aquamarine border and the wider pearl string of reefs, lagoons and islands stretched across the horizon. The Blue Hole is located around 88km (55mi) off the coast of Ambergris Caye.
2. Hol Chan Marine Reserve
Its sheer ease of access makes Hol Chan Marine Reserve one of Belize's best spots for diving and snorkelling. The popular site offers vibrant coral formations and diverse marine life packed into a small area with shallow waters in an easy-to-reach location off Ambergris Caye. There are few sites in Belize – if not the world – that offer such rich reward for so little effort.
The reserve is teeming with marine life. Over 160 species of fish have been recorded in its waters as well as 40 types of coral, five sponge species and three marine mammals (two dolphin species and one manatee) – although these are rarely seen. Expect to see turtles, rays, nurse sharks, octopus, lobster and numerous species of reef fish.
Other nearby dive and snorkel sites include Mexico Rocks, Hol Chan Canyons, Cypress Garden and Esmeralda Canyons to name just a few. Read our guide on the best dive sites in Belize for more ideas.
3. Shark Ray Alley
Also in Hol Chan is an area of seagrass bed habitat popular with nurse sharks and stingrays (hence the name). The area was traditionally used by fishermen to clean their nets before returning to port. Their leftover bait would attract nurse sharks and rays to feed. Today, most snorkelling and diving trips to Hol Chan will pop by Shark Ray Alley for a quick snorkel afterwards (scuba diving is prohibited).
Today, it's the tour boats that toss food overboard to attract the sharks and rays. The scene can be a bit chaotic but it does give you a chance to see nurse sharks and rays up close with minimum effort. We recommend swimming away from the boats to escape the fray as there are still plenty of sharks and rays to watch further afield.
Unfortunately, we witnessed several snorkellers (and guides!) touching the animals. Please do not do the same and report it if you see it happen.
4. Bacalar Chico National Park & Marine Reserve
The Bacalar Chico National Park and Marine Reserve is one of the seven protected areas that make up the Belize Barrier Reef. Its remote location on the northern tip of Ambergris Caye, on the Mexican border, means it is only accessible by an hour-long boat ride from San Pedro.
Day trips to the park usually incorporate a check-in at the San Juan ranger station, where a small museum showcases Maya artefacts. From there, almost 18km of nature trails can be explored. Wildlife sightings are few and far between but there are crocodiles, jaguars, ocelots, pumas and white-tail deer in the area.
The best chance to see wildlife, however, is on a boat tour of the mangroves or by snorkelling the adjoining lagoons at Barracuda Reef and Rocky Point where abundant reef fish and colourful coral thrive thanks to the lack of human (and boat) activity. If you're really lucky, you may catch sight of green and loggerhead turtles and even manatees.
Overnight trips to Bacalar Chico are currently paused but Seaduced by Belize runs regular day trips.
5. ACES Wildlife Rescue
The American Crocodile Education Sanctuary is a small non-profit organisation that provides an emergency response service on Ambergris Caye for injured, orphaned or displaced wildlife, assistance to human-crocodile conflicts and shelter for wildlife – particularly crocs – in need of rehabilitation. They also run a number of community outreach and education programs.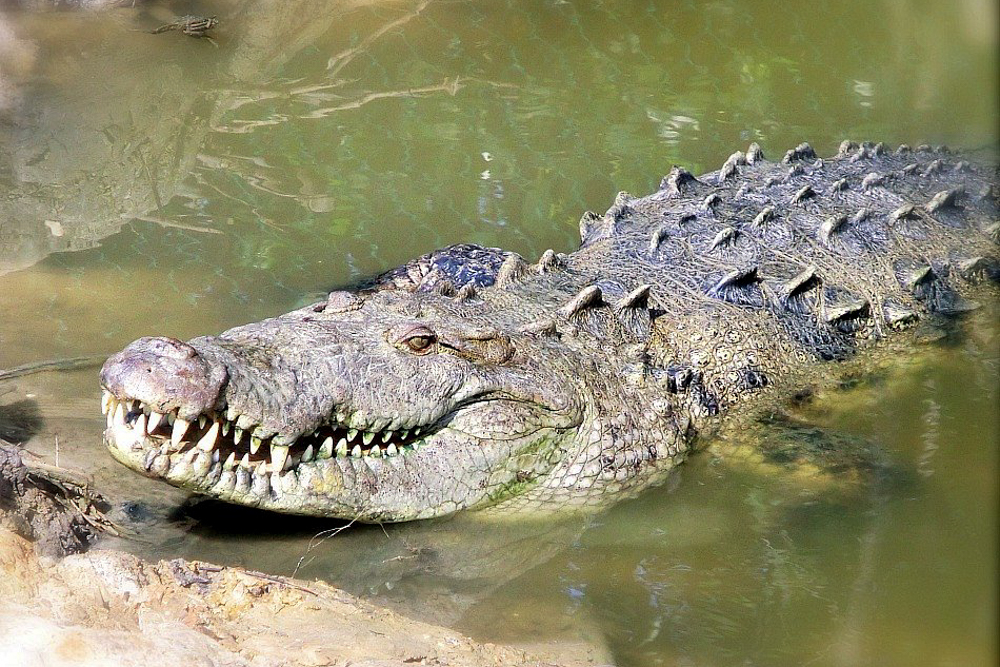 While the centre has currently paused its much-loved nighttime crocodile tours, it is still possible to schedule a visit to learn about their work and potentially meet some of the animals in their care. There is no charge for a visit but they do ask for a donation.
6. Secret Beach
Considering its Caribbean credentials, Ambergris Caye does not actually have many accessible public beaches. The now not-so-secret Secret Beach, located on the sheltered lee side of the island, is by far the best beach on the caye. Once the reserve of locals, it has been transformed into a tourist hotspot bustling with beach bars and cafes serving cocktails and lobster ceviche.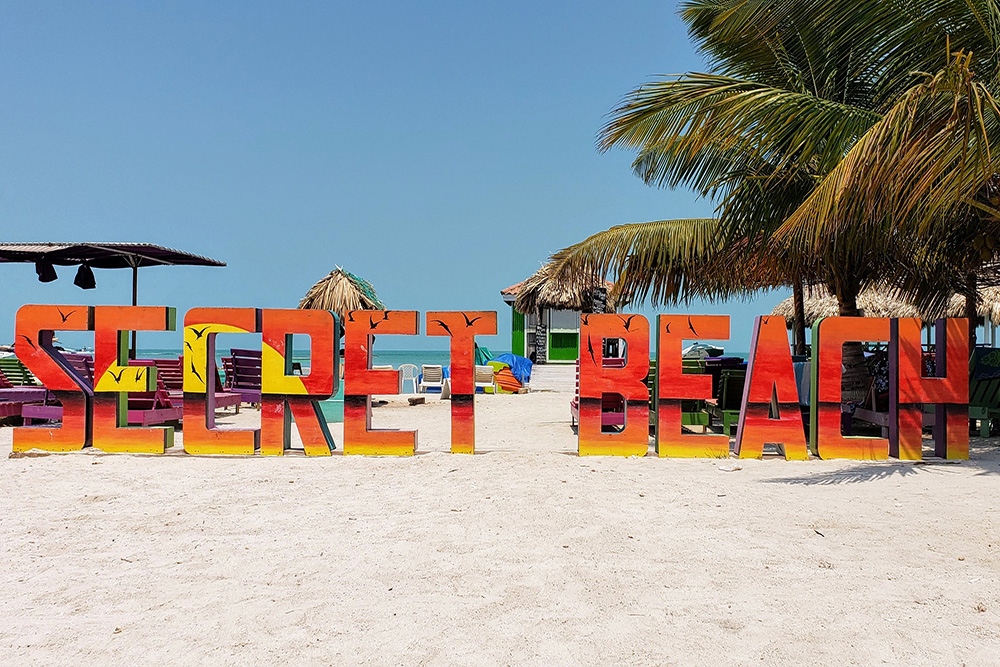 While there is no reef on this side of the island – meaning far fewer colourful fish – the waters are calm, crystal clear and ideal for watersports such as kayaking and paddleboarding (available to rent). It is still worth taking (or hiring) snorkelling gear as you may spot the odd stingray lurking in the seagrass.
Secret Beach is around 30 minutes (13km) by golf cart from San Pedro town.
7. San Pedro Town
If you grow bored of lazing on the beach or tired of snorkelling some of the finest coral gardens on the planet, then there are worse ways to while away an afternoon or evening than wandering around San Pedro, the only town on the island. The narrow streets are often clogged with golf carts but towards the beachfront, there are some glorious waterside bars and cafes with cocktails to match the sea views.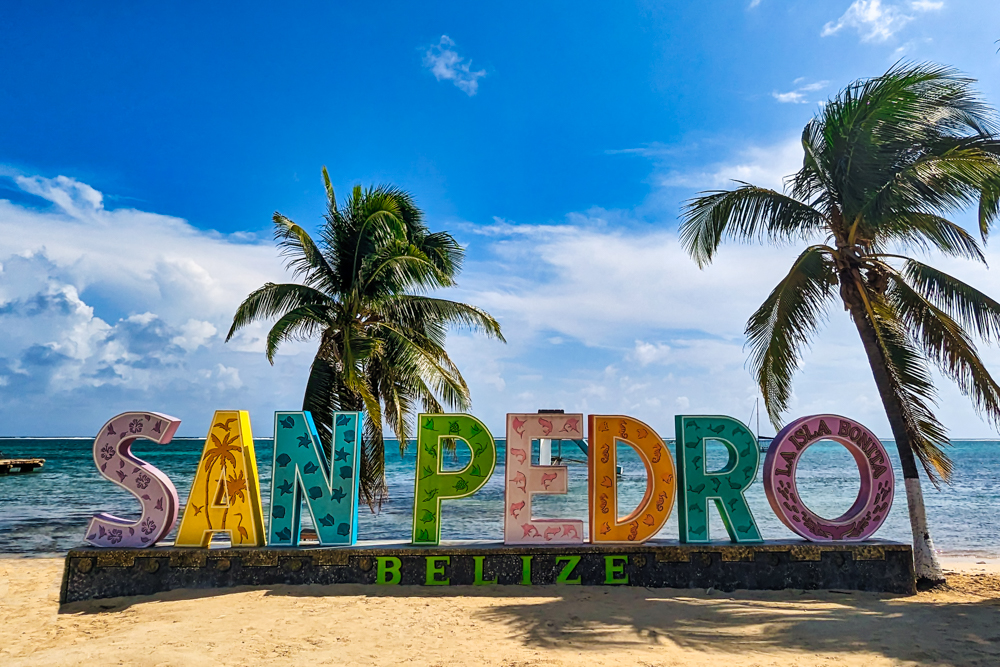 We recommend stopping by Juice Dive for healthy bowls, wraps and, of course, juices; La Bodeguita for strong Cuban coffee; and Caramba for hearty portions of local, Caribbean and Mexican cuisine.
8. Dive (or snorkel) the Blue Hole
In 1971, Jacques Cousteau famously described Belize's Great Blue Hole (now the Blue Hole Natural Monument) as one of the world's top 10 dive sites. Ever since, the giant sinkhole in the middle of the Belize Barrier Reef has captivated the public's attention.
To dive the Blue Hole and access the caverns and overhangs, located from around 34m (110ft) and deeper, you will need a deep diver qualification and even then, you're only able to descend to a maximum of 40m (131ft). You'll have around eight minutes of 'bottom time' even though you'll be far from the seabed proper. If you want to go deeper than 60m (200ft), you'll need to use hypoxic breathing gas.
Another option is to snorkel around the outside of the rim where the enclosing reef is known for its turquoise waters and diverse fish life. Inside, snorkellers can get an idea of just how deep the hole is by swimming around the inner rim and gazing down into the dark abyss.
Things to do on Ambergris Caye: the essentials
What: The best things to do on Ambergris Caye in Belize.
Where: We stayed at Sapphire Beach Resort on Ambergris Caye. Positioned on a private beach, Sapphire benefits from its quiet and relaxed location around 45 minutes from San Pedro, the main town on the island.
All the villas and bungalows at Sapphire come with kitchenettes as well as water coolers so you always have drinking water. There's an on-site restaurant serving breakfast, lunch and dinner as well as a poolside bar serving cocktails, snacks and light meals. The resort has its own private jetty and free kayaks and snorkelling equipment for its guests.
When: The best time to visit Ambergris Caye is during the dry season between January and May. Visitors can expect mostly warm, sunny days with the odd shower. The wet season runs from June to December.
How: On Ambergris Caye, you'll probably want to hire a golf cart to get around the island. We hired our cart through Mark's Golf Carts, but the cart wasn't in great condition. There are lots of golf cart companies on the island so it may be worth shopping around or asking your hotel for a recommendation.
As the island is so small, it's easy to navigate and driving is pretty straightforward. However, it's worth mentioning that the roads – particularly the further you get from town – are in poor condition and can be rather uncomfortable to drive.
We took a water taxi from Chetumal in Mexico to San Pedro via Water Jets International. The 1.5-hour boat ride was uncomplicated and cost $70 USD per person. To get from San Pedro to Belize City on the mainland, we took another water taxi, this time with San Pedro Belize Express (1.5 hours, $30.50 USD).
All international flights arrive at the Philip Goldson International Airport (PGIA) near Belize City. Book through skyscanner.net for the best prices.
---
Enjoyed this post? pin it for later…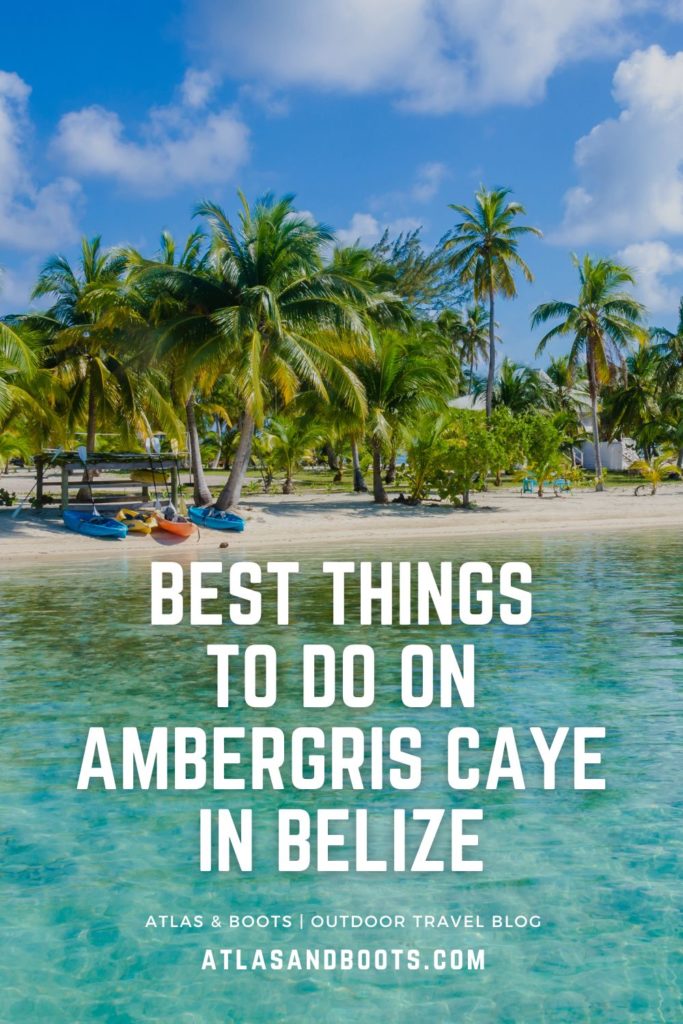 ---
Autor: Atlas & Boots
Fuente de contenido