The best way to see the Blue Hole of Belize is from above. Here's our guide on how to make the most of your scenic flight
In 1971, Jacques Cousteau famously described Belize's Great Blue Hole (now the Blue Hole Natural Monument) as one of the world's top 10 dive sites. Ever since, the giant sinkhole in the middle of the UNESCO-listed Belize Barrier Reef has captivated the public's attention.
Measuring 318m (1,043ft) across and 124m (407ft) deep, the Blue Hole and its surrounding reef system are truly mesmerising. But it's one of those sites that actually looks better from afar. We believe the best way to see the Blue Hole of Belize is from above. Here's why.
Best seen from the air
While Kia and I are both qualified open water divers – and I have the advanced qualification – reports suggest that at most depths in the Blue Hole, there is not actually much to see. Some divers have even described it as boring and underwhelming. It's just too dark down there. It's not until you get to the caverns and overhangs, located at around 34m (110ft) and deeper, that the dive offers more to see – and you'll need a torch for that.
While there are reef sharks and the occasional hammerhead to see, the dive is less about marine life and more of a rite of passage among divers, known instead for its thrilling dark descent and submarine stalactites. In reality, though, most divers won't get even halfway down the vertical cave – let alone anywhere near the bottom.
Divers must complete a deep diver qualification and even then, you're only able to descend 40m (131ft) into the Blue Hole's depths. You'll have around eight minutes of 'bottom time' even though you'll be far from the seabed proper. If you want to go deeper than 60m (200ft), you'll need to use hypoxic breathing gas. In short, to truly experience diving the Blue Hole, you need to be an elite diver or a billionaire.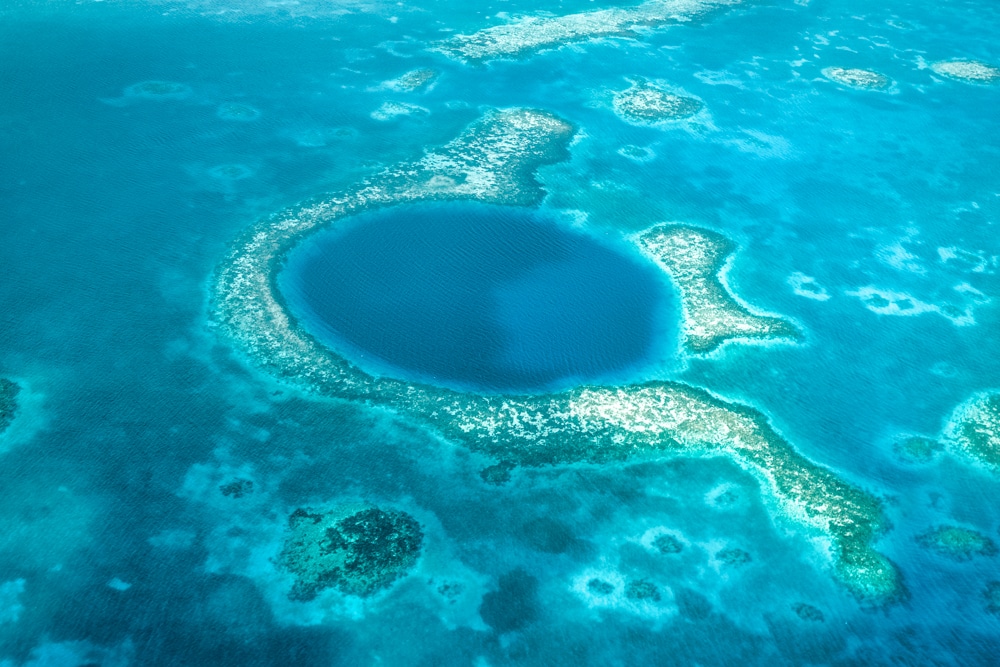 Another option is to snorkel around the rim. While the surrounding reef is known for its diverse fish life, you won't be able to truly appreciate the Blue Hole's size or the characteristics that make it so special. As such, the consensus is that the best way to see the Blue Hole of Belize is from above.
How to make it happen
We took a scenic flight over the Blue Hole from the island of Ambergris Caye during our month-long trip through Central America. It was a highlight of the journey, a real bucket list experience up there with visiting the seven new wonders of the world.
From the air, you truly get to appreciate the hole's near-perfect circumference, its deep-azure eye, its vibrant aquamarine border and the wider pearl-string of reefs, lagoons and islands stretched across the horizon. We spent a week diving the Great Barrier Reef but we never saw it from above. As such, the Blue Hole was quite unlike anything we'd seen before.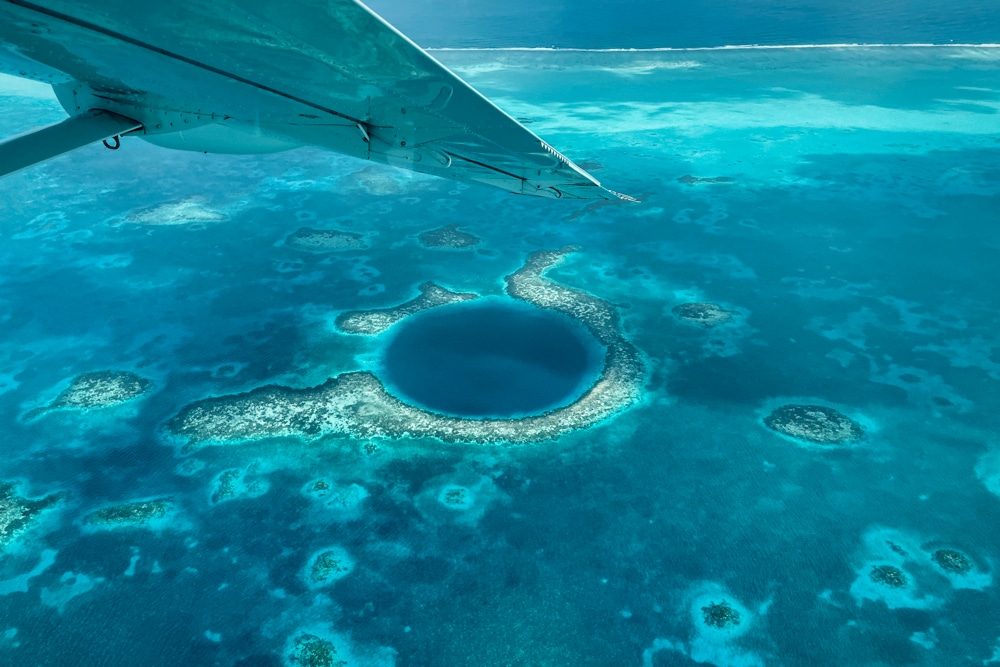 As it's located around 70 km (43 mi) off the coast of mainland Belize, the best way to see the Blue Hole is to book a scenic flight with Tropic Air. We've put together a quick Q&A guide on how to organise your flight.
Where do flights depart from?
Flights leave from the islands of Ambergris Caye (San Pedro) and Caye Caulker or from the mainland at Belize City Municipal.
When do flights depart?
On Tuesdays and Thursdays, flights leave from San Pedro and Caye Caulker at 11am and Belize City at 10am.
On Sundays, flights leave from San Pedro and Caye Caulker at 1pm.
How long are the flights?
Flights last around one hour including the time it takes to fly to and from the Blue Hole. Around 10 minutes are spent circling the Blue Hole itself.
When do I need to check in?
Check in at least 30 minutes before your departure time.
How many passengers are on board?
Planes are either three- or 11-seater aircraft depending on how many people have booked onto the tour.
Where should I sit?
Seats are not assigned but all passengers get a window seat. Even though some aircraft have aisle seats, these are not sold.
We think it's better to sit towards the back of the aircraft to get the most unobstructed views as opposed to under the wings. However, you may prefer to sit nearer the front so you get to see the cockpit, or even in the cockpit itself next to the pilot.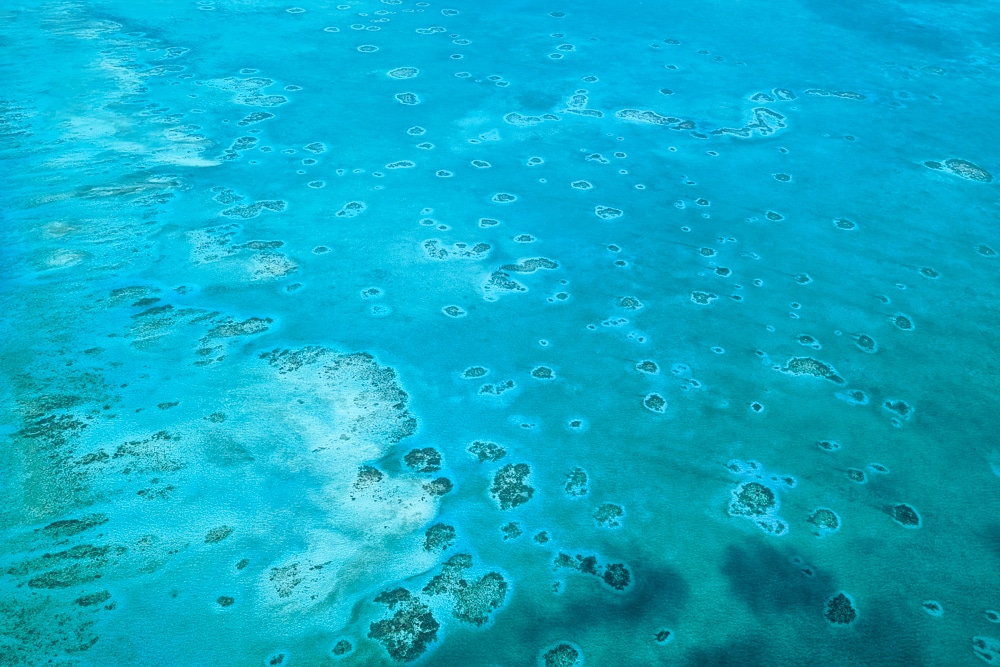 How long do you spend at the Blue Hole?
The plane circles the Blue Hole twice in each direction (for around 10 minutes). No matter what side of the plane you sit on, all passengers get to see it for the same length of time.
How high do the planes fly?
The planes fly at around 600ft (182m) above the Blue Hole and a little higher during the journey to and from the site.
What sort of plane is it?
Flights are either on a 13-seater Cessna 208 Caravan or a three-seater Cessna 182T. You can see the planes on Tropic Air's website.
What else will I see?
Other than the Blue Hole, you will see a significant expanse of the Belize Barrier Reef, part of the world's second-largest reef system. Second only to Australia's Great Barrier Reef, the Mesoamerican Reef was formed by a chain of submerged mountains and ridges creating countless reefs and lagoons boasting every imaginable shade of blue.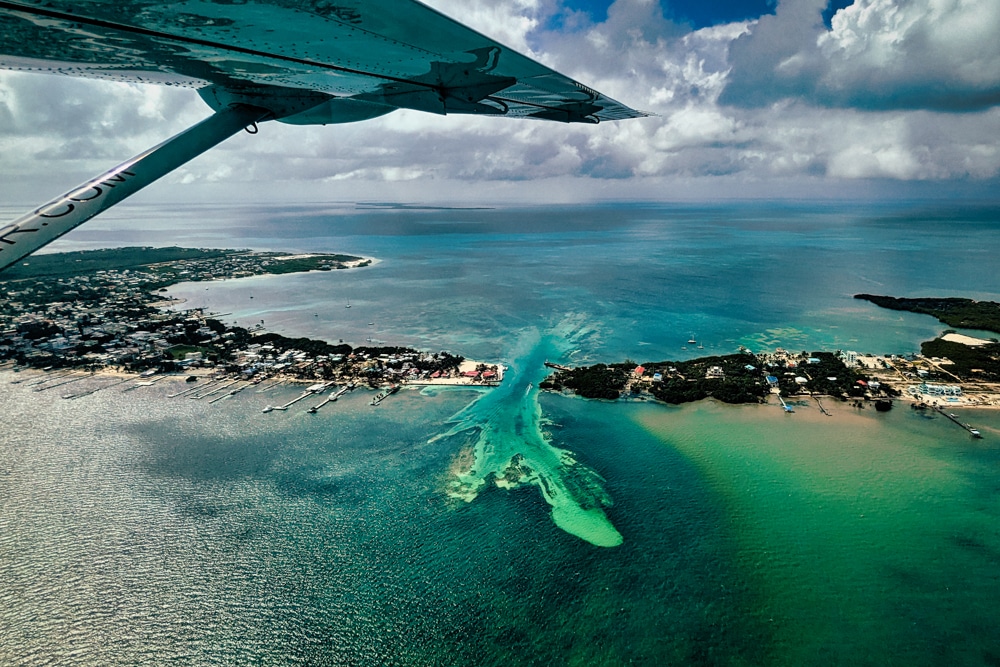 You will also fly over several islands including Ambergris Caye and Caye Caulker and possibly part of Belize City, depending on where you take off from. As you fly over Caye Caulker, look out for where the island was split in two when Hurricane Hattie surged across the atoll in 1961.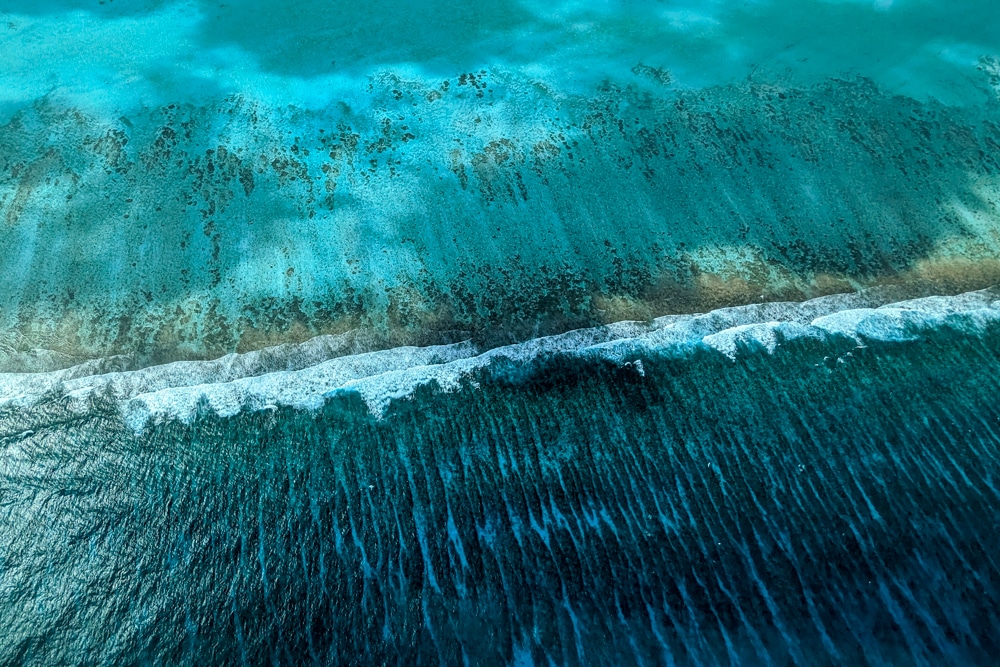 The plane will also pass over Hol Chan Marine Reserve, a popular snorkelling and diving spot.
How much do flights cost?
Scenic flights from all airports begin at $259.89 USD per person.
What happens if there's bad weather?
Blue Hole scenic flights are weather dependent, but it's unusual for them to get seriously delayed, rescheduled or cancelled. However, in rare instances when they are cancelled, a full refund is offered.
Blue Hole of Belize: the essentials
What: Taking a scenic flight over the Blue Hole in Belize.
Where: We stayed at Sapphire Beach Resort on Ambergris Caye. Positioned on a private beach, Sapphire benefits from its quiet and relaxed location around 45 minutes from San Pedro, the main town on the island.
All the villas and bungalows at Sapphire come with kitchenettes as well as water coolers so you always have drinking water. There's an on-site restaurant serving breakfast, lunch and dinner as well as a poolside bar serving cocktails, snacks and light meals. The resort has its own private jetty and free kayaks and snorkelling equipment for its guests.
When: The best time to visit Belize, particularly the Blue Hole, barrier reef and the Cayes, is during the dry season between January and May. Visitors can expect mostly warm, sunny days with the odd shower. The wet season runs from June to December.
How: We booked our Blue Hole Scenic Tour with Tropic Air which can be done directly through their website. Flights depart from the small airport in San Pedro on Ambergris Caye.
On Ambergris Caye, you'll probably want to hire a golf cart to get around the island. We hired our cart through Mark's Golf Carts, but the cart wasn't in great condition. There are lots of golf cart companies on the island so it may be worth shopping around or asking your hotel for a recommendation.
As the island is so small, it's easy to navigate and driving is pretty straightforward. However, it's worth mentioning that the roads – particularly the further you get from town – are in terrible condition and can be rather uncomfortable to drive.
We took a water taxi from Chetumal in Mexico to San Pedro via Water Jets International. The 1.5-hour boat ride was uncomplicated and cost $70 USD per person. To get from San Pedro to Belize City on the mainland, we took another water taxi, this time with San Pedro Belize Express (1.5 hours, $30.50 USD).
All international flights arrive at the Philip Goldson International Airport (PGIA) near Belize City. Book through skyscanner.net for the best prices.
---
Enjoyed this post? pin it for later…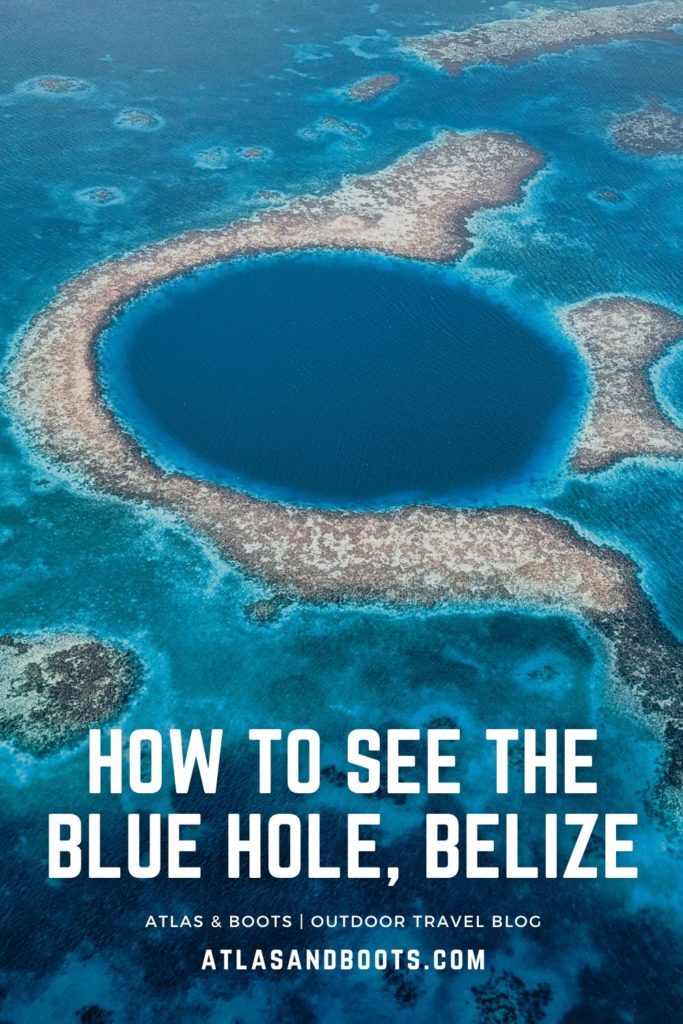 ---
Lead image: Atlas & Boots
Autor: Atlas & Boots
Fuente de contenido