Our trip to Costa Rica was a long time coming. Here's why it was worth the wait
I have a bit of a backstory when it comes to Costa Rica and it starts when I was nine years old. It was a perfectly ordinary morning that began with an assembly at my primary school in east London.
The teacher on stage ran through some customary notices and then segued into a zany idea: the potential for a group of pupils to travel to Costa Rica as part of an environmental initiative. The chosen ones would live and study in Costa Rica for four weeks to learn about global environmental challenges and solutions.
I sat there on the cold parquet floor feeling my stomach churn at the prospect of being chosen. A month! In a magical faraway land! What an incredible opportunity.
Atlas & BOots
There was just one catch: each child would have to fundraise £2,000 for the trip. Our teacher insisted that it was manageable; that we could host parties and events, community gatherings and car boot sales to raise the money. My stomach sank. There was no chance that any one of us from our deprived London borough could raise that kind of money. I was right. No one went to Costa Rica.
It was heartening then (if a little poignant) that my recent visit was under such different auspices: on a National Geographic Expedition to Costa Rica.
We specifically chose a National Geographic Journey over more luxurious options (among them Luxury Eco Lodges, Private Jet Expeditions, Small Ship Cruises and Tours With An Expert) as it chimed perfectly with our outdoorsy-ish style of travel.
The Natural Highlights of Costa Rica tour promised a blend of adventure, conservation and education. To be honest, I expected a fair bit of sermonising given that we were in Costa Rica (famed for sustainable tourism) on a tour with National Geographic (famed for its environmental work), but it never got dull.
The one lecture we did have was thoroughly absorbing and, combined with natural beauty, delicious food and thrilling activities, made our trip to Costa Rica well worth the wait. Here's what we enjoyed most.
National Geographic Expedition to Costa Rica: highlights
1. Santa Elena Cloud Forest
Included activity
Santa Elena Cloud Forest was arguably the highlight of the whole expedition. Montane cloud forest constitutes one of the most vulnerable ecosystems on the planet, so walking among the clouds here was an utter privilege. We had poor weather but this did not detract from the experience. In fact, watching the lush canopy shiver beneath the rain added a sense of surrealism.
The cloud forest in Santa Elena and neighbouring Monteverde is famous for its epiphytes: moss-like organisms that grow on the surface of plants and trees. Epiphytes not only support other organisms, they lend the forest a distinct fairytale quality. Needless to say, we fell in love with it.
Read more: Santa Elena Cloud Forest: a fairytale hike in Costa Rica
2. Tortilla making with Doña Mara
Included activity
Atlas & BOots
This was the real surprise of the trip. Peter and I prefer landscapes, nature and wildlife over cultural experiences, so when we saw tortilla making on the itinerary, we thought it would be a perfectly diverting evening, but not much more than that.
We were wrong. Learning to make tortillas with local artisan Doña Mara in her family home was not only great fun but also deeply inspiring. Doña Mara told us that in the early days of her venture, her husband declined to invest so she used a bank loan instead. Several years later, she counts National Geographic and G Adventures among her regular customers.
3. Spotting a red-eyed tree frog
Optional activity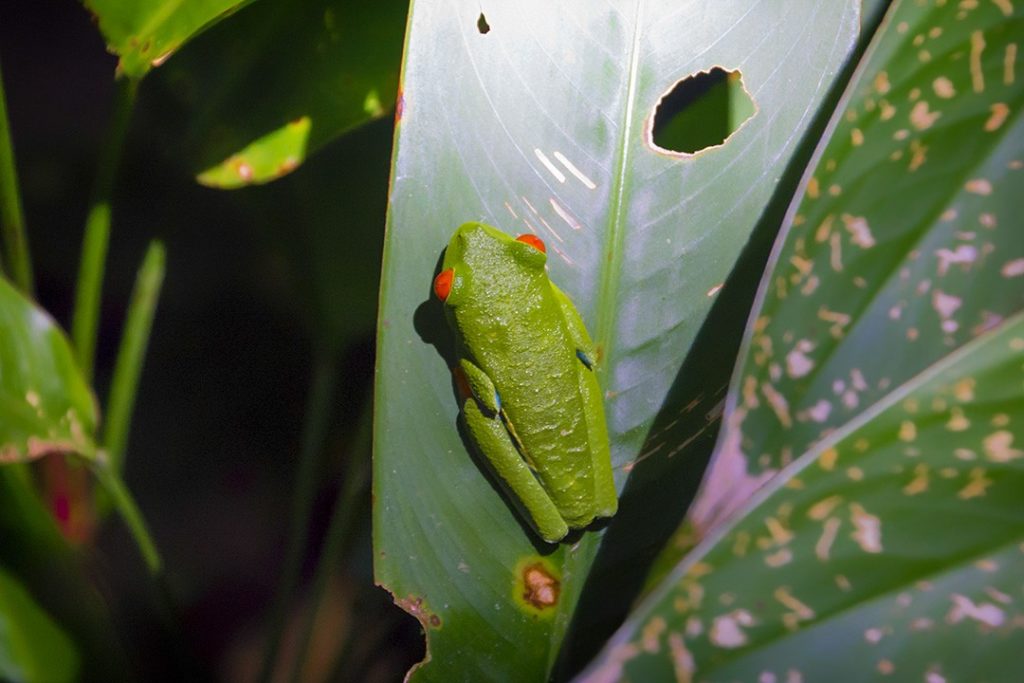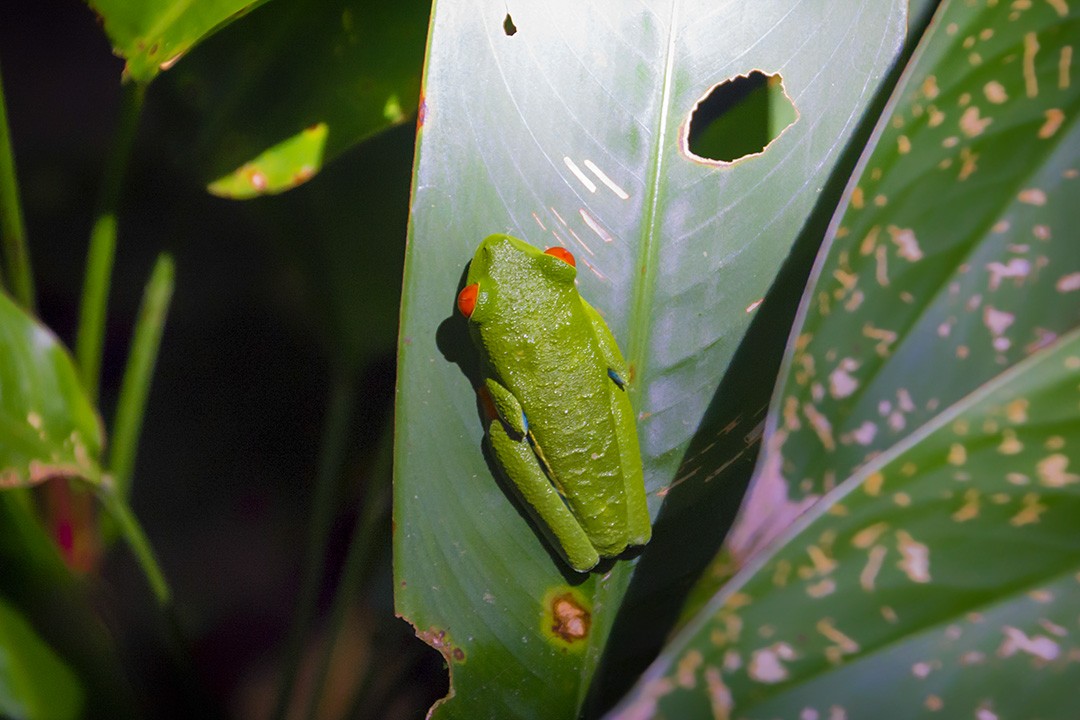 National Geographic is famous for sending scientists, storytellers and adventurers into remote cultures and areas in an effort to better understand our planet. The Expeditions branch grew from this legacy as a way to help others access the same wonders. It's in this spirit that our group embarked on a walk on Arenal Volcano.
On the slopes of this hulking wonder we spotted the red-eyed tree frog. This famed amphibian sleeps stuck to leaf-bottoms with its eyes closed. When disturbed, it flashes its large red eyes, webbed orange feet and blue-and-yellow flanks in a technique known as 'startle coloration' designed to give predators pause for the precious instant it takes to spring to safety. Our frog was relatively relaxed, giving us just enough time to snap a pic or two.
4. Horse riding in Monteverde
Optional activity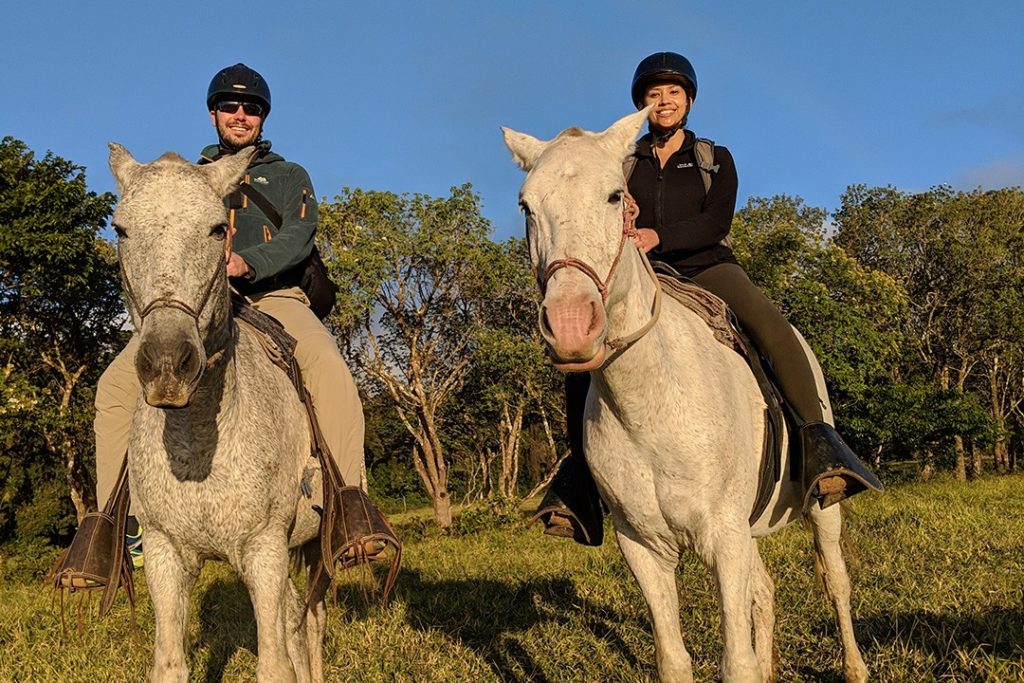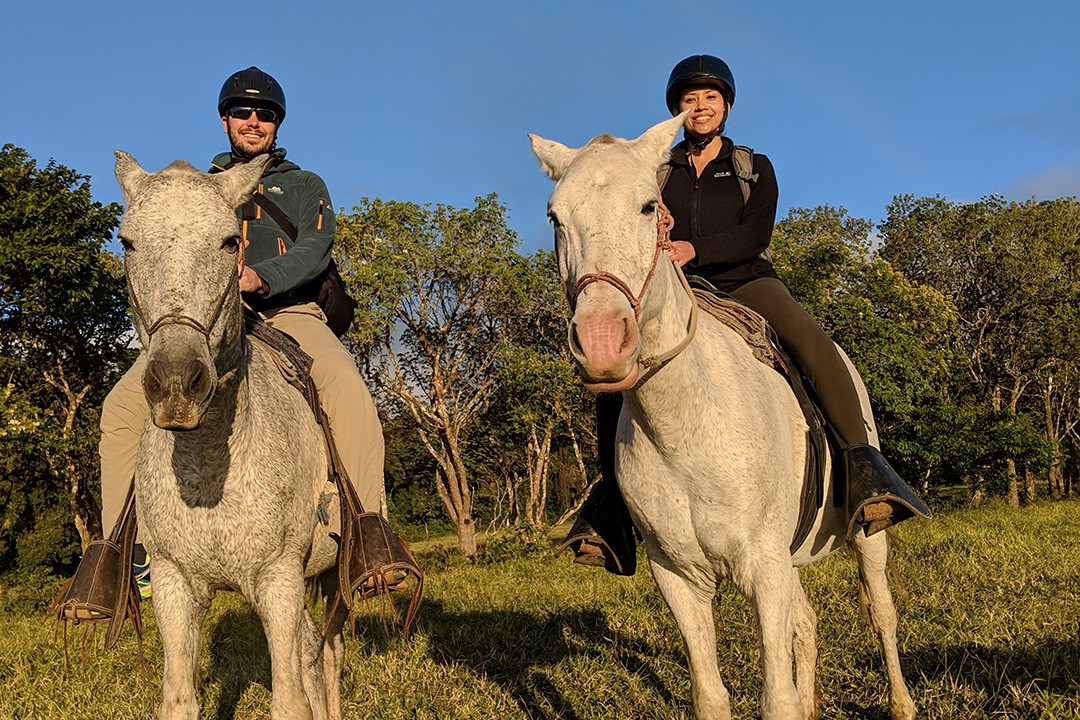 I recently got back on my horse after a riding injury in 2017 and was keen to keep up momentum. Accordingly, we used one of our free afternoons to go horse riding in Monteverde.
Unlike my last ride (in Swakop in Namibia), this outing was full of changing scenery. We rode through shaded woodland to open grasslands, spotting owls, coatis and other wildlife en route.
An unexpected rainbow and stunning sunset were an appropriate end to a lovely day, almost as if they were conjured there.
5. Tree planting at Monteverde Institute
Included activity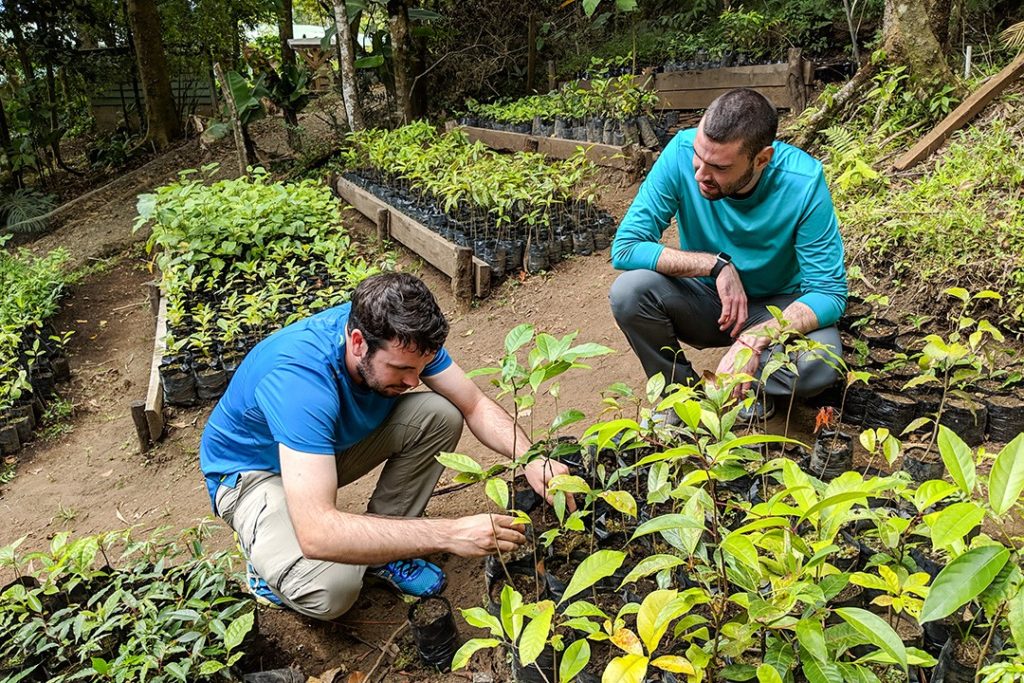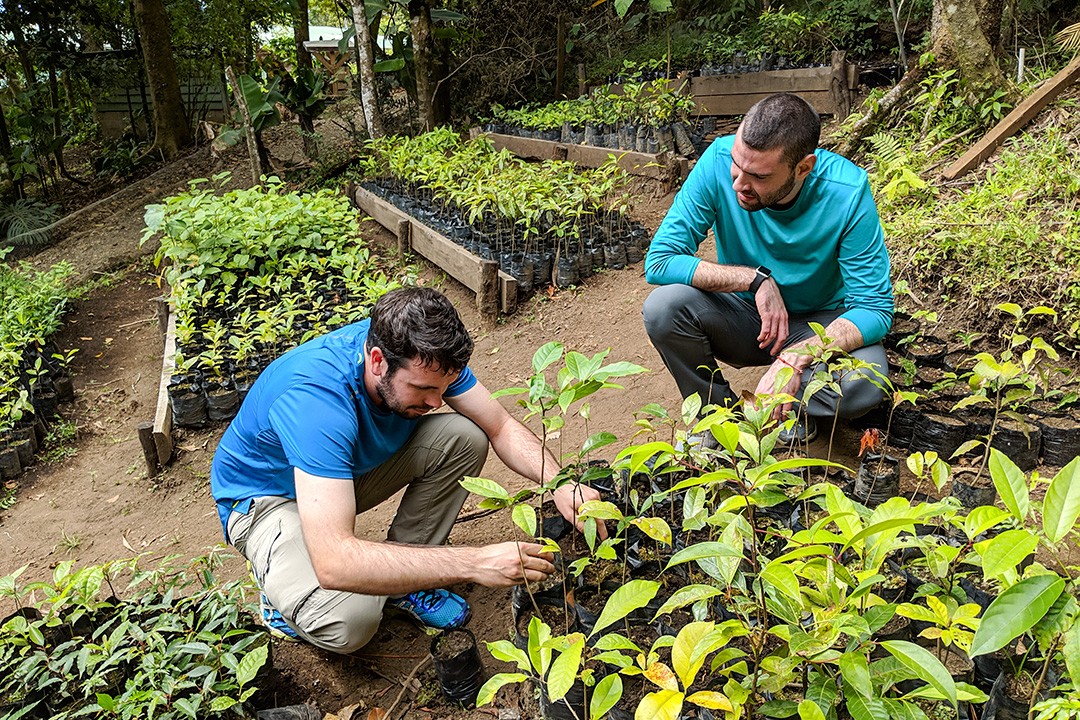 Every year, the non-profit National Geographic Society – supported in part by National Geographic Expeditions – awards hundreds of grants to scientists, educators, innovators and storytellers who work to preserve, protect, and advance our understanding of the planet. We saw this in motion at Monteverde Institute where researchers are tasked with monitoring the delicate cloud forest to better understand how to protect it.
Following a short lecture by Executive Director Debra Hamilton, we helped plant some trees ourselves. At the end, we were given certificates to show that we had offset our flights to Costa Rica.
Read more: Withering heights: saving Monteverde Cloud Forest
6. Lost Canyon
Optional activity
This was a top highlight of our National Geographic Expedition to Costa Rica. We joined local provider Desafio for a morning of canyoning through Lost Canyon.
We rappelled down waterfalls, jumped into pools, zipped down guided rappels, downclimbed canyon walls and river boulders, and hiked up through the rainforest.
The camaraderie among the group was particularly special as everyone from the 25-year-old teacher to the 60-something retiree cheered and screamed their way across the course.
7. Mi Cafecito coffee cooperative tour
Included activity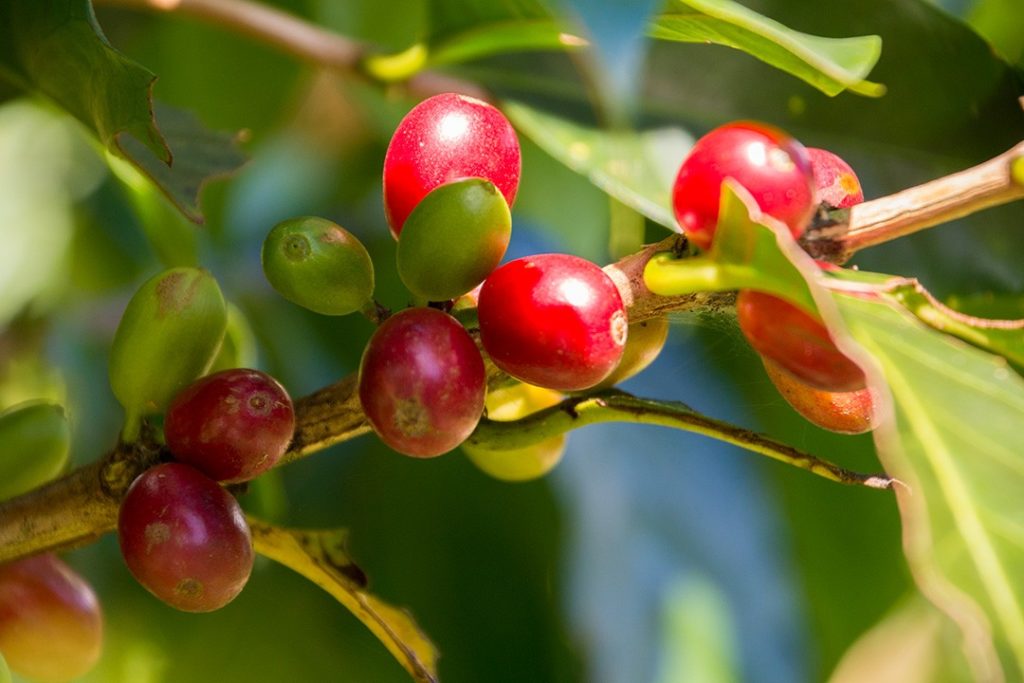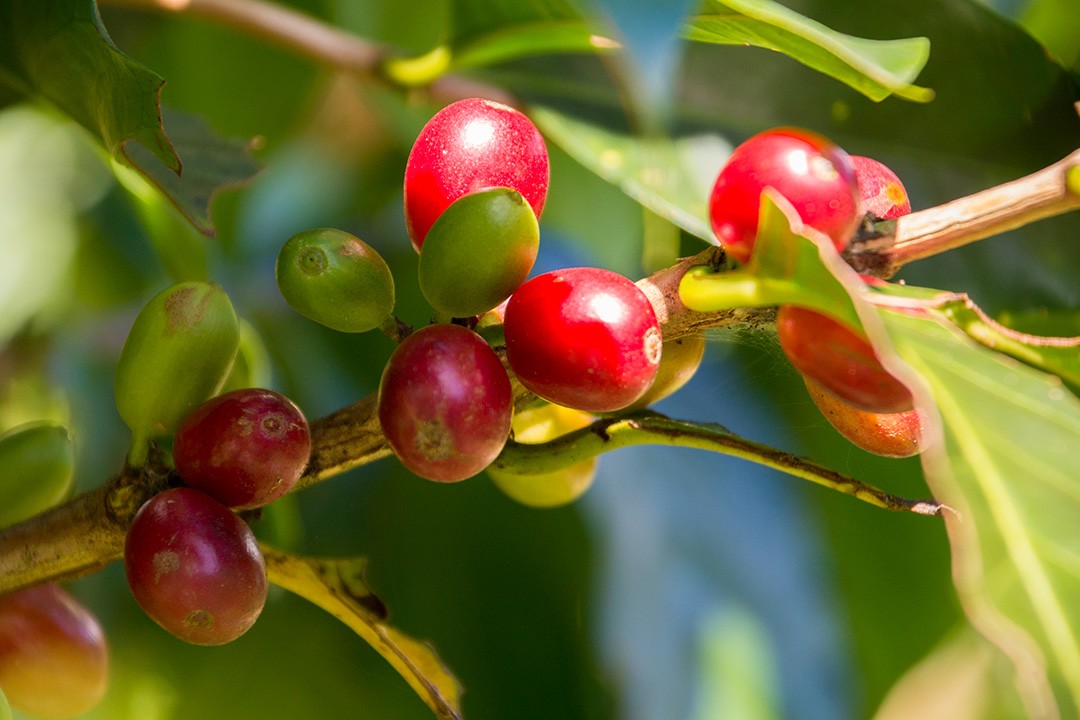 This was another surprise. As I said above, Peter and I prefer wildlife and nature to cultural experiences, but we greatly enjoyed our morning at this coffee cooperative.
We learned how Mi Cafecito supports the local economy, picked coffee beans ourselves and sampled some of the freshest coffee we have ever tasted.
Personally, I'm not a caffeine junkie, but Peter was certainly in his happy place – especially after taking his coffee as the Costa Ricans do: black with not a trace of sugar.
8. La Paz waterfall
Included activity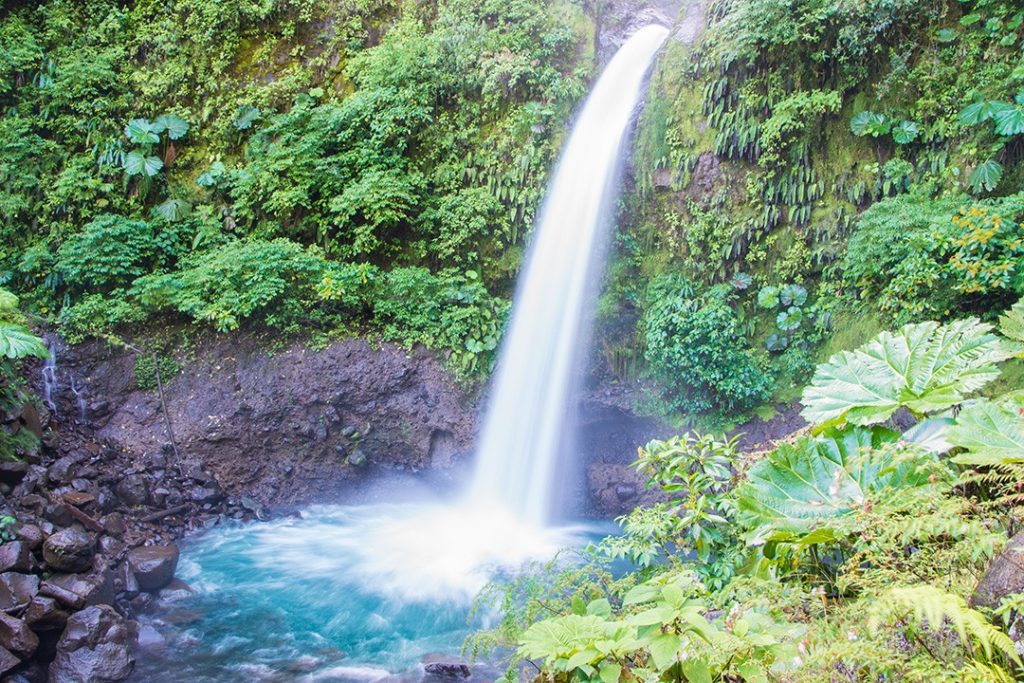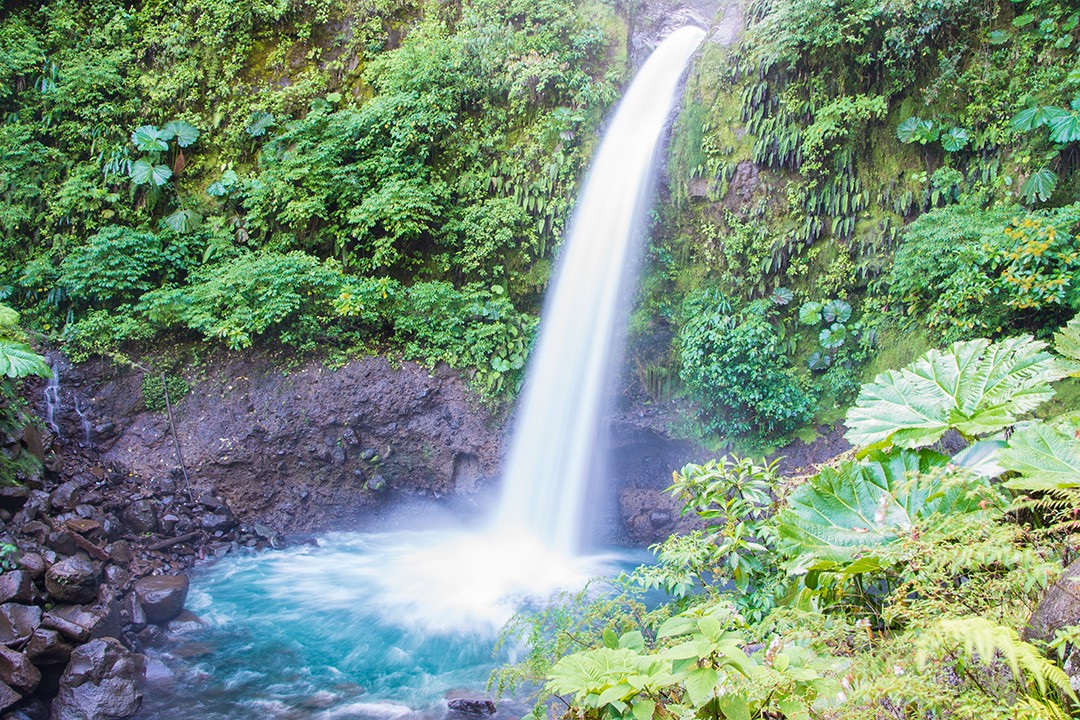 La Paz waterfall was a brief stop on day two of our National Geographic Expedition to Costa Rica, en route to La Fortuna from the capital, San Jose.
This picturesque waterfall warrants a stop for photos alone, but the real bonus is being able to walk right up to it and stand directly behind it.
We've sailed into Iguazu, so perhaps did not appreciate La Paz as much as it deserved. A fellow traveller said he was happy to go home then and there because he couldn't hope to top the waterfall.
9. Manuel Antonio National Park
Included activity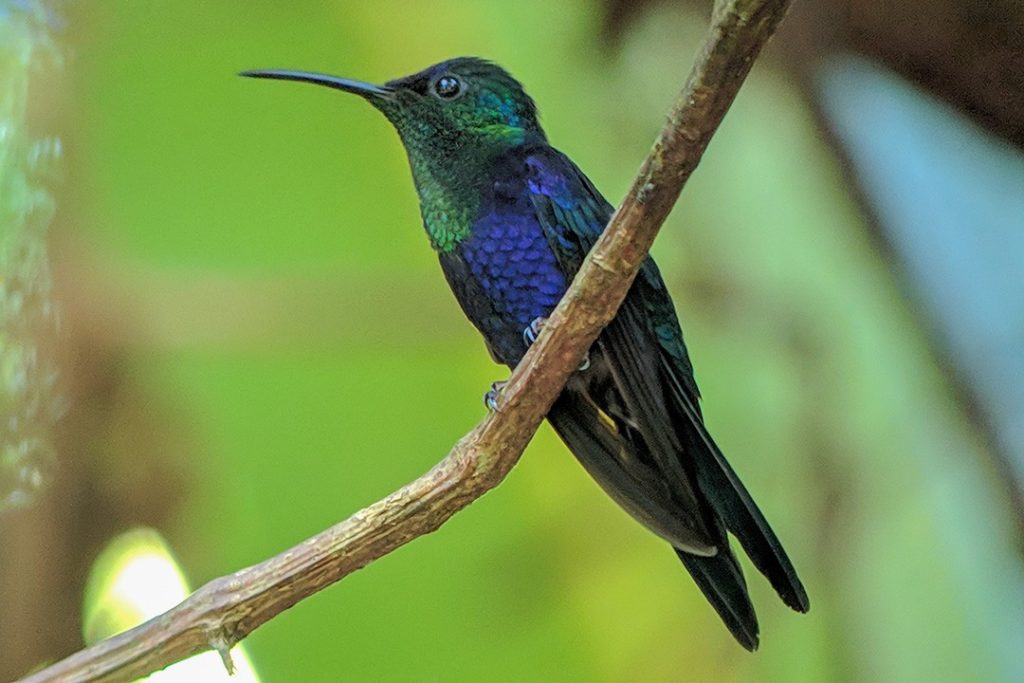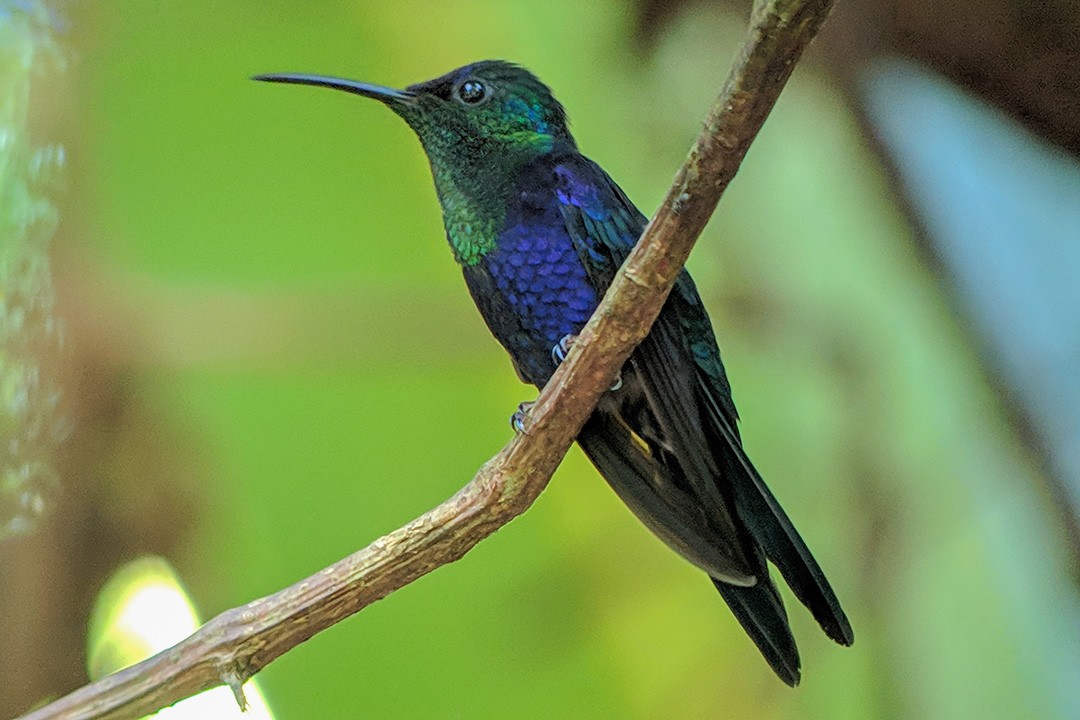 Our experience in Manuel Antonio suffered a little from high season. The town itself was busy and the beaches were filled with vacationers and hawkers. Nevertheless, the park itself remained calm and quiet.
We took a walk with local guide, Johannes, and managed to spot a hummingbird, red-eyed tree frog, a sloth, some bats and plenty of monkeys – some of these through a telescope. Afterwards, we took a dip in the Pacific Ocean which was just as blissful as it sounds.
Read more: Searching for sloths in Manuel Antonio, Costa Rica
10. Sunset sail
Optional activity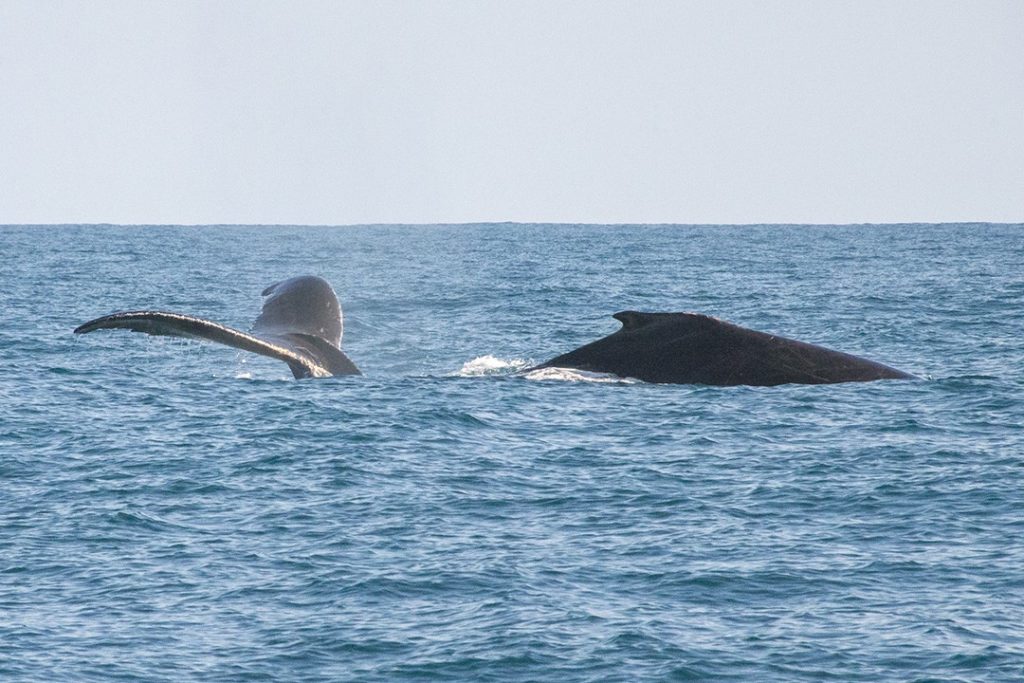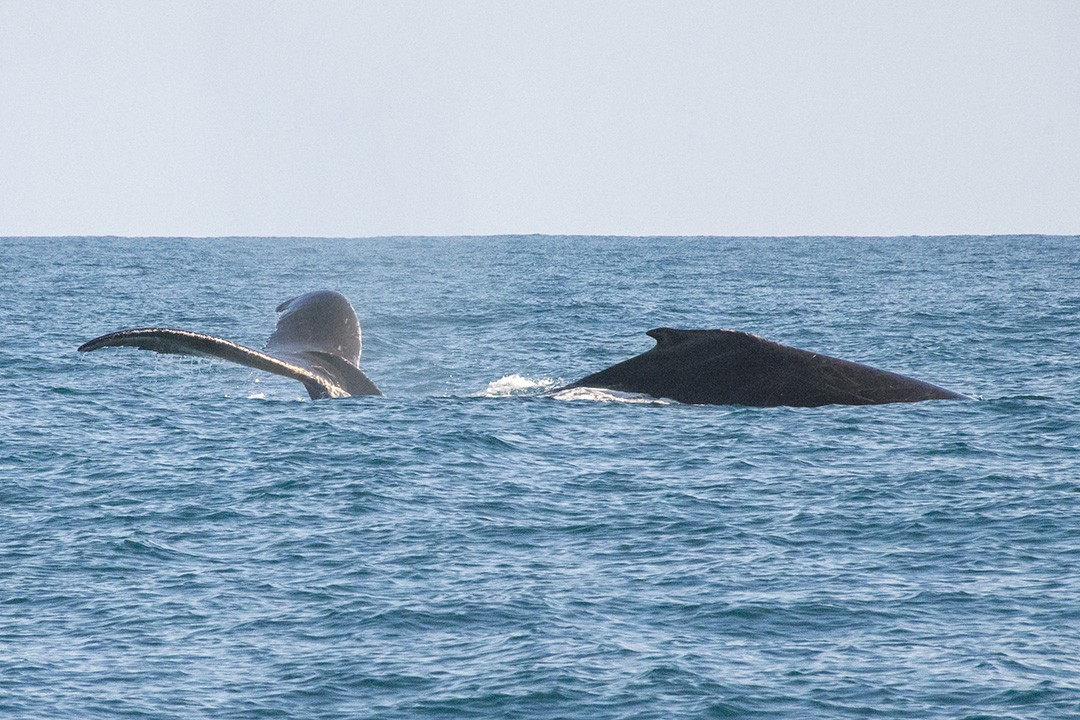 We initially declined the option of a sunset sail. At $80 USD per person, it was a little too steep so we planned to have a pool day instead. As the booking window closed, however, we decided that we wanted to end our trip on a high. I said in lessons learnt from travelling the world that if you're in doubt, spend the money – and so we did.
We expected a pleasant afternoon on the water. What we didn't foresee was a visit from five (five!) humpback whales and a pod of dolphins. It was an extraordinary end to an extraordinary trip.
National Geographic Expedition to Costa Rica: the essentials
What: Exploring the natural highlights of Costa Rica.
Where: We stayed at a number of mid-range hotels, ranging from the lush grounds and comfortable rooms at Arenal Manoa in La Fortuna to more simple mountain-lodge style dwellings at Hotel Heliconia in Monteverde and even shipping containers repurposed as rooms at El Faro in Manuel Antonio.
When: The best time to visit Costa Rica is the dry season of December to April. Plenty of sunshine makes it an ideal time to explore both canopy and coast. This is, however, high season so expect more tourists and higher prices. The shoulder seasons of May-Jul and Nov are also good times to visit. There is more rain, but it's quieter and Costa Rica's forests burst with foliage.
How: We joined a 9-day Natural Highlights of Costa Rica tour with National Geographic Expeditions.
The tour is priced from £1,199 and includes a chief experience officer (CEO) throughout, all accommodation, transport between destinations, all breakfasts, some meals and numerous activities including a guided nature walk in Santa Elena Cloud Forest Reserve, a guided walk in Manuel Antonio National Park, tree-planting and a lecture at the Monteverde Institute, learning to make tortillas from Doña Mara in her family home and a tour of Mi Cafecito coffee cooperative.
Optional activities include volcano hiking, horse riding, canyoning, zip-lining, stand-up paddleboarding, sailing and parasailing among many, many others.
The tour is classed as a 'National Geographic Journey' run in partnership with G Adventures. More luxurious options are available under the banners of Luxury Eco Lodges, Private Tours, Private Jet Expeditions, Expedition Cruises, River Cruises and Tours With An Expert.
For more information or to book, call 0800 440 2551 or book online.
We flew to Costa Rica with British Airways. Book flights via Skyscanner for the best prices.
---
Enjoyed this post? pin it for later…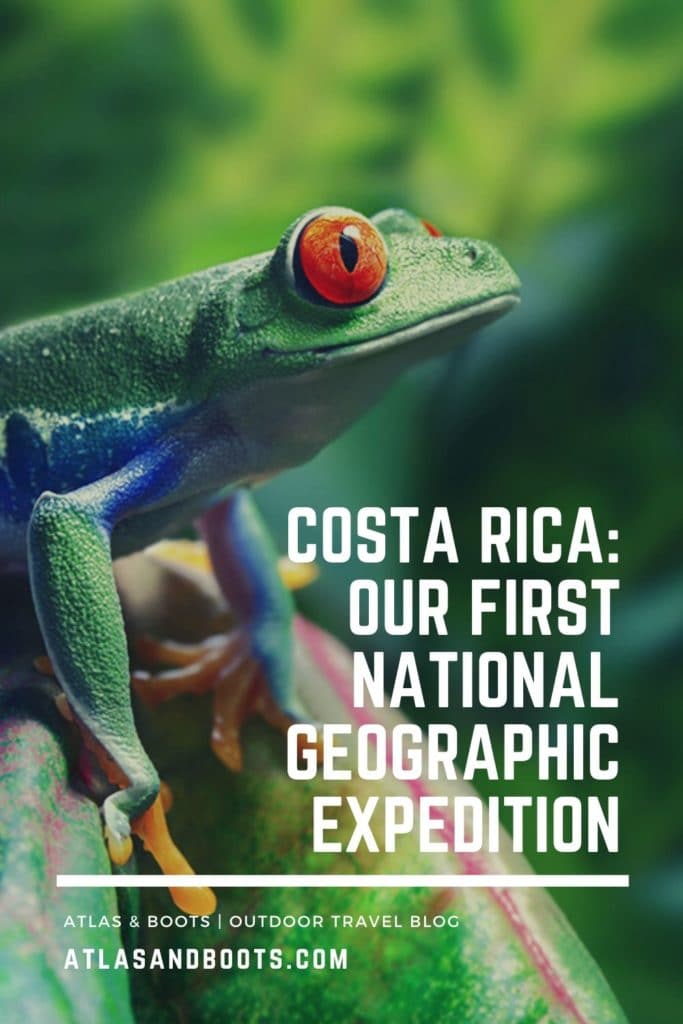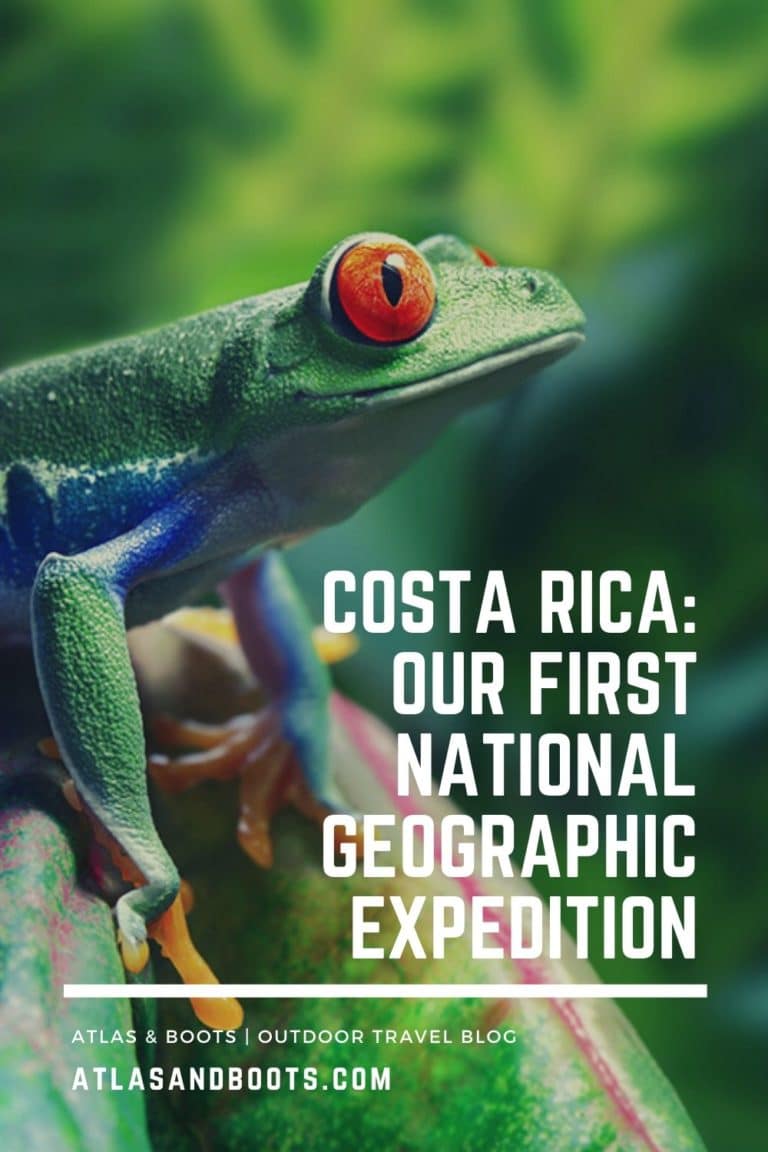 Disclosure: We travelled to Costa Rica with support from National Geographic Expeditions. All publications say this, but we really don't guarantee positive coverage. We say what we think – good and bad – so you can make informed decisions with honest advice.
---
---
Autor: Kia
Fuente de contenido