From hiking volcanic peaks to exploring Maya ruins, we share the best day trips from San Salvador, El Salvador's bustling capital city
As the smallest and most densely populated of the seven Central American countries, it's hardly surprising that El Salvador packs a lot into its borders. With a verdant tropical interior, charming colonial towns and superb surfing on its coast, El Salvador is arguably a microcosm of wider Latin America. And considering that many of the country's best assets – hiking, hills and coffee – stem from its fiery geology, it's easy to see why the country is known as the 'Land of Volcanos'.
One advantage of being so small is that many of El Salvador's top attractions are squeezed into a compact area – particularly the region immediately to the west of its capital, San Salvador, making it an excellent base for day trips. The city is within easy reach of the country's best natural landmarks, national parks, colonial towns and archaeological sites. You can even get down to the ocean for the day to squeeze in a quick surf lesson.
As such, a hassle-free way of exploring the pint-sized country is by taking day trips from San Salvador, the best of which we share below.
1. El Boquerón National Park
Distance from San Salvador: 20km
Tour duration: 2-3 hours
Price: $42 USD ($2 entrance fee per person, $40 for return taxi)
Book the tour: ectourselsalvador.com (or as a combo city tour)
El Boquerón, also known as San Salvador Volcano, is the country's most accessible volcano and just a 35-minute drive from downtown San Salvador. The miniature national park has a small network of hiking trails that all – one way or another – lead up to the rim of the now-dormant volcano. The last eruption was in 1917 which created a smaller crater, known as 'Boqueroncito' (little Boquerón), at the bottom of the 558m-deep (1,831ft) main crater.
Outside the main entrance is a small museum, a viewing platform overlooking the city and a string of cafés and souvenir stalls. We organised a driver through Edwin at EC Tours although it may be cheaper to arrange a taxi yourself. We did notice a taxi stand at Café del Volcán around 2.5km from the entrance to the park.
El Boquerón can also be combined with the city sightseeing tour below.
2. San Salvador city tour
Distance from San Salvador: N/A
Tour duration: 4/6 hours
Price: Free/$55 USD/$89 USD
Book the tour: EC Tours (walking tour), viator.com (city only), viator.com (combo)
When viewed from the slopes of El Boquerón, San Salvador looks like a handsome capital city. Down at street level, however, the city centre feels chaotic, far from pedestrian-friendly and, dare I say, a little bit scruffy.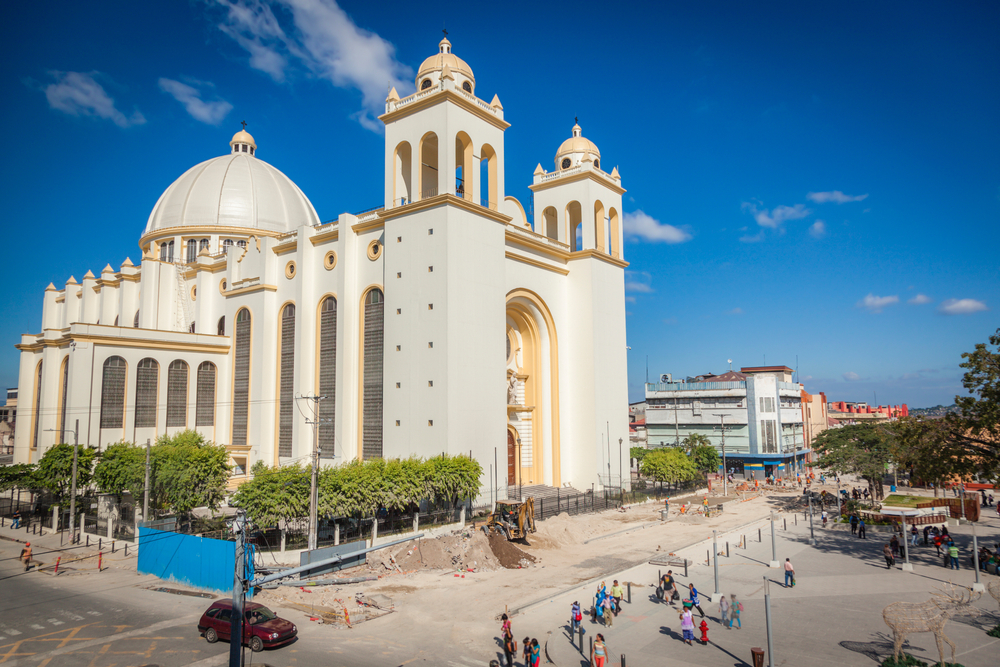 That said, there are a number of sites worth seeing including San Salvador Cathedral where national hero Saint Óscar Romero denounced the Salvadoran Civil War, the unorthodox but somehow beautiful Iglesia El Rosario and the lively Plaza Gerardo Barrios where you might catch an impromptu dance and music show.
We recommend either joining a free walking tour (tips are expected) or making a day of it by combining a city tour with a visit to El Boquerón.
3. Ruta de las Flores
Distance from San Salvador: 80-100km
Tour duration: 8-9 hours
Price: $99 USD
Book the tour: viator.com
The Ruta de las Flores (flowers route) is a series of colourful colonial towns and indigenous villages nestled amid the Apaneca Mountains to the west of San Salvador. The city of Ahuachapán is usually the first or last stop on most tours which will also take in at least two of Concepción de Ataco, Apaneca, Juayúa, Salcoatitán or Nahuizalco.
Each town has its own unique selling point whether it's colourful murals, local cuisine, buzzing markets or local craft stores (tiendas). The region is also famous for its coffee culture so expect a stop at a finca (farm) to gain an insight into how some of the world's finest coffee is produced.
4. Los Volcanes National Park
Distance from San Salvador: 65km
Tour duration: 7-10 hours
Price: $85 USD
Book the tour: viator.com
Also known as Cerro Verde National Park, Los Volcanes is home to the three major volcanos of Cerro Verde, Izalco and Santa Ana as well as dense forests teeming with birdlife and the picturesque Lake Coatepeque with its sparkling blue caldera.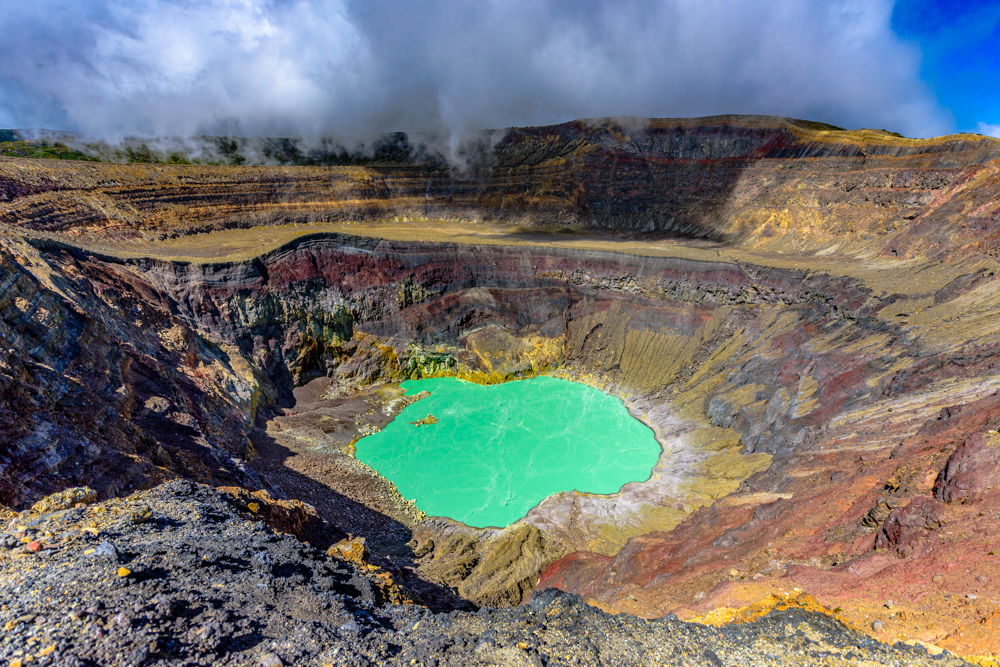 If you only have a day, you'll never fit everything in so most tend to opt for a hike up Volcán Santa Ana, which at 2,381m (7,812ft) is the highest volcano and third-highest peak in El Salvador. At the top, you can walk around the rim and peer down to the emerald-green lagoon in the centre of its crater.
The return hike takes around four hours whereupon most tours head to lunch at one of the restaurants overlooking nearby Lake Coatepeque. Afterwards, you'll have time to go for a swim, boat ride or jet ski on its waters.
5. Tazumal
Distance from San Salvador: 80km
Tour duration: 9 hours
Price: $69 USD
Book the tour: viator.com
While not on par with Guatemala's Tikal or Mexico's Chichén Itzá, the pre-Columbian settlement of Tazumal has the finest Maya ruins in El Salvador. Dating from between 250 to 900 AD, Tazumal has a modest collection of pyramids, temples, platforms and burial sites.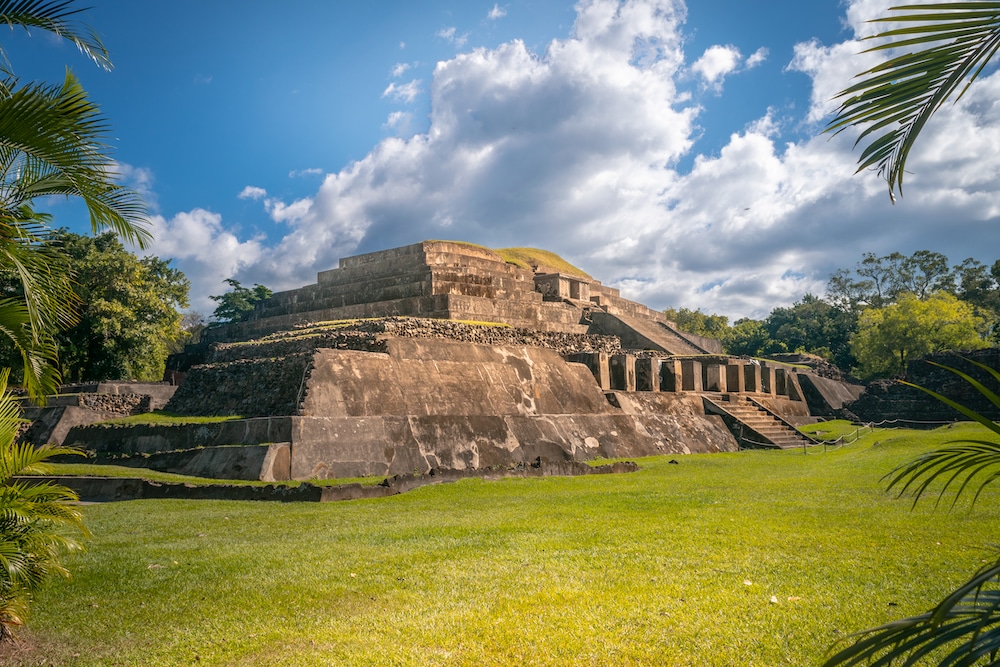 The ruins are unexpectedly located in the suburbs of the small town of Chalchuapa. Much of the once-sprawling ancient city – which archaeologists estimate to have been first settled around 5,000 BC – is believed to still be buried beneath the town. What has been unearthed is impressive nonetheless.
6. Joya de Cerén Archaeological Site
Distance from San Salvador: 36km
Tour duration: 9 hours (when combined with Tazumal)
Price: $69 USD
Book the tour: viator.com
Known as the 'Pompeii of the Americas', the UNESCO-listed Joya de Cerén was a pre-Hispanic farming community that was buried following the eruption of the San Salvador Volcano (El Boquerón) circa 600 AD. Like Pompeii in Italy, the remains of the Maya village have been remarkably well preserved providing an insight into the lives of those who worked the land at the time.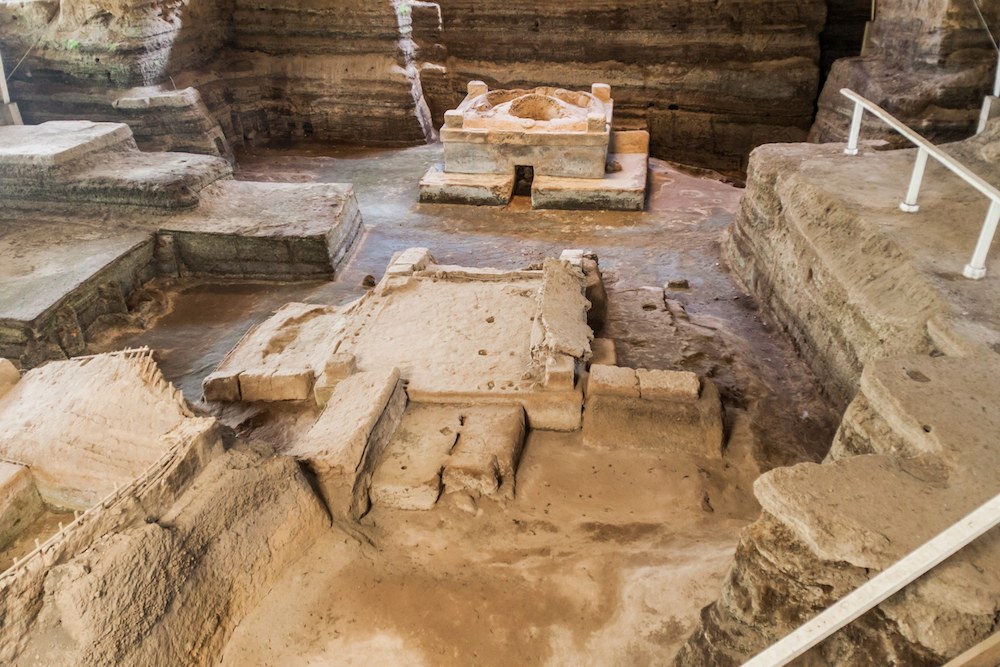 It appears that residents were not caught in the pyroclastic flow. Instead, preserved structures include a shaman's house and a Maya sweat lodge (known as a temazcal) designed to remove toxins from the body like a sauna. There is also a small museum (with English and Spanish signs) exhibiting artefacts and models of the village.
As the site is relatively small, visits to Joya de Cerén are often included on a day tour to Tazumal.
7. SUCHITOTO
Distance from San Salvador: 51km
Tour duration: 5 hours
Price: $59 USD
Book the tour: viator.com
The captivating rural colonial town of Suchitoto with its cobbled streets, white-washed Santa Lucia Church and rows of pastel-hued facades was the original site of San Salvador, founded by the Spanish in 1528. It only existed for a short time before it was abandoned by the conquistadors but the little town, perched on a hill overlooking Lake Suchitlán, has retained much of its charm.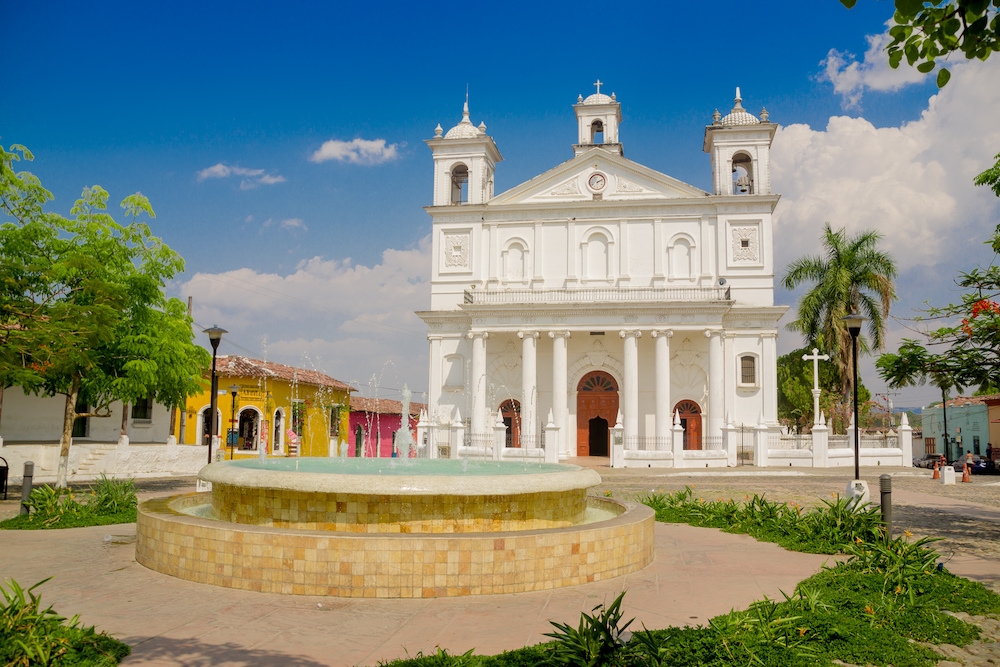 Often referred to as El Salvador's cultural capital, Suchitoto is known for its annual film festival, local art cooperatives and historic indigo trade. The latter is making a comeback thanks to innovative educational programmes and artisanal workshops – keep an eye out for the rich blue textiles fluttering in doorways of shops and galleries.
8. Playa El Tunco & Tamanique Waterfalls
Distance from San Salvador: 38km
Tour duration: 7 hours
Price: $95 USD
Book the tour: viator.com
Repeatedly touted as one of the best places to surf in Central America, El Tunco is also renowned for its tranquil black-sand beach and offshore rock formations known as 'The Pig' (el tunco). It has just two streets and is one of El Salvador's most popular party spots. It really gets going at the weekend but the ocean is there every day of the week making it a great day out from San Salvador.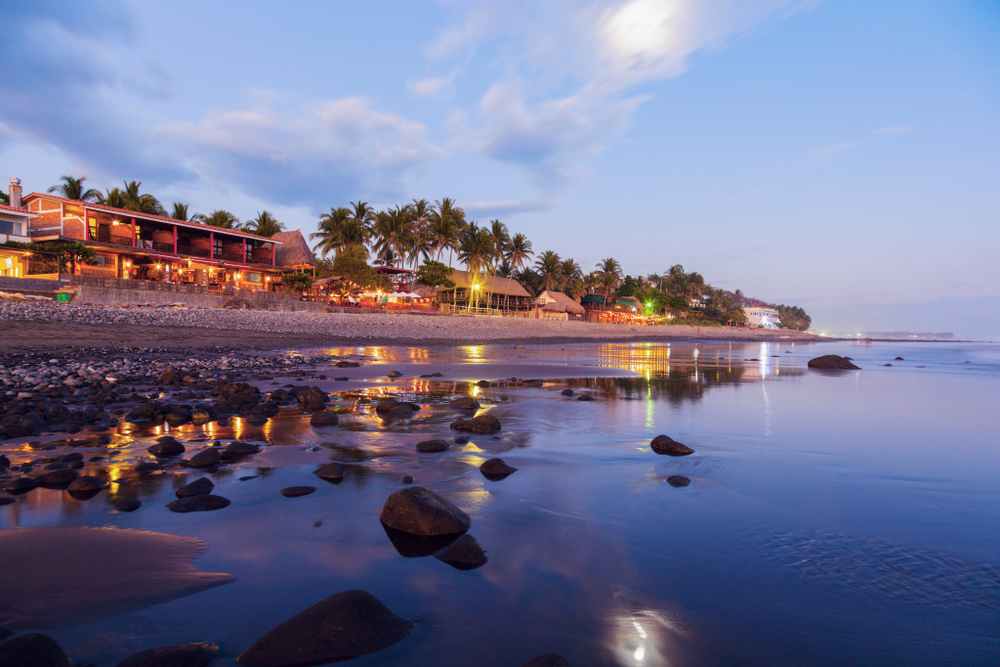 A popular option is to include a visit to Tamanique Waterfalls, just 20 minutes up the road from El Tunco. The complex of four waterfalls is accessed via a 40-minute hike after which you can cool off by launching yourself off one of the rocky platforms or down the natural waterslide into the crystal-clear natural pools.
Day trips from San Salvador: the essentials
What: Exploring the best day trips from San Salvador, El Salvador.
Where: We treated ourselves to a stay at the modern and comfortable Crowne Plaza San Salvador in the heart of San Salvador's financial district, just a stone's throw from the World Trade Center and Futura Tower.
The hotel, located in a quiet and leafy suburb to the west of the city centre, has views of the surrounding hills including San Salvador Volcano in El Boquerón National Park. The hotel has a gym, a small outdoor swimming pool and an on-site restaurant and bar. There are also several cafés, bars and restaurants in nearby Plaza Futura, accessible directly from the hotel via a covered walkway.
When: The best time to visit El Salvador is from November to March when it's relatively cool and dry. The landscape is at its greenest in December and January following the rainy season.
How: We travelled to San Salvador from Copán in Honduras via a shared shuttle. We used shuttles to travel around much of Central America including Belize, Guatemala, Honduras and El Salvador. From San Salvador, there are shuttle services connecting to Santa Ana, El Tunco and San Miguel as well as Leon in Nicaragua and Antigua in Guatemala.
We used Gekko Explorer and Marvelus on several journeys although there are other services available. You can also ask your accommodation or local travel agencies to organise transfers.
Public transport in the form of buses (converted American school buses) is available and is extremely cheap. However, we wouldn't recommend them as they have a reputation for being unreliable, overcrowded, slow and potentially unsafe – particularly after dark.
All international flights arrive at the El Salvador International Airport (SAL) around 50 minutes by car southeast of San Salvador. Book flights through skyscanner.net for the best prices.
---
Enjoyed this post? pin it for later…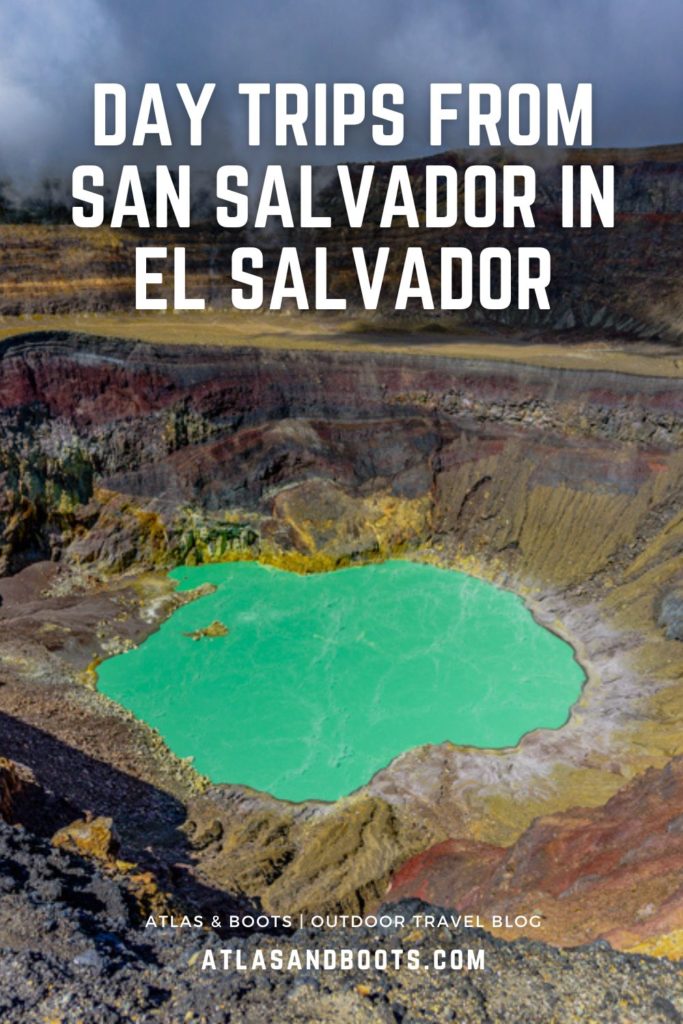 ---
Autor: Atlas & Boots
Fuente de contenido