Adventurous Kate contains affiliate links. If you make a purchase through these links, I will earn a commission at no extra cost to you. Thanks!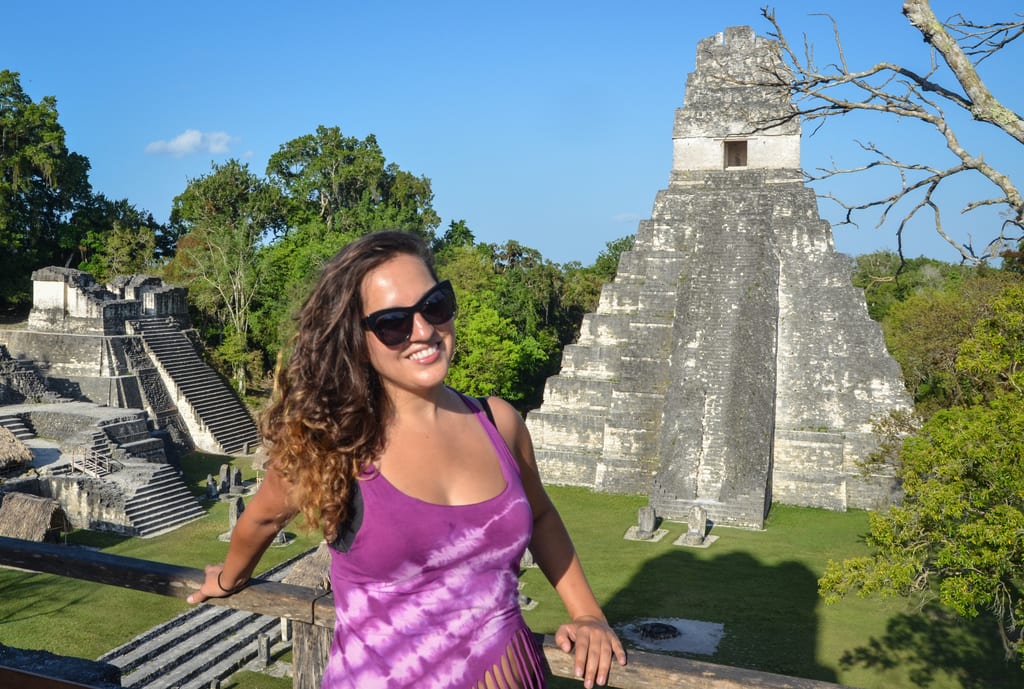 In the jungles of northeast Guatemala, not far from the Belizean border, you'll find Tikal National Park — one of the largest Mayan complexes in the world and a UNESCO World Heritage Site.
From the beginning, everyone I know who had been to Tikal had gone to see the sunrise. Watching the Mayan pyramids emerge in the mist is one of the quintessential experiences of Guatemala.
If you have perfect weather, that is. Which you very well may not, especially if you travel outside of high season (December-March, with January and February having the best weather).
If you get poor weather, like some of my friends did, there's no point to waking up that early. And when you need to wake up at 2:30 AM to leave on the tour at 3:00 AM (!), well, it better be for good reason!
But there was another option, I learned. A sunset tour. Our group would leave at 12:30 PM and return at 7:00 PM. All the beauty of Tikal, all of the sunset colors, and no early wakeup. PERFECT!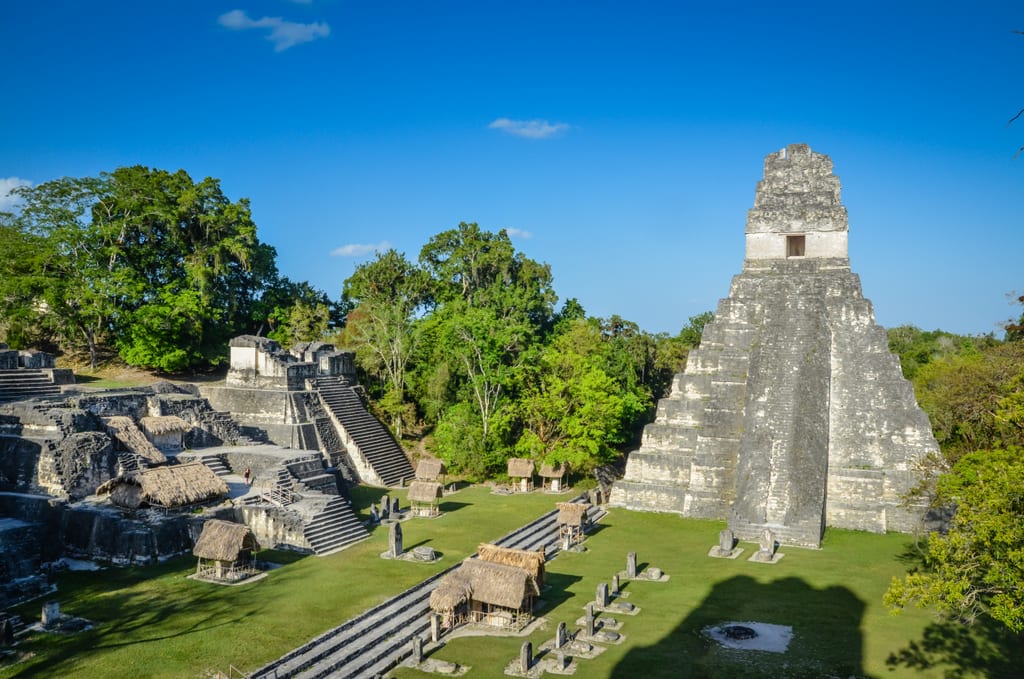 Visiting Tikal
Tikal was one of the largest Mayan cities ever to exist, and at its peak had a population of roughly 90,000. The city declined around 900 AD and today Tikal is one of the most important Mayan sites to archaeologists today.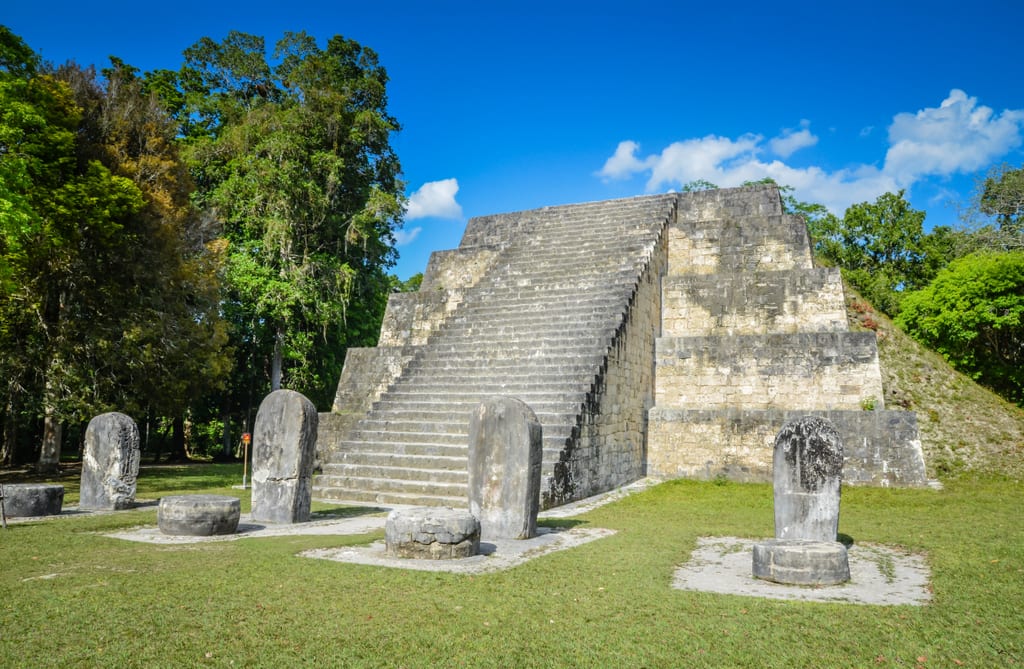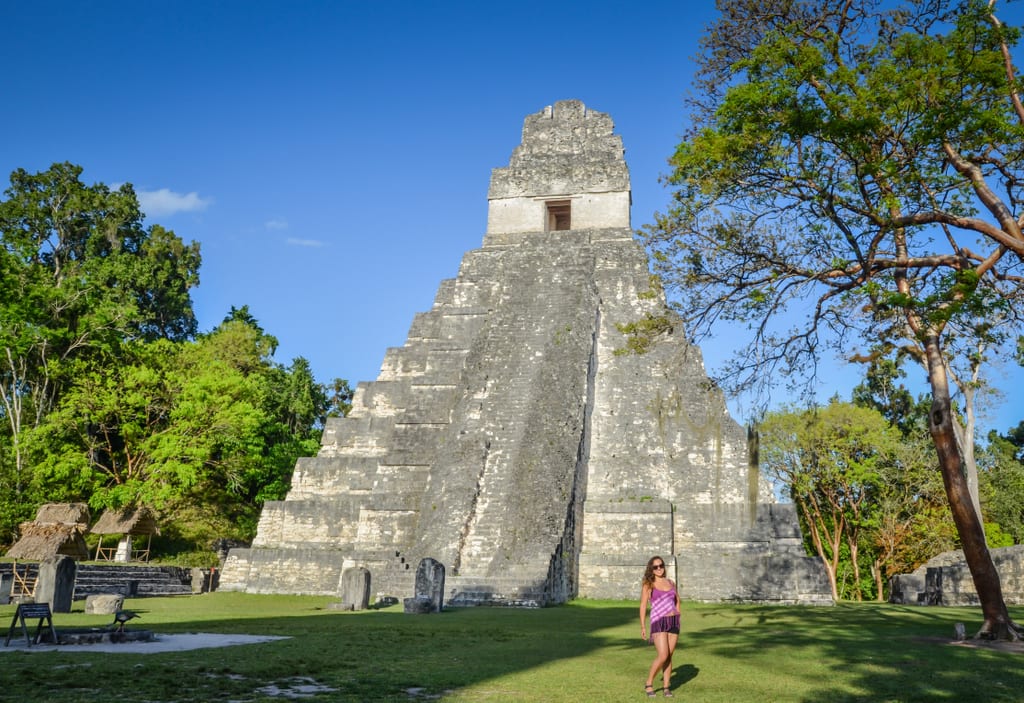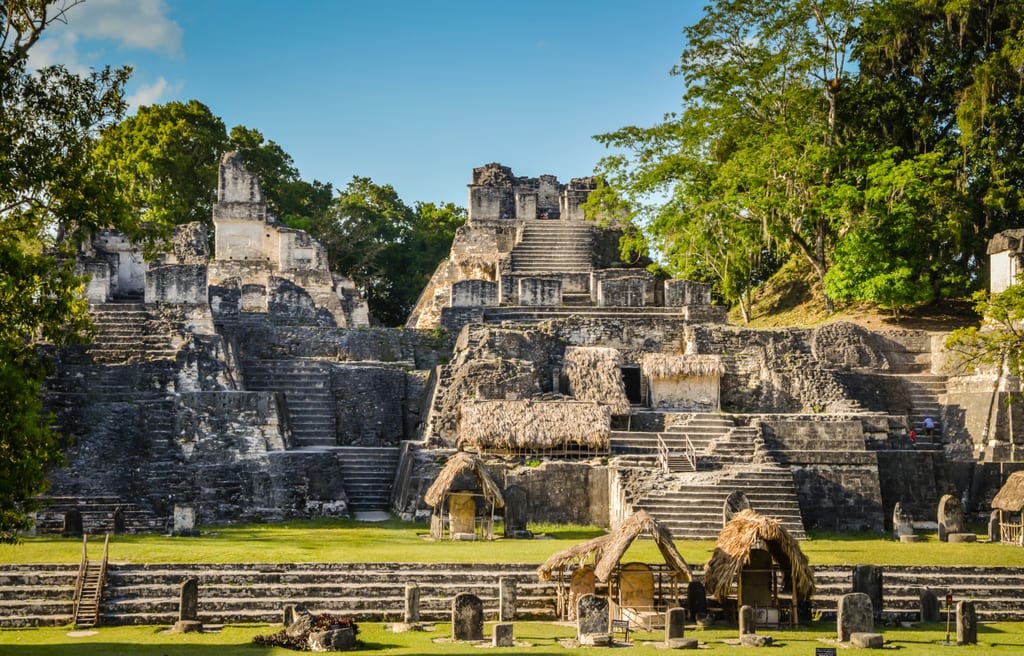 The centerpiece of Tikal is the Grand Plaza, flanked by Temple I (Temple of the Great Jaguar) and Temple II (Temple of the Masks). Temple II can be climbed, and it gives you excellent views over the whole plaza.
Next up was a walk through the jungle…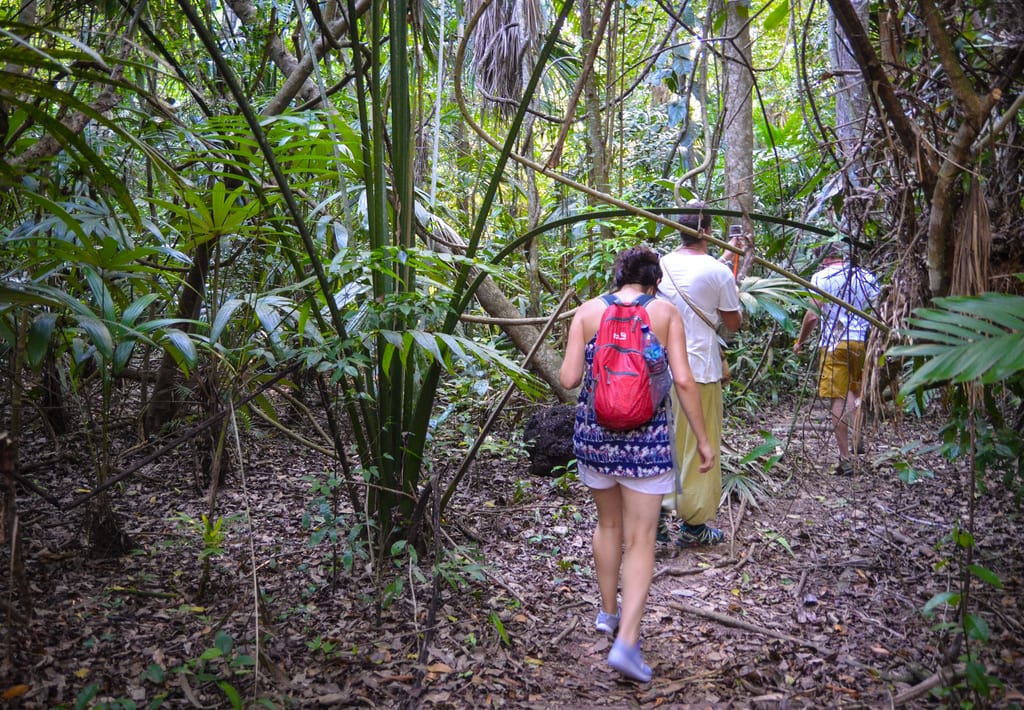 And an ascent to the top of Temple IV, will give you a view with the temples poking through the trees.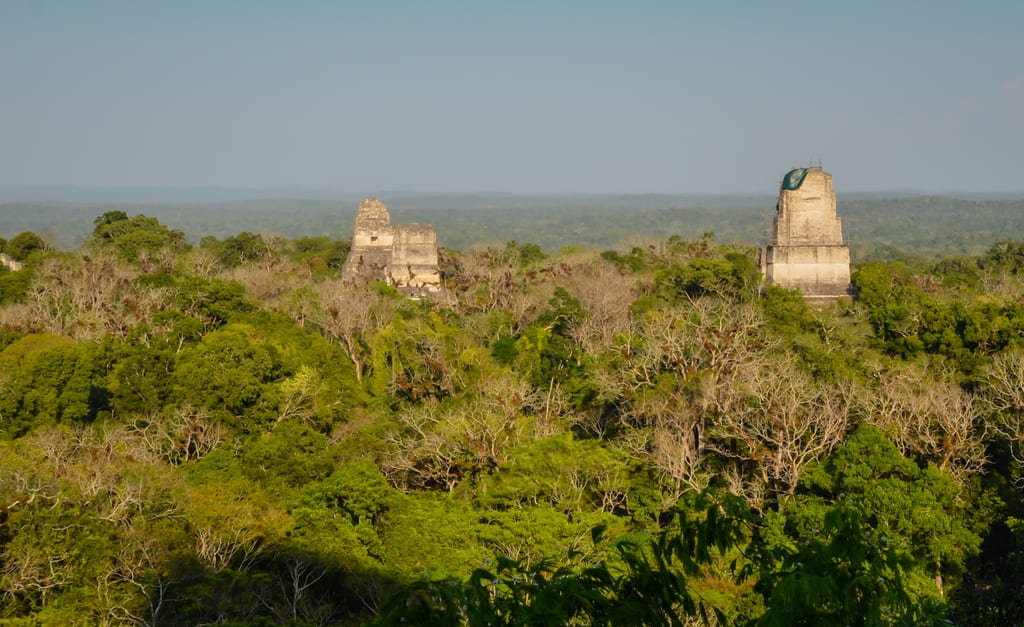 Oh, and that's not all. There are howler monkeys, and they sound like velociraptors.
Tikal's Colors at Sunset
As soon as the golden light filled the temple complex, I got excited. Now, THIS is what I came to see.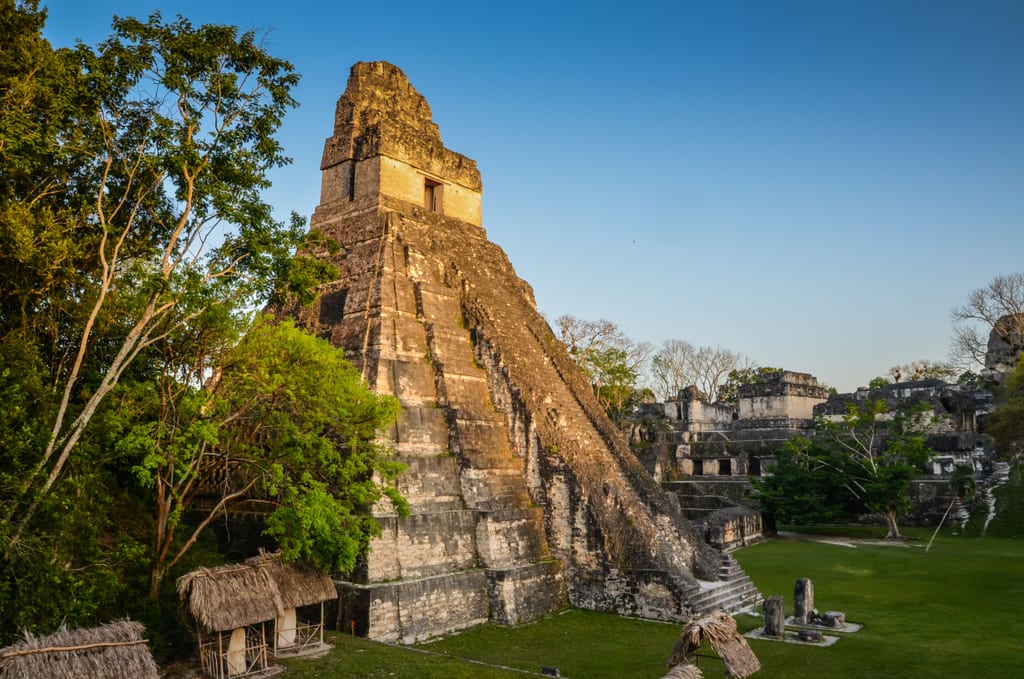 Coming at sunset is your only chance to see Temple I illuminated in gold. And that's more than enough reason to go!
After the sun went down, I got some dusky indigo shots.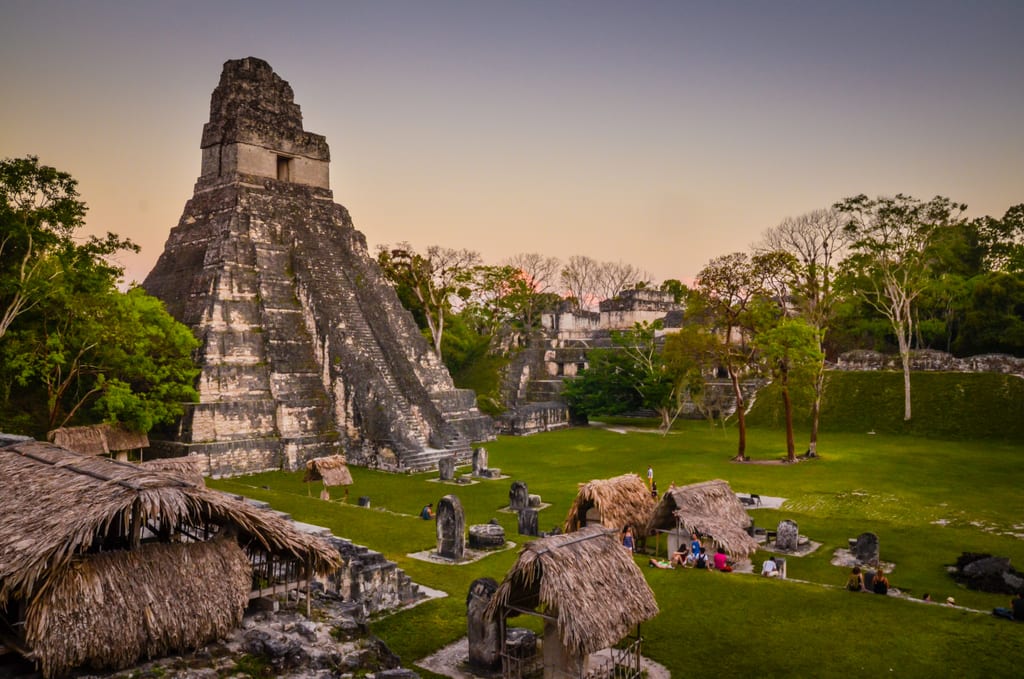 Watching The Actual Sunset
When the sun goes down, you'll be climbing to the highest point, but don't go expecting the perfect view. I expected something along the lines of what I saw at Angkor in 2010, but the view wasn't nearly as good.
Instead, we had this:
Not so great. I edited that shot to hell and back and that was the best I could come up with.
Your best photos will be when you zoom in and focus on the trees.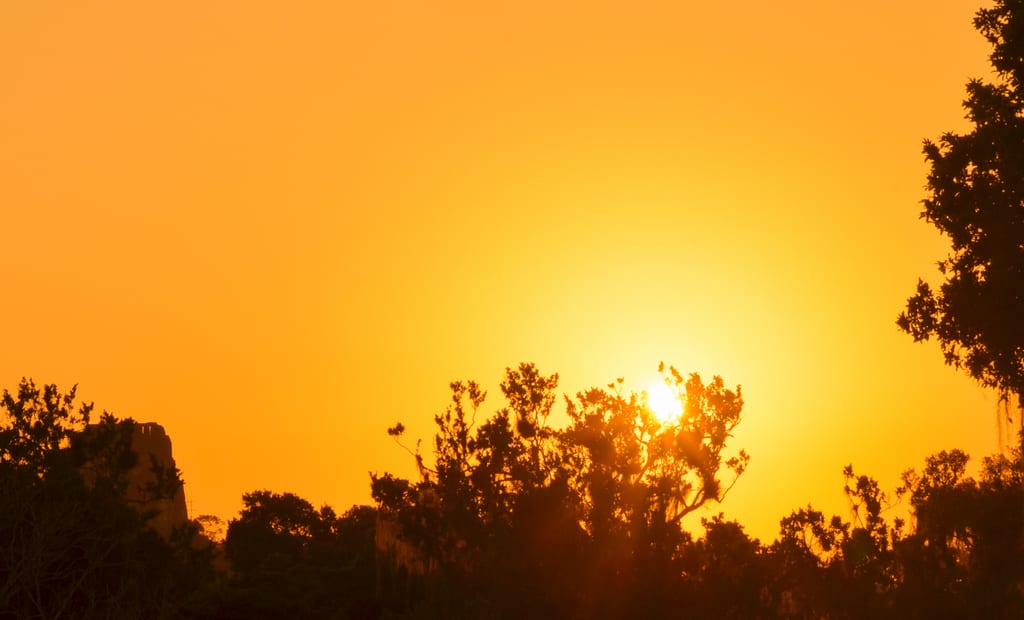 Like so.
Altogether, I'm glad I did this tour. We had a wonderful guide, it was a good price, and though we got to see much of the site, it wasn't an endless slog.
Personally, I'm not that into ruins, but if you are, you might get more out of the trip if you hire a private guide.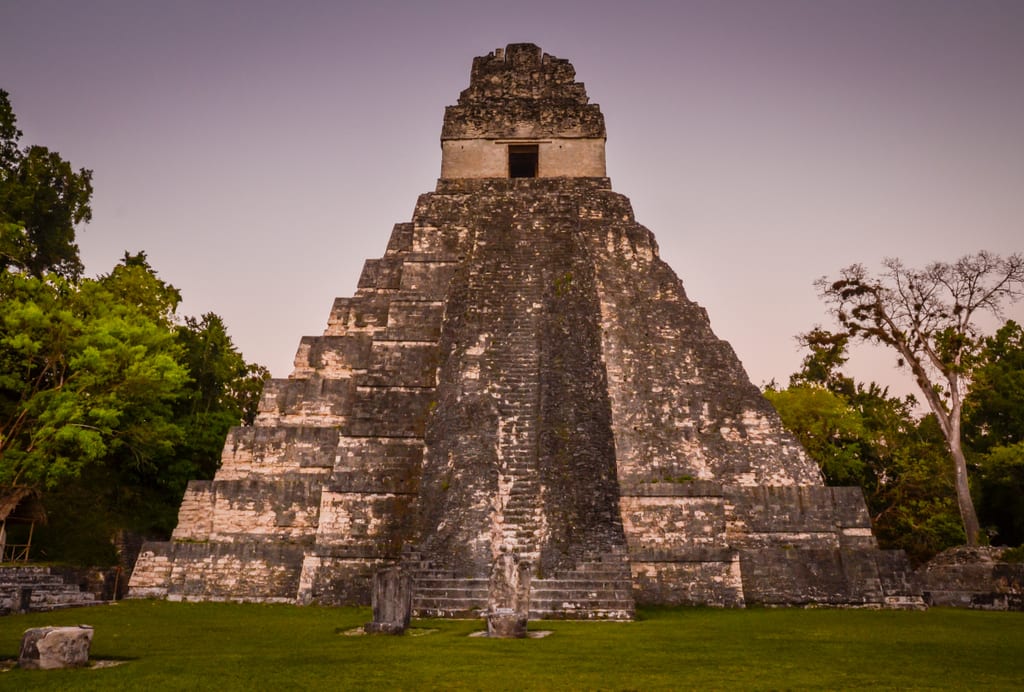 Should you visit Tikal at sunrise or sunset?
Hey, the choice is yours. If it's a priority for you to see the sunrise, go for it! And if you're visiting in January or February, you'll have the best chance of getting a clear view.
But if you're less enthused for the early wakeup or concerned about the weather, go for sunset instead. Sunset is no consolation prize. It's still incredibly beautiful and yes, you will get good photos. I'm very glad I went.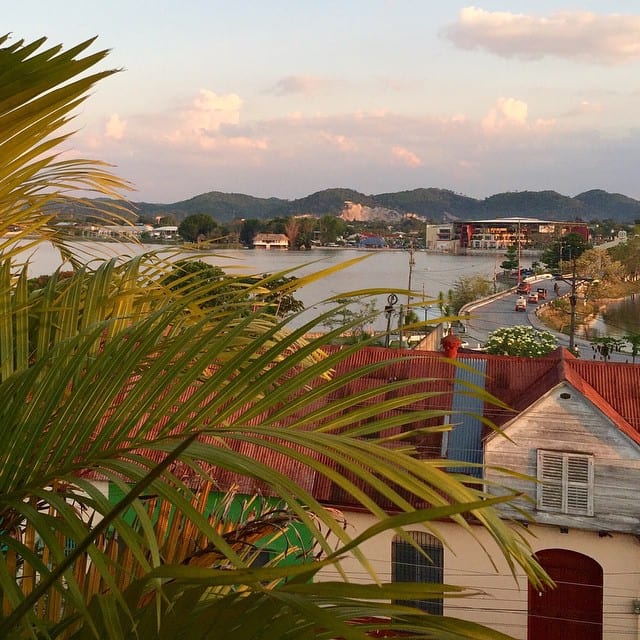 On Flores
If you're visiting Tikal, your base will likely be either Flores or Santa Elena, an hourlong drive from the national park. Santa Elena is the main town, but I recommend you stay in Flores — it's an island in the lake filled with candy-colored houses. I couldn't believe how different Flores was from the rest of Guatemala; it felt like the Caribbean!
One of my favorite things we did was take a boat out to the rope swing. There is a family living on the lake who have a big open house with a rope swing, a platform for jumping, an area to lounge, and plenty of beers. Erisa and I met a group of young, newly minted British doctors, which was a lot of fun, to say the least.
Many people come to Guatemala and visit only Flores and Tikal along with Antigua. Some only see Antigua and Lake Atitlan. Some come over from Belize and only see Flores and Tikal. Guatemala is such a diverse country and I recommend seeing as much of it as you can, and Flores and Tikal are so different from everywhere else I saw.
Essential Info: I booked my sunset Tikal tour through my accommodation, Los Amigos Hostel. We had a group of around 20. The tour cost is 85q ($11 USD), plus 150q ($20) for park entry, plus an additional 20q ($3 USD) for being there after the park closes. Total: 255q, or $33 USD.

Los Amigos was probably the best hostel I experienced in Central America and I highly recommend it. Erisa and I had a private room with two double beds, AC, good wifi (by crappy Guatemalan standards), our own bathroom (plus a communal bathroom right outside), and a rooftop terrace with a beautiful view for just 300q ($39 USD) per night.

Los Amigos also has a good restaurant and a soundproofed bar area, which keeps the hostel quiet for people staying there. They also had FIVE KITTENS at the time I visited, and it took all of my willpower not to pile them into my backpack and run!

To visit the rope swing, Los Amigos will arrange a round-trip boat transfer. I believe we paid about 50q ($6.50); beers cost 10q ($1).

We ate most of our meals at San Telmo, a fun and funky restaurant with gorgeous lake views.

You can find other accommodation options in Flores here.

Be sure to buy travel insurance before heading to Guatemala. It will protect you financially if anything goes wrong and can save you thousands if you get injured. I always use and recommend World Nomads.

 
Where is your favorite place to view the sunset?
Autor: Adventurous Kate
Fuente de contenido