Adventurous Kate contains affiliate links. If you make a purchase through these links, I will earn a commission at no extra cost to you. Thanks!
Early this year, I visited Spain for the first time and quickly declared it one of my favorite countries.  The culture, the architecture, the food, the beautiful men — how could I not fall for Spain?  Of all the cities, I found myself falling for Granada and Sevilla the most.
But my new favorite?  I think it might be Girona!
I attended my first TBEX Europe conference in Girona this September.  While I've been invited to the city a few times, this was my first time I've been able to make a trip — and I was so glad that I did.
The fastest way for a city to capture my heart is with architecture — and Girona's unmistakable riverfront quickly captivated me, its red and yellow buildings nicely pairing with the Catalan flags that adorn the region.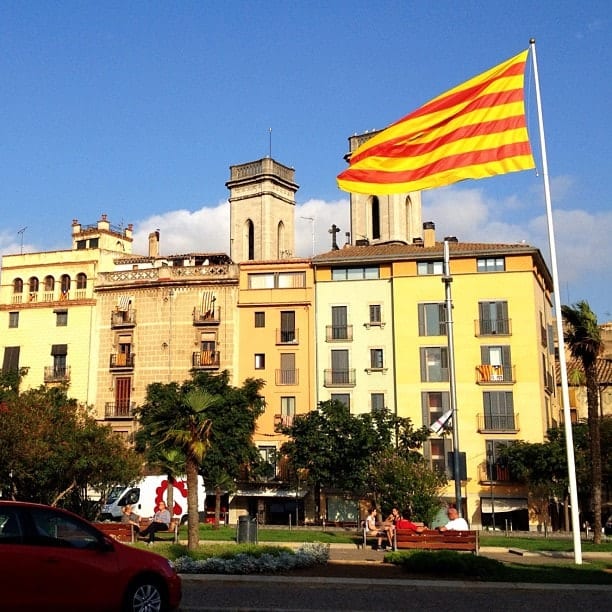 Girona has that unpretentious, livable quality that I seek out in cities that I visit.  The bars were fun and casual.  The clubs were wild but not price-gouging.  And no matter how busy an area was, you could turn a corner and find tranquility.
Girona, in short, is a place where I could easily settle down for a short time or even a long time.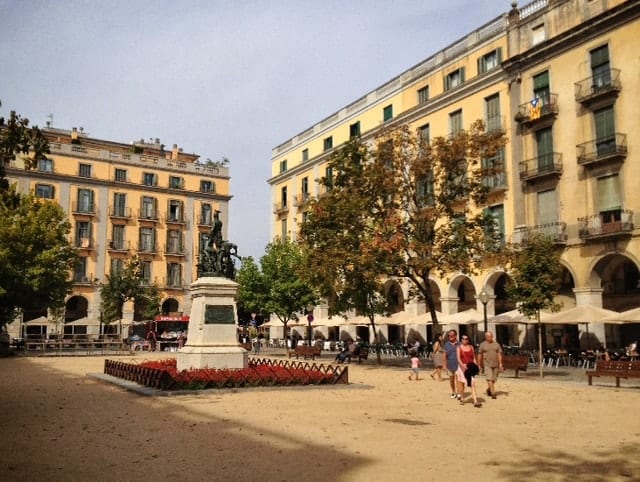 The Anti-Barcelona
Before I started learning about Girona (which I did thanks to many of my friends going on Visit Costa Brava's blog trips), I only considered it "not Barcelona" — a reputation earned by the fact that creepy budget airline RyanAir considers Girona a Barcelona airport, leading to many people arriving and being miffed that they're a whole hour away.
Well, I'm not big on Barcelona.  I've tried twice; the city just does not appeal to me at all.  Barcelona, or at least the Barcelona I've experienced, is crowded, dirty, geared toward tourists, and I've never felt safe there.  I literally walk around hunched over my purse in Barcelona, paranoid that someone's going to pickpocket me.
Girona, by contrast, is bright and airy, much cleaner, and more relaxed.  While tourists will do just fine on their own, the city doesn't make tourists the center of the universe.  And most importantly, I felt very, very safe in Girona.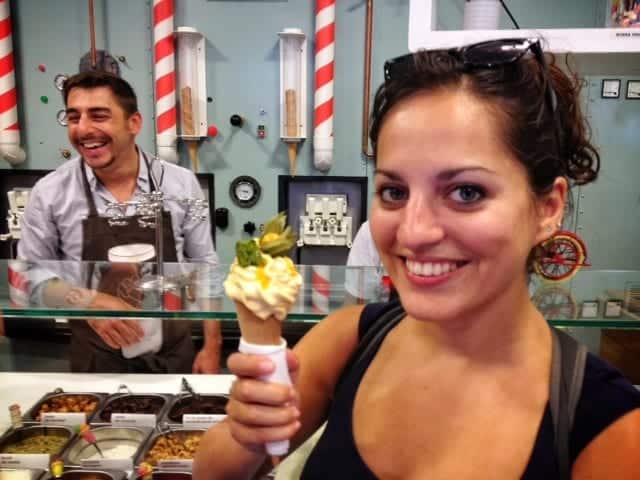 Girona Gelato
My favorite stop in Girona, without a doubt, was the amazing Rocambolesc Gelateria.  This is probably the best gelato that I have ever had in my life.  Believe me — that is a HUGE statement, considering that I've consumed several times my body weight in gelato since roughly 2004.
I dropped by Rocambolesc with Cailin, Mike and Steph after shooting some video.  To our great surprise, chef Jordi Roca was in the house — and he served us.  One of the world's best chefs served us ice cream.
Let it be known — that wasn't a blogger privilege; that was just being in the right place at the right time.  Maybe you'll run into Jordi if you go, too!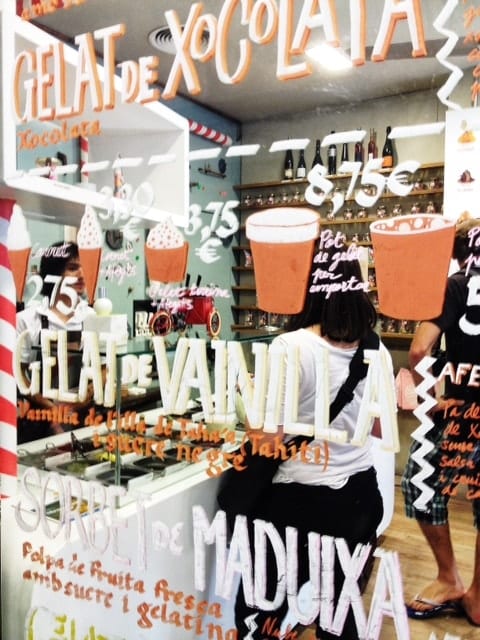 This isn't the kind of gelateria that has hundreds of flavors — there are only half a dozen or so, including tangerine, milk, chocolate, and baked apple.  I chose the apricot sorbet and told them to add whatever toppings they thought were best.
My resulting treat: delicious apricot sorbet topped with mandarin syrup, green tea cake, and a nube de coco — a little citrusy berry!  Holding it up, with its flame-like leaves, I felt like the Statue of Liberty.
And that's just the tip of the iceberg.  Ask for chocolate and yours could be covered in sugared cocoa beans, fudge, even chocolatey pop rocks!  Or you could end up with a halo of cotton candy.
As much gelato as I consume on a regular basis, no place has made me excited about the joy of ice cream as much as Rocambolesc.  I felt like a giddy little kid again.  If you go to Girona, this place is an absolute must!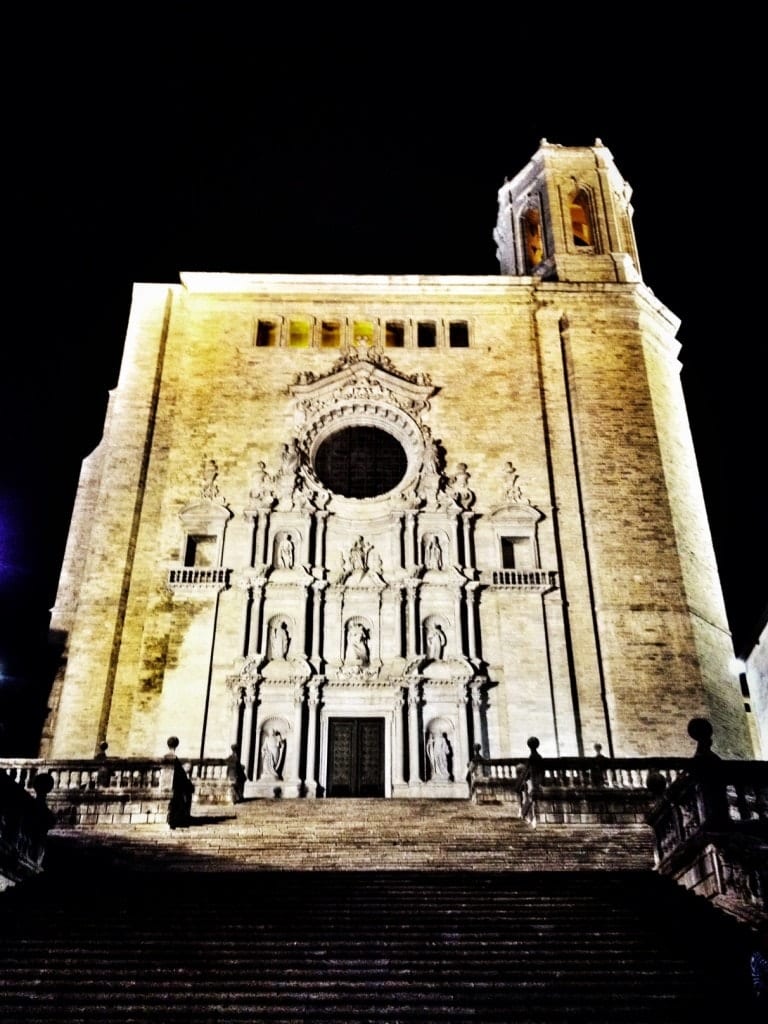 Beautiful Night Views
At night, Girona lights up spectacularly.  My friends and I spent our evenings sitting on the steps in front of one of the many city cathedrals, drinking delicious red wine and gabbing away.
Girona at night is a different experience — the city catches an ethereal glow.  I highly recommend walking along the river at night.
Finally, Girona is home to a rather famous lion statue.  You're supposed to climb the platform and give it a smooch on its bum if you want to return to Girona.
Well, I REALLY want to return to Girona — so it couldn't hurt to give that lion's bum a BIG smooch.
Girona, thanks for a fabulous time — and I hope to see you again soon!
Autor: Adventurous Kate
Fuente de contenido