Adventurous Kate contains affiliate links. If you make a purchase through these links, I will earn a commission at no extra cost to you. Thanks!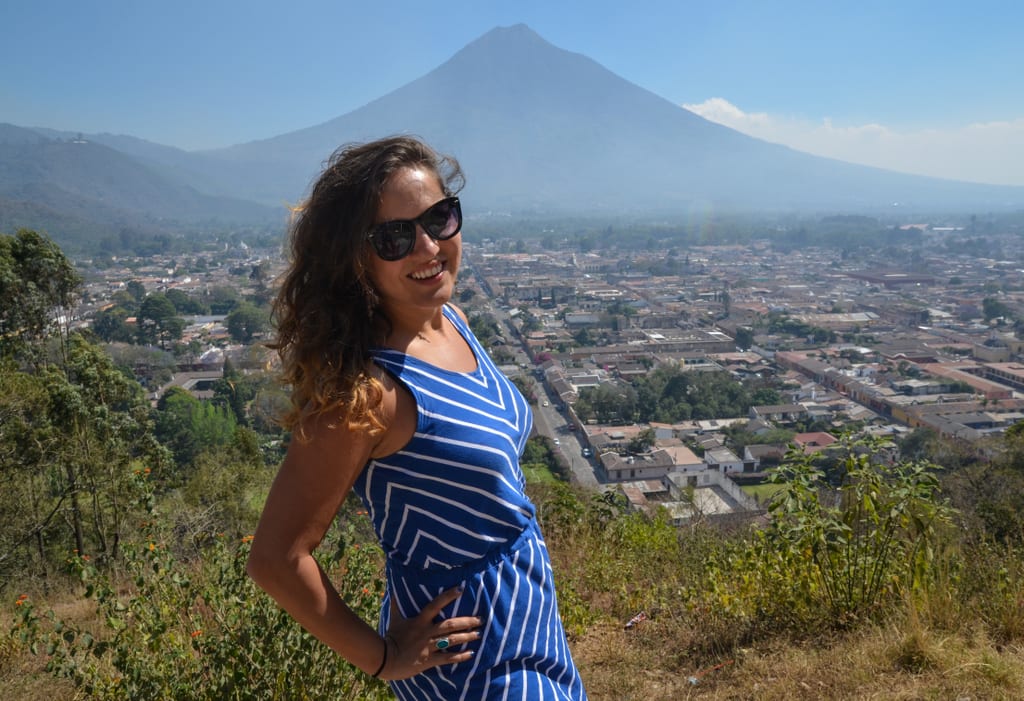 Quick announcement: The Paradise Pack, a collection of resources that will teach you to work online and travel the world, is only available for three more days! Read my take on it here and join the 35+ Adventurous Kate readers who have signed up so far.
I'm the kind of person who connects with a destination in two ways: fiercely, or not at all. Which is why I felt bewildered after my two trips to Antigua, Guatemala, over the past few months. I'm still not sure how I feel about this city.
I like it very much. And I also don't. Antigua feels more like a collection of little feelings. I love the hole-in-the-wall eateries. I don't like how it doesn't feel safe at night. I love the colors and architecture. I don't like the roughly cobbled streets. I love how it both feels so Guatemalan but you can get a bowl of kimchi stew if you feel like it, and I don't like how the tourism seems dominated by big bus tours.
I had such a great time there, and yet I have zero urge to return.
Antigua was the shortest destination stop on our tour — we spent only two nights there as opposed to three or four in the other towns. We spent our one full day with a packed itinerary: touring the whole town, eating in a secret restaurant, taking salsa lessons, hitting up the nightlife. Leif gave the tour; I gave photography tips.
My friend Alex wrote about feeling a general malaise in Guatemala. I understand where she's coming from, but I was blown away by Lake Atitlan and Semuc Champey — clearly it wasn't a Guatemala thing for me, but an Antigua thing.
Should you go to Antigua? Of course you should! I wouldn't tell anyone not to go. It's an important destination in Guatemala, and who knows? You might love it. But I'd caution against making it the centerpiece of your trip. Plan a lot of time on Lake Atitlan instead.
Months later, I'm still not sure quite how to put Antigua into words. So I'll let my pictures do the talking.
Antigua is famous for its architecture, and here's the best known landmark in the city: Santa Catalina Arch. It wouldn't be a stretch to call this the most photographed spot in Guatemala.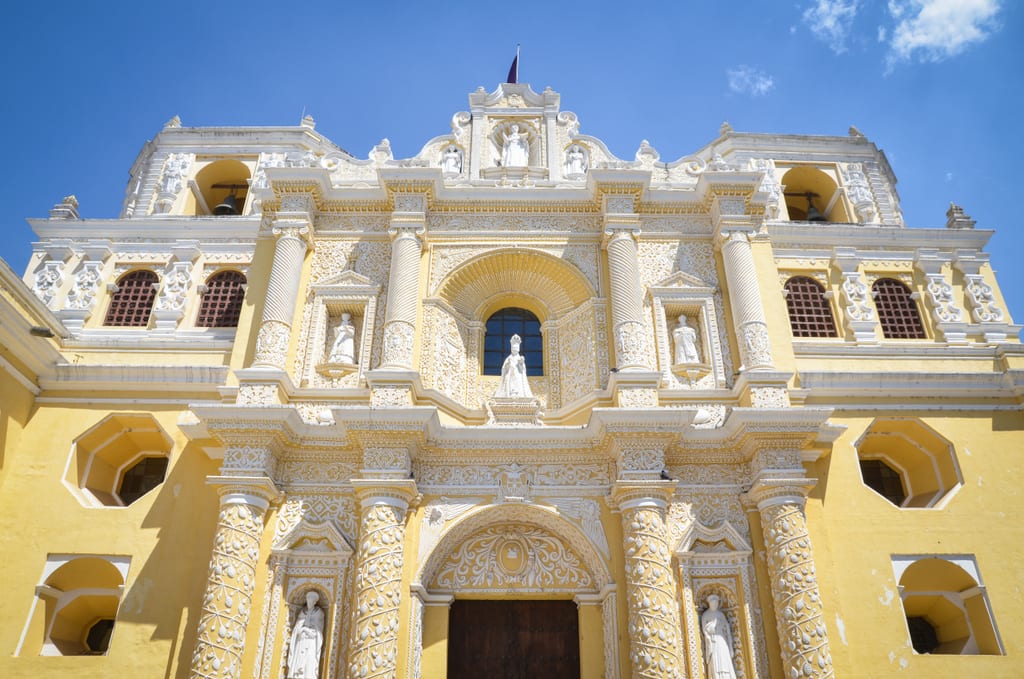 Antigua is a city built for wandering. There aren't so many must-see destinations to check off; just meander around the city, checking out churches and parks and pretty streets.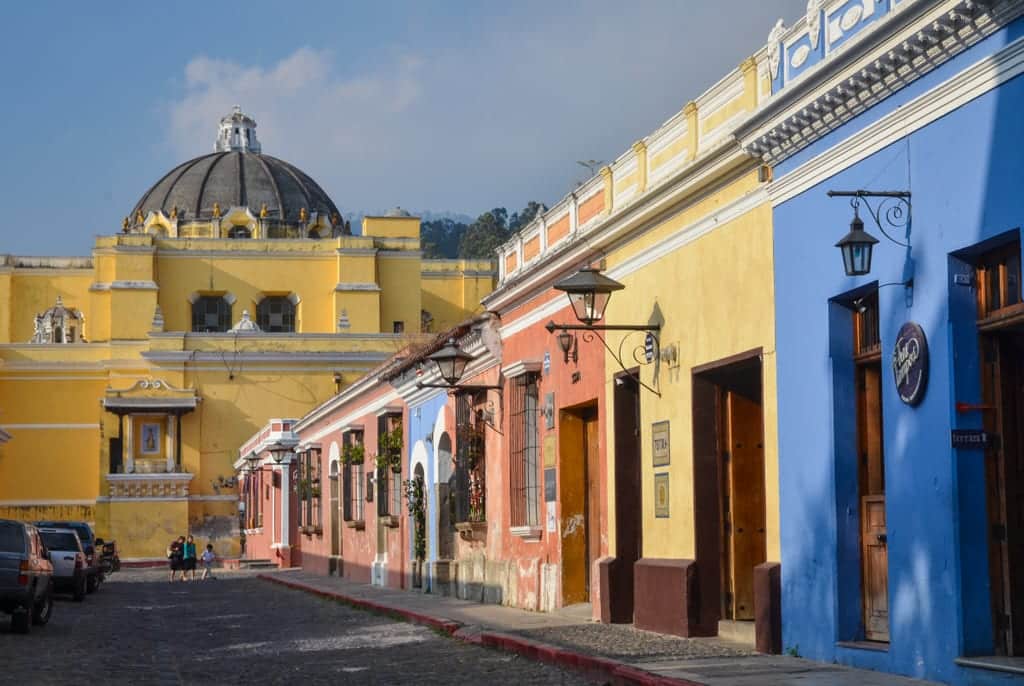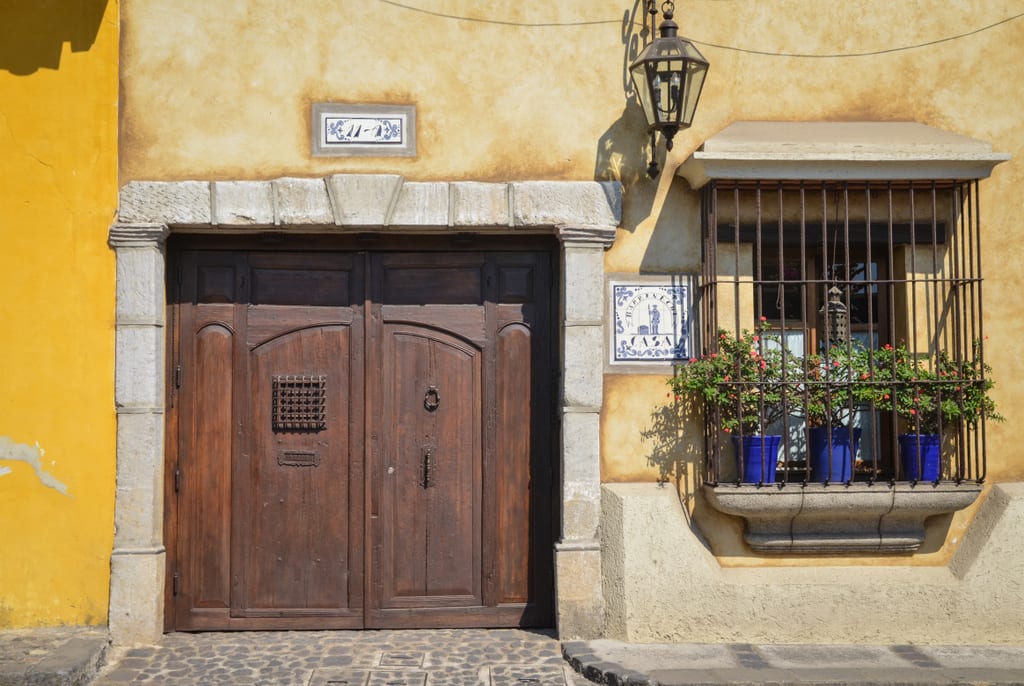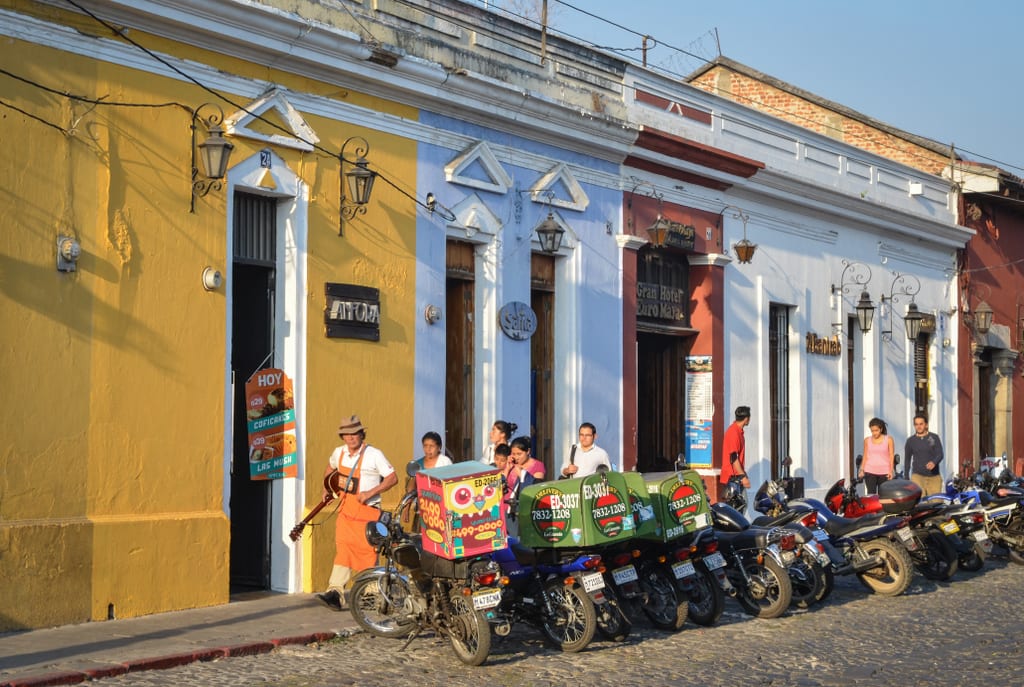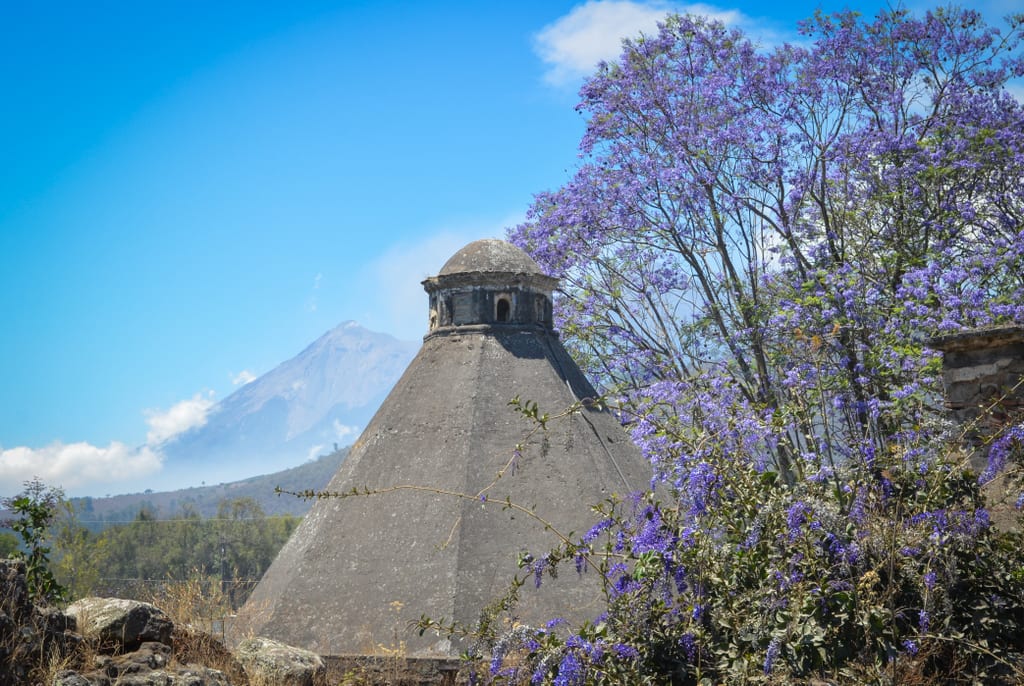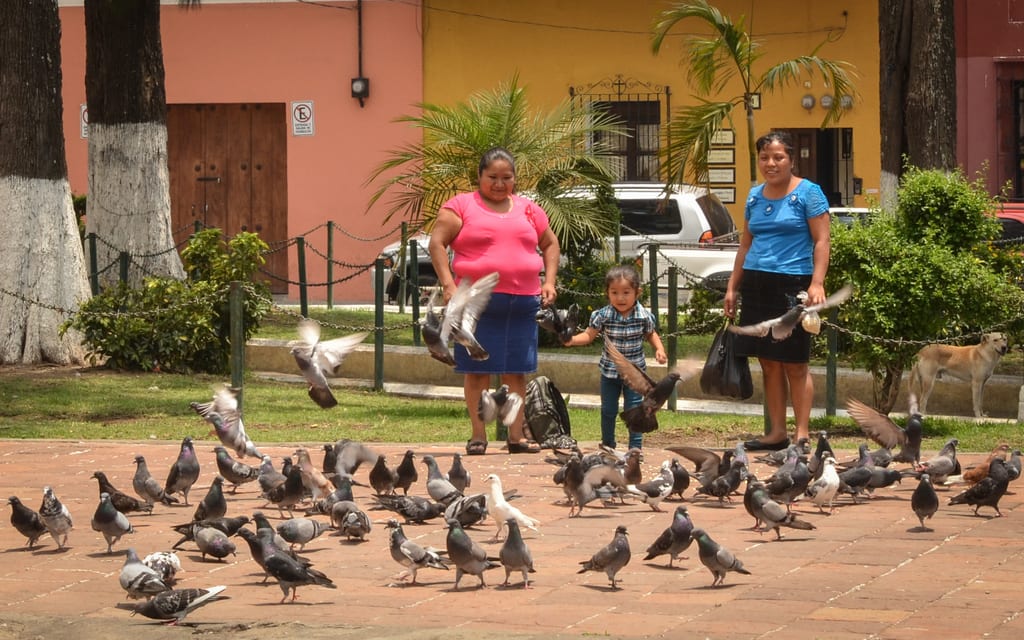 Very pretty, don't you think?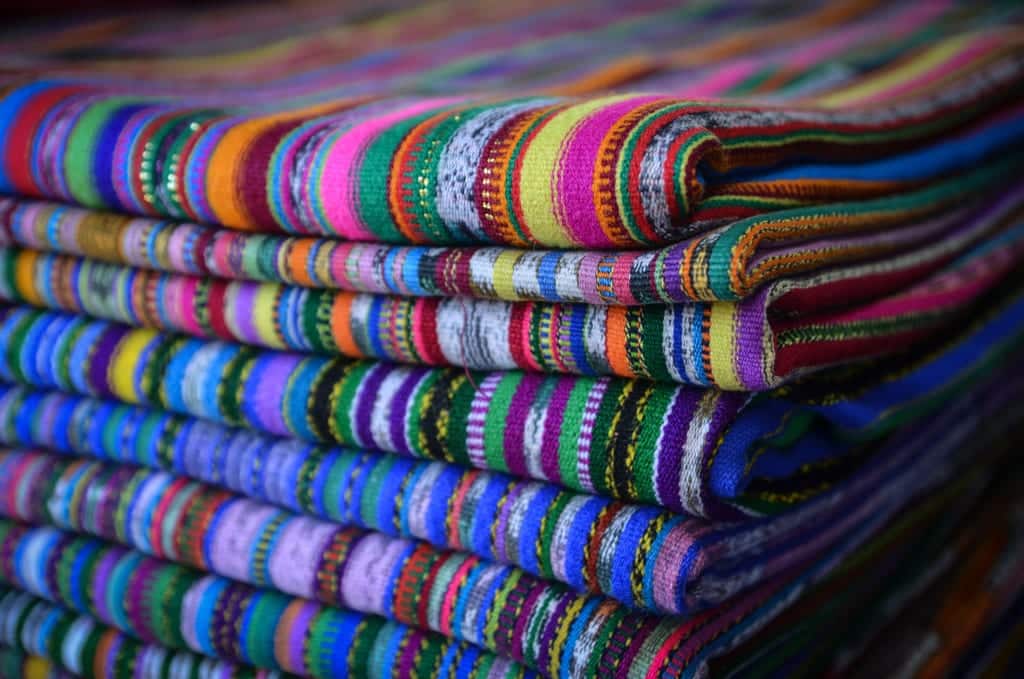 The first thing that struck me about Guatemala was how colorful it was. Go souvenir shopping and you'll see it!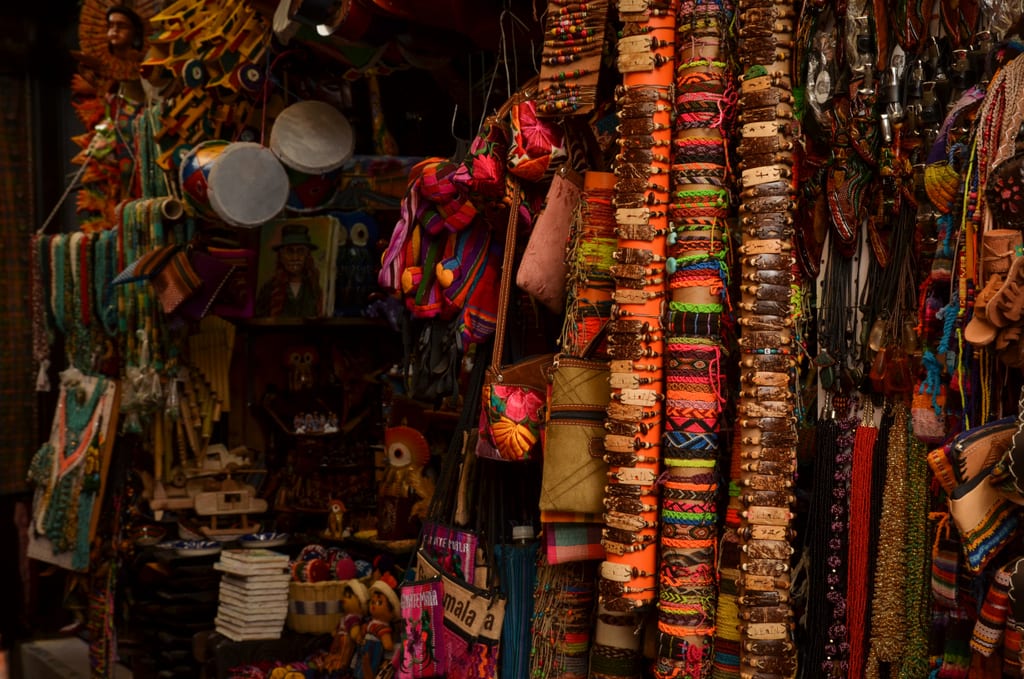 While you can do a lot of shopping in Antigua, I recommend waiting until you get to Panajachel on Lake Atitlan if possible. You'll find very similar stuff for much lower prices.
Every Central American city has its own central park. Here is Antigua's, complete with fountains and jacaranda trees.
Keep your eye out for chicken buses! Yes, they're old school buses from the U.S., given a bright and fiery makeover.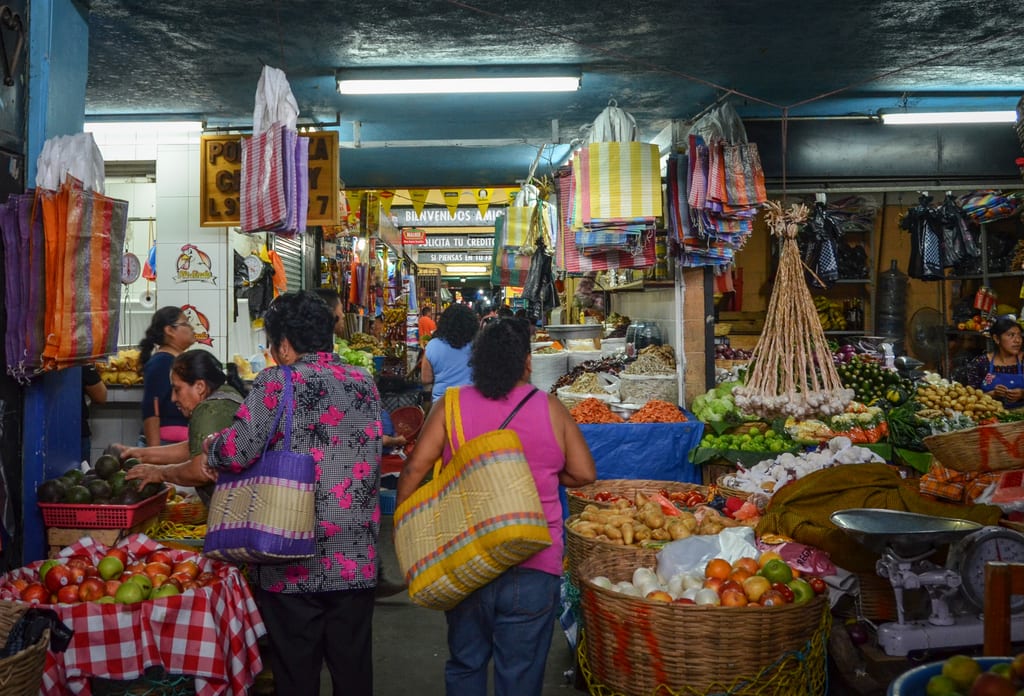 Hitting up the local market — not the tourist souvenir market, but the real market — is one of my favorite things to do in a new city. Antigua's is one of the better ones I've seen.
Tip: if you love chia seeds, this is a great place to buy them. You can get a good-sized bag for about two dollars, which is a fraction of what you'd pay in the U.S.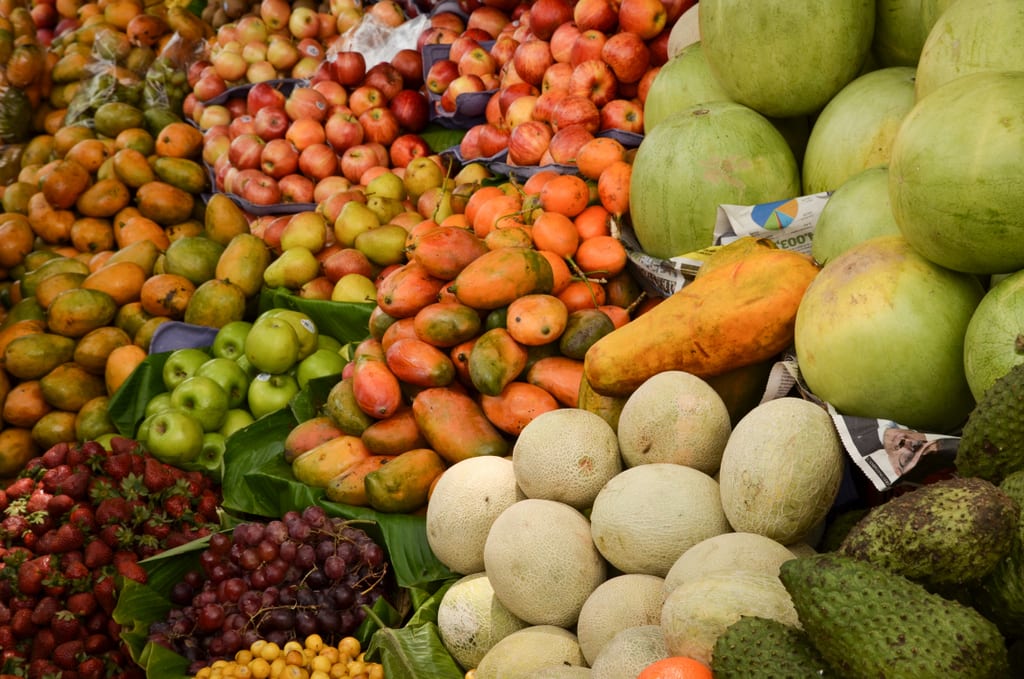 The produce here? Outstanding. Yeah, the avocados might be smaller than what you're used to, but they are so much fresher and riper and juicier than what you'd have at home.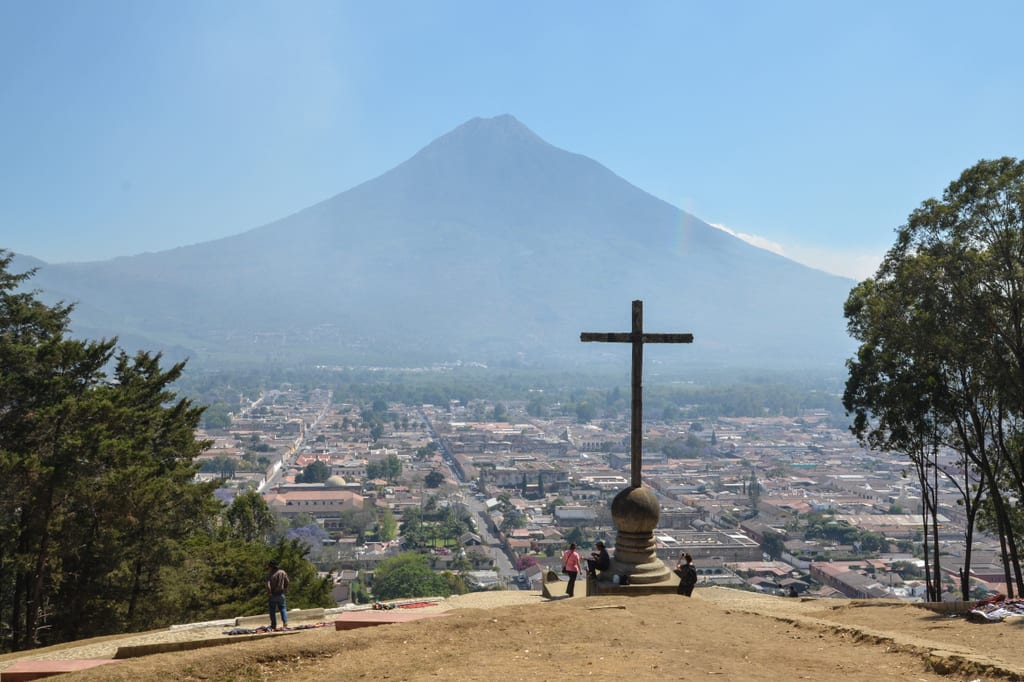 Cerro de la Cruz (hill of the cross) is a must! You'll find the best view in the city here, crowned by Volcán de Pacaya in the distance.
Take a tuk-tuk if you're feeling tired; it's a robust walk uphill. Downhill is super easy.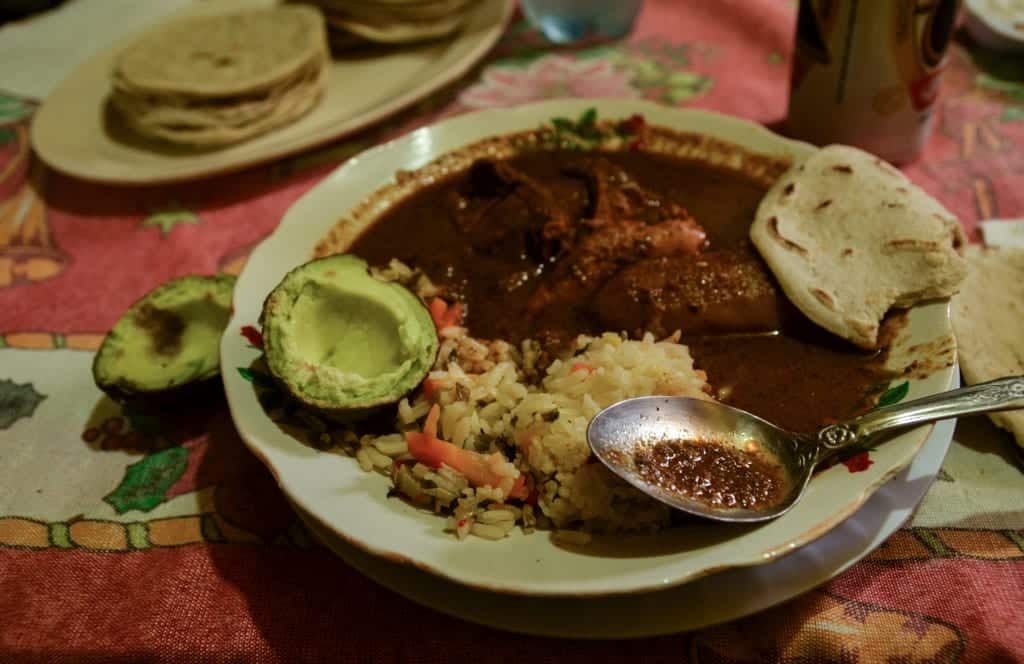 Central America isn't home to the most exciting cuisine in the world (you'll be eating a ton of rice and beans), but I fell in love with the pepián — a thick meat stew with vegetables.
This was served in a hidden restaurant in the back of a tienda. I'm not telling you where it is. It deserves to remain a secret. Come on a tour sometime and I'll take you there!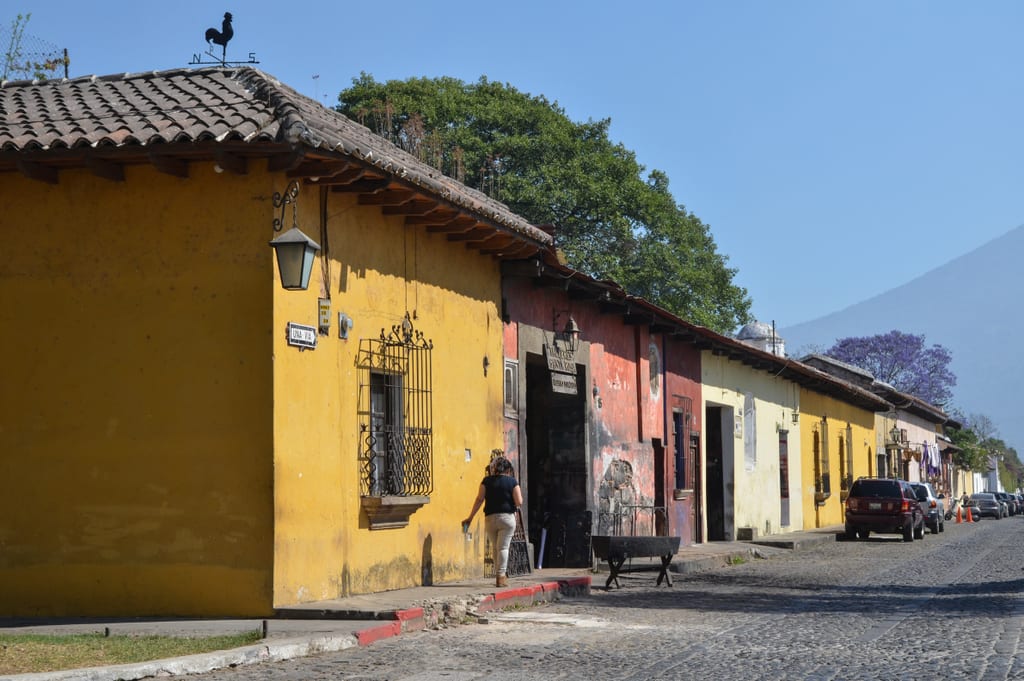 A Word on Safety
While I felt very safe in Central America for the most part, I did not feel safe at night in Antigua. Men would often lean out of cars and yell at our all-girl group as we were walking down the street. A friend who had been drinking was attacked and robbed. Even the night security guard at the hostel wouldn't let me step outside at 3:00 AM until my shuttle arrived, saying it was "poquito peligroso."
I felt safe during the day, but I urge you not to walk alone at night, especially if you're a woman, and don't get too drunk before walking home, even in a group. The streets of Antigua are deserted at night, except for late-night stragglers, which is not a good thing.
Again — daytime is fine; nighttime is when you need to be extra cautious.
Essential Info: In Antigua I stayed at Posada de San Carlos, a lovely hostel with a beautiful courtyard and rooftop terrace. Great coffee, too. Say hi to Thor the adorable husky puppy (though he's probably a big dog now!). Dorms from $10, doubles from $40. You can find the best prices on other accommodation in Antigua here.

There are two restaurants I'll recommend publicly: for traditional Guatemalan food, Restaurante Delicias Chiapinas. Their chicken soup is so good; get it with your entree. You might want to avoid using the bathroom (trust me). For international food, I had a really nice kimchi stew at Korean restaurant Miso.

We took both our groups for a salsa dancing lesson at New Sensations. Both Nancy and Frank are amazing teachers. Contact them for a quote at [email protected].

I had some crazy nights out in Antigua! If you're there on a Tuesday, go to ladies' night at Monoloco. Ladies get 5q ($0.60) drinks all night! (Sorry, dudes, you've got to pay full price.) Also, you MUST try their nachos — they are HUGE (roughly the size of a newborn baby) and delicious! Another fun spot is the Lucky Rabbit a few doors down, a gringo bar with giant jenga and ping pong. Once you're ready to dance (especially on a Tuesday), head to Sin Ventura for live salsa music and dancing. It lies between Monoloco and the Lucky Rabbit.

Be sure to get travel insurance before you head to Guatemala. It will protect you in case anything goes wrong! I use and recommend World Nomads.
Have you ever been to a destination that perplexed you?
Autor: Adventurous Kate
Fuente de contenido