Our guide on how to visit Copán covers everything you need to explore the enigmatic Maya ruins and charming Honduran town
At first sight, the Maya ruins of Copán in Honduras aren't quite as grand as Tikal in Guatemala or Chichén Itzá in Mexico – but they are impressive in their own right. Copán is among the most significant Maya sites in Central America and has been called the 'Paris of the Mayan World' due to the sophistication of the artefacts found here.
The UNESCO-listed ruins boast an extraordinary number of ornamental carvings, stelae (upright stone slabs) and altars, several temples and an enormous hieroglyphic stairway. There is also a superb on-site museum and an entertaining – if rather noisy – resident population of scarlet macaws.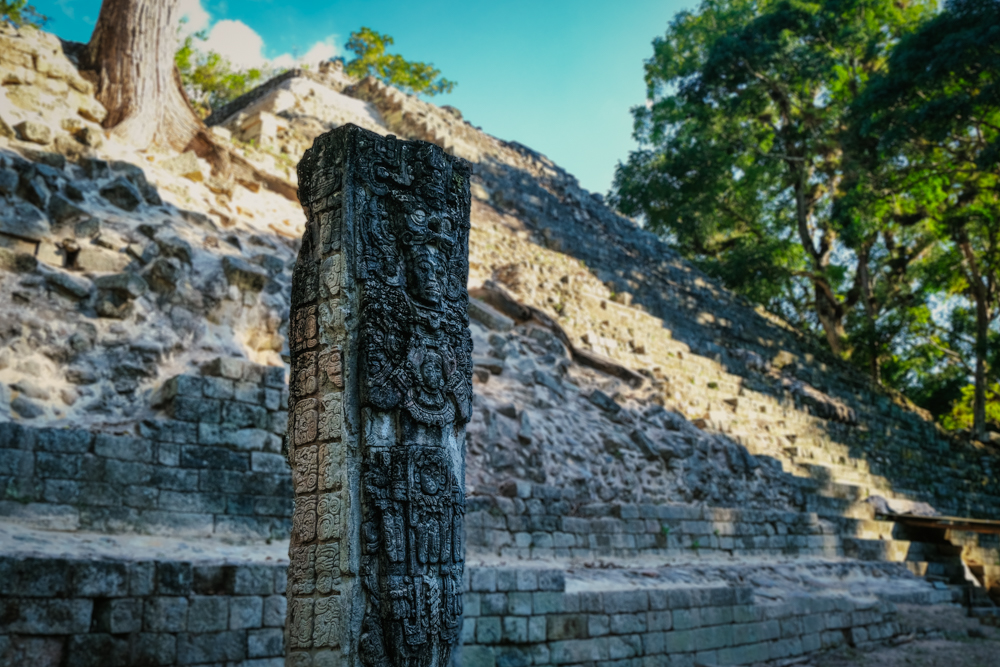 Just a stone's throw away is the delightful town of Copán Ruinas – often called Copán – with its steep cobblestone streets lined with white, terracotta-topped adobe buildings.
Located just 10km inside the Guatemalan border, Copán can be easily visited on an overnight trip from Guatemala. The ruins are the most visited tourist attraction in Honduras, but don't be surprised if you have the site practically to yourself. Tourist arrivals plummeted during the pandemic and are yet to rebound.
We visited Copán during our month-long trip through Central America, hopping across the border for the night to see the mystical ruins spread across tranquil grounds of grassy terraces and verdant jungle. To help you with your own trip, we've put together the following guide on how to visit Copán.
What is Copán?
The Río Copán valley, where the Maya city of Copán is located, is thought to have been settled around 1500 BCE. Archaeologists believe settlers began moving into the area to take advantage of the region's rich soil and agricultural potential.
Construction of the city of Copán is not thought to have begun until around 100 AD with its population peaking as high as 28,000 by around 760 AD. The Dynastic era, also known as the Classic period, was considered Copán's golden age, lasting for around 400 years, from 427 to 822. It was during this time that its main temples and plazas were constructed along with numerous stelae – the stone monoliths representing kings.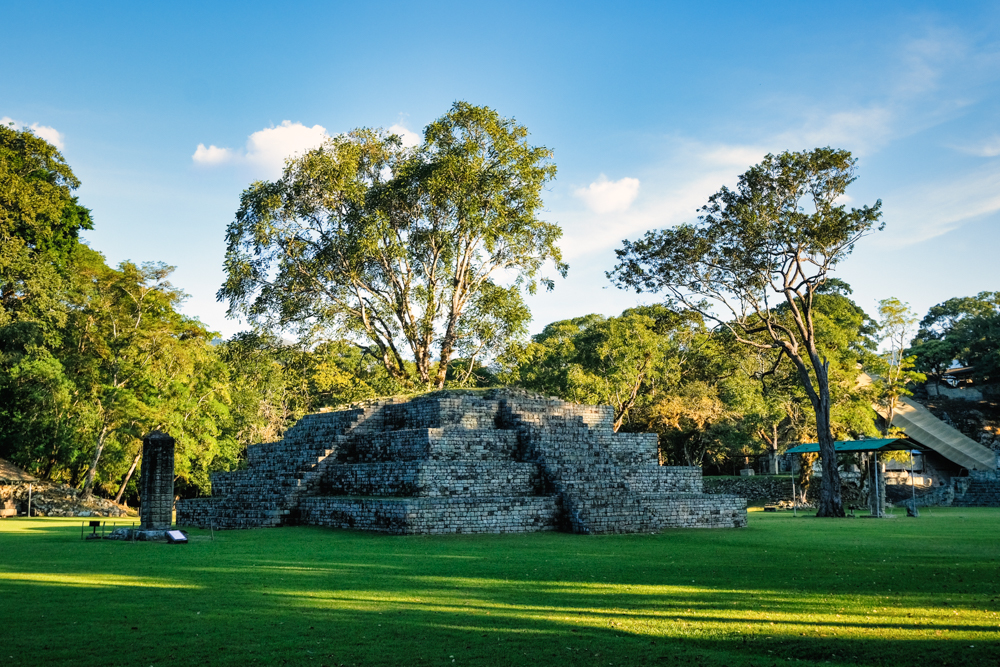 Soon after its peak, decline set in during the 8th and 9th centuries until the site's eventual abandonment during the 900s AD, which coincided with the collapse of the wider Maya civilisation – an event which still remains a mystery.
By the time the Spanish arrived in the 16th century, the city and surrounding valley had long been abandoned. Don Diego de Palacios, a Spanish court official, described the ruins as "constructed with such skill that it seems that they could never have been made by people as coarse as the inhabitants of this province" in a letter of 1576.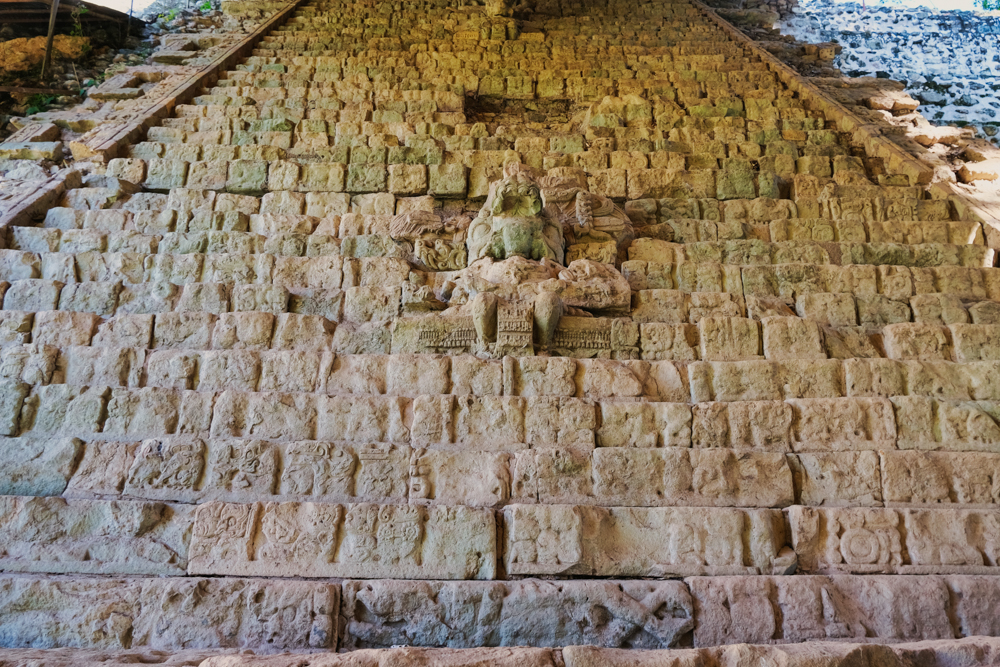 It wasn't until the 1830s that archaeologists began to unearth, map and decipher the site. Excavations revealed a ruined citadel surrounded by five imposing public squares as well as scores of sculptures.
The Hieroglyphic Stairway Plaza is arguably the site's most intriguing structure with its 100m-wide monumental stairway. On the risers of the stairway are more than 1,800 individual glyphs which constitute the longest known Mayan inscription.
how to visit Copán: What not to miss
Stelae of the Gran Plaza: The main plaza is home to over a dozen stelae and altars dating from the seventh to ninth centuries.
Ball Court: The Juego de Pelota (Ball Court) dates from 731 AD and is the second largest in Central America.
Hieroglyphic Stairway: This is Copán's most famous monument and leads to one of the principal temples. It is intricately carved with thousands of hieroglyphic symbols on the risers of its 63 steps making it the longest-known Maya hieroglyphic inscription.
Acropolis: This lofty flight of steps mounts the Templo de las Inscripciones (Temple of the Inscriptions) where several courts (patios) and altars branch off.
Núñez Chinchilla: 150m to the north of the Grand Plaza is the site of 23 residential structures that are currently undergoing excavation.
Las Sepulturas: The main reason to visit Las Sepulturas, located 5km from the main site, is the atmospheric one-hour walk along the ancient Maya thoroughfare.
Museo de Escultura: Copán is unique among Maya ruins for its many sculptures. This museum (which is fully signed in English) displays some of the site's finest examples.
Rosalila and Los Jaguares tunnels: The two subterranean tunnels gives visitors a glimpse of the ancient structures from underneath the visible surface structures.
how to visit Copán: practicalities
The Copán Archaeological Site is an easy 1km walk from the centre of Copán Ruinas. You may prefer to take a tuk-tuk which shouldn't cost more than 15 HNL ($1 USD) from anywhere in town.
The entrance fee to Copán Archaeological Park is 360 HNL ($15 USD) and includes access to Núñez Chinchilla and Las Sepulturas.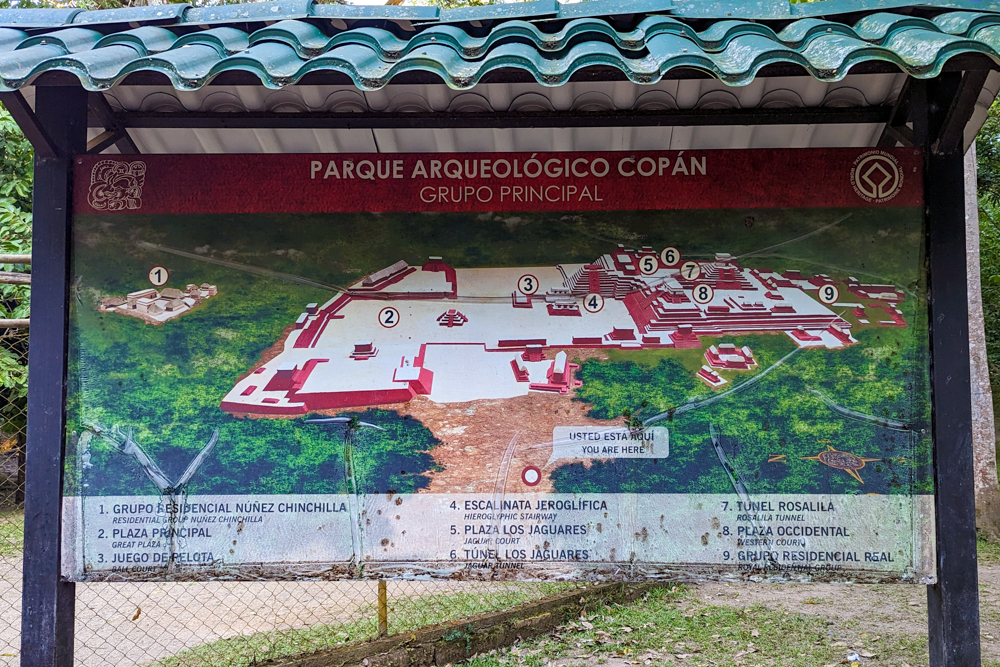 There is an additional fee for the Museum of Sculpture (Museo de Escultura) of 180 HNL ($7 USD). Likewise, visiting the tunnels costs an extra 360 HNL ($15 USD).
If you're interested in taking a deeper dive into the history of the ruins and Maya culture, consider hiring one of the Asociación de Guías Copán guides who can be engaged at the main entrance.
More information about the site can be found on the Honduran Institute of Anthropology and History website.
How to visit Copán from Guatemala
Most travellers cross into Honduras from Guatemala. The easiest and quickest way to get from Guatemala to Copán is by shared shuttle. The transfer leaves Antigua around 5am after collecting you and the other passengers. In theory, the journey should take around seven hours, but bad traffic and border delays (we had both) can make it longer. In total, the transfer took us 10 hours!
The shuttle runs on Tuesdays, Thursdays and Saturdays and costs $41.99 USD. There is also a $5 USD fee to pay at the border. The service includes pick-up from your accommodation and some convenience stops for breakfast and snacks en route. Depending on demand, the vehicles can be anything from a four-seater sedan/saloon to an 11-seater minibus.
We used shuttles to travel around much of Central America including Belize, Guatemala, Honduras and El Salvador, and recommend Gekko Explorer and Marvelus. We used them on several journeys although there are other services available.
How to visit Copán from elsewhere
There are also shuttle services connecting Copán with San Pedro Sula and La Ceiba in Honduras and Santa Ana, San Salvador and El Tunco in El Salvador. You can also visit on a day tour from San Salvador in El Salvador.
Another option is to use buses to get to and from Copán. There are cheap local buses (which can be overcrowded and painfully slow) and direct, faster services which come with air conditioning and reclining seats. There are several operators available including Hedman Alas which runs routes from Copán to Tegucigalpa and San Pedro Sula.
Honduras' largest airport is in Tegucigalpa and connects the capital with San Pedro Sula, La Ceiba, Tela, Choluteca and Puerto Lempira. There is also the newly-opened Palmerola International Airport in Comayagua which offers some domestic connections as well.
How long to stay
This really depends on your itinerary and onward plans. You can dash in and out of Copán and just stay overnight if you're only interested in seeing the ruins. However, if you want to see more of the surroundings and not feel under pressure then you should stay longer.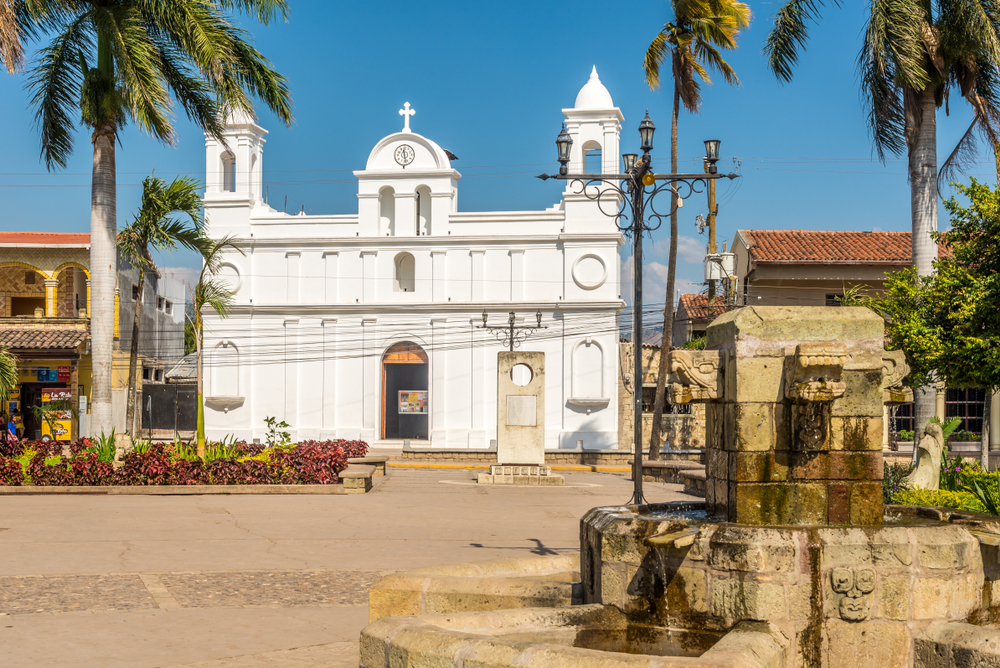 It's worth bearing in mind that traffic, weather and border delays can scupper plans so with that in mind, we would recommend spending at least two nights at Copán Ruinas.
Other things to do around Copán
Macaw Mountain Bird Park is a bird sanctuary located in an extensive private reserve striving to protect scarlet macaws. Many of the birds have been saved from bird smugglers or private owners who no longer want them. As such, they remain caged albeit in spacious enclosures. There are also kingfishers, motmots, orioles, parrots and toucans.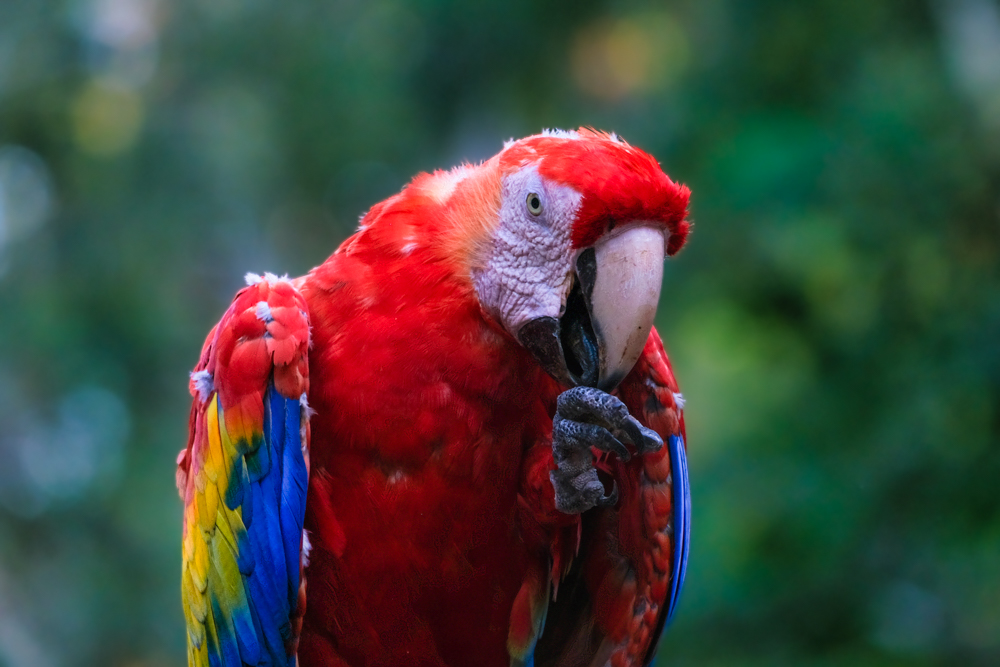 The Copán Canopy Tour has 14 ziplines spanning the hilltops above Copán. The entrance is on the way to Macaw Mountain Bird Park.
The Butterfly Farm at Mayan Hills Resort is on the edge of town. Here, you can wander the lush gardens where 15 species of colourful butterflies flutter by.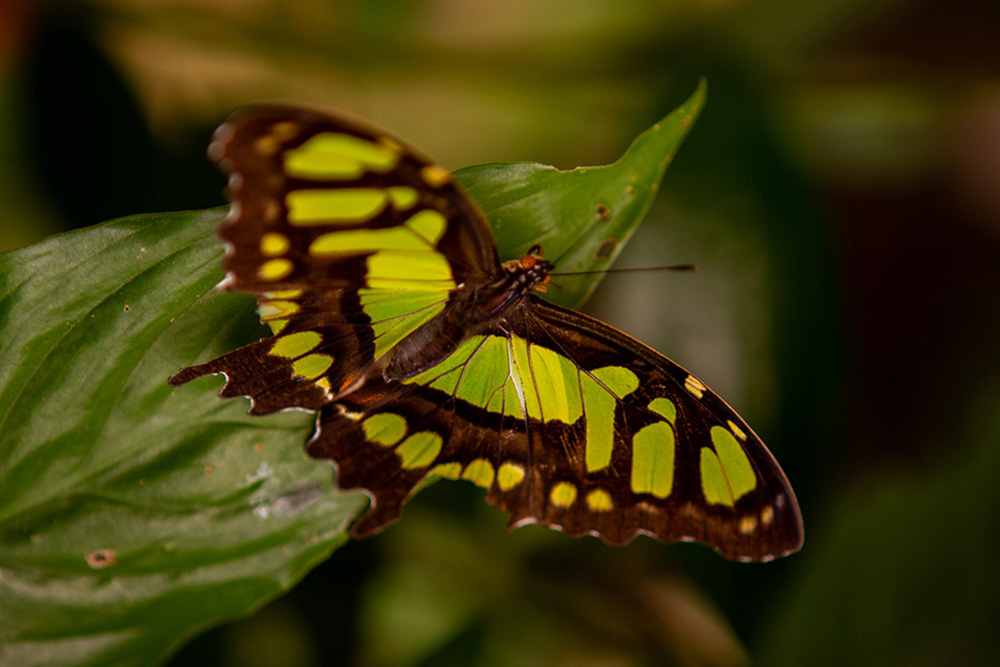 A great hike from Copán is across the river to Los Sapos (toads). Here, old Maya stone carvings are spread along trails on the grounds of Hacienda San Lucas – around a 40-minute walk from Copán. The unique site is synonymous with Maya fertility rites.
Finca el Cisne is a working farm around 24km from Copán that mainly raises cattle and grows coffee and cardamon. There are full-day and overnight packages available that include guided horse rides through the forests and tours of the coffee and cardamon plantations.
---
Enjoyed this post? pin it for later…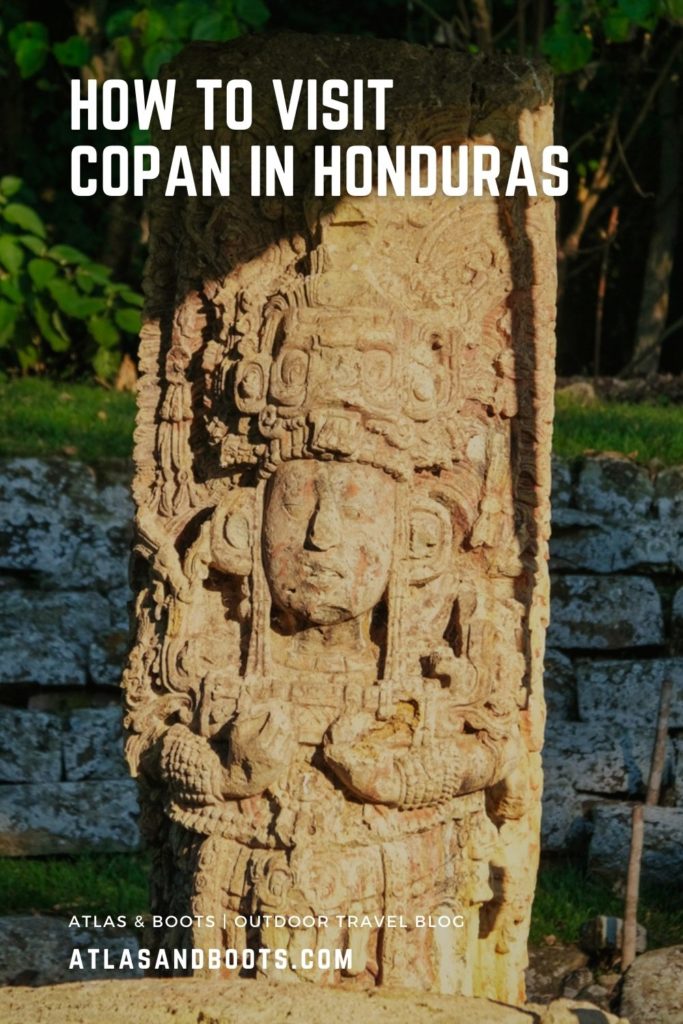 ---
Autor: Peter
Fuente de contenido