Adventurous Kate contains affiliate links. If you make a purchase through these links, I will earn a commission at no extra cost to you. Thanks!
I visited Campeche, Mexico, for a weekend getaway from Mérida, and discovered a delightful city: tiny and stately, bright and colorful, filled with interesting things to do, but perfectly sized for a short visit.
It's hard to find places to visit in Mexico that are a little bit off the beaten path, but places you'd still actually want to visit. This is a category that Campeche fulfills particularly well. Campeche is technically on the Yucatán Peninsula, an extremely touristy part of Mexico, but several hours' drive from the mayhem of the Riviera Maya.
This relative isolation keeps Campeche off many Mexico travelers' itineraries, but once you visit, you'll wonder why it doesn't have more visitors.
Campeche is home to one of the most stately old towns in Mexico, and the colors explode in bright shades of red, yellow, and green. There are plenty of thing to do in Campeche, many of them free. If you're road tripping, it's perfectly positioned for a stop between the Yucatán and the ruins of Palenque in Chiapas.
I'd love to share details of my visit with you and everything about what made Campeche so special.
Just a quick FYI — Campeche is the name of both the city and the surrounding state, which can get a bit confusing. In this post, Campeche will refer to the city; Campeche state will refer to the state.
Starting in Hecelchakán
It's a two-hour drive from Mérida to Campeche, and we've left early — and hungry. Just north of Campeche is the perfect detour — the town of Hecelchakán, famous for its cochinita pibil, or slow-roasted pork. But we've been told they run out early, and nerves punctuate our drive. Will we make it in time?
As we take the exit into Hecelchakán, a cop stops us and inquires what we, two obvious gringos, are doing here.
"Cochinita?" we say.
The cop grins and waves us in.
The best cochinita comes from a restaurant called Calan, served in the middle of the park. We join the line (locals quickly route us to the correct line after standing in the line for multi-kilo restaurant orders) and we order two tacos and two tortas.
There was just one thing. The woman asks us, "Surtido?" and Charlie says, "Sí." Turns out surtido means "assorted" — that they will add lots of random pig offal into the mix along with the cochinita!
The cochinita is fabulous. The random bits, well, they were interesting. (I would go so far as to state ordering surtido is what NOT to do in Mexico.) But Hecelchakán is a special culinary stop — worth leaving Mérida early to get there before you visit Campeche.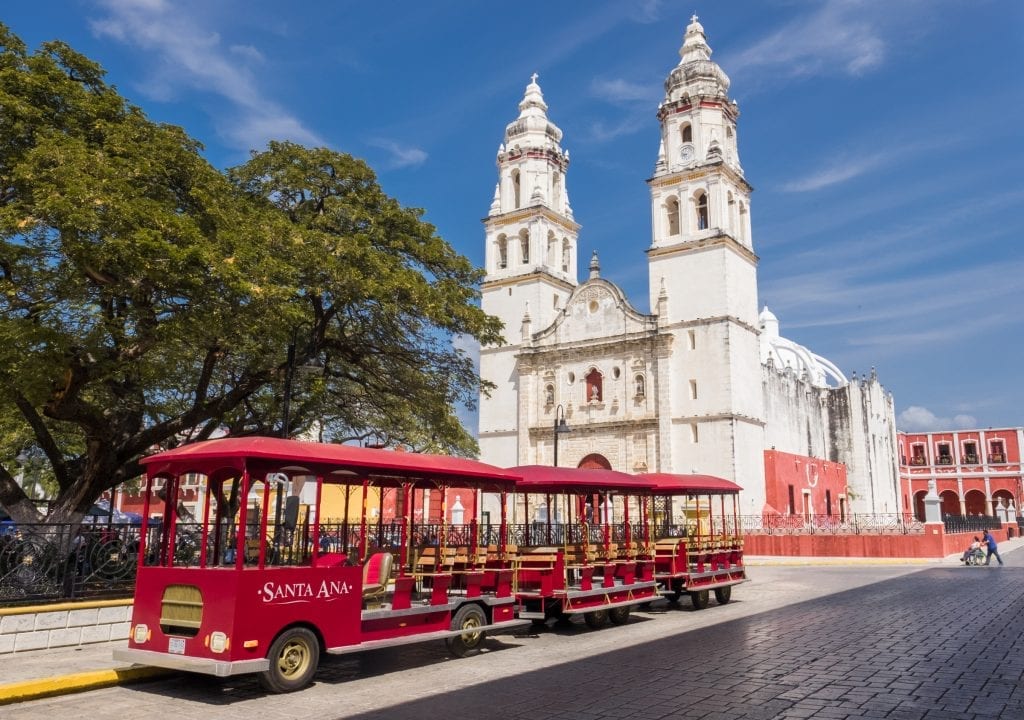 What's Campeche like?
We arrive in Campeche and promptly set out for a walk — and a coffee, of course. Right away we're struck by the bright colors and neat streets, as well as the open, friendly culture of Mexico that we love so much.
Campeche is a city with a tumultuous history, flavored with piracy and exploration and gold. Originally this area was settled by the Mayans, with a village called Ah Kim Pech. Two larger Mayan cities, Edzna and Calakmul, were in the area that is now Campeche state today.
The first Spanish colonizers arrived in 1517 and established Campeche as the main port in the region. Unsurprisingly, this made Campeche an attractive target for pirates, who first arrived in the late 16th century, and for the next 200 years, Campeche was attacked with frequency.
Much of Campeche's vibe reflects its mixed heritage: Indigenous Mayan, Spanish, English, Scottish, Portuguese. "Campechano" is often slang for mixed or assorted, and as you'll see, the local cuisine likes to mix things together.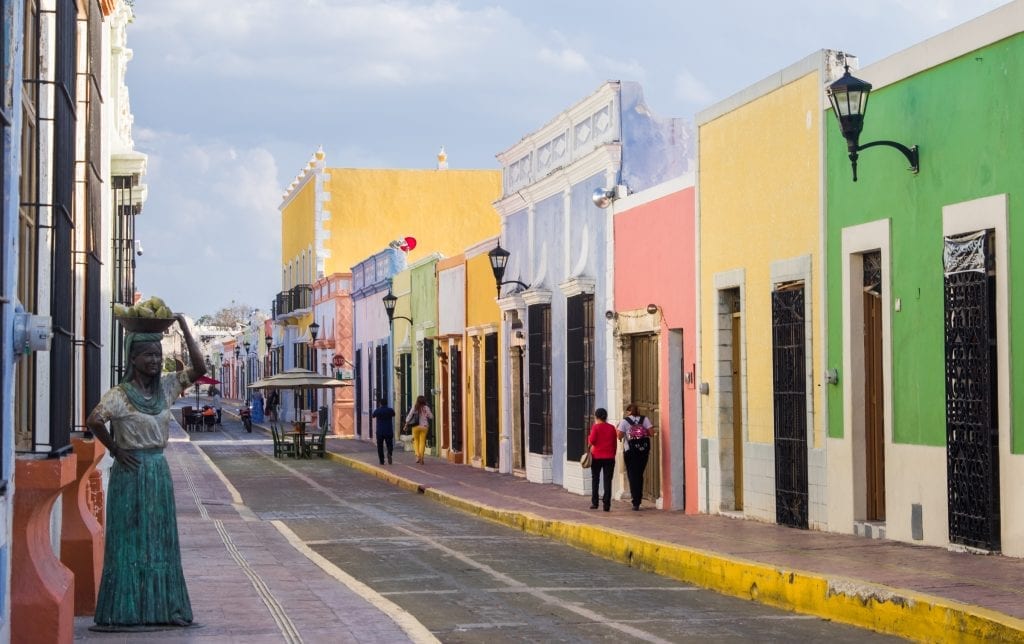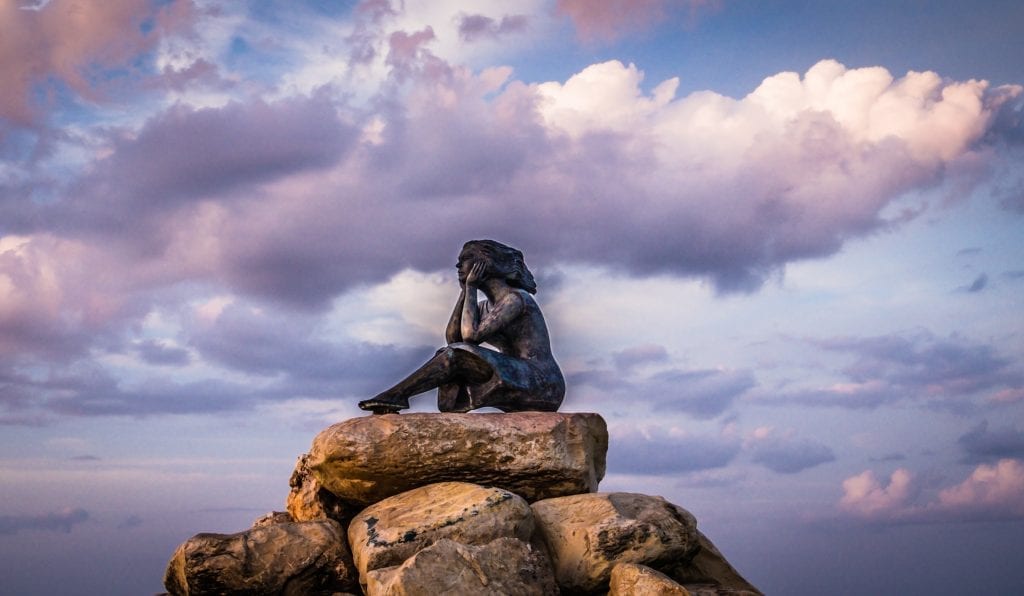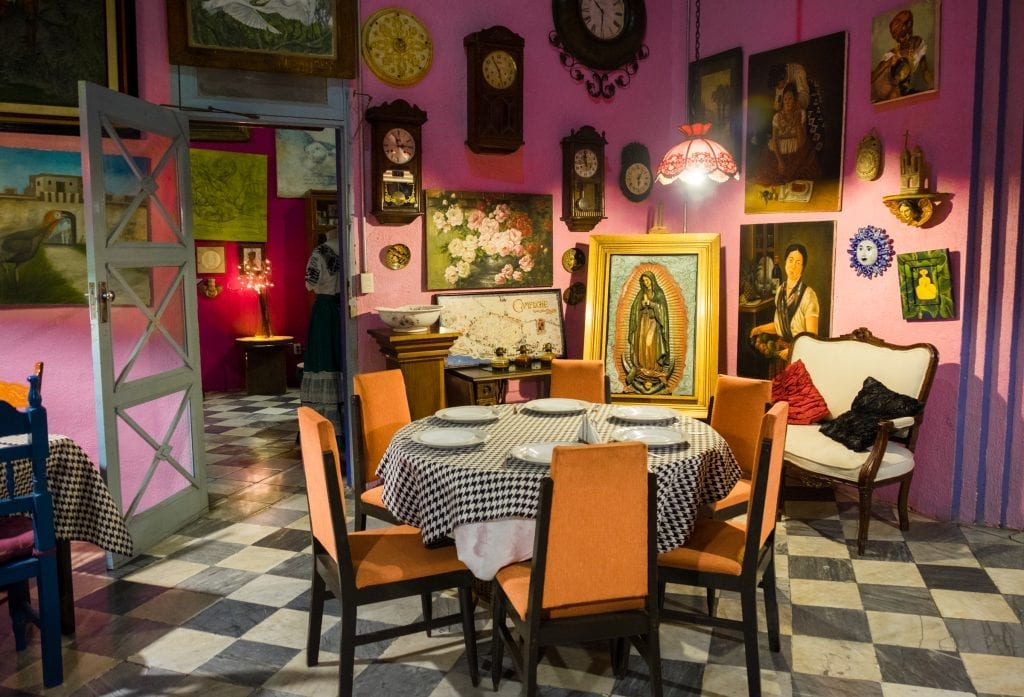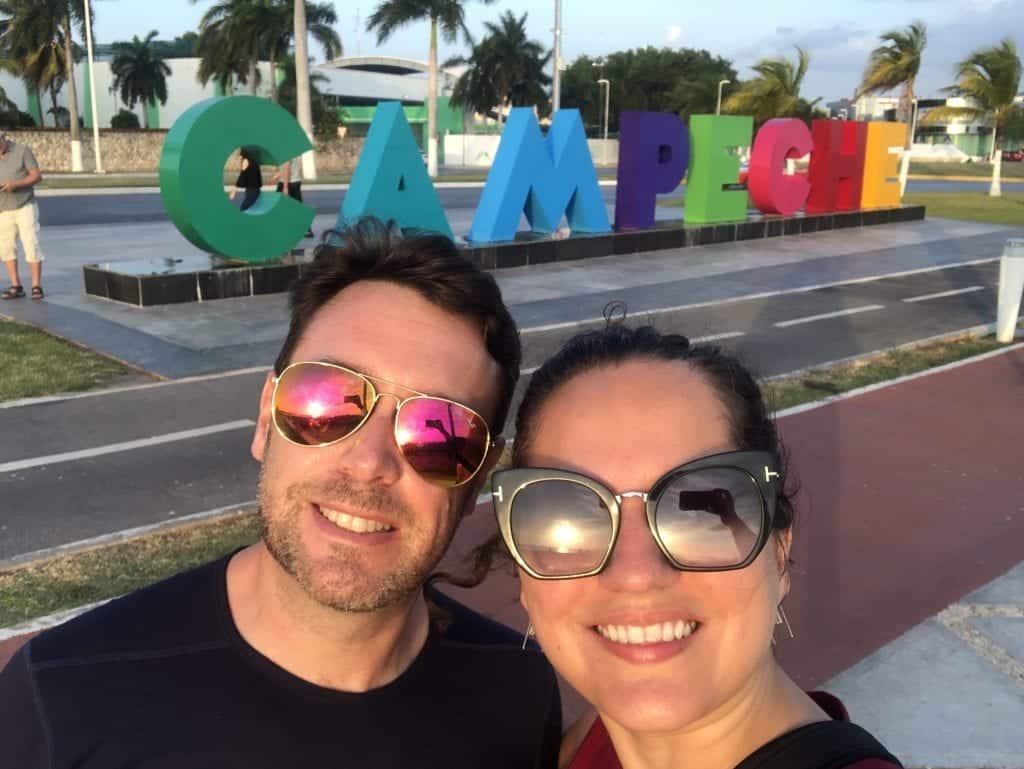 Best Things to Do in Campeche, Mexico
Campeche isn't the kind of city where you rush through a list of things to do. It's more about enjoying the atmosphere and seeing what you come across. You could easily spend all of your time in the old city of Campeche and it wouldn't be a wasted visit!
And of course there is a Campeche sign for Instagram photos, right by the malecón! Though if you visit later in the day, like we did, the sign will be in shadow. We took a photo from the opposite side, which was illuminated, and reversed it.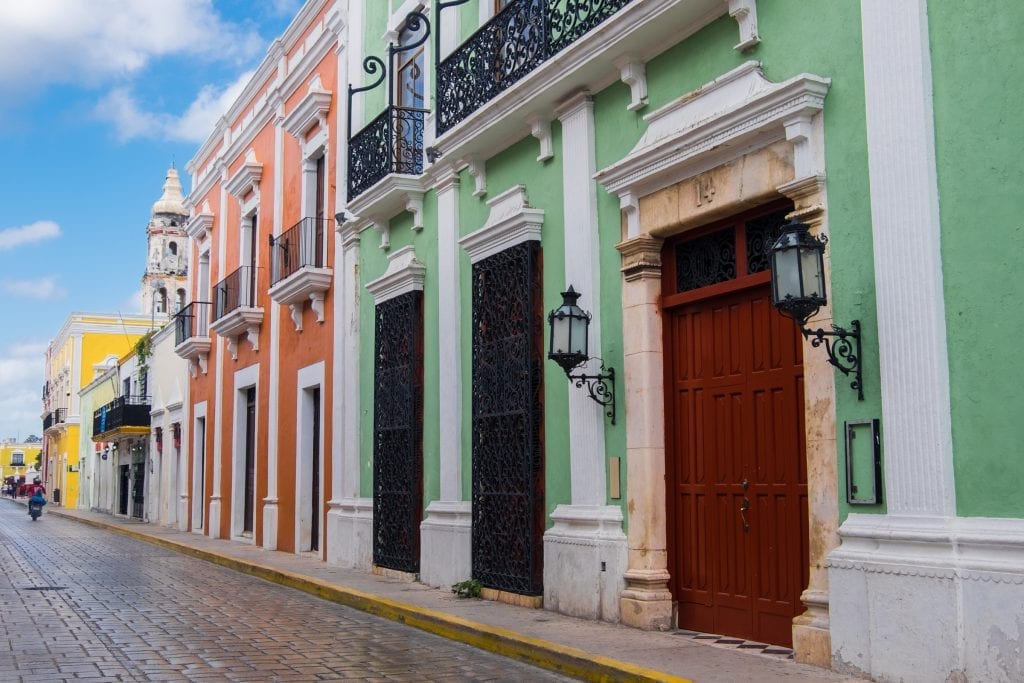 Explore the UNESCO World Heritage-listed old city of Campeche
There are a lot of beautiful restored old towns in Mexico, but I think Campeche is one of the nicest, one of the cleanest, and one of the most elegant.
Even comparing it to Mérida is a huge difference. Mérida's Centro neighborhood is lovely and colorful, but you notice that Campeche's is much neater, with even sidewalks (a rarity in Mexico) and smoothly laid out roads! This is what you get when you have UNESCO funding.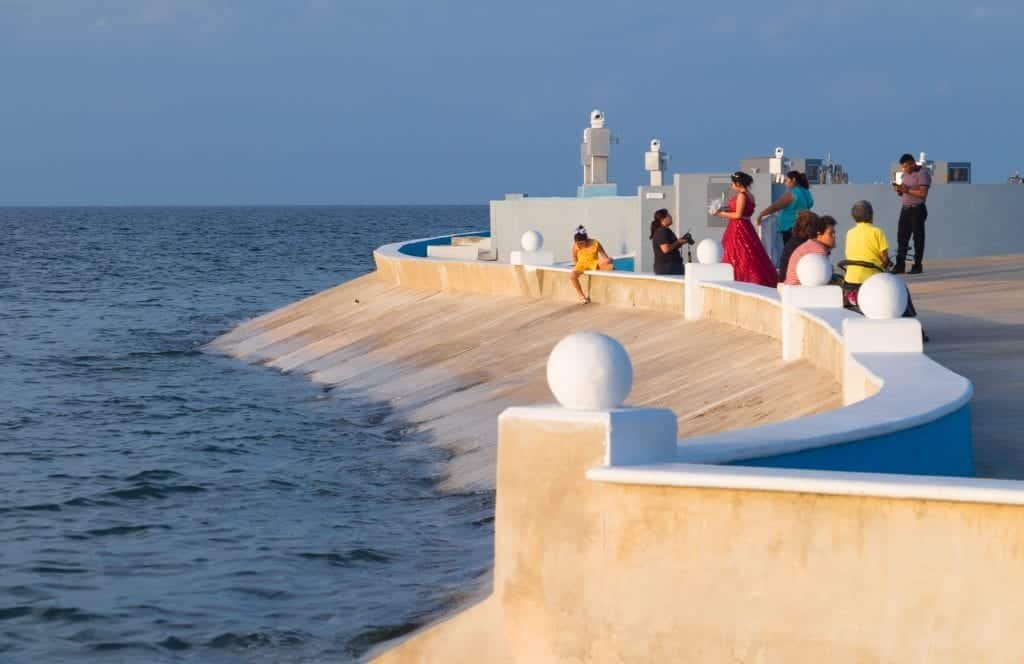 Stroll the Campeche Malecón
One of the nicest things about Campeche is its waterfront setting. The best way to enjoy that? Strolling along the malécon, or the walkway along the waterfront, just before sunset. This is the time when it cools down and everyone comes out to see and be seen.
You'll see couples posing for photographers, joggers, cyclists, elderly people having conversations and groups of teenagers giggling. It's a great spot for getting a walk in and enjoying some people-watching.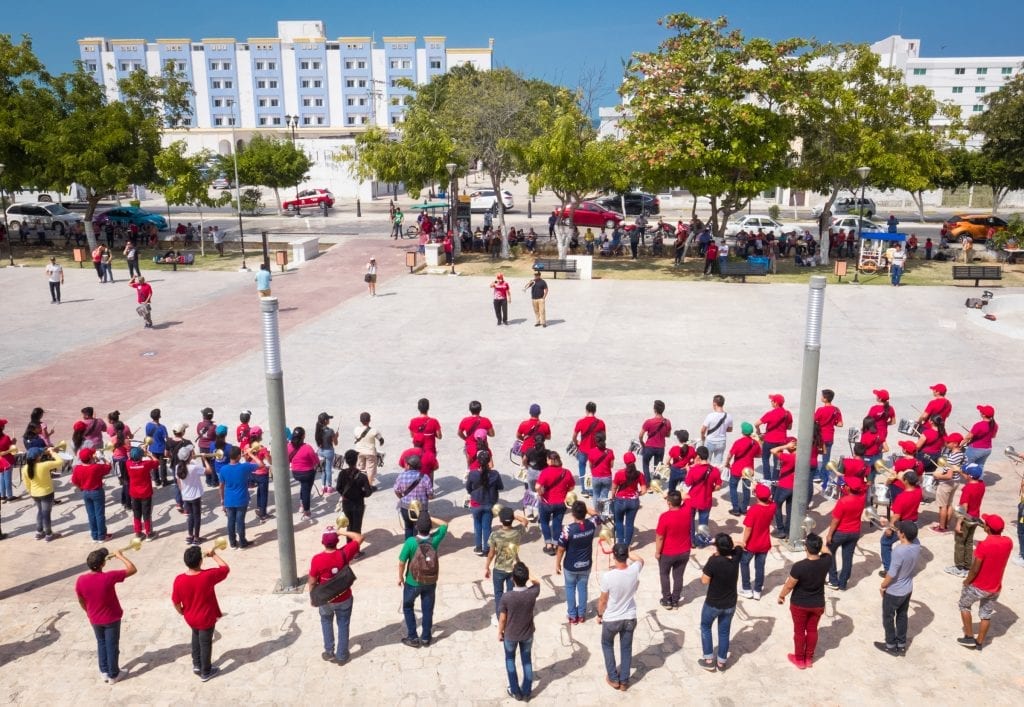 Walk the Campeche Baluartes (Ramparts)
The old city of Campeche is bordered with walls that served as protection from pirates. It's not a complete wall, but there are sections that you can walk up and they make great viewpoints around the city. We ended up with a view of a rehearsing marching band!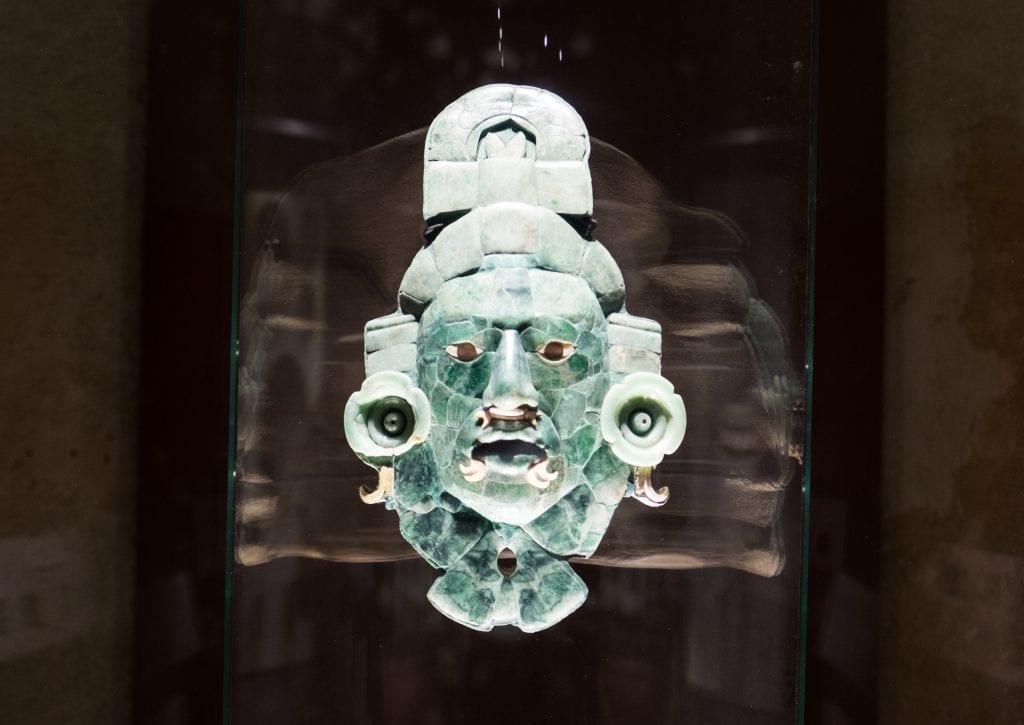 Visit the Maya Architecture Museum
This small museum is in the base of one of the baluartes. You'll find a collection of interesting Mayan architecture here, as well as information on the Mayan settlements in Campeche state. But the true standout display is the jade mask from Calakmul.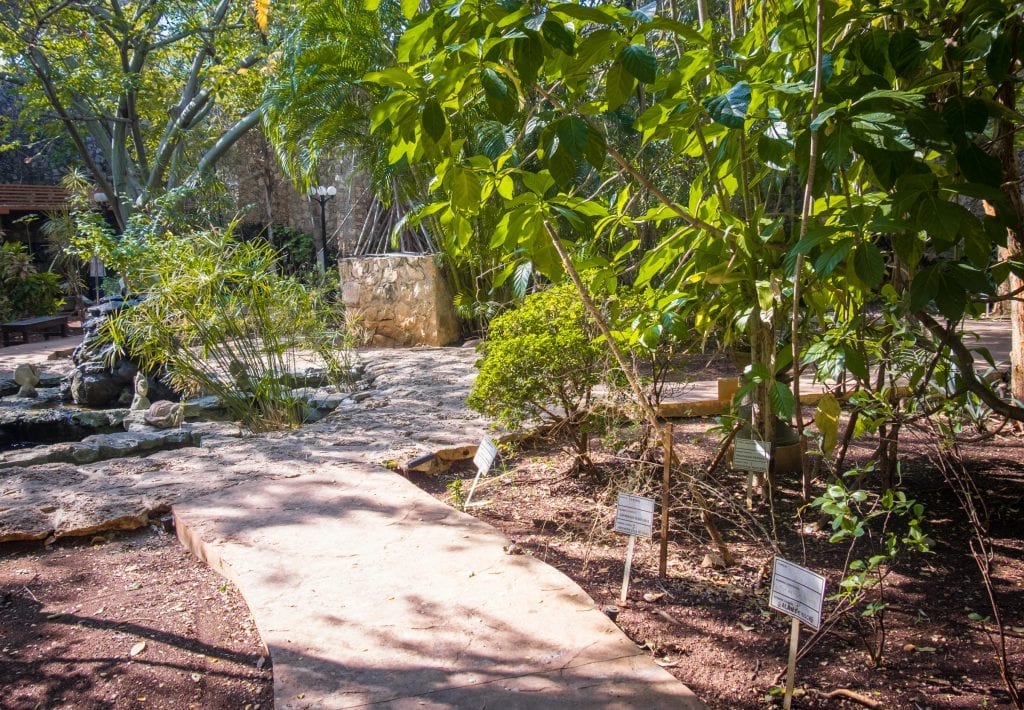 Visit the Botanical Garden of Xmuch'haltun
Campeche's botanical garden is tiny and won't blow you away — but it's a nice, peaceful, green area and worth a quick visit.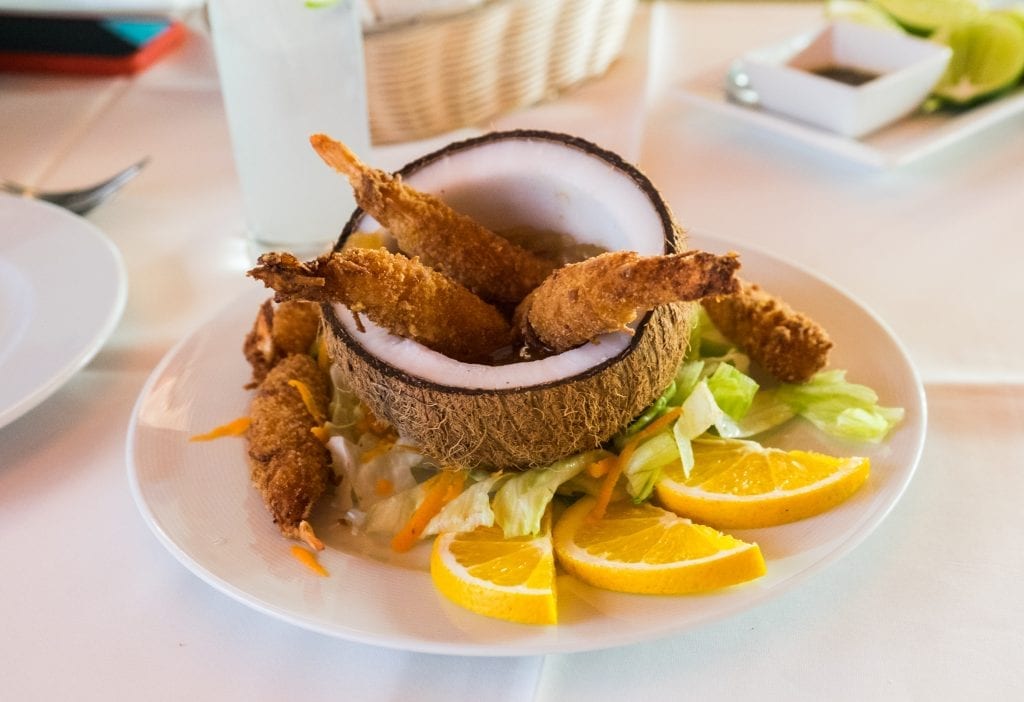 Try some Campechano cuisine.
Campeche's cuisine reflects its diverse, eclectic history. As a result, the word "campechano" often means "a bunch of different things mixed together," even in other parts of Mexico. It's common to have several kinds of meats and seafood mixed together in different dishes, or in unusual combinations. Squid with almonds? Why not?!
The best meal we had in Campeche was at La Pigua, famous for its coconut shrimp. I'm not a huge coconut shrimp fan ordinarily, but THESE COCONUT SHRIMP WERE THE BEST I HAVE EVER HAD IN MY LIFE. I could have eaten around a dozen of them, EASILY.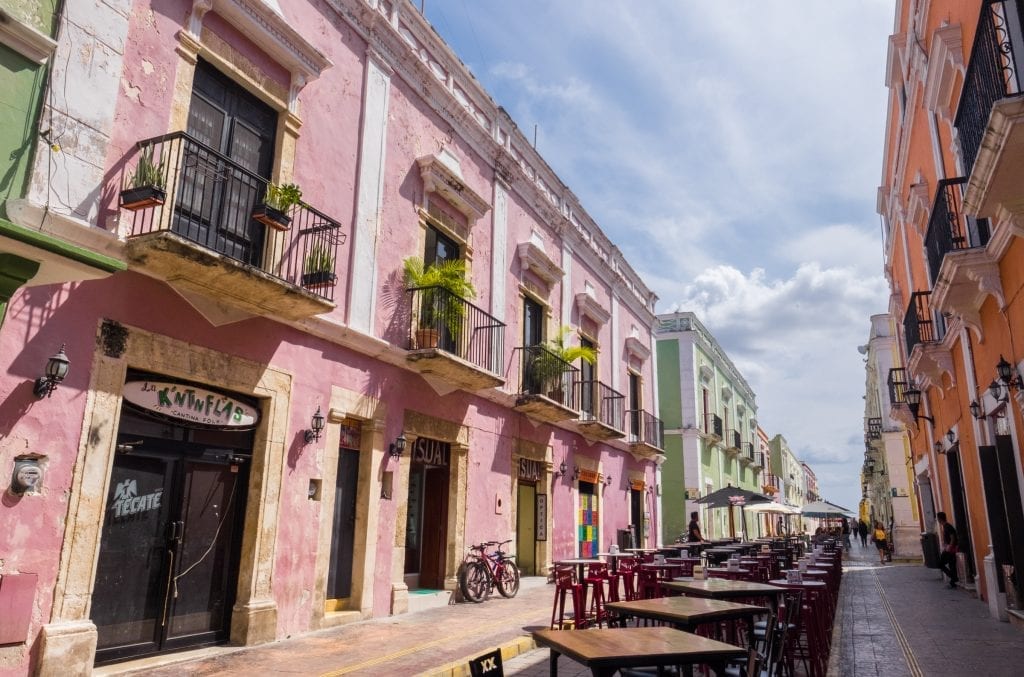 Stop for a Bite at Calle 59
Calle 59 is a pedestrian-only street filled with outdoor tables from the surrounding restaurants. You can eat here at night, but a lot of people come for drinks.
Personally, I felt like this is the one place in Campeche that feels aggressively touristy — the tables are filled with those giant novelty beers that multiple people share. (Reminded me of my early backpacking days in Southeast Asia, sharing a human torso-sized beer with a bunch of sunburned Brits.) It wasn't my thing, but hey! It might be yours. Go enjoy it if it is.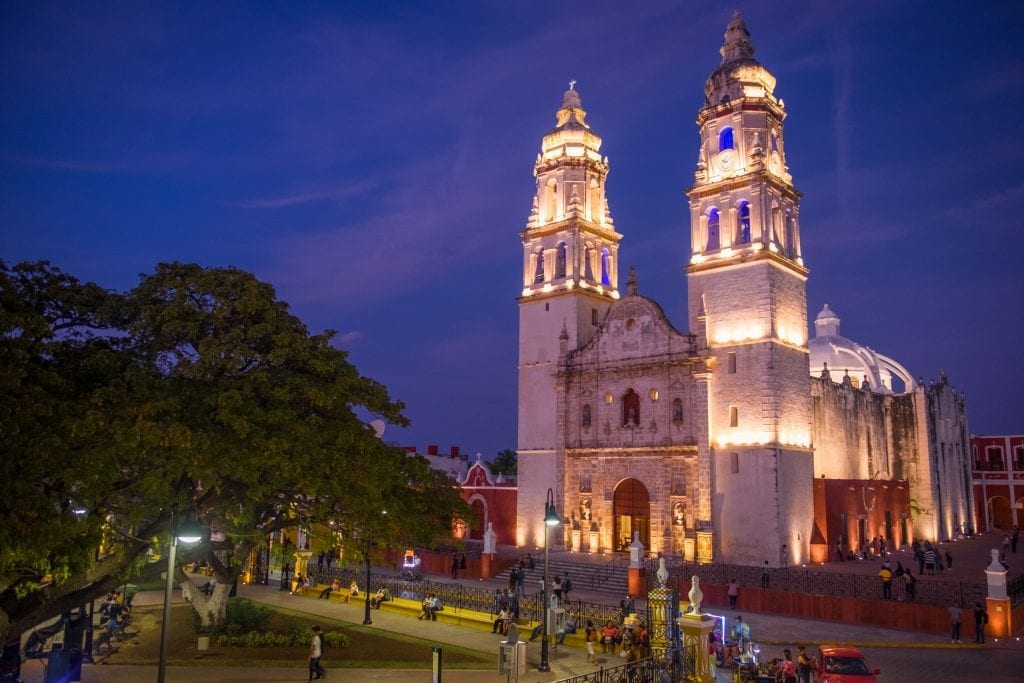 Have Margaritas Overlooking the Cathedral at Casa Viejo del Rio
Now THIS was the special nightlife experience I wanted in Campeche. Casa Viejo del Rio is a restaurant with the best view in town, overlooking the cathedral. I've heard that the food isn't the greatest, so we just went for drinks. Specifically, margaritas. And the view was dynamite.
You'll want to get one of the balcony seats for the best view (and it's probably best to go early to scoop one up) — but the inside is fabulously furnished with brightly colored vintage furniture, almost like a fever dream.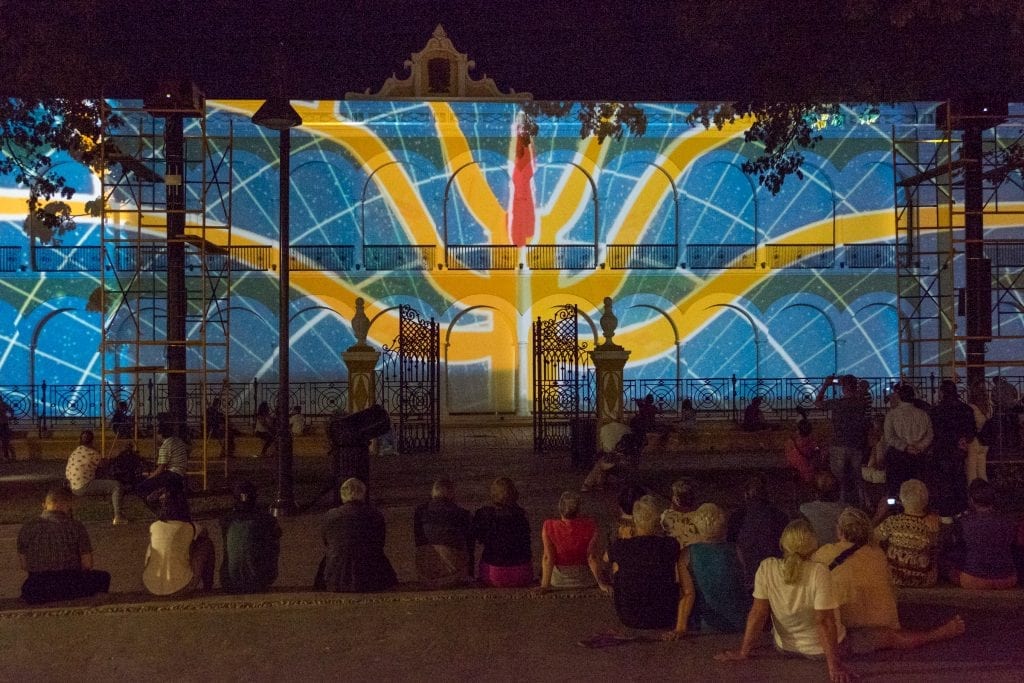 Watch the Light Show on the Square
Every Friday, Saturday, and Sunday at 8:00 PM, there is a free light and sound show on Plaza de la Independencia, the main square of Campeche. For 30 minutes, you'll be treated to a dazzling story about Campeche's history and natural environment. It's all about the music and visuals with no spoken words, so you'll understand it even if you don't speak Spanish.
I loved the community feel with everybody coming out to enjoy the free show on the square! Get here early for a good vantage point — at least 30 minutes beforehand.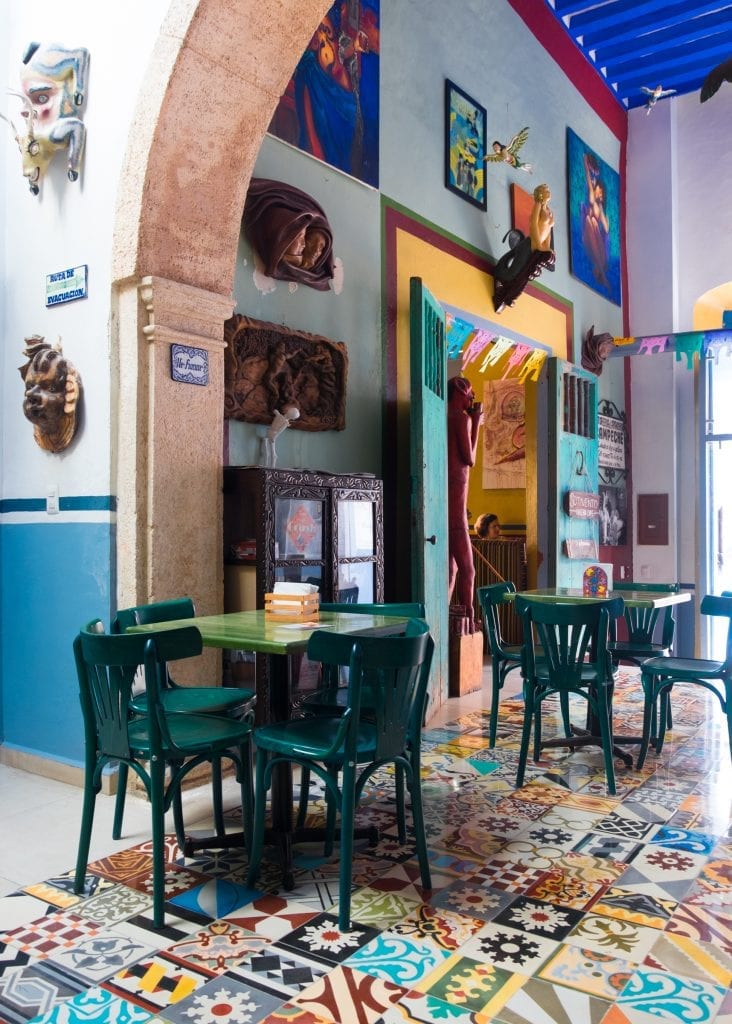 Have a fancy coffee at Cafe Sotavento
Cafe Sotavento is absolutely gorgeous, furnished with colorful, interesting decor. The setting is joyfully radiant, and I went crazy over the mismatched tile floors. I want floors like that in my future Mexican home someday!
Cafe Sotavento serves coffee in a variety of upscale ways, whether it's in the beaker or French press or Japanese vacuum coffee maker. They also do nice lattes.
Full disclosure: we had breakfast here but didn't enjoy our food very much. I would recommend coming here just for a coffee.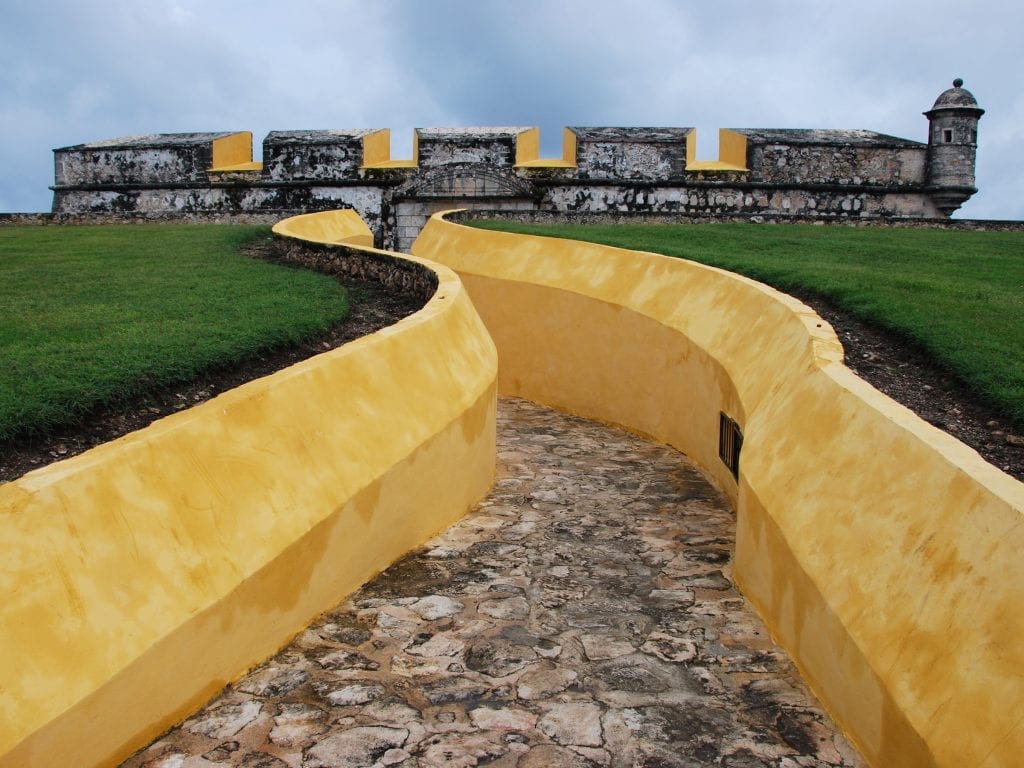 Visit the Forts of Campeche
There are two forts in Campeche: Fuerte San José, pictured above, and Fuerte San Miguel. San José is particularly spectacular with its inlaid yellow entryway.
Both of these forts are on the outskirts of Campeche — San José to the north, San Miguel to the south — so I recommend visiting them on your way out of town. They give you great views over the Gulf of Mexico and let you imagine how the Campechanos felt as they defended their city from pirates.
Day Trips from Campeche, Mexico
If you're spending a few days in Campeche, there are some nearby day trip options that you can enjoy. Here are some of them:
Edzna. These Mayan ruins are one of the most popular day trips from Campeche. The ruins are in great condition and you can climb the pyramid. And the crowds? A fraction of what you'd see at Chichen Itza.
You can book an organized day trip from Campeche to Edzná here.
Playa Bonita. This is one of the nicest Gulf beaches close to Campeche, with soft white sand and turquoise water.
Becal. This small town is famous for its Panama hat production, each carefully woven from palms. If you want to pick up a real Panama hat, this is where to do it.
And don't forget Hecelchakán. That cochinita is fabulous.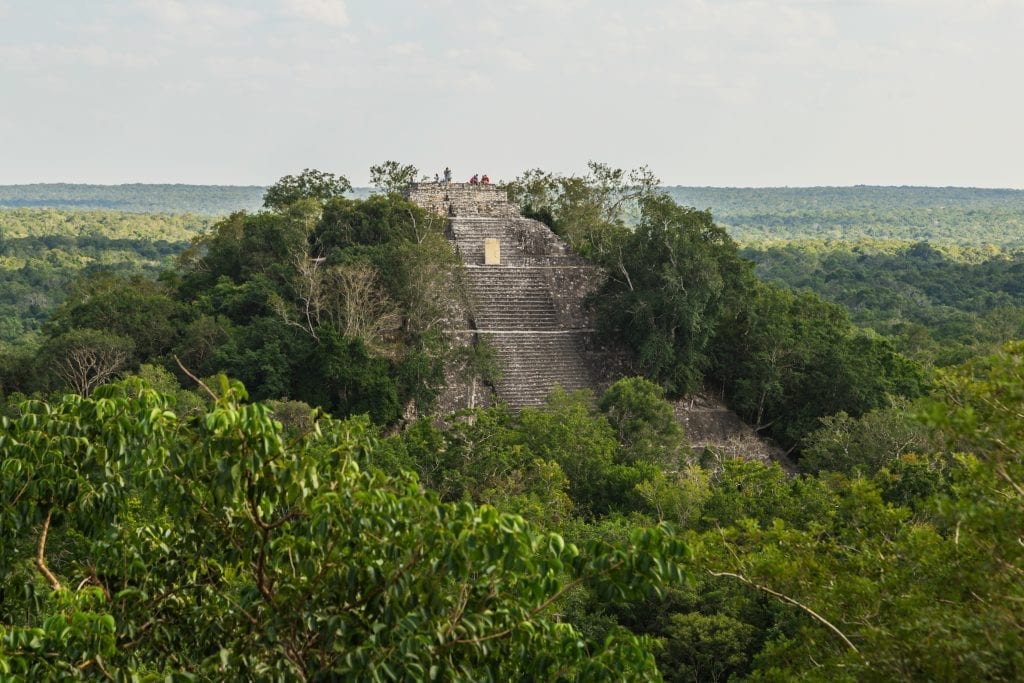 Calakmul
If you want a BIG excursion from Campeche — and I'm talking a huge, remote expedition that will make you feel like Indiana Jones — consider venturing to Calakmul. Calakmul is the largest Mayan city in Mexico and home to two of the tallest pyramids in the country.
Calakmul can technically be done in a long day trip, but I wouldn't recommend it — just because you can, it doesn't mean you should! The drive from Campeche to Xpujil is about four hours alone, and the ruins are further in from there. This part of Mexico has very little development. There are no gas stations in the enormous Calakmul Biosphere Reserve, so fill WAY up before you go.
Make this a big, special trip, and be sure to plan ahead with food and water.
You can book a (long, 12-hour) organized day trip to Calakmul here if you REALLY want to do it in a day trip.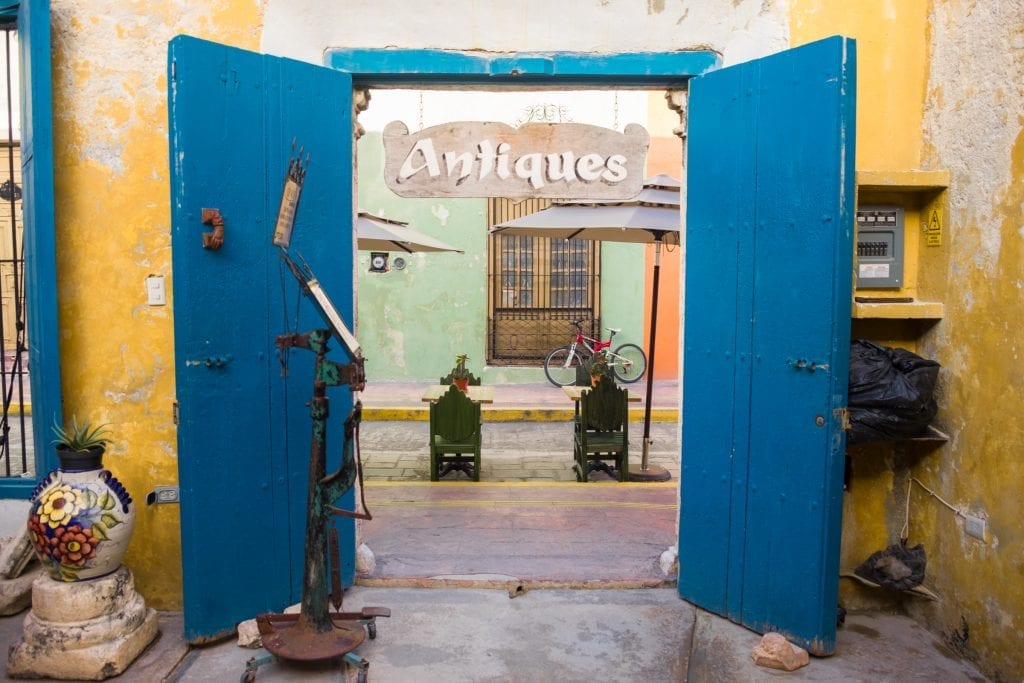 How much time do you need in Campeche?
When we went to Campeche, it was just for an overnight — we set out early from Mérida in the morning and came back the next day. And honestly, that was fine to get enough of the lay of the land. If you're short on time, an overnight will suit you just fine, but two nights will allow you to see a bit more.
If you're traveling more slowly, you can absolutely add more time on to Campeche — but I don't think it's essential.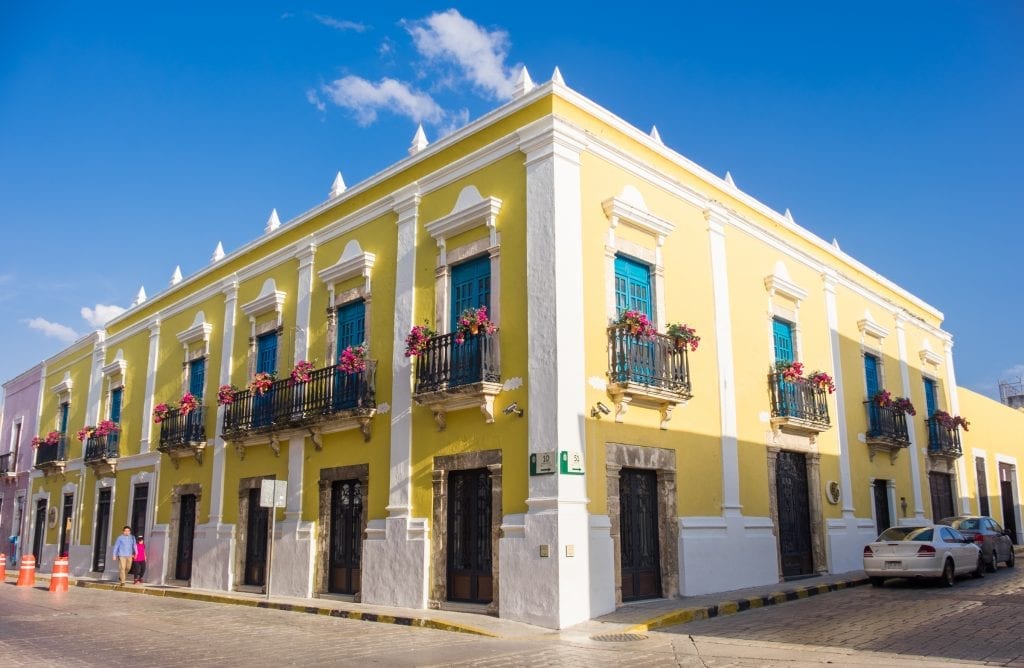 Where to Stay in Campeche, Mexico
In Campeche I stayed at the Hotel Plaza Colonial, a top-rated mid-range hotel on the edge of the old city. This was a nice, centrally located hotel with ice-cold air conditioning and a pool. It made a great base for our time in Campeche.
Just one small complaint — the "double bed" was actually a full-sized bed (smaller than a queen). This is actually common in Mexico, a country where people are on the shorter side, so I recommend verifying the size of the bed before you book.
If you're looking for a more high-end place to stay, you can't beat the Hacienda Puerto Campeche, with its elegant rooms, pools, and restaurants, including the famous hammocks strung across an indoor pool.
Neighborhood-wise, I recommend staying within the old city, or very close by. This is where you'll be spending most of your time.
Find deals on Campeche accommodation here.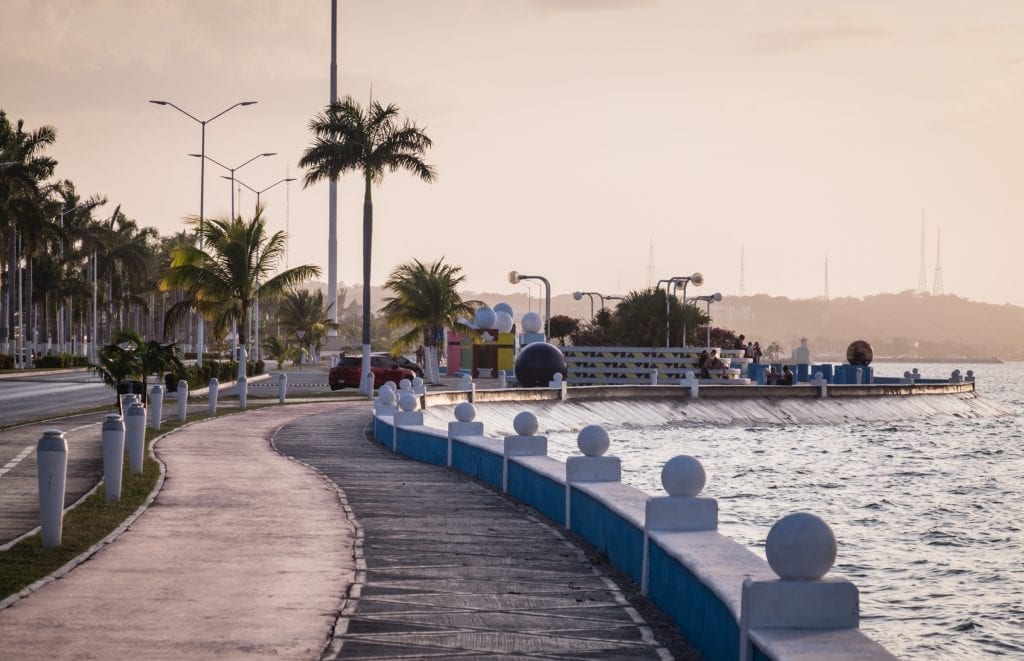 How to Get to Campeche, Mexico
There is an international airport in Campeche, but it's very small, ordinarily serving flights from Mexico City. I find that the lowest fares tend to be on Skyscanner.
The easiest way to get to Campeche is to drive down from Mérida in Yucatán state, which is a much bigger city and transit hub. Campeche is about two hours and fifteen minutes from Mérida, and you may have to stop at a brief checkpoint when you enter Campeche state.
If you're looking to get good value for money, I recommend comparing car rental rates at RentalCars.com. Keep in mind that the cheapest rates are often for manual transmissions — if you need an automatic car, specify that when you book so there are no surprises.
If you're traveling by public transportation, there are frequent buses that run between Mérida and Campeche.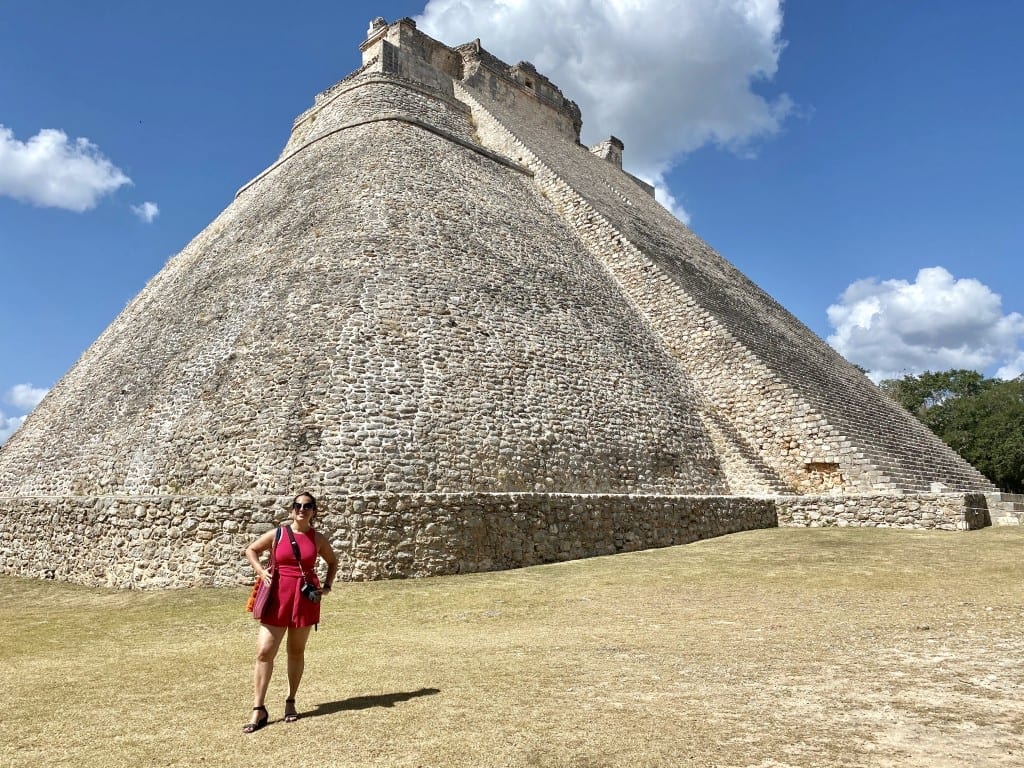 Where to Go After Campeche, Mexico
If you're on a longer road trip in Mexico, there are some logical points to include before and after Campeche. If you're heading north, Mérida is the obvious option; if you're heading south, you're likely heading for the ruins of Palenque, the city of Villahermosa, or even the beaches of Tabasco.
On our drive back to Mérida, we stopped briefly at the UNESCO World Heritage-listed ruins of Uxmal and then visited Cenote San Ignacio, a small resort complex in the town of Chocholá, outside Mérida.
The cenote itself is a bit small and underwhelming, but the restaurant is SUPERB and served the best sopa de lima I have EVER had. It's worth visiting for the soup alone!
Read More: Ultimate Guide to 50+ Best Cenotes in Mexico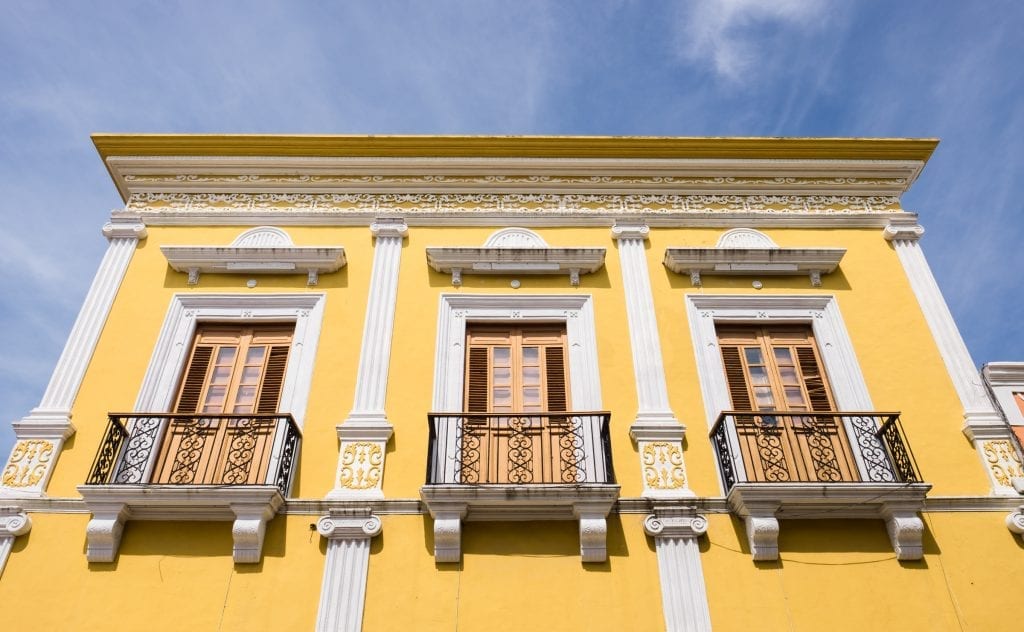 Travel Insurance for Mexico
One last note — it's absolutely vital to have travel insurance before traveling to Mexico. If you get sick or injured on your trip, if you get robbed, or even if you have to be flown home for more care, travel insurance will protect you from financial ruin. I use and recommend World Nomads for trips to Mexico.
Travel insurance will help you in your hour of need if you come down with appendicitis in Mérida or trip and break an ankle while climbing the pyramid at Mayapán, and if your flights get canceled due to hurricanes, you can get accommodation and new flights paid for.
As always, be sure to read your policy carefully and make sure it's a fit for you. See what World Nomads covers here.
Campeche is waiting for you!
I had a really nice weekend in Campeche, and I hope you do as well! This city is truly a lovely place that could use some more international tourism. You'll love it for the colors alone.
Planning a Trip to Mexico:
Places to Visit in the Yucatán and Mexico's Caribbean Coast:
Places to Visit in Inland Mexico:
Places to Visit on Mexico's Pacific Coast:
---
---
Have you been to Campeche? Share away!
Autor: Adventurous Kate
Fuente de contenido