Adventurous Kate contains affiliate links. If you make a purchase through these links, I will earn a commission at no extra cost to you. Thanks!
When I decided to take a 2.5-week solo trip to Colombia, I wanted to pack in as much variety as possible. Cities and rural areas, destinations for both locals and international travelers. And I wanted to do it on a budget — not a shoestring, but enough of a budget to save money while still staying in private rooms, going on tours, and taking occasional flights to save hours of travel.
My first trip took me from Cartagena to Medellín, Salento, and Bogotá, with side trips to Guatapé, El Peñol, the Valle del Cocora, and Zipaquirá. This wasn't quite what I originally envisioned — I had hopes of exploring more of the Caribbean coast, but August's storms and humidity had me scrap the rest of the Caribbean coast and head to the mountains instead.
Even so, I feel like I got the perfect first-timer's overview of Colombia. I'd love to kick off my Colombia coverage by sharing my favorite moments with you.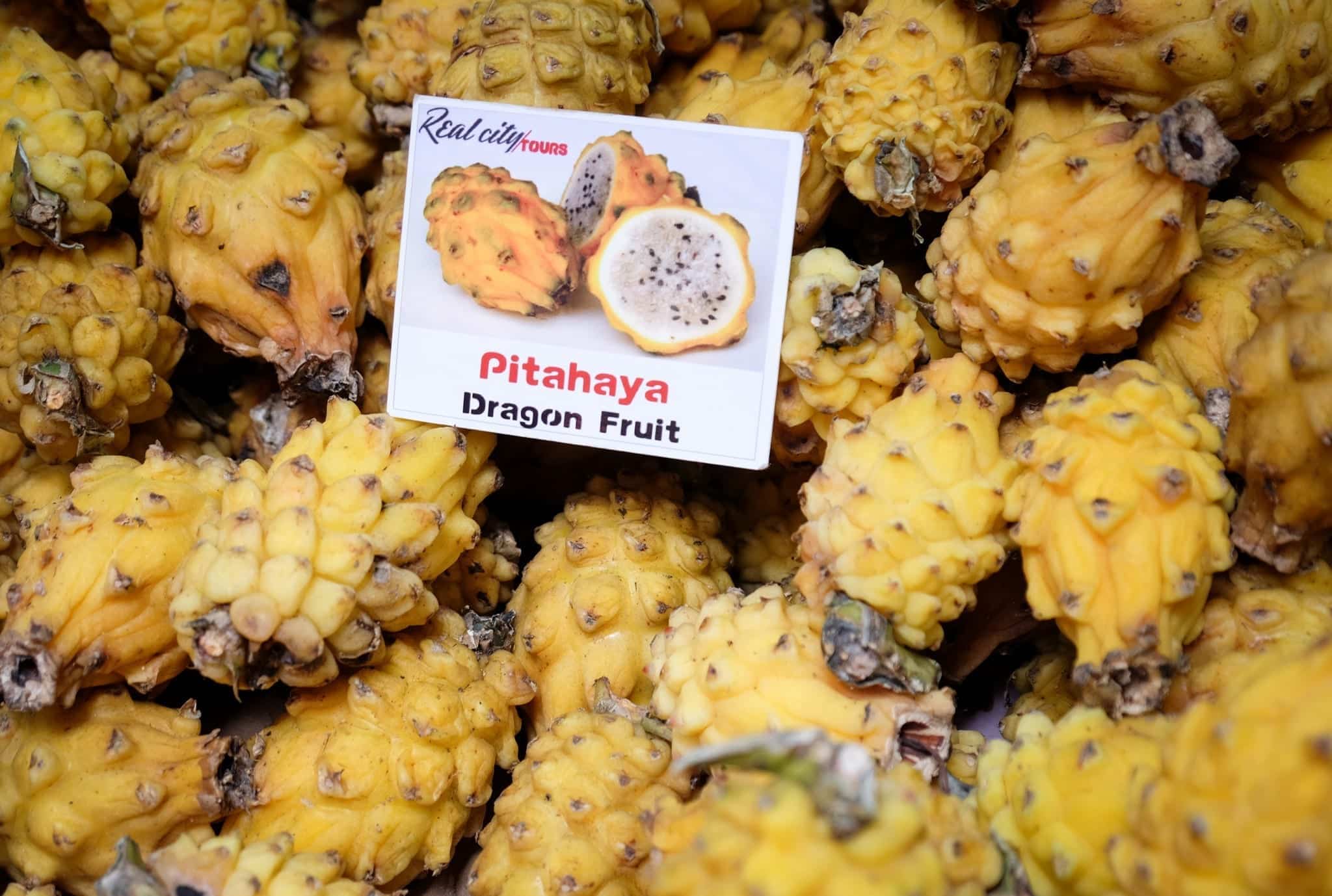 Learning About All the Colombian Fruits in Medellín
Colombia has some of the greatest fruit diversity in the world — who knew? Here you'll soon discover carts piled with tons of fruits you won't recognize. On my trip to Guatapé, I stared at the strange brown produce our driver gave us until I tore one apart and discovered the lightest, sweetest passionfruit: my first granadilla.
The best way to get to know these fruits? Take a fruit tour! Real City Tours in Medellín has a wonderful fruit tour in the Miraflores market, a place where very few gringos venture (and where taxi driver may refuse to take you, saying the neighborhood is un poquito peligroso. Have them take you anyway; it's okay because you're with a local guide).
This tour was one of the best things I did in Colombia because I used my newfound knowledge on every remaining day of the trip. Soon I was at fruit stands picking out my own tomates de arbol (tree tomatoes), bringing home dark green feijoas for breakfast the next morning, and drinking sweet and sour lulo juice every day.
Real City Tours offers their exotic fruits tour for 40,000 COP ($14 USD). Sign up online in advance. Remember to tip your guide. I recommend going downstairs in the market for some sancocho de pescado (fish soup) with avocado afterward.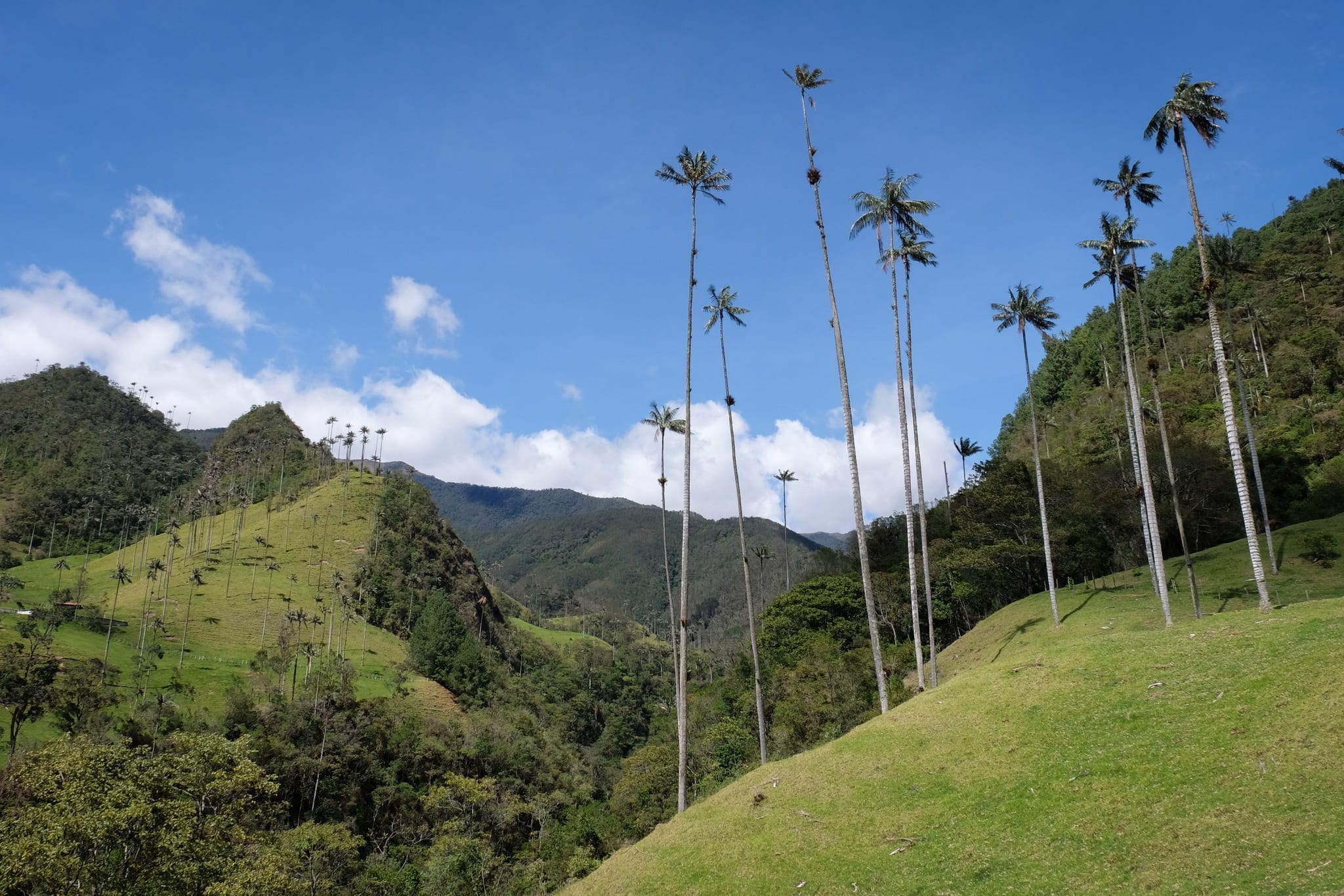 Hiking through the Valle del Cocora
All I knew about the Valle del Cocora was that it was full of super-tall palm trees. There wasn't much more information than that in my guidebook or online, so I decided to wing it, hopping into a jeep on Salento's plaza and hoping there would at least be a toilet there.
Turns out I didn't need to worry — there were plenty of facilities there, including restaurants. I spent the day exploring the hiking trails and marveling at those otherworldly palms. In true Colombian style, there were no maps or even signs on the trail — people just asked each other where things were and how the trail was.
Sometimes the views left me speechless. The Valle del Cocora was easily my favorite natural wonder in Colombia.
Jeeps on Salento's plaza leave for the Valle del Cocora every half hour for 3500 COP ($1) each way. The journey takes 35 minutes. Most trails are free to hike, but the palms trail, the best one, is on private property and costs 3,000 COP ($1).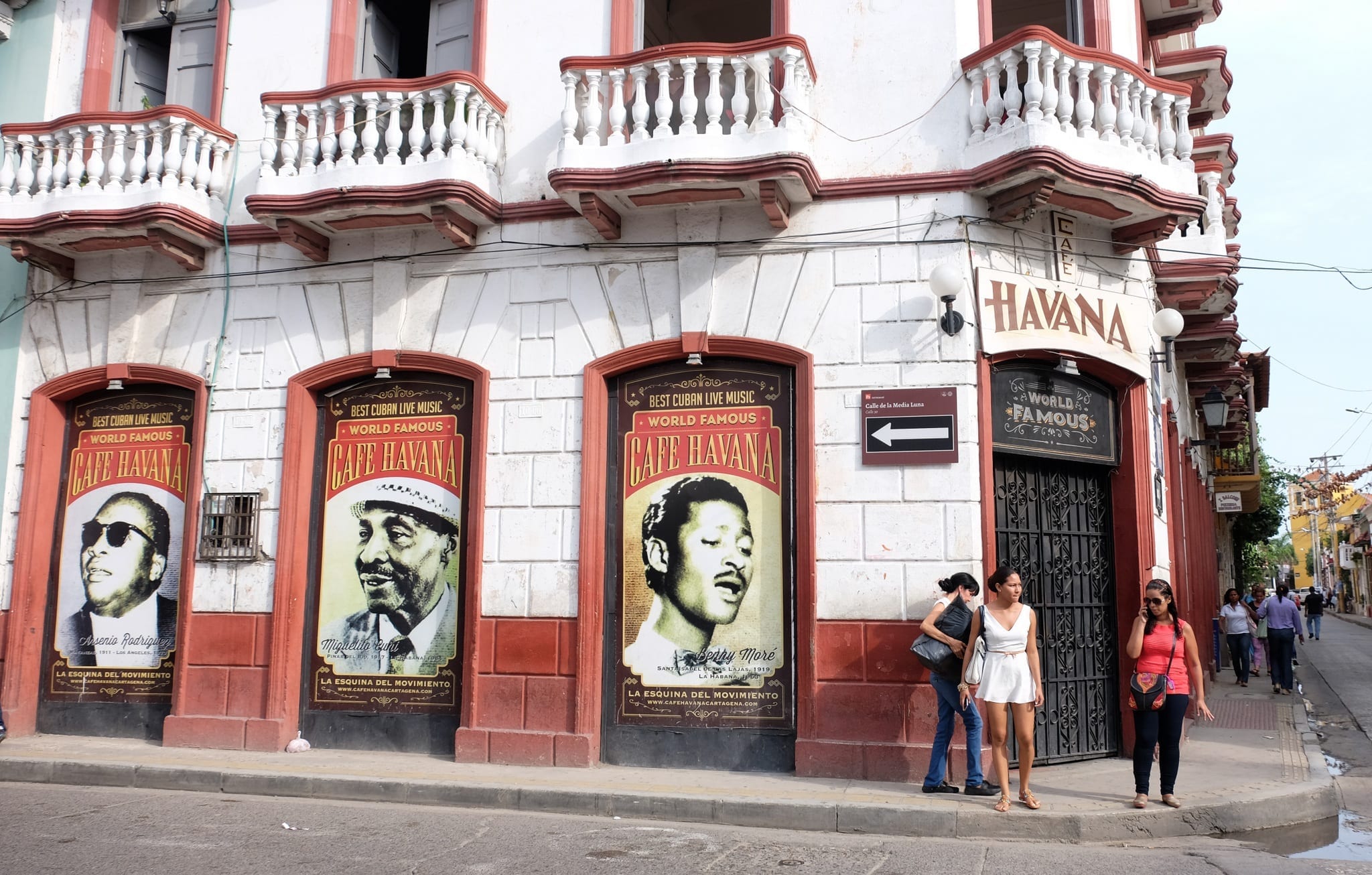 Enjoying Salsa at Cafe Havana in Cartagena
It was nice to make friends with a fellow Manhattanite on a food tour in Cartagena; it was even better when he invited me to check out a salsa club with him that night. Nightlife is something I rarely explore solo, especially in Latin America when solo women are often hounded by men constantly, even when just walking down the street.
How good was the club? It was outstanding. The band was one of the best live acts I've seen recently, huge and passionate and in perfect harmony. The crowd was loving every minute of it. And the mojitos? Perhaps the best mojitos I've tasted. I'm so glad I went!
Admission to Cafe Havana is 20,000 COP ($6).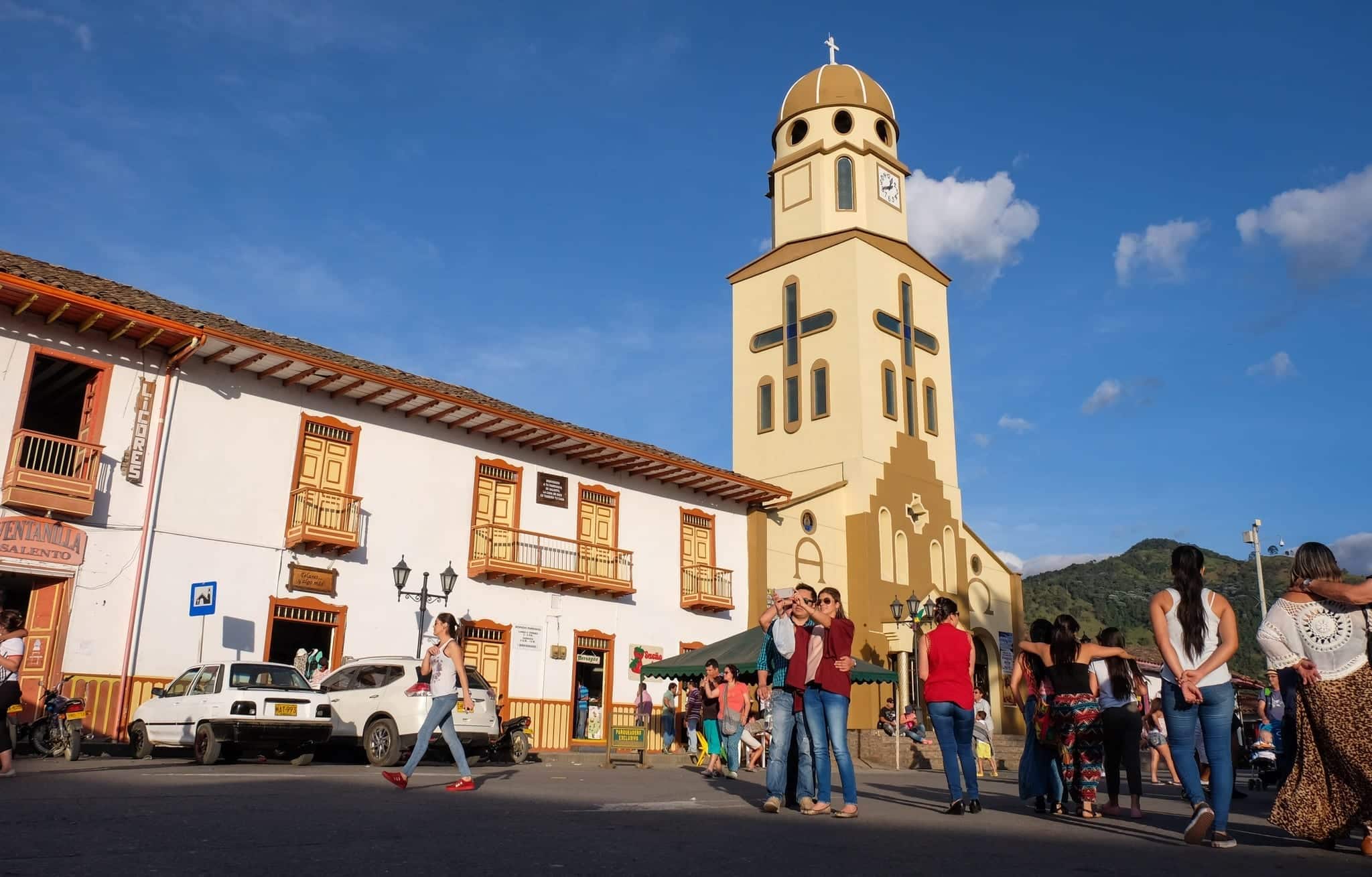 Relaxing in the Early Evening in Salento
Salento was my favorite place in Colombia. This small colonial town is the perfect antidote from big cities like Bogotá and Medellín and popular tourist zones like Cartagena. The tourists here tend to be Colombian tourists (though there is a backpacking presence) and because of that, it's much more chilled out.
Like many cities around the world, just before sunset is when Salento is at its best. People spill out onto the plaza, enjoying beers or fresh juices as music plays. And while Salento is brilliantly colorful, the buildings are at its most vibrant during golden hour.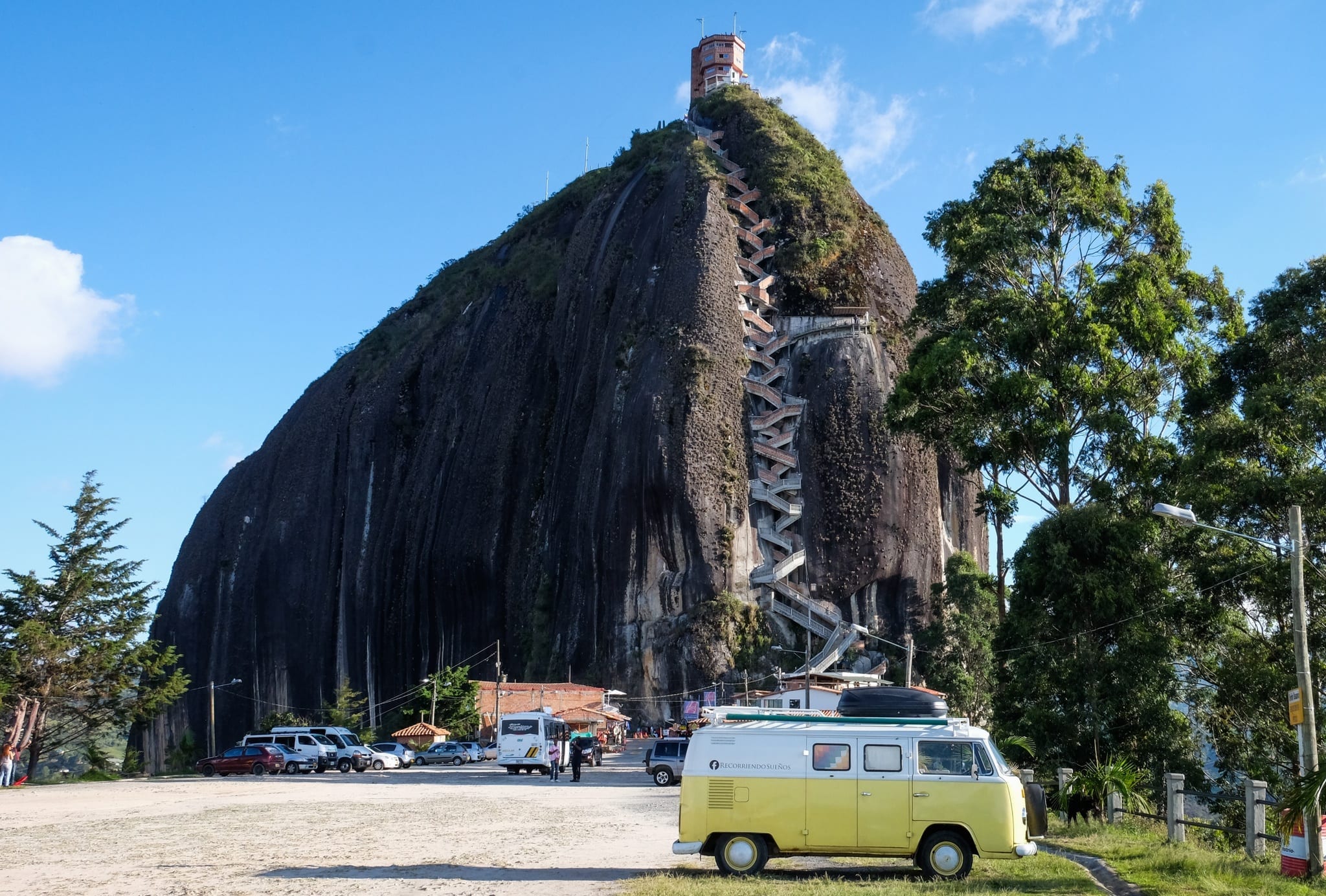 Climbing La Piedra del Peñol in Guatapé
Sometimes, just a picture can inspire you to travel. For me, as soon as I saw the view from the top of this giant rock two hours outside Medellín, I knew I had to climb it.
I joined a tour from my hostel and after a day of enjoying the countryside, set out to climb the rock. It wasn't easy — due to the altitude, I was huffing and puffing after just one flight of stairs! Eventually I made it to the top, which you can see in the top photo of this post. I made it. My biggest Colombian goal was achieved.
It's worth noting that another favorite moment was on the way back. As we squeezed into the van and I grimaced at the thought of a queasy two-hour ride through the mountains, our driver asked, "Would you like to see some classic videos?" and suddenly a screen popped down playing the music video for Rick James' "Superfreak." Next up? "Party All the Time" and "Stayin' Alive." We couldn't stop laughing! It definitely made the ride back easier.
I visited Guatapé on a day trip through Black Sheep Hostel that cost 90,000 COP ($31). The tour included a swimming stop, visits to colonial Guatapé and El Peñol, and a stop at Medellín's mirador at night, plus breakfast and lunch. Climbing the rock cost a separate 15,000 COP ($5). I recommend this tour in part because it was easy and the food was surprisingly fantastic! You can also visit Guatapé independently by bus and/or stay overnight if you'd like.
Marveling at the Salt Cathedral in Zipaquirá
Zipaquirá, a town just north of Bogotá, is home to an underground cathedral made of salt. I went in expecting a small chapel; I was stunned to see just how immense it was! There are different zones for each Station of the Cross and it culminates in an immense cathedral lit up in different colors.
Descending into the cathedral even feels a bit freaky — between the high altitude and the descent, you might feel dizzy for a bit. I certainly did.
Zipaquirá is 60-90 minutes outside Bogotá. Admission to the cathedral costs 50,000 COP ($17) for foreigners. I went with a local friend who drove, but lots of companies in Bogotá offer day trips or you could take the bus independently.
Playing with Puppies in Cartagena
PUPPIES! My guesthouse in Cartagena was home to a Boston terrier named Lulu who had given birth to a litter of puppies just three weeks ago. The puppies were adorable, soft and roly-poly, and I loved playing with them and watching them sleep, their little legs wiggling as they dreamed.
As for Lulu, I'm convinced she thought she was a cat. She kept walking between my legs and rubbing her head on me!
Even better? The puppies were peeing on newspaper…and at one point were peeing on a picture of Donald Trump.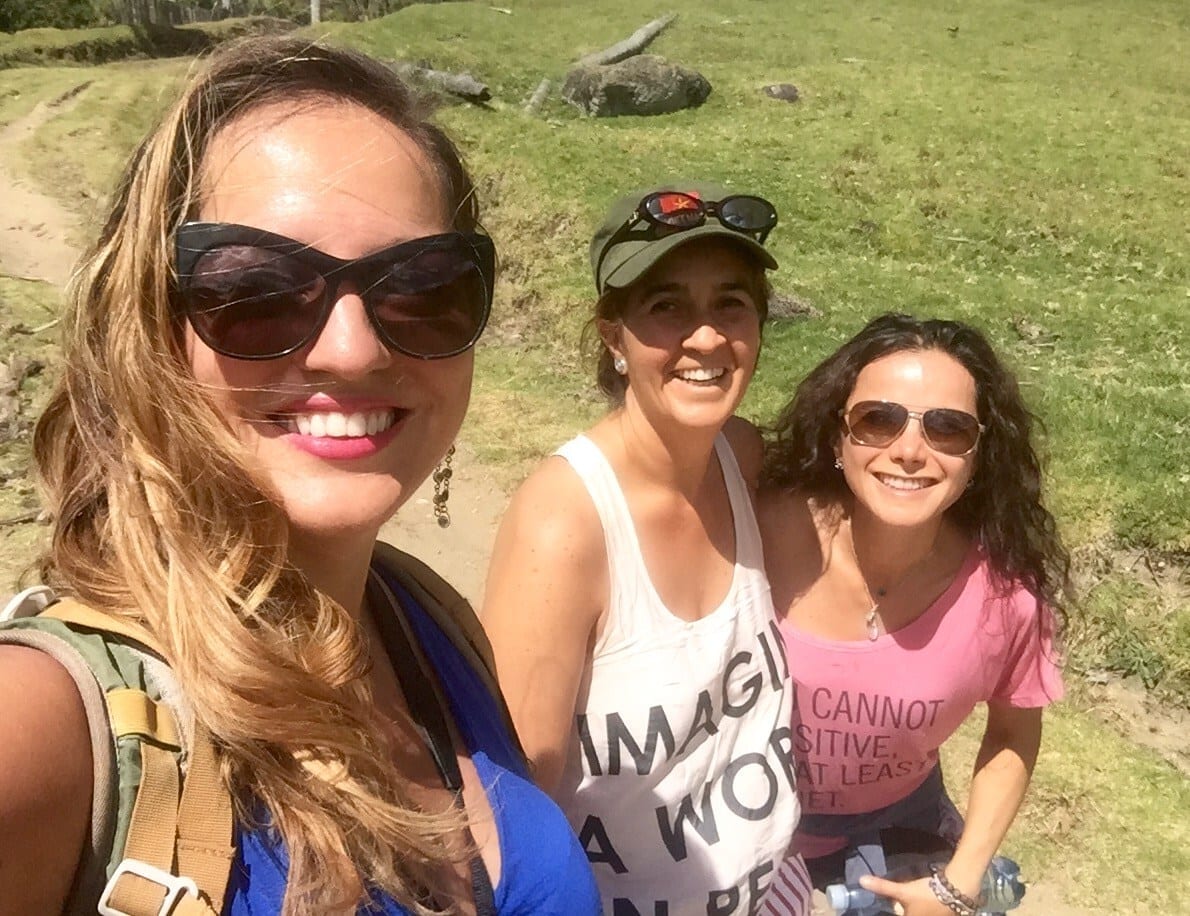 Making Colombian Friends
It can be hard to get to know people when there's a language barrier, and the language barrier is significant in colombia. That said, young people in the major cities are more likely to speak at least a little bit of English, and that's how I met these girls.
I was hiking in the Valle del Cocora when two girls asked me, in Spanish, how long the hike was and what it was like. I struggled through Spanish for about five minutes before one of them asked, "Would you like us to speak English instead?" Would I!
Soon they decided to hike a different trail and invited me to come with them. Their names were Adriana and Joanna, they were from Bogotá, and I learned more about Colombian culture in two hours of hiking with them than I had on my entire trip until then. Little things like how they called every stranger amigo/amiga to them shrugging at the lack of information about the trail, I felt like I got to know Colombia's subtleties a little bit better.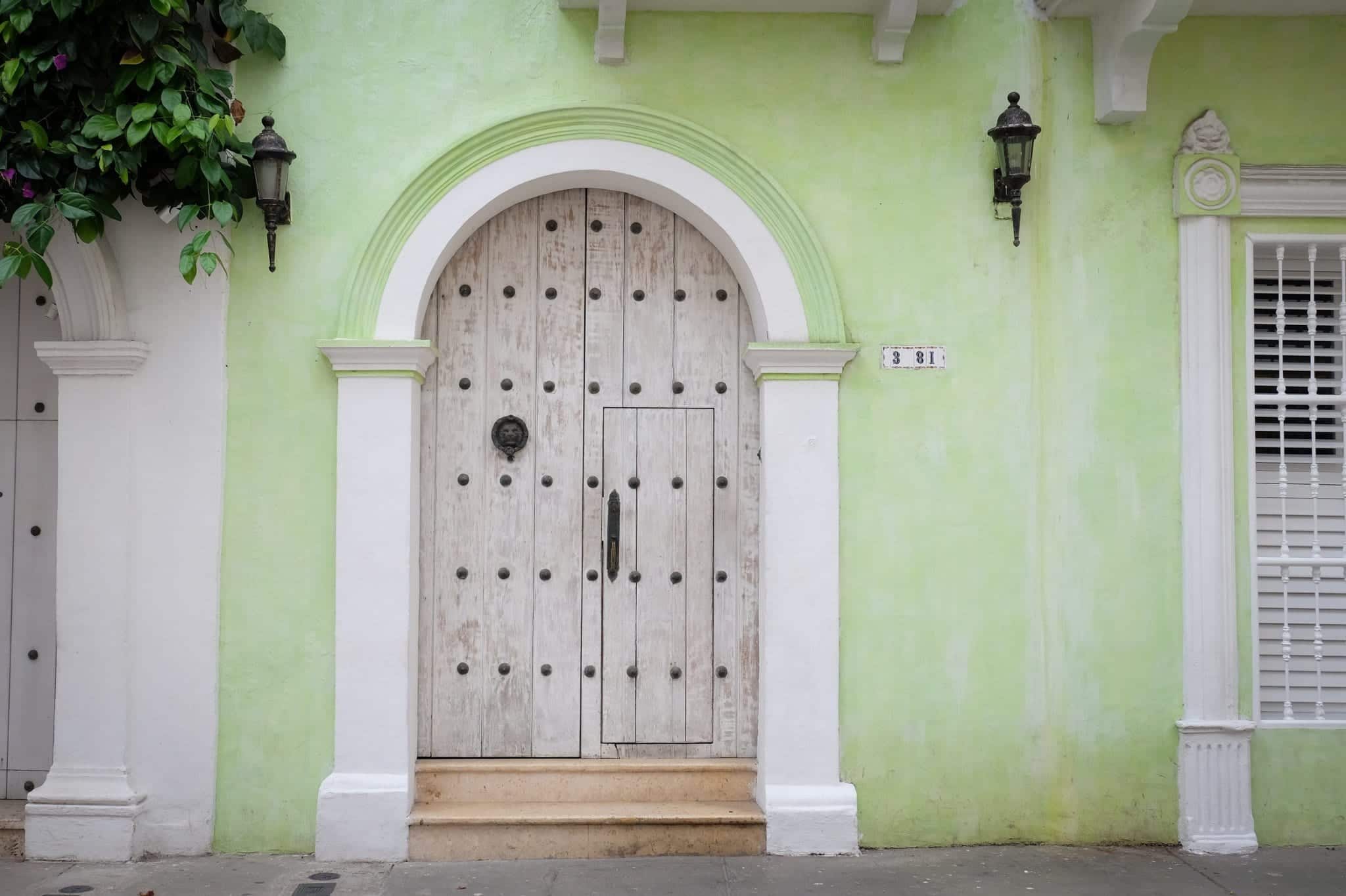 Ogling the Doors of Cartagena
Cartagena's old town is famous for its colonial architecture, but even more so for its oversized colorful doors. Originally designed to accommodate a horse and carriage, today these giant doors have tiny human-sized cutouts for practicality reasons.
They come in bright and pastel colors, some of them falling apart, some of them brand new. I tried to walk down every street in Cartagena just so I wouldn't miss any of the doors!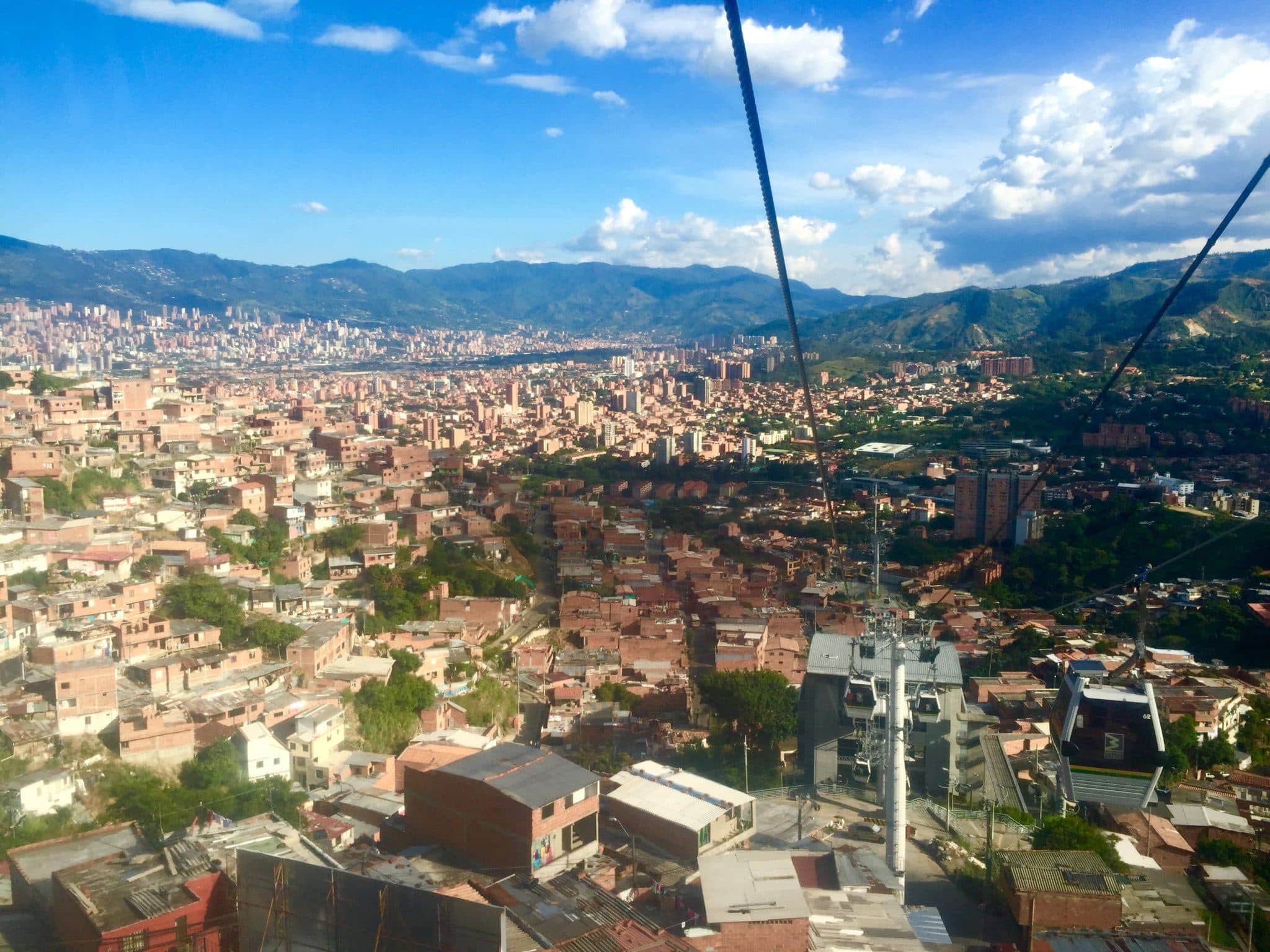 Taking the Cable Car in Medellín
Medellín has arguably the best public transportation system of all Colombian cities: a quick and efficient metro that connects to cable cars. The cable cars were built to serve low-income communities in the mountains that had no other easy way to get to central Medellín.
This was the first thing I did when arriving in Medellín, and I was quickly captivated by the beauty of the city. Medellín is a city impractically built in a valley in the Andes. It may be utterly nauseating to drive through, but it's incredibly beautiful when viewed from a cable car!
On the advice of locals, I stayed on the cable car for the entire ride, kept my big camera in my bag, and didn't get off, as it's not recommended to visit those neighborhoods unless you have a local guide. I tried to look nonchalant amongst the commuters, which went out the window as soon as I took a selfie.
Perhaps the most WTF moment of the trip was when I looked down and saw a wild horse running through the city streets. Nobody was even chasing it!
There are two cable car lines in Medellín: one departing from San Javier (which I took) and one departing from Avecedo. The cost is 1750 COP ($0.50). Unfortunately, the cable cars are covered in tinted glass covered in scratches, so it's extremely difficult to get good pictures while on board.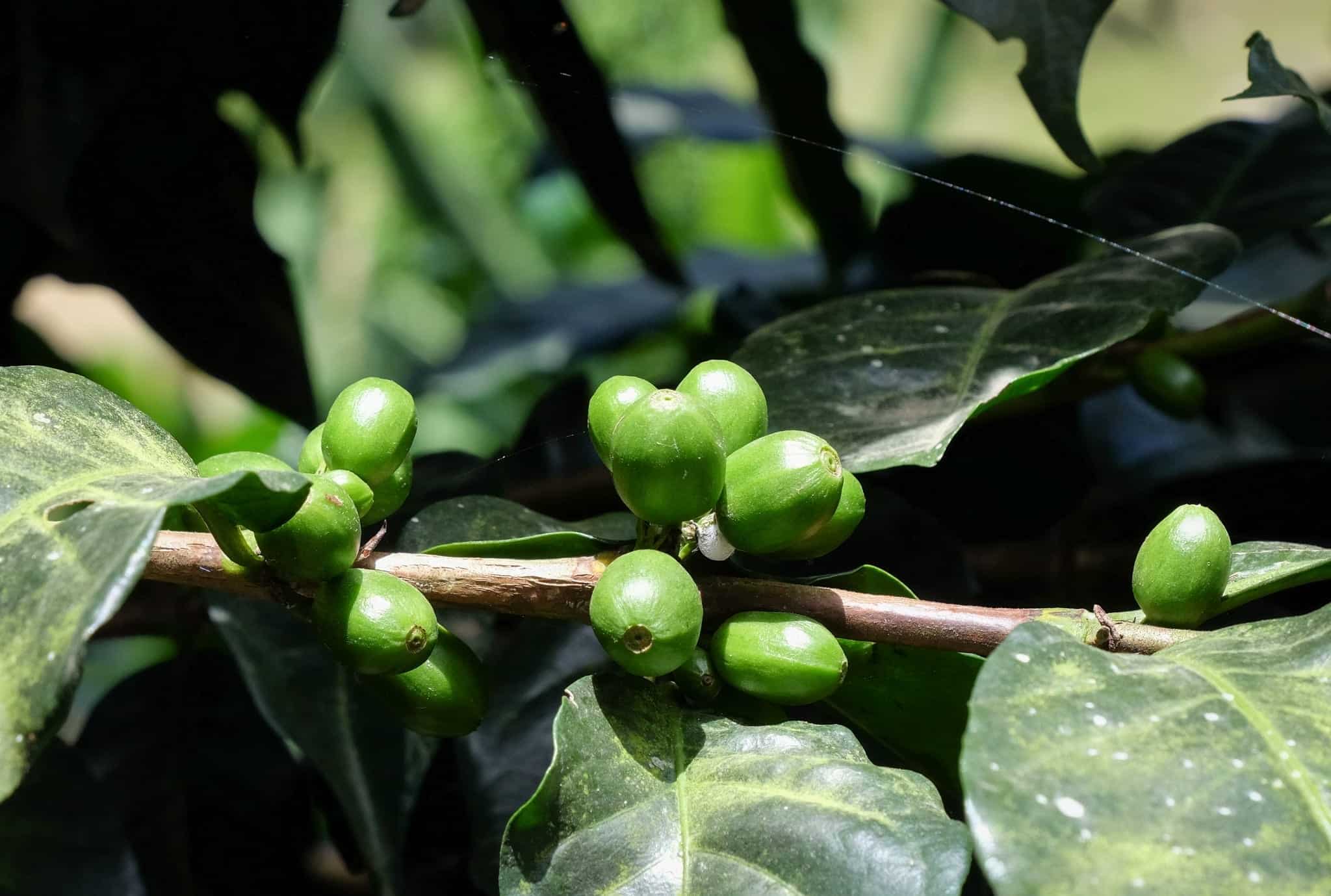 Trying Coffee At Its Source in Salento
Salento is in the heart of the Zona Cafetera — Colombia's coffee country. While the best beans are often exported, here is a chance to see how it goes from beans on the plants to a delicious hot beverage.
I visited a finca called Don Elias, just outside Salento. Some friends from the hostel and I went for a tour, following the organic coffee beans from the plant until they were roasted and ground. A crazy fact? Coffee beans are covered with a sweet jelly-like layer that is used to flavor Colombia's version of Bailey's!
It was so nice to experience Colombian coffee first-hand, and if you have a coffee lover in your life, a bag of beans from a little organic farm makes a thoughtful gift.
I visited Don Elias, just outside Salento. Tours are available in English and Spanish for 5,000 COP ($1.50), including a cup of coffee. The walk takes about an hour, but it's an isolated road and I don't recommend that solo female travelers walk it alone. A few friends and I shared a jeep for 50,000 COP ($17) total round-trip; I'm fairly positive that we overpaid so try to haggle down.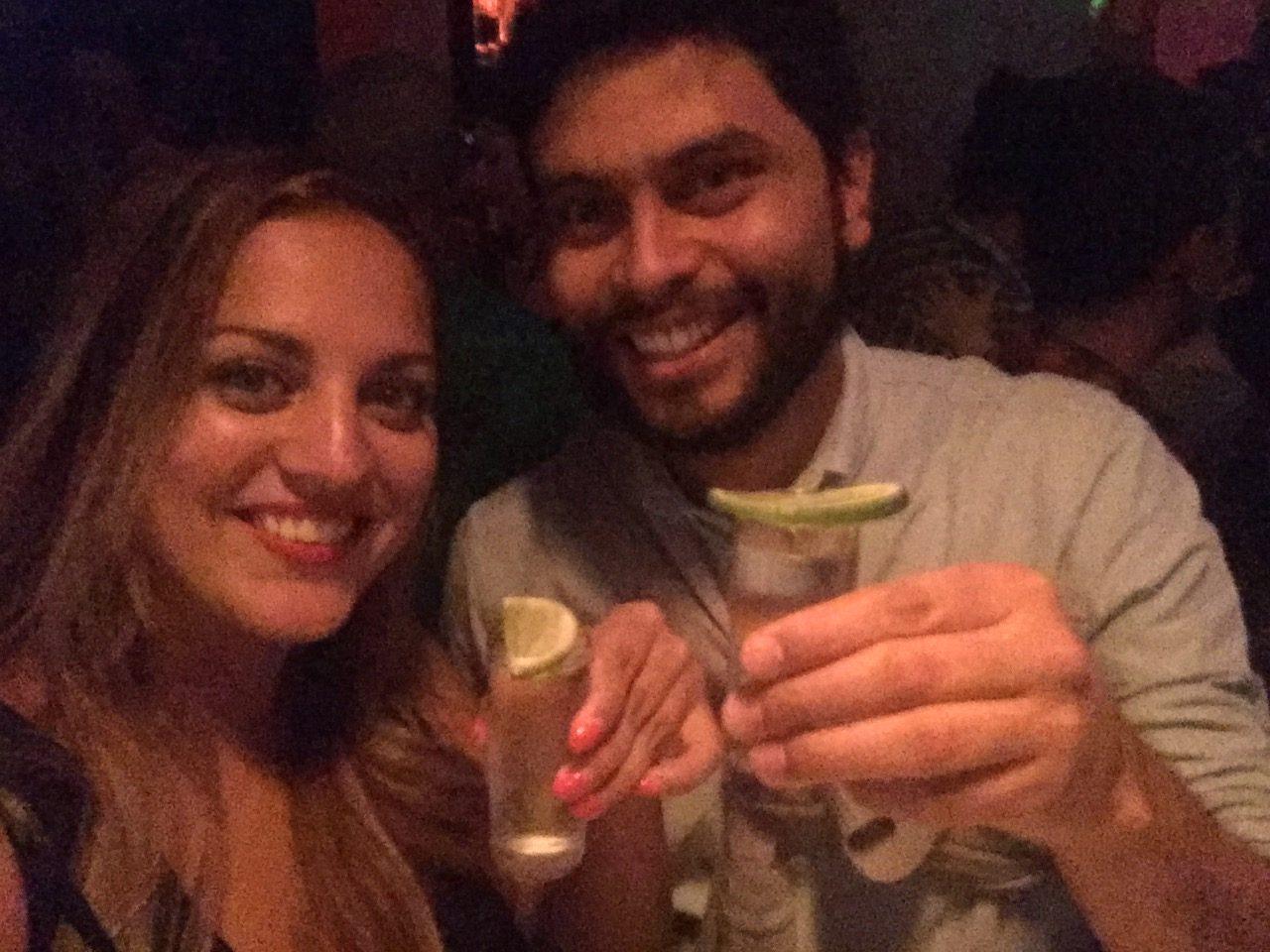 Having a Big Night Out in Bogotá
I wanted to have a big night out on the trip — not a backpacker night, a local night. When my friend Amelia offered to connect me with her boyfriend's Bogotá-living cousin, Mario, I was delighted to make a new friend. Then slightly terrified when he told me we were going dancing. Could this gringa hold her own amongst Colombians?
Turns out I had nothing to worry about. The club played terrific music, in a wide variety of Latin styles, and the atmosphere was so chilled out and nobody was watching anyone else. Plus, I finally got to try aguardiente, the local cheap liquor that tastes of licorice. That's what we're drinking in the photo above (not tequila).
An unexpected highlight? I was the tallest woman in the club! That has never happened before! I'm only 5'4″!
La Negra in Bogotá is a rocking club on Friday nights. There's a small cover charge — I think 10,000 COP ($3).
Getting Lost in Colonial City Streets
Colombia has plenty of colorful colonial cities. Cartagena may be the most famous, but don't overlook Guatapé, Salento, Zipaquirá, or the La Candelaria neighborhood of Bogotá. Each one is a joy to wander and to photograph, especially at sunset.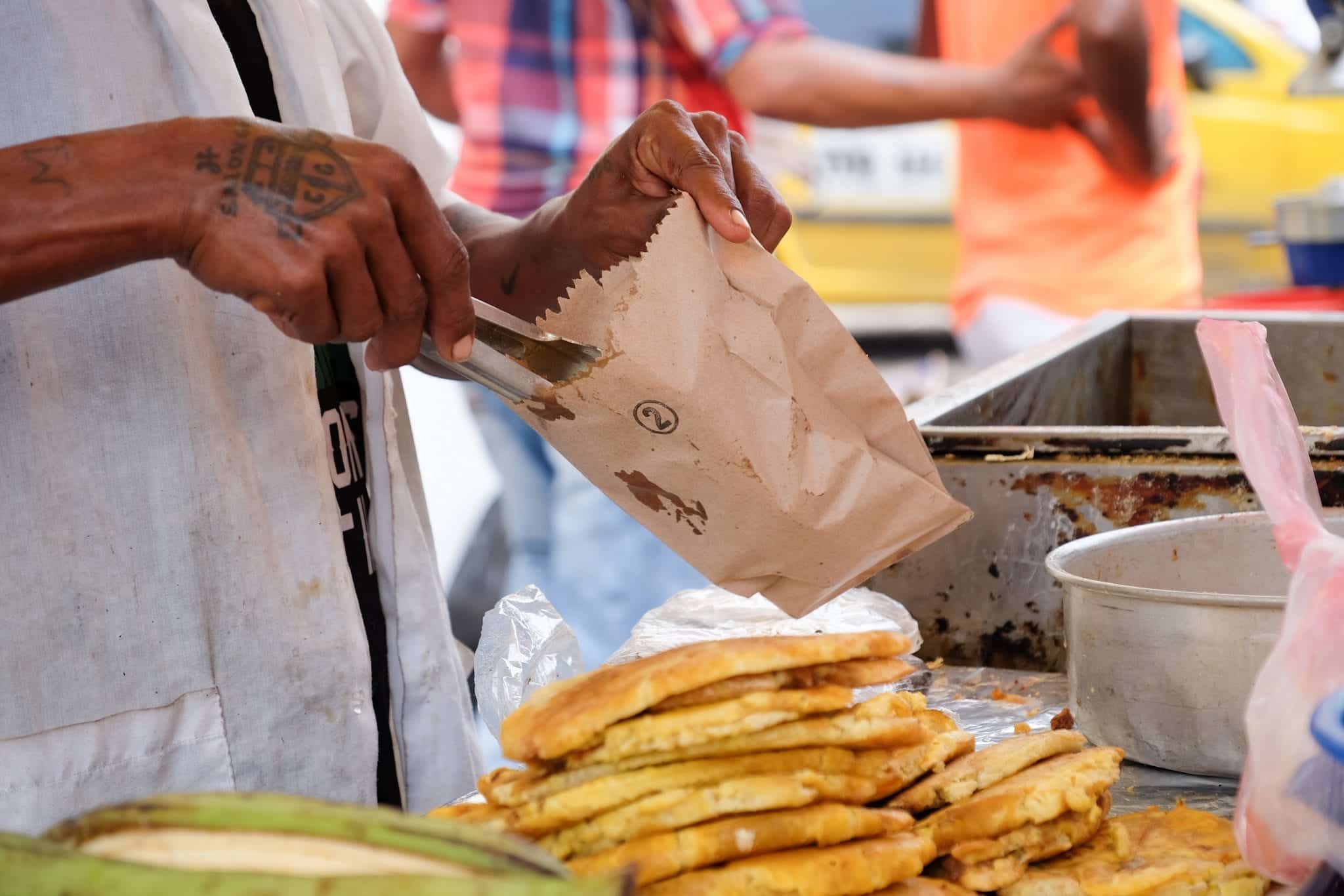 Food Tour Serendipity in Cartagena
I recommend taking a food tour when you arrive in a new country, especially if you're not familiar with the local cuisine. In Cartagena, I got a crash course in the ubiquitous street food, arepas, and learned how diverse they can be.
But for me, the best moment had to do with how well our group got along.
There was a Dutch couple with three kids, ages 11, 8, and 5. They had just completed the trek to the Ciudad Perdida (Lost City). This was a trek that I axed because I didn't think I could handle trekking for four straight days — it was humbling to learn that three kids, including a five-year-old, had trekked it successfully! (The five-year-old occasionally rode a mule.)
The five-year-old was wiggling a loose tooth for the whole tour, and soon it fell out. Her first lost tooth ever!
I reached into my back pocket — I knew I had a dollar in there. I handed it to her. "In my country, when you lose a tooth, you get a dollar!" I told her, skipping the part where the dollar is delivered by a fairy who flies into your room and puts it under your pillow while you're sleeping.
"She's five years old and already earning her first dollar!" her mother said with a smile.
"Beers for everyone!" shouted her father. "My daughter lost her first tooth!" He ran to a convenience store and bought a round of $1 beers for the adults, which we toasted enthusiastically.
We spent the next half hour just hanging out, sipping our beers and watching kids play soccer on a plaza in Getsemani. The 11-year-old joined in.
I live for moments like these — spontaneous bonding with strangers of all ages from around the world.
Cartagena Connections offers a street food tour for 60,000 COP ($21). Remember to tip your guide.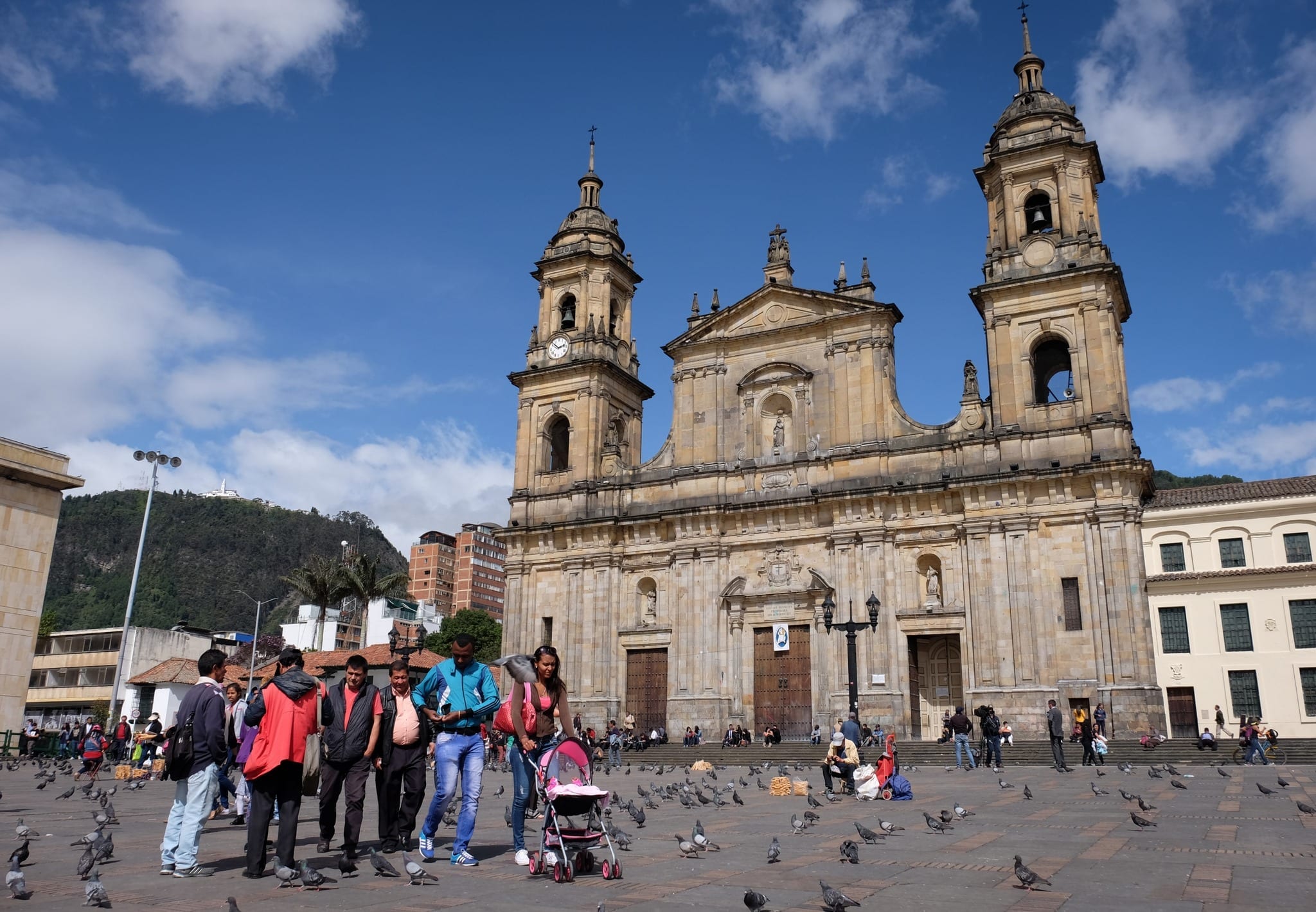 Colombia is Wonderful
I loved my time in Colombia. This country is filled with incredibly kind people, very cool cities, stunning natural beauty, and plenty of surprises. For someone who travels frequently, I found Colombia to be a nice challenge — not too easy, but not too frustrating either.
And now the inevitable question — but is it safe? I got this question at least three times a day on Snapchat alone.
The short answer is that it's much safer than many people think. Colombia is still unfairly associated with its conflicts of the 1990s. The 90s were 20 years ago. Colombia today is very different from Colombia in 1996, just as South Africa, Cambodia, and the Balkans have become much safer since their 90s conflicts. Medellín used to be one of the most dangerous cities in the world; today expats flock there to live long-term. Could you imagine that happening in Mogadishu?
If you research Colombia travel before your trip, take extra precautions beyond what you would at home, learn to speak basic Spanish, get travel insurance before you leave (I use and recommend World Nomads), and use common sense, it's unlikely that anything bad will happen to you during your visit. Beyond that, keep in mind that nothing is 100% safe and sometimes even the most conscientious travelers have incidents.
Stay tuned for a much longer, detailed post about solo female travel in Colombia in the near future.
Essential Info: In Cartagena I stayed at Hotel La Magdalena and recommend it. It's in a well-traversed part of Getsemaní, close to the old city. No hot water, but it's so hot in Cartagena that the water is warm and you don't need anything hotter than that. No English spoken. Ensuite doubles with AC from $31 per night. Other hotels in Cartagena can be found here.

In Medellín I stayed at Black Sheep Hostel, which was the best place where I stayed in Colombia. I had a private ensuite room with a desk and TV. They have lots of tours and there's a social atmosphere downstairs. It's safe to walk around the neighborhood by day but take a cab home at night. English is spoken by the daytime and evening staff. Dorms from $11;  doubles with shared bath from $28; ensuite doubles from $33. Other hotels in Medellin can be found here.

In Salento I stayed at Hostal Cattleya. I stayed for four nights, but in retrospect this place was too simple for me — nowhere comfortable to sit in the room (sitting in bed was just okay), the internet was hit or miss, and hot water was turned off for much of the time. If you're looking for something cheap, though, it's good value for the price point, especially since it includes a hot breakfast. No English spoken. Dorms from $8; ensuite doubles from $24. You can find other hotels in Salento here.

In Bogota I stayed at Hotel Regina and highly recommend it. The rooms are simple but feel luxurious, and it's in the best possible location, just around the corner from the Museo del Oro. Some rooms share courtyards — double-check to make sure your courtyard door is locked, as only the staff can lock it. Hot breakfast included. English spoken 24/7. Ensuite singles from $42; ensuite doubles from $48. You can find other hotels in Bogota here.
Have you been to Colombia? What was your favorite part?
Autor: Adventurous Kate
Fuente de contenido