From fairytale forests to violent volcanoes, we share the best sights in Costa Rica that can be reached in a day from San José
If we ask you to picture Costa Rica, it's highly unlikely that you'll think of San José. This unassuming capital city isn't known for architectural grandeur, fine dining or world-class theatre. Rather, it's a springboard for Costa Rica's natural wonders: the lush forests and hulking volcanoes, the startling wildlife and movie-set scenery. 
Luckily, given Costa Rica's petite size, many of its sights can be seen on a day trip from the capital. There are various trains, buses and transfers from San José that make it easy to access the country's dramatic sights. Here, we share a selection of the best day trips from San José gleaned from our own trip to Costa Rica and fellow traveller input.
Best day trips from San José, Costa Rica
Our selection of the best day trips from San José are plotted on the map below. San José is marked with a blue pin. Click the small arrow in the top left-hand corner to expand the list.
1. Irazú Volcano 
One of my favourite facts about Costa Rica is that ten of its volcanoes form an almost perfect line trending northwest. This intriguing phenomenon is caused by the Cocos tectonic plate in the Pacific Ocean being subducted (pushed or dragged) under the Caribbean plate. If you remember your geography lessons, you'll know that when tectonic plates come together, they cause earthquakes and volcanoes. 
The highest of Costa Rica's active volcanoes is Irazú, said to be named after the indigenous word ara-tzu, meaning 'thunder point' – and thunderous it is indeed. Irazú rises to a height of 3,432m (11,260ft) and has erupted at least 23 times since its first recorded eruption in 1723.
Its most famous eruption was in March 1963, days before US President John F. Kennedy started a state visit to Costa Rica. Irazú showered San José with ash, and eruptions continued for two years.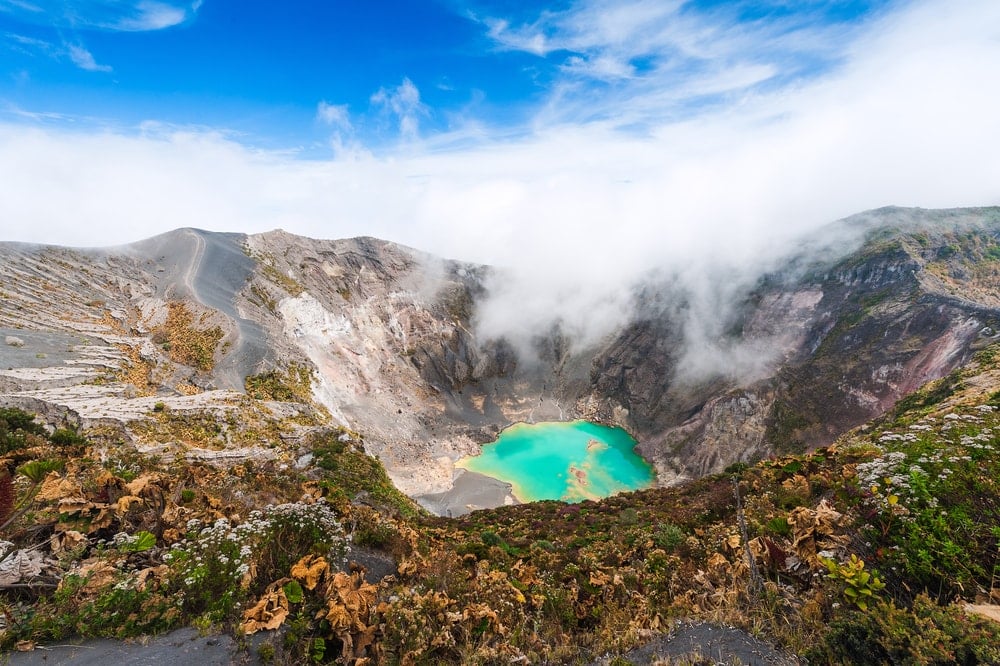 Luckily, these days, Irazú lies quiet – and at just 50km from the capital, offers one of the best day trips from San José. A paved trail leads to the summit crater and wooden railings prevent visitors from getting too close to the edge. The nearby Diego de la Haya crater – one of five in total on Irazú – is home to a picturesque turquoise lake, though be aware that water levels have varied in the past. 
2. Tortuguero National Park
Of the world's seven species of marine turtle, six nest in Costa Rica, four of which nest in Tortuguero National Park. In fact, this 311 sq km park is the Caribbean's most important breeding ground for the green sea turtle. Around 40,000 arrive every season to nest here (Jun-Oct).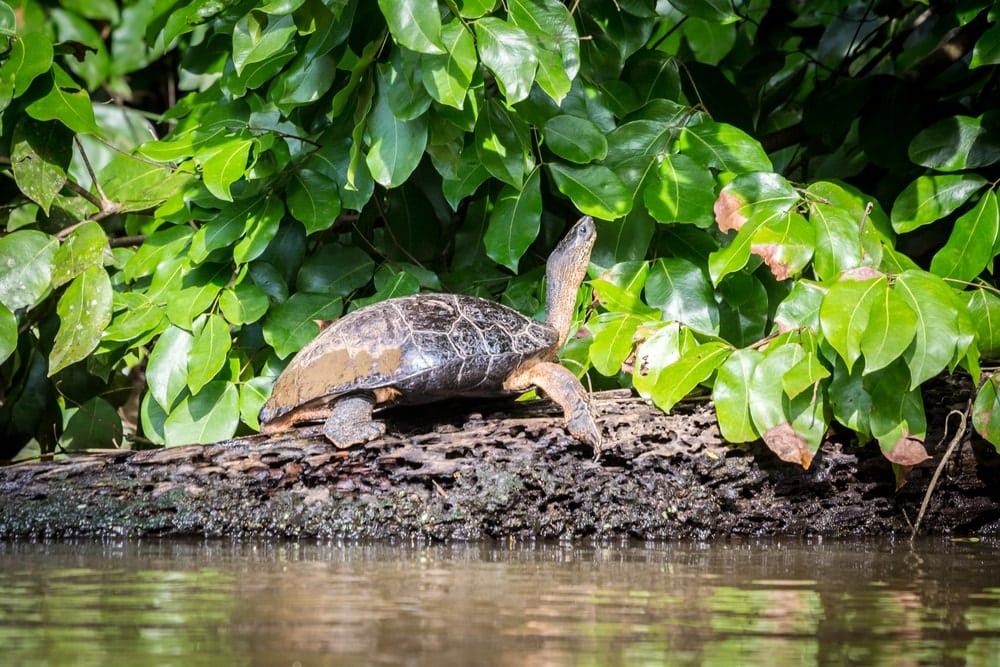 Sadly, with turtles come turtle poachers who peddle the eggs as a delicacy or aphrodisiac. A number of volunteer organisations patrol the area but the problem persists. If you visit the park, do stop by the Sea Turtle Conservancy's Visitors' Center. Pay less than a dollar to learn about the history of turtles in the region and help fund conservation. 
It's worth noting that there is much to see here beyond the turtles. With rainfall of up to 6,000mm a year, the park is one of the wettest areas of the country and is known as the "mini Amazon" thanks to its extraordinary biodiversity. More than 400 bird species, 60 frog species, 30 freshwater fish species and three monkey species live here, as well as the threatened West Indian manatee.
3. Poás Volcano 
Poás Volcano is an active 2,697m (8,848ft) volcano and has one of the largest craters in the world. It last erupted as recently as 2017 causing the shutdown of Poás Volcano National Park for a year and a half. A 2.5km safety perimeter was established around the crater and even today access is tightly controlled.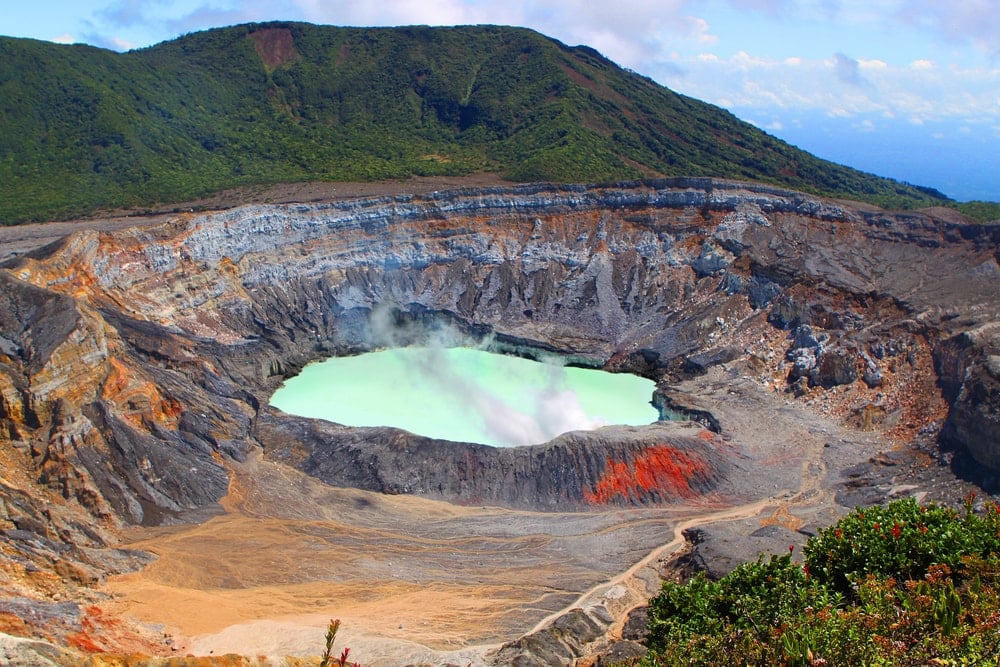 Visitors must book tickets in advance and can only stay at the crater for 20 minutes. Despite these restrictions, Poas offers one of the best day trips from San José. Visitors can peer right into the 260m (853ft) deep crater and the turquoise lake at its centre. Visit early in the morning as the summit is often shrouded in cloud later in the day. 
4. La Paz Waterfall Gardens
Pair a visit to Poás Volcano with La Paz Waterfall Gardens where you'll find lush rainforest, flowing white rivers, birds, butterflies, monkeys, hummingbirds as well as five fairytale waterfalls.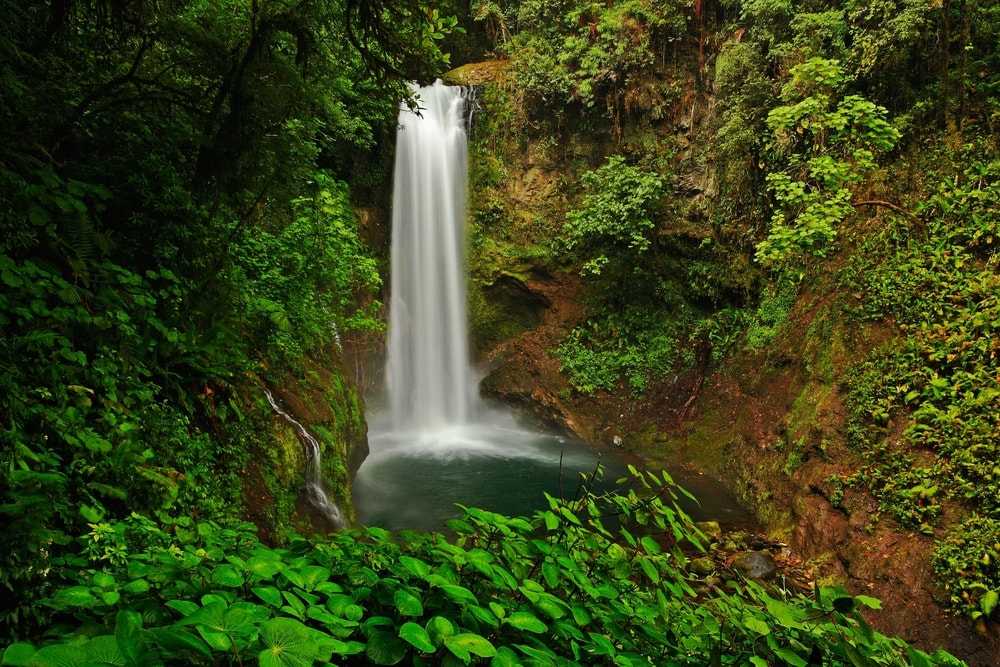 One of the many highlights is being able to walk right up to La Paz Waterfall and stand directly behind it. When we visited in 2019 on the second day of our National Geographic Expedition, a fellow traveller said he was happy to go home right then and there because he couldn't hope to top the waterfall.
If your schedule allows for more than a day trip from San José, consider a stay at Peace Lodge, a luxury boutique hotel on the garden grounds offering breathtaking views of Poás Volcano and La Paz River Valley.
5. Doka Estate Coffee Tour
Coffee lovers should make time for the Doka Estate Coffee Tour. The plantation – owned by the Vargas family who have worked with coffee for more than 80 years – is considered one of the best in Latin America. In fact, Doka's coffee has been voted the best in the world.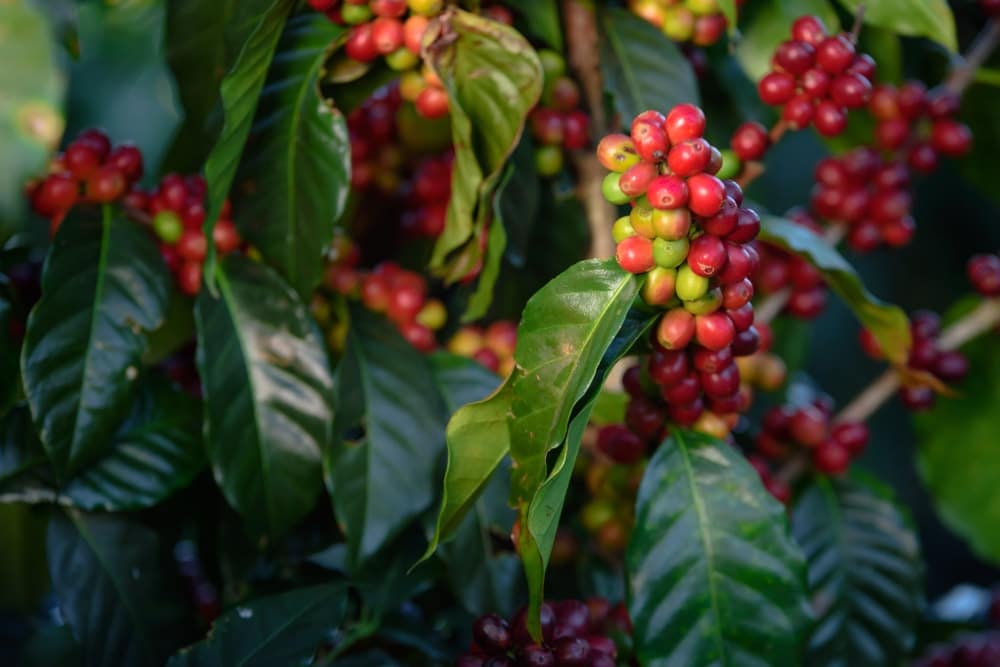 Visit the seedling station, the coffee plantation, the oldest Wet Mill of Costa Rica, and the roasting room where you will discover the secrets behind the aroma, texture and taste of Doka's Tres Generaciones coffee. Naturally, you will be invited to sample the coffee and some rather delectable chocolate too. 
6. Arenal Volcano 
Arenal is the youngest and most active of all the volcanoes in Costa Rica. Notably, its 42-year eruption from 1968 to 2010 is the tenth longest volcanic eruption recorded in history (the longest being Mount Yasur in Vanuatu at 248 years).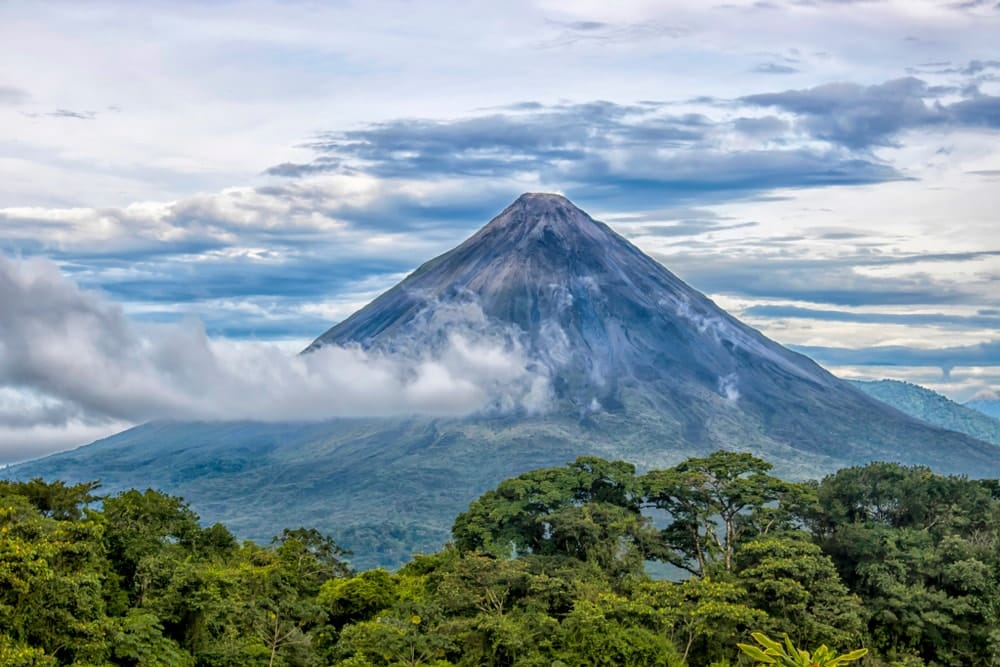 Since 2010, however, Arenal has lain quiet, making it one of the best day trips from San José. Take a walk on its slopes and look out for the red-eyed tree frog. This famed amphibian sleeps stuck to leaf-bottoms with its eyes closed. When disturbed, it flashes its large red eyes, webbed orange feet and blue-and-yellow flanks in a technique known as 'startle coloration' designed to make predators pause for the precious instant it takes to spring to safety. 
7. Manuel Antonio National Park
If you want to see sloths in the wild, a trip from San José to Manuel Antonio offers the best chance. This coastal reserve and national park boasts lush greenery, a picturesque beach and a diverse range of wildlife.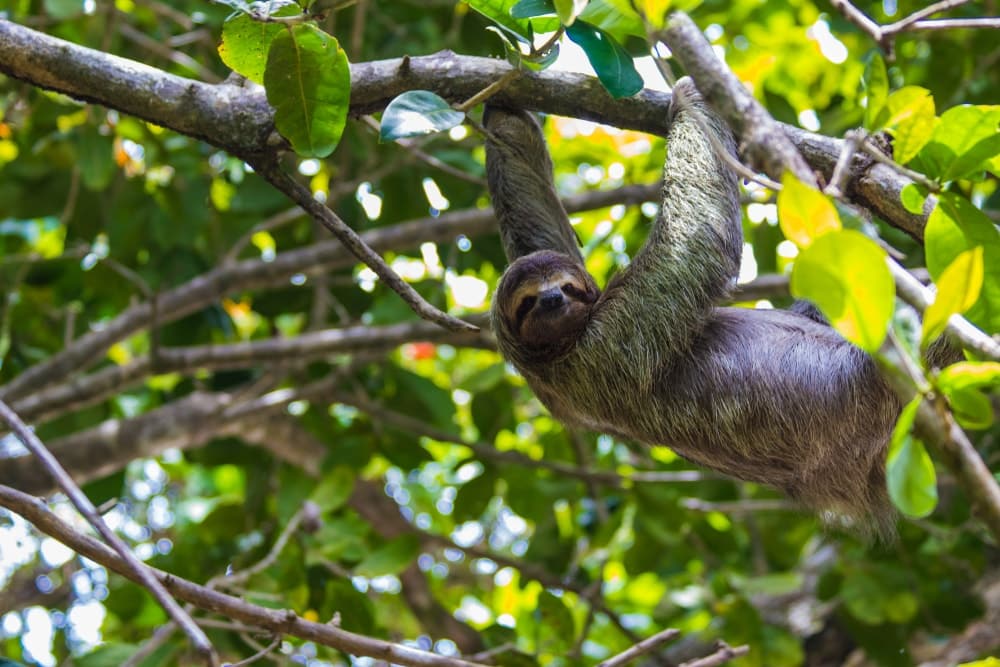 The region is busy in the high season, but the park itself is relatively calm thanks to caps on visitor numbers. Wander the boardwalks and keep an eye out for red-eyed tree frogs, hummingbirds and bats. If you're keen to see sloths, then a certified guide is crucial. They have finely-tuned skills and will supply a telescope to help you find other wildlife too.
After the walk, stroll to nearby Espadilla Sur beach to swim in the Pacific Ocean and enjoy some of the famed 'pura vida' that the sloths have mastered so well.
8. Pacuare River White Water Rafting
Pacuare is said to be one of the most picturesque rivers in the world. It is home to a variety of animals rarely observed in other parts of the country including river otters, jaguars and ocelots. More common are howler monkeys, capuchin monkeys, sloths, iguanas and raccoons. Bird species include toucans, macaws, egrets, kingfishers and herons.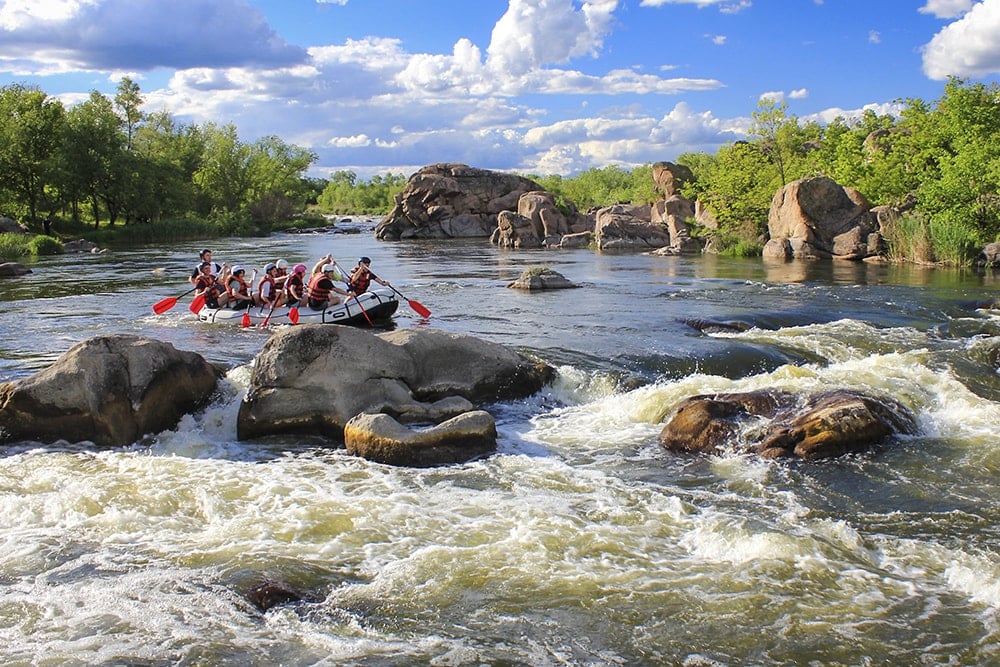 Adventure seekers can book a white water rafting trip along the Pacuare. Depending on your tour, the first few kilometers will cover gentle rapids to let you test your skills before entering the Pacuare River Gorge, an 8km stretch of some of the best white water Costa Rica has to offer. 
9. Tortuga Island 
Tortuga Island is one of the best day trips from San José, Jaco or Puntarenas. The idyllic island is carpeted in forest and white sand beaches, and the surrounding waters teem with life.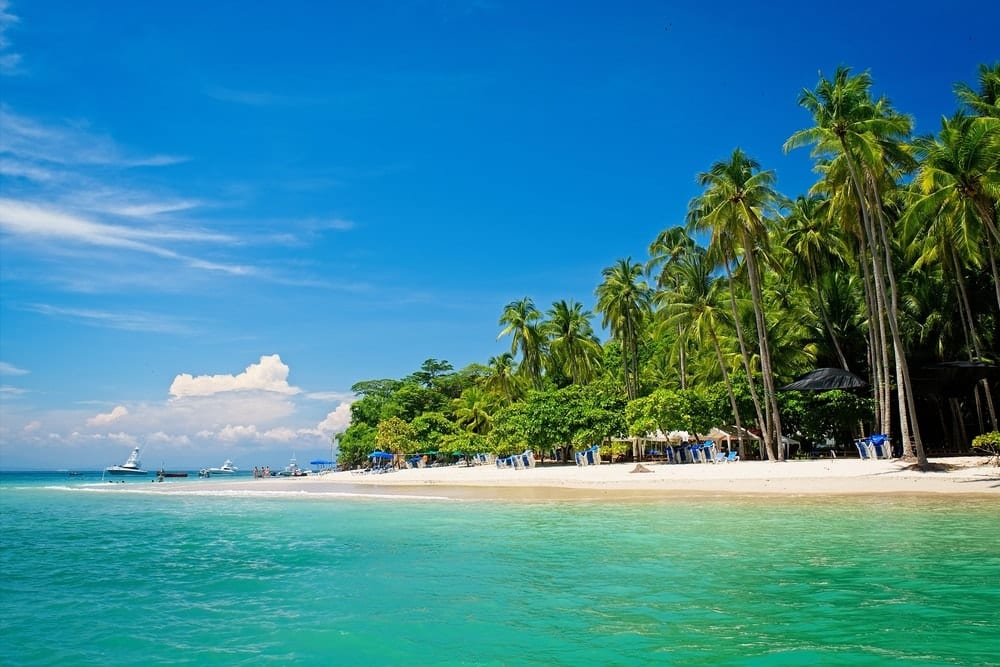 Snorkellers and divers should look out for angelfish, octopus, stingrays and spinner dolphins. Meanwhile, adrenaline junkies can opt for a canopy and zipline tour which offers some of the best views of the island. The less adventurous can opt for a kayak or glass bottom boat for a chance to spot aquatic life. 
The hanging garden also supports an abundance of fauna: over 100 mammal, 400 bird and thousands of insect species reside here and it's one of few remaining habitats that support all six of Costa Rica's wild cats – jaguars, ocelots, pumas, oncillas, margays and jaguarundis – as well as the vulnerable three-wattled bellbird and resplendent quetzal. Pair it with a visit to Santa Elena Cloud Forest for a glimpse of the Costa Rica of postcards and movies.
---
Enjoyed this post? pin it for later…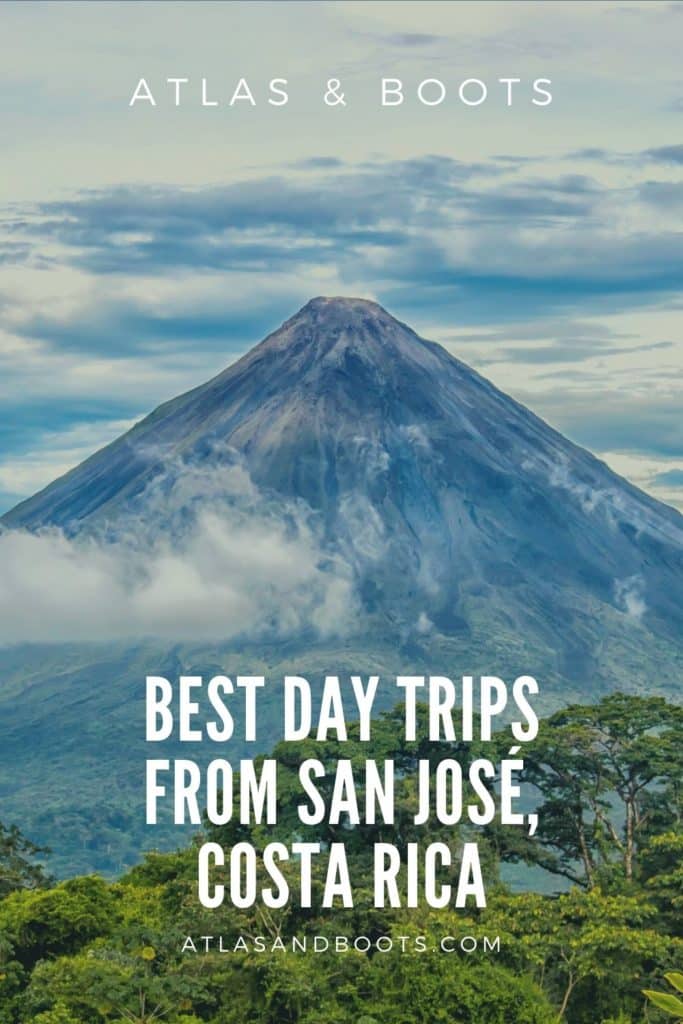 ---
Autor: Atlas & Boots
Fuente de contenido